Zanzibar is home to some of the most stunning beaches in Africa with powder white beaches flanked by beautiful barrier reefs sitting in the Indian Ocean, some 43 miles from Dar es Salaam off the Tanzanian mainland in eastern Africa, a popular honeymoon destination.
Travellers can fly to Zanzibar via the island's main airport (ZNZ) for visitors wondering how to get to Zanzibar and its eastern shores are where the best beaches are located, all with coral white sand and gently lapping waters, perfect for some rest and relaxation.
Below, we detail our selection of the 10 best beaches in Zanzibar.
Matemwe Beach
Guests looking to kick back and relax will be in their element with Matemwe, a peaceful haven best enjoyed with a book and a cocktail. Privacy is paramount at Matemwe and the beach is still one of the more exclusive locations on Zanzibar.
The Matemwe Beach on the northeastern coast of Zanzibar is perfectly situated opposite the spectacular diving and snorkelling reefs of the Mnemba Atoll and surrounded by some of the best beaches in Zanzibar.
The beach offers incredible, endless white sand and bright blue water and guests staying by the beach can learn all about spices, of which Zanzibar has many in abundance including cloves and cinnamon, on a local spice tour.
For activities, guests can make the trip to Mnemba island on a snorkeling trip or to Prison Island to see the giant tortoises. This 30-minute boat ride away to Mnemba Island brings guests to the world-renowned coral reef that provides some of the most spectacular diving and snorkelling in the world.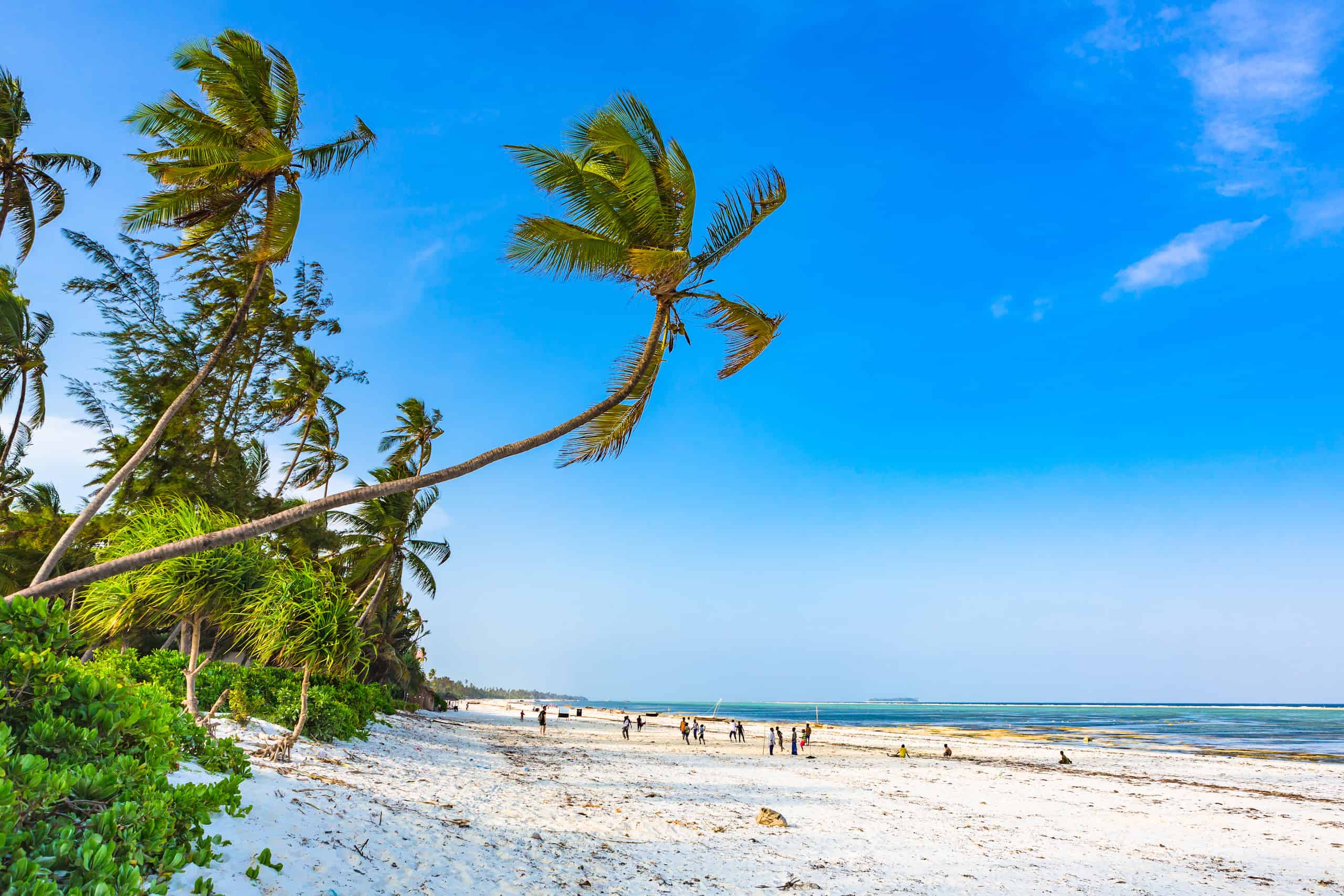 Paje Beach
Paje beach boasts of a serene and tranquil environment that will blow the mind of every visitors, the cool breeze acts as a pleasant refreshment and the area offers many restaurants serving excellent local food.
Found on the south-east of the island and a kitesurfers dream, the beach can be found in the between Bwejuu beach and Jambiani village. The lagoon is very popular for beginner kitesurfers and water sports as the coral reefs protect the lagoon from waves.
As if flat water wasn't enough Paje has a consistent side-onshore wind blowing year round. In addition, clear, warm waters home to thousands of colorful starfish, turtles, trumpet fish and moray eels make Paje beach one of the best scuba diving destinations in Zanzibar.
Out of all the Zanzibar beaches on this list, Paje is the most laid back with a "younger" crowd. A cool coffee shop, bars, cheap hostels, and tasty food can all be found in Paje making it one of the best areas to stay in Zanzibar.
Paje beach is still charmingly peaceful and quiet, away from the more touristy beaches in the north of Zanzibar. Besides kitesurfing, Paje is a great spot for laid back vacationers who want to experience soft sand and bright blue water.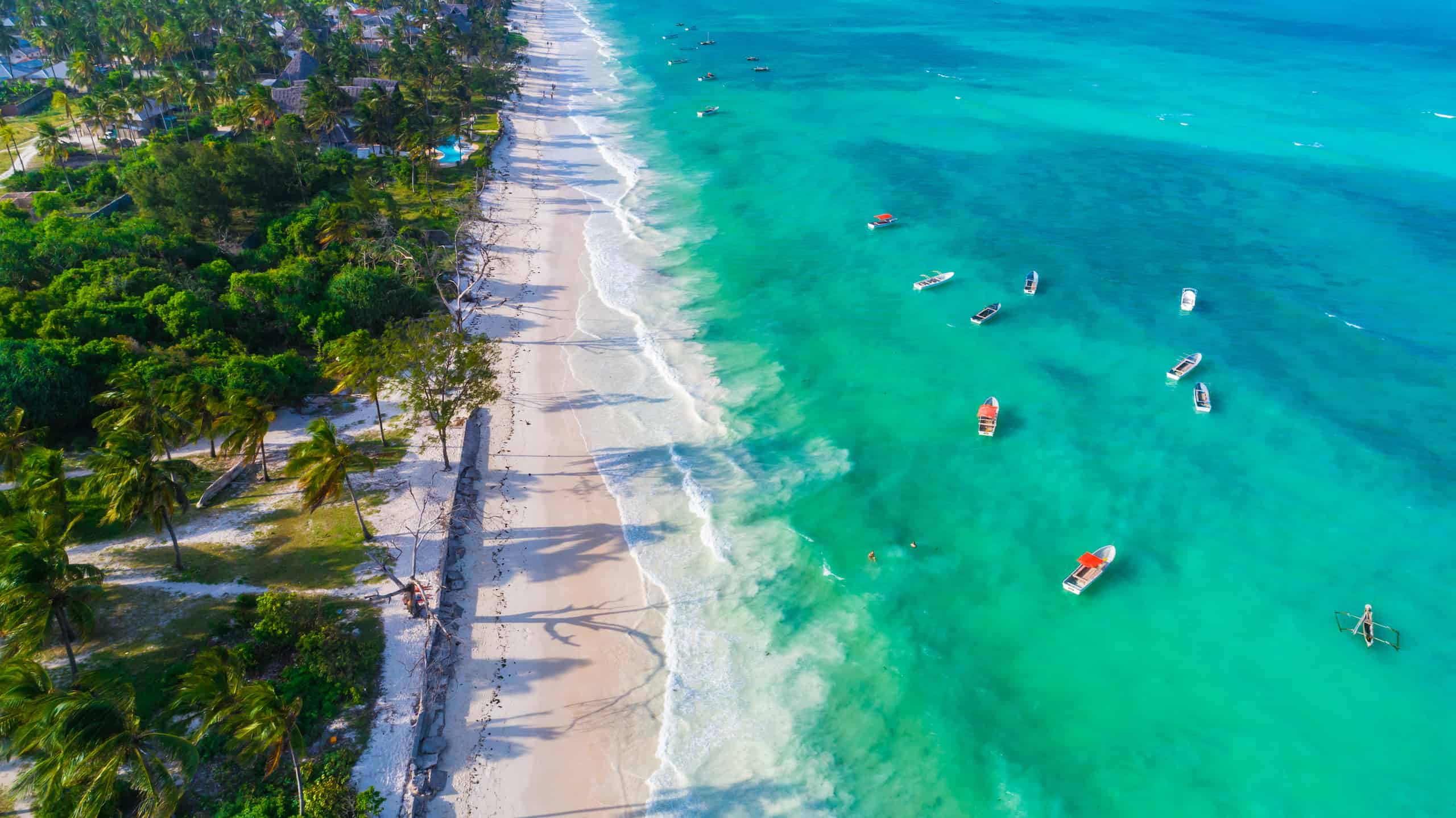 Kizimkazi Mtendeni
Located on the south of the island, the beaches found on this part of Zanzibar take a different form from the classic palm-backed coastline of the east coast. Here, the beaches take the form of small coves rather than vast expanses of snow white sand beaches.
Visitors are more likely to experience authentic Zanzibar here with much less accommodation options in the area.
One activity Kizimkazi Beach is popular for is its dolphin safaris. Whilst quite different from the main Tanzania safari destinations of the Serengeti and Ngorongoro Crater, these are great ways for locals to earn an income and it also prevents dolphin hunting (which used to occur here).
Nungwi Beach
Located on Zanzibar's northernmost tip, visitors can enjoy Dhow tours and incredible sunsets, the beach being an all-time favorite amongst adventurous backpackers and hippies and even made TripAdvisor's Top 25 Beaches in the World in 2018.
Over the years the atmosphere has transformed from a peaceful delicate fishing village into an energetic shoreline lined with hotels, bars, hostels, and dive centers.
The beach remains a center point for Zanzibar shipbuilding, where talented shipwrights use age-old methods passed down from generations to turn raggedy old timber into sea-worthy dhows.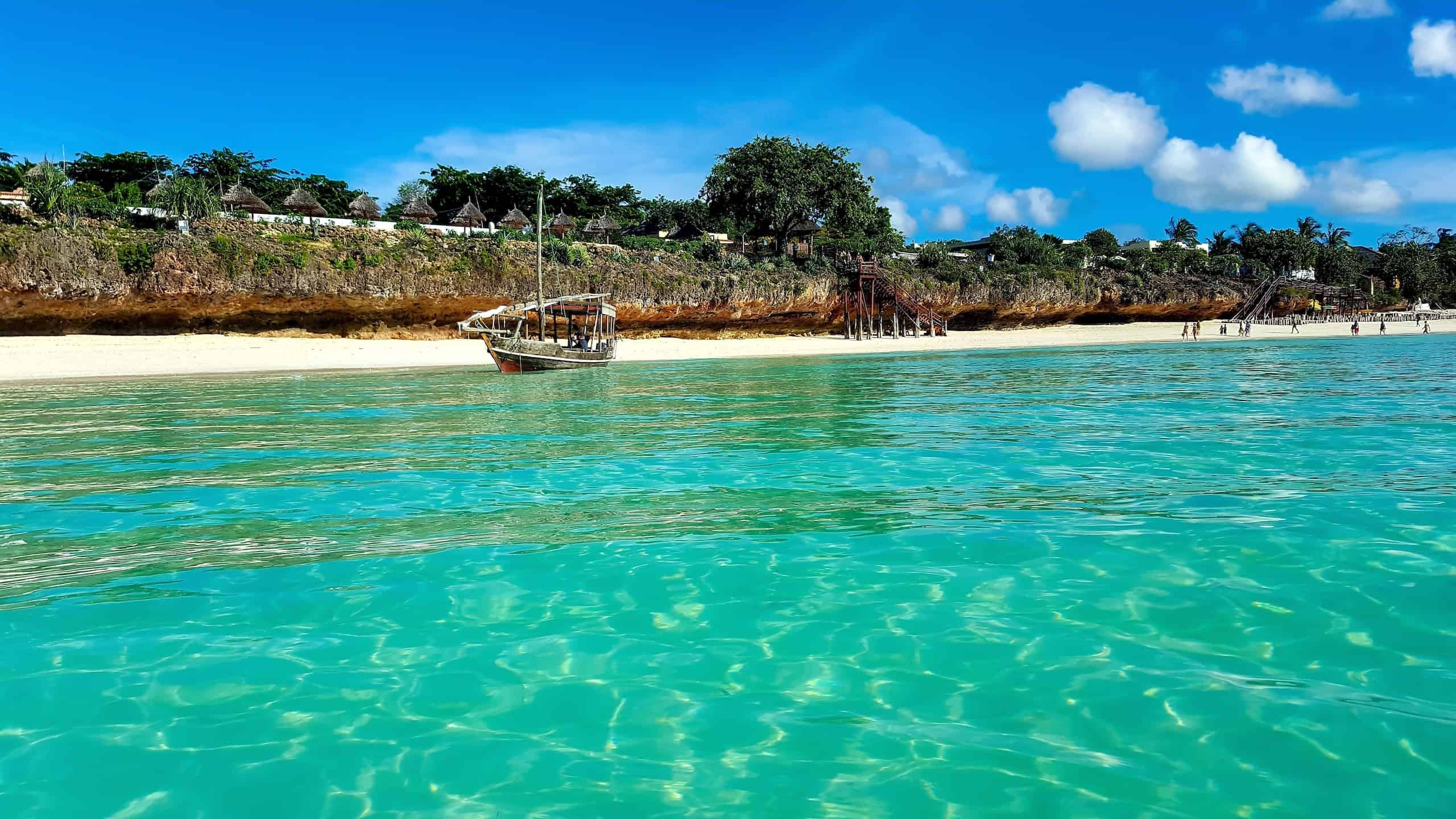 Jambiani Beach
Jambiani is a beach with many miles of beautiful sand with no bars around, swimming pools or even electricity. As a result, visitors are fewer to this incredible paradise allowing for some peace and tranquility for the travellers who do venture here.
Jambiani is home to quaint fishing villages. Fishing here is not for commercial gain, but rather to support the local community. Due to the nature of the reef, wave turbulence causes lots of seaweed to wash up onto the beach at low tide.
Locals harvest the seaweed which they then dry and sell to exporters in Japan where it is used as a nutritional product for sushi.
Kiwengwa Beach
Kiwengwa beach is also referred to as Little Italy because many Italian hotels line the beachfront.
The tide has a major influence on this beach. During low tide, Kiwengwa beach is the best for long walks. The soft white sand – feels like talcum powder. Visitors can walk for miles and miles and be completely absorbed into their own world.
Visitors will find sea urchins washed up on the beach whilst snorkelers can take a boat out to the reef where they'll find beautiful sea stars.
Pingwe Beach
Pingwe beach is an incredibly beautiful piece of paradise situated far from the main tourist hotspots. The lack of amenities means most holidaymakers prefer other beaches.
The beach is located on the southeast of Zanzibar and is lined with dreamlike palm trees, only 30 minutes away from Stone Town.
Pingwe beach is perfect for kitesurfing and snorkeling whilst guests can enjoy quality food at The Rock restaurant, renowned for its unique setting.
One of the quietest parts of Zanzibar, those seeking peace and relaxation will find this beach perfect.
Pongwe Beach
One of the best beaches in Zanzibar for swimming, Pongwe's quiet beach has the classic palm tree decoration which is backed by dense vegetation.
An offshore reef protects the whole of Pongwe beach, the effect is calm crystal clear water, perfect for swimming and snorkeling.
The beach is an incredible oasis of peace and tranquility, with an intimate ambiance that is truly in contact with its uncontaminated natural environment and a view of the clear waters of the Indian Ocean.
Dongwe Beach
A tidal beach that has a much longer period of low tide coming in and high tide going out than most beaches in Zanzibar.
With its endless white sandy beach, visitors can inhale the aromas of spices and sea and be be enchanted by the lush vegetation and beautiful coral reef sea bottom.
Many fishermen have their dhows anchored on this beach. Whilst a very nice beach, perhaps not the best beach for swimming.
Kendwa Beach
Kendwa beach is often referred to as the little sister of Nungwi beach, a much quieter getaway than its sibling in the north. This is one beach in Zanzibar and Tanzania where the tide doesn't really change meaning visitors can enjoy the crystal clear waters the entire day.
Walking slightly out to shore will take guests to beautiful starfish relaxing in the turquoise waters. Visitors can also enjoy a beer whilst watching the sunset, a sight to behold on this incredible beach. Carrying a small amount of Zanzibar currency, the Tanzania Shilling (TZS) is recommended as back-up when paying for items where credit card facilities are unavailable.
Kendwa beach tends to pump up the volume for each full moon with a lively beach party that attracts tourists from all around to the incredible island of Zanzibar.
Visitors can enjoy some quality donwtime on the nearby islands of Pamunda, Pemba island, Chumbe and Unguja Island.
FAQs
What is the best beach in Zanzibar?
Nungwi Beach on the northwest coast is one of the most beautiful and popular beaches in Zanzibar and made the list of Top 25 Beaches in the World.
What is the best time to visit Zanzibar?
The best time to visit Zanzibar is during the dry season from July to September. Understanding the best time to visit Zanzibar is useful as this can impact flight prices and availability. 
What are the entry requirements for Zanzibar?