A beautiful country with beautiful landscape, incredible wildebeest migration safaris and Indian ocean coastline, Tanzania is a stunning destination with so much to see.
Below, we've detailed the 9 best things to do in Tanzania including free things to do in this beautiful part of East Africa.
Tanzania regions to visit
Cities and places of interest in Tanzania
Tanzania has a population of 60 million people, with the capital Dodoma home to over 2 million people.
Dar es Salaam
The largest city with over 4.3 million people is Dar es Salaam, often the point of departure and arrival for travel to Tanzania thanks to its international airport (DAR).
DAR airport is located 18km south of Dar Es Salaam and a Tanzania visa will most likely be required to enter the country and visitors should keep abreast of the latest Tanzania vaccine requirements.
Located on the eastern seaboard, Dar es Salaam is the financial hub of Tanzania with numerous hotels, shops, restaurants and nightlife and safari connections to Mikumi National park or Selous Game Reserve.
Amongst the best things to do in Dar es Salaam includes a walking tour exploring the city, encountering the Kariakoo market, seeing the Makumbusho Village Museum as well as learning to scuba dive and deep sea fish at nearby sites such as Bagamoyo, Bongoyo and Mbudja Islands.
Zanzibar
A short 25 minute flight from Dar es Salaam will take visitors to the renowned island of Zanzibar, with its stunning beach and breathtaking turquoise waters.
Stone Town is the main city in Zanzibar, with its architecture reflecting the diverse influences underlying the Swahili culture, with a unique mixture of Moorish, Arab, Persian, Indian and European elements. The town has been included in UNESCO's World Heritage Sites since the year 2000.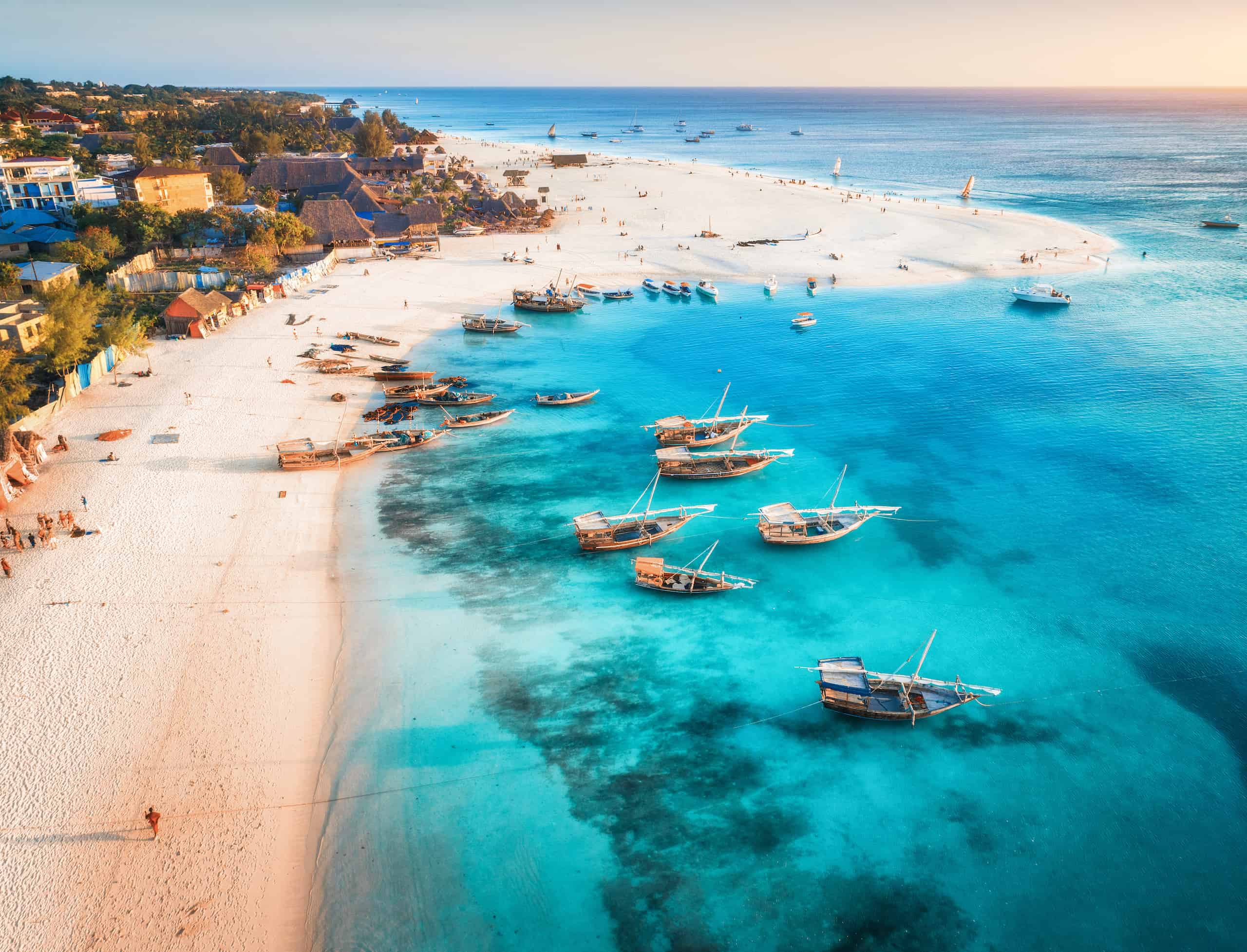 Dodoma
The capital Dodoma lies in the centre of Tanzania, a city known for the earthquake-proof Parliament buildings known as Bunge. Visitors can also explore the Ismaili Mosque and hike the Lion Rock (aka Simba Hill) in the north of the city with fine views of the surroundings.
Arusha
In the north-east of Tanzania, visitors will find Arusha, a city of approximately 400,000 people situated at the foot of Mount Meru and regarded as a gateway to the popular Northern Safari Circuit of the Serengeti and Ngorongoro Crater.
Kigoma
Other notable cities include Kigoma to the west with access to Gombe National Park and Mahale Mountains National Park and Mwanza in the north-west on the southern edge of Lake Victoria. Tourists often use the towns of Mbeya, Moshi, Morogoro and Mtwara as travel hubs en route to the safari parks.
Tanzania safari: The main event
Tanzania: A global safari destination
With 17 national parks and numerous wildlife reserves, concessions, parks and other conservation areas as well as 7 UNESCO World Heritage sites, Tanzania is an unsurprising favourite for safari enthusiasts.
With an abundant and varied fauna, breathtaking landscapes, welcoming locals and a pleasant climate, safari lovers are in their element in this incredible country with over two million wildebeest moving in search of food and water during the Great Migration.
Our comprehensive Tanzania Safari Guide is a helpful resource in helping visitors to plan their trip. Understanding the best time to visit Tanzania is important as this will impact safari accommodation, flight prices, availability and and things to do in Tanzania including walking safaris which visitors may request.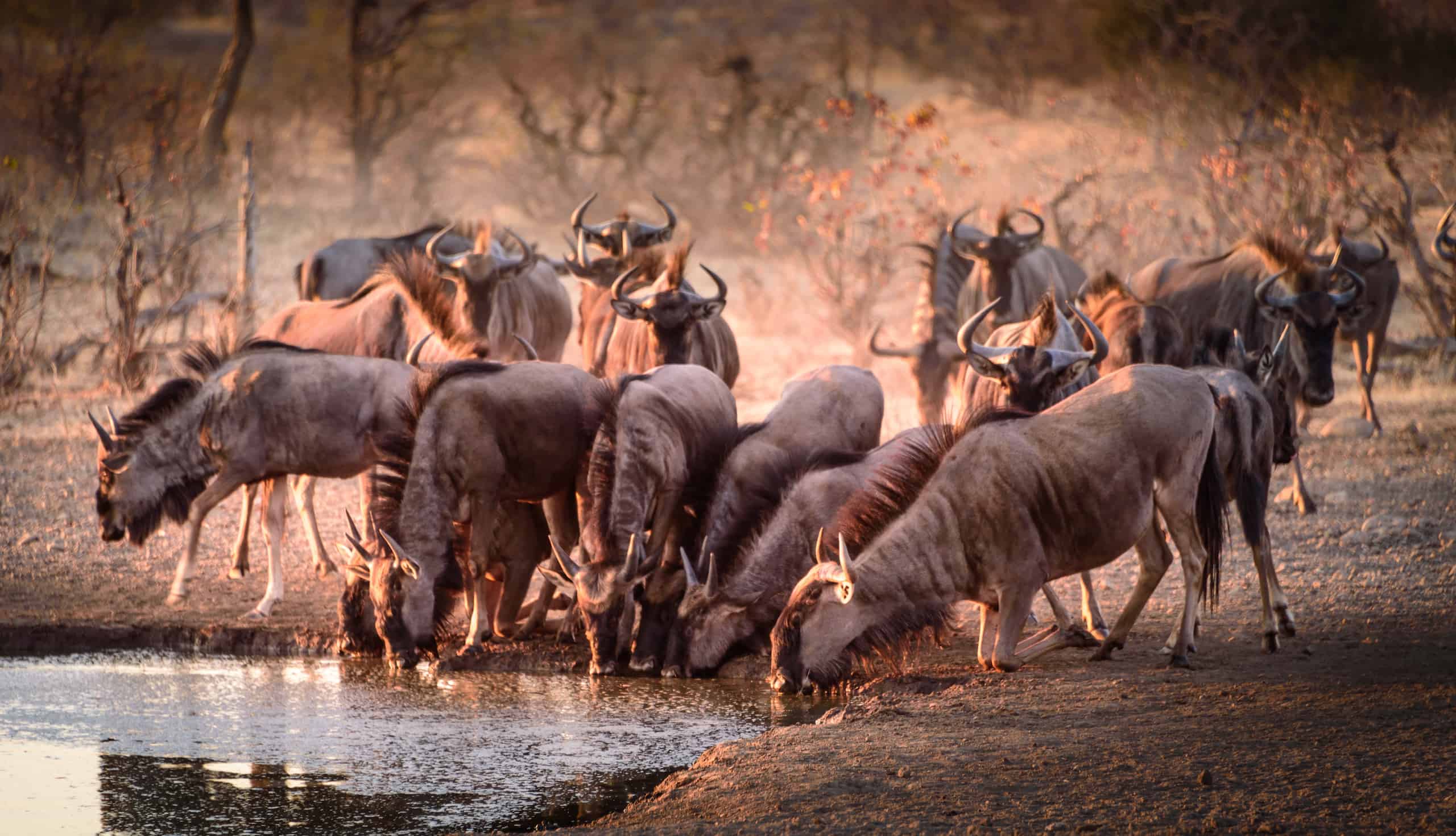 The 3 Best Parks and Reserves to Visit in Tanzania
All the parks and reserves in Tanzania have their own unique draw and offer something different and unique. However, a safari visitor to Tanzania should take in the following must-see parks on their safari trip:
Serengeti National Park
A popular honeymoon destination and documentary location in northern Tanzania, the Serengenti plains are home to the world's largest movement of animals, often called the "Great Migration."
Covering 5,700 sq. miles of savannah, the Serengeti is renowned for the incredible migration of over 2 million animals on a 300 mile loop following seasonal rains around the Serengeti and mara rivers by Masai Mara in Kenya.
A safari trip to the Serengeti is a must-do on a trip to Tanzania. The Seregneti is a World Heritage site and Biosphere Reserve, as well as the main tourist attraction in Tanzania.
Newlyweds may also indulge on a Tanzania honeymoon safari with extra pampering as well as luxury safaris to ensure they're feeling the love in this incredible park.
Ngorongoro Crater
The Ngorongoro Crater in the Great Rift Valley in northern Tanzania is unique as it is the world's largest intact volcanic caldera, a cauldron-like hollow formed in the volcano with a crater floor covering over 100 sq. miles and 0.4 miles deep.
This incredible crater, a UNESCO world heritage site in the Ngorongoro Conservation Area, is often referred to as 'Africa's garden of Eden', due to the sheer volumes of animals and wildlife found there. The Olduvai Gorge, a famous paleoanthropological site, can also be found here.
Selous Game Reserve
Selous Game Reserve (GR) aka the Nyerere National Park is a 21,081 sq. mile park in southern Tanzania, the largest national park in the country. The park is home to one of the world's largest wildlife sanctuaries.
Selous safaris are renowned for their picturesque and pristing setting, the reserve was designated a UNESCO World Heritage Site in 1982 as a protected nature reserve.
A safari in Selous GR offers visitors the chance to go on guided walking safaris and see big wildlife on game drives including large numbers of large animals including lions, elephants, birds, giraffes, crocodiles on guided safaris, walking safari and river boat safaris.
Other places of interest in Tanzania
Other places worth a visit on your trip to Tanzania include:
Mount Kilimanjaro
In northern Tanzania, visitors will find Kilimanjaro National Park covering an area of 652 sq. miles. The area is a UNESCO world heritage site and home to the famous Mount Kilimanjaro, the highest mountain in Africa and dormant volcano some 5,895m above sea level.
Kilimanjaro is also the tallest free standing mountain in the world and is located 27 miles/1 hour north of the town of Moshi and 210 miles from the Serengeti National Park.
Commonly associated with hikers scaling the mountain, a climb will take approximately 6 days to complete.
Tarangire National Park
Tarangire National Park is a park in Tanzania's northern Manyara Region. The name of the park originates from the Tarangire River that crosses the park, which provides water for the baobab trees, birds, Masai people and migrating wildlife including the big five and rare tree-climbing lion.
Covering 1,100 square miles, Tarangire NP is known for its great number and diversity of wildlife and bird watching, this park is less touristy than the Serengeti or Ngorongoro Crater whilst on safari.
The big five can easily be found here along with large numbers of other wildlife, migration sightings, beautiful acacia trees as well as red termite mounds.
Gombe National Park
Gombe National Park, aka the Gombe Stream National Park is a 30 sq. mile park in the northwest of Tanzania's Kigoma Region by ​​Lake Tanganyika.
Notable primatologist Jane Goodall made this national park famous for her chimpanzee research at the Gombe Stream Research Centre and the park has since become a tourism board favourite and one of the best places in Africa to track chimpanzees.
Lake Manyara
Lake Manyara is home to the only 'Treetop Walkway' in Tanzania, a sky-high adventure through the beautiful forest of Lake Manyara walk amongst the treetops and experiencing the untouched nature and surroundings.
Zanzibar
The world renowned Zanzibar with its pristine white sand beaches and immaculate turquoise waters attracts visitors from around the world looking to spend some quality downtime in this paradise, a 25 minute flight from Dar es Salaam.
Mafia Island
Mafia Island in Tanzania is the third largest island in the country's ocean territory, located in the Pwani Region. Known for its picture perfect beaches and incredibly diverse marine life, Mafia Island has some of the richest reefs in the world with an amazing variety of coral and tropical fish.
Ruaha National Park
The 2nd largest national park in Tanzania and unique due to its wilderness area and game viewing in a fascinating landscape.
A safari in Ruaha NP offers visitors the chance to go on guided walking safaris and see big wildlife on game drives including large numbers of elephants along the Great Ruaha River, huge crocodiles, grunting hippos as well as buffaloes, kudus and sable antelope.
Other activities in Tanzania
Tanzania also has many other activities that visitors can add on during their safari vacation. Carrying a small amount of Tanzanian currency, the Tanzania Shilling (TZS) is recommended to pay for groceries and smaller items where credit cards aren't accepted. Visitors can review further details on overall Tanzania safari prices here and when's the best time to visit Tanzania here.
Luxury safari lodges
With excellent wildlife viewing and lodges with incredible design and décor, Tanzania is home to some of the African continent's most supreme luxury lodges with beautiful, modern suites, well trained staff and excellent food.
Sleep under the stars
This extraordinary, experiential sleep out, under the stars in Rubondo Island National Park is a truly amazing encounter. Eco-friendly boutique lodge provide specialised stargazing tents offering prolific views of the twinkling night sky.
Walking safaris
Explore the wildlife and wilderness via a guided walking tour, an authentic means of exploring wildlife in Tanzania, a country where human activity dates back 2 million years.
Scuba dive in Zanzibar
This spice island is not only beautiful above its turquoise water with its sandy white beaches, it is beautiful below. Considered to have the best diving on the entire east coast of Africa, snorkelers will be amazed by the sheer variety and colour of fish and marine life by the Kendwa Reef.
Explore Stone Town
The main city in Zanzibar and birthplace of rock legend Freddie Mercury, it was once the centre of the spice trade in the region. Walk through the narrow alleyways and marvel at the famous Zanzibar doors and night markets.
Fishing
Practice fishing with the expertise of local fishermen, an experience at the heart of traditional cultures aboard a dhow, the traditional Swahili boat.
Mountain biking
Mountain biking safaris, downhill mountain biking on the sides of mountains or volcanoes or through the rice fields, an original way of discovering the country for the more adventurous.
Canoeing
Canoe trips are offered on several lakes and rivers in the country: Lake Momella in Arusha National Park or Lake Duluti.
Meeting the local tribes
Many Maasai villages open their doors to tourists to share their culture and traditions, an authentic experience that visitors treasure.