When planning a trip to east Africa, choosing the best time to visit Tanzania and its surroundings is important. Guests should be aware of the differences in climate, availability, activities and pricing when choosing between the various months and seasons.
Best time to go to Tanzania: Months and seasons
Tanzania is a beautiful country to visit, regardless of the season and popular with visitors from the U.S, U.K, Europe and South Africa.
Tanzania's climate is divided into two main seasons:
Dry season from June to October
Rainy season from November to April
The climate also fluctuates during each of the seasons, notably with short rain in November and December and long rains in March and April.
Overall, June to October is the best time to visit during the dry season for a safari trip to any of the national parks. These are the dry season months with more moderate temperatures, fewer mosquitos and clearer skies, perfect for a safari during the early mornings.
International flights arrive via Dar es Salaam (DAR) airport or Kilimanjaro International Airport for visitors wondering how to get to Tanzania. DAR airport is located 18km south of Dar Es Salaam and a Tanzania visa and certain vaccinations may be required to enter the country.
Tanzania is a popular safari destination combined with beach vacations to Zanzibar, guests should be aware of this and book in advance as prices will increase significantly during summer time.
Carrying a small amount of Tanzanian currency, the Tanzania Shilling (TZS) is recommended to pay for groceries and smaller items where credit cards aren't accepted. Visitors can review further details on overall Tanzania safari prices here.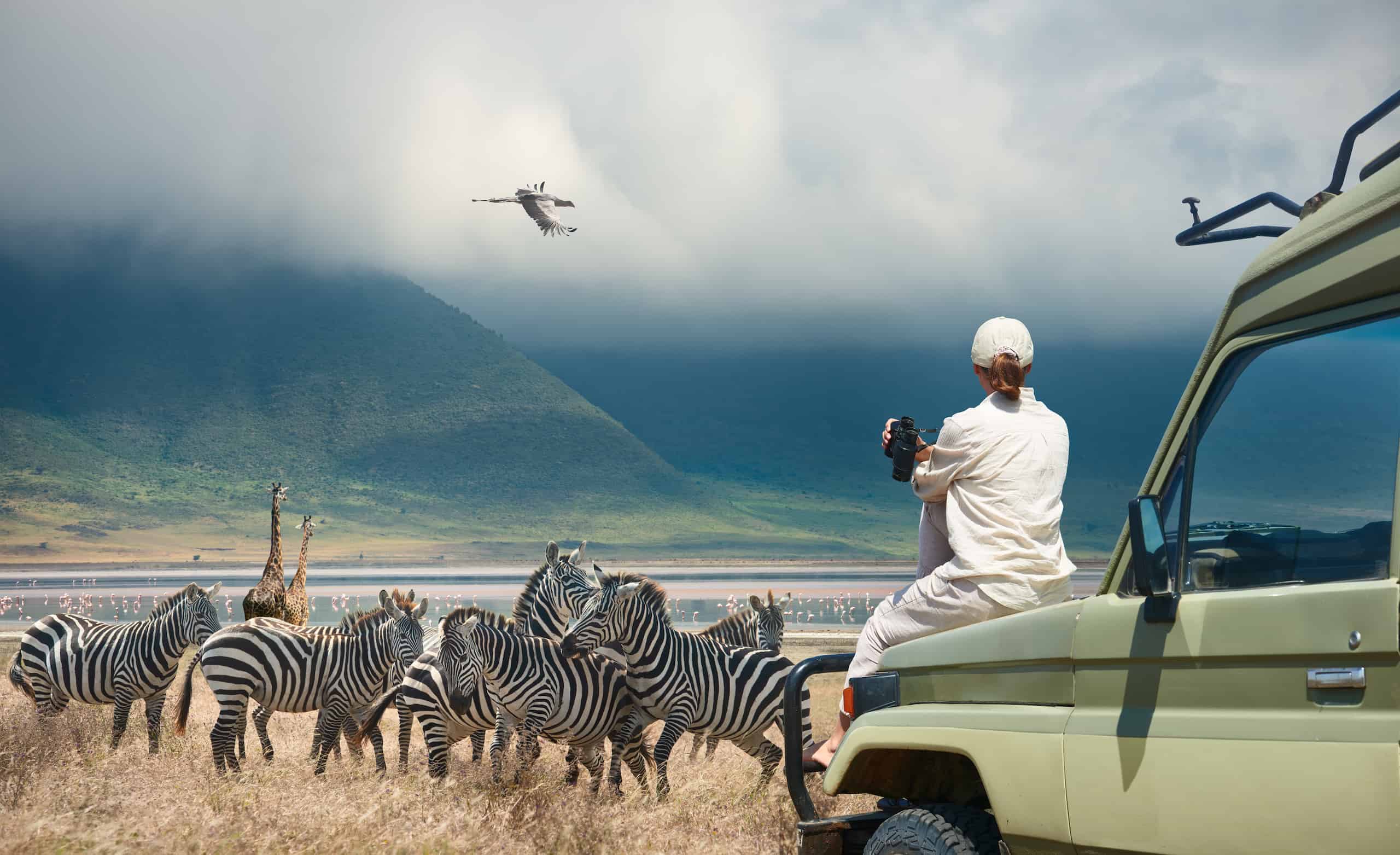 When to see the Wildebeest Migration on a Serengeti safari
The best time to visit the Serengeti National Park to see the wildebeest migration across the northern Serengeti from January to February or from June through October, visitors should plan their trip around the movement of The Great Migration.
Serengeti wildlife movements calendar:
Calving season: January to March
Intense big cat and predator action: January to March
Rutting (a period of reproductive activity and mating battles between males): January to March
Grumeti River crossings: May to July
Mara River crossings: July to September
The above are approximate dates only as the Wildebeest Migration is a year-round, circular journey and the river crossings cannot be predicted across the southern Sergengeti, although they generally occur between May and September.
Sometimes the herds stay put for two weeks, other times they could cross four times in one day! You can take a look at our detailed Wildebeest Migration guide for more information about this natural spectacle.
Weather and climate in Tanzania
Seasons in Tanzania
Located south of the equator, Tanzania's seasons are the opposite of what U.S. and European visitors will be accustomed to in the northern hemisphere.
From April to October, it is winter and the dry season. The climate is therefore dry. The days are warm and sunny but the nights are cool.
From November to March, it is summer and the wet season. The days will see strong thunderstorms and showers and the climate is muggy and humid.
Temperatures in Tanzania
Dry season
During the dry season, there is very little rainfall during this period and humidity is very low. It cools off at night. Visitors are advised to pack warm clothing because morning game drives in open vehicles will be cold, especially in the northern parks.
June, July, August, September & October – Afternoon temperatures are usually between 20°C/68°F and 30°C/86°F and vary greatly according to altitude and location. Most days have a fine, clear sky and sunny weather.
Wet season
During most of the Wet season, afternoon temperatures are consistently hot (a bit above or below 30°C/86°F) but it is colder above 1,300m/4,265ft. Mornings are cold in most northern parks due to the high altitude.
The weather by region
Tanzania has a pleasant, tropical climate but has large regional climatic variations influenced by several factors, including altitude.
The hottest and most humid part of the country is the coast.
Other low-lying areas, such as the western and southern parks, are also hot but less humid. The rest of the interior is much milder and cools down significantly at night. Tanzania has a distinct Dry and Wet season.
When to go to Tanzania: Activities
June to October during the winter months is generally considered the best time to travel to Tanzania for a safari game viewing. See here for further details on the best things to do in Tanzania including walking safaris.
For ornithologist enthusiasts and admirers of flora, the wet season at the start of the year is conducive to the observation of birds, smaller fish, animals as well as abundant vegetation, watered by the long rains.
Water activities
This is an important element for water levels and of course water-based activities including fishing, canoeing, boat trips and scuba diving observing wildlife and marine life on the lakes and coastline of East Africa.
Newlyweds may also indulge on a Tanzania honeymoon safari with extra pampering as well as luxury safaris to ensure they're feeling the love.
Birds
The birdlife in Tanzania is good year-round, but at its best from November to April when the migratory birds from Europe and northern Africa are present. At this time, many resident bird species are nesting and are in breeding plumage.
The wettest months are March and April, when parts of the country may experience storms on a daily basis. The Wet season is also the hottest time of the year. This may make it uncomfortably hot on the coast. For wildlife viewing, the dry season, although it is the high season, is better.
Tanzania is one of Africa's best birding destinations. It has one of the largest species lists of any African country: over 1,100, of which over 800 species are resident, and nearly 200 are regular migrants.
There are 22 species endemic and thus unique to Tanzania, and a further 43 near-endemic, restricted to Tanzania and neighboring countries only. Migrants are present from November to April.
The most visited national reserves that are worth visiting for bird watching are the Serengeti National Reserve, Lake Manyara National Park, Ngorongoro Crater and more.
FAQs
What is the best time to visit Tanzania?
June to October is the best time to visit Tanzania during the dry season for a safari. 
What type of climate does Tanzania have?
Tanzania has a pleasant, tropical climate but has large regional climatic variations. The hottest and most humid part of the country is the coast. Other low-lying areas, such as the western and southern parks, are also hot but less humid.