A Tanzania luxury safari is something special, with the convenience of combining the best luxury safari lodges in east Africa with exquisite coastal retreats on the island of Zanzibar.
Set in the surreal surroundings of the wildebeest migrations, large elephant herds and giraffes in the Serengeti, Ngorongoro Crater and similar incredible locations.
The best Tanzania luxury safaris
How to organize a luxury safari in Tanzania?
Pre-trip planning
To organize your luxury safari in Tanzania, the recommended route is to hire a travel agency specializing in Tanzania safaris who can also advise on Tanzania visa and vaccinations requirements.
Their expertise of the top luxury lodges, tours and logistics required will be of significant benefit to guests as well as understanding the best time to visit Tanzania. Trips can also be customised per the customers requirements or requests for particular activities and things to do.
Luxury safari components
Potential visitors are advised to detail their wish list in terms of accommodation, activities, preferred means of transport and food requirements, as these can vary significantly depending on preferences, budget and travel origins from South Africa, southern Tanzania or beyond.
The travel agency will then be able to provide a more detailed estimate.
Chartered flights are often used to arrive at different parts of Tanzania and will save the visitor a lot of time. Various safari types can be explored in 4 × 4 vehicles with a private guide.
For a luxury trip to Tanzania, some visitors prefer the tranquillity of private reserves with a hot-air balloon safari or they may prefer concessions with more adrenaline packed activities including quad biking and white water rafting activities.
Lastly, choosing the right accommodation for you is what will make your safari an unforgettable luxurious experience. In this regard, Tanzania has some of the most exceptional lodges in the world making your stay unforgettable.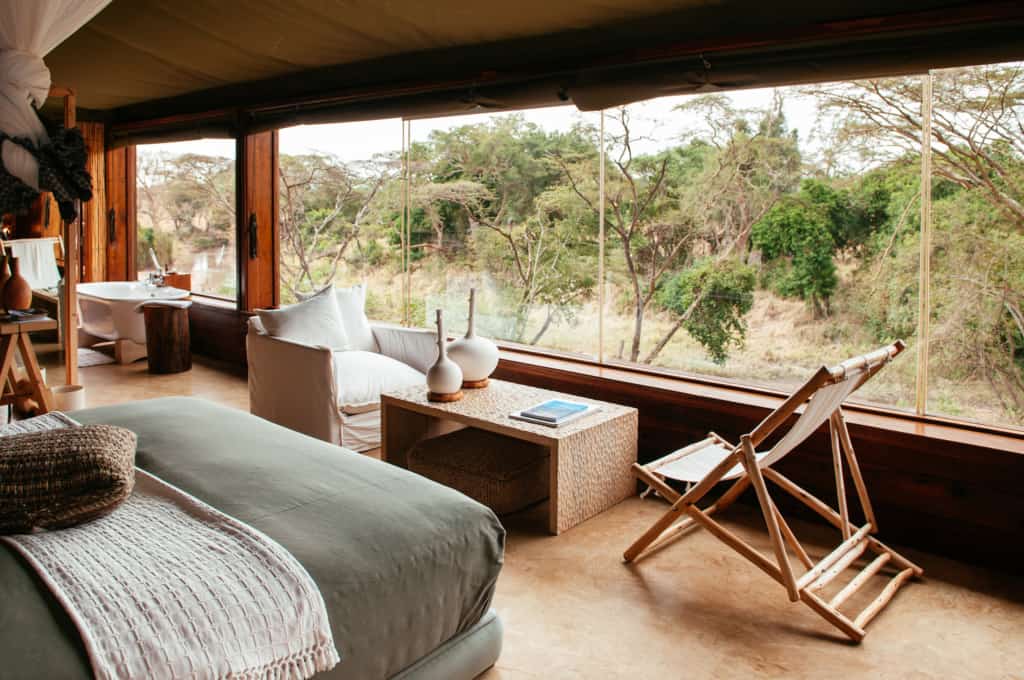 Top 9 Tanzania Luxury Safari Camps & Lodges
Tanzania is home to some of the continent's most beautiful reserves and luxury lodges attracting visitors from the U.S, U.K, South Africa and beyond to these wonderful retreats:
Four Seasons Safari Lodge Serengeti, Serengeti
Set within the unfenced confines of the world-renowned Serengeti National Park in northern Tanzania, this luxury hotel features plush, African safari-style design speckled with artworks from local artists.
It offers 77 rooms tucked away with world-class amenities including free and reliable Wi-Fi, coffeemaker, minibars, flatscreen TVs, babysitting services, spa, a wine cellar and an outdoor pool located just in front of a wildlife-infested watering hole.
The most luxurious experience can also be accomplished with upgraded rooms that highlight spectacular views and wildlife almost within an arm's reach.
A private lounge is also available in suite rooms and villas have outdoor showers as well as private infinity pools.
Serengeti Bushtops
For those seeking wild luxury and refinement in all things, Serengeti Bushtops offer a safari oasis in the quiet but awe-inspiring and wildlife-filled Northern Serengeti region.
The grand facility is famous for being one of the most sought-after accommodations which offer front row seats to many important wildlife events including the Great Migration.
Serengeti Bushtops not only boast of first-class amenities, it also allows guests to enjoy a glorious backdrop to the ultimate Safari experience.
Serengeti Bushtops has been featured in many publications and shows including Wall Street Journal, Forbes, National Geographic, The New York Times, and Tattler.
The Highlands, Ngorongoro
The Ngorongoro Conservation Area is about much more than the famous, eponymous crater and at The Highlands visitors can explore more of this region than is usually possible from other camps.
The accommodation is in uniquely designed dome-shaped suites with large glass fronts to reveal the spectacular views. It can get cold at this high-altitude camp and a wood-burning stove keeps the suite cosy. A truly one of a kind property.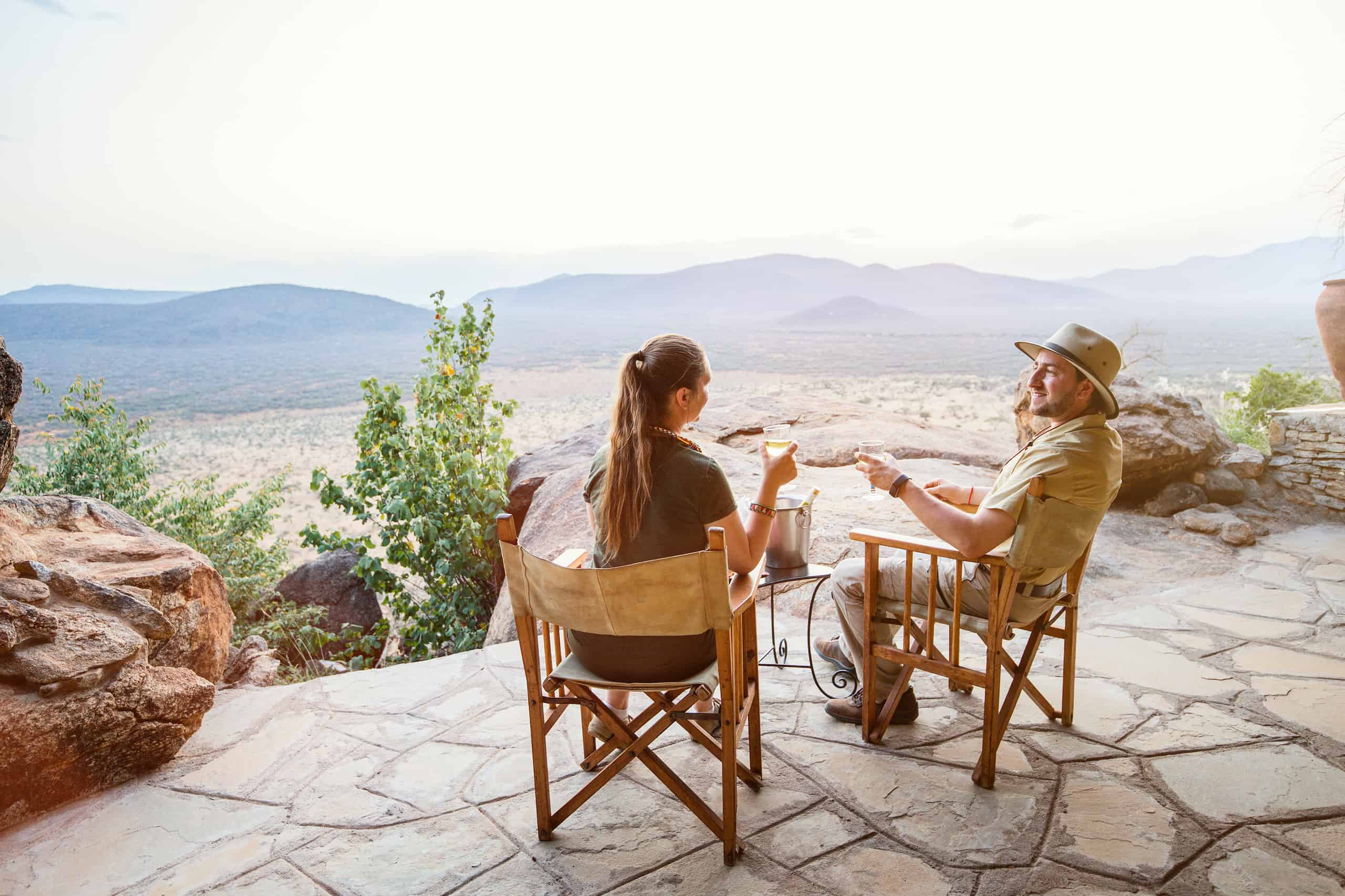 Mwiba Lodge | Serengeti
Remote, tasteful and exclusive, Mwiba offers a true safari escape in maximum comfort and style.
Tucked away in a private concession, Mwiba is a secluded haven set among massive stone boulders, ancient coral trees and acacias, overlooking a rocky river gorge.
As well as many other exciting safari activities, visitors will be able to witness the annual wildebeest calving from January to March.
Singita Sasakwa, Serengeti
Occupying a prime location in the Grumeti Game Reserve overlooking the endless plains of the Serengeti, Singita Sasakwa Lodge is a spectacular base for your safari.
Luxury is around every corner here, within the spacious cottages with their own private pools, the spacious manor house and on the veranda overlooking the plains.
Guests can be assured of the very best service and guides, coupled with memorable meals making a truly incredible safari experience.
The Palms, Zanzibar
Located on one of the best beaches in the world, Bwejuu on Zanzibar, The Palms is a true Robinson Crusoe experience.
White sand, deep blue sea, constant sunshine, tropical gardens, private thatched bandas on the beach and just six luxury villas, each with their own large verandah, butler and private plunge pool – this is what makes The Palms so special.
It's a hedonistic haven for those wishing to relax and recharge after the exertions of a safari.
Azura Selous, Selous Game Reserve
In a remote part of the Selous, Africa's largest game reserve, Azura Selous is located far from most of the reserve's lodges providing an exclusive safari experience in this beautiful, wild piece of Africa.
The lodge itself is a haven of peace and tranquillity overlooking the rapids of the Ruaha River.
Relax by the infinity pool or in your supremely comfortable and private tented villa, soaking in your plunge pool with a cold drink, revelling in the natural beauty of the African wilderness.
Ngorongoro Crater Lodge
Ngorongoro Crater Lodge has arguably the best views in Africa. It is located on the edge of the renowned World Heritage Site, Ngorongoro Crater which is not only an amazing and unique landscape but also a home to about 2,500 animals including the Big Five.
What makes Ngorongoro Crater Lodge visually striking when you see it is that it has an unusual architecture style. It is made of stilted banana thatch tree-suites, all are adorned with graceful antiques.
Another very striking feature of Ngorongoro Crater Lodge are its ensuite baths which offers 180-degree views of the stupendous Crater rim, providing a "fairy tale feels".
Activities you can do in here include walking safaris, hiking through the Crater rim, visits to Maasai cultural villages, sundowners with exceptional views and of course, awe-inspiring private bush breakfasts or lunches.
Tarangire Treetops, Tarangire
Tarangire Treetops effortlessly blends the luxuries of a modern safari with the almost childlike nostalgia of a treehouse and the sense of adventure that comes with sleeping up in the tree canopy.
The rooms are enormous and have their own private decking areas at the front which are a very popular spot to relax and while away an afternoon, perhaps enjoying some ad-hoc game viewing in the process.
One of the best safari lodges in Tanzania and would grace any itinerary around the famed Northern Circuit.
Luxury safari tour in Tanzania: Pricing and itinerary
There are numerous different luxury safari circuit tours in Tanzania that can be designed and customised per the customer's requirements.
The following is an example of a 10 day luxury safari tour that will immerse guests in a luxury safari experience whilst discovering the most incredible wildlife and scenery Tanzania has to offer.
Days 1 – 3: Arrive in Arusha, fly to Tarangire & Lake Manyara NP's for safari & lodge
Days 3-5: Ngorongoro Crater safari, Mount Kilimanjaro and Northern Serengeti
Days 6: Serengeti National Park safari
Day 7-10: Fly to Zanzibar for a beach holiday
In addition to day and night drives, boat safaris and scuba diving, visitors can take a scenic helicopter transfer or a sunrise hot air balloon ride followed by a champagne breakfast, also popular with couples on a honeymoon safari.
During the safari, visitors will travel in a Land Rover, Land Cruiser, 4×4 Jeep with a pop-up roof, freezer (or cooler box), binoculars, battery charger and a professional, english-speaking guide. Complimentary water will be served during each of the game drives.
This type of tour includes multiple different types of safaris accompanied by a private guide: In a 4×4, on foot, by hot air balloon and by boat. Transfers are completed by chartered plane, taking guests directly to their lodge.
Tanzania safari prices differ depending on the parks and activities selected. The tour noted above starts from £1,130/$1,500 per person per day.
FAQs
What other countries are worth visiting for luxury safaris?
Luxury safaris in Botswana or Kenya are great alternatives.
What is the budget for a luxury safari in Tanzania?
The price of a luxury safari in Tanzania will depend on multiple factors including the accommodation and transport means chosen. Visitors can budget for a minimum of £1,130/$1,500 per person per day.