Gombe National Park, aka the Gombe Stream National Park is a 30 sq. mile park in the northwest of Tanzania's Kigoma Region, separated from the Congo (DRC) by Lake Tanganyika and just south of neighbouring Burundi.
Notable primatologist Jane Goodall made this national park famous for her chimpanzee research at the Gombe Stream Research Centre and the park has since become a tourism board favourite and one of the best places in Africa to track chimpanzees.
Why visit Gombe National Park?
Safari in Gombe NP
Safari trips here are unique for the face-to-face interactions with the local chimpanzees, estimated to be about 95 of them remaining.
Gombe safari tours are popular with incoming visitors spending 1 day and often booked in for 3 day chimpanzee trekking trips in one of Tanzania's smallest national parks.
The pristine forest at the eastern shore of Lake Tanganyika is also a beautiful spectacle to behold with visitors engaged in swimming, boat rides, and intimate beach trips.
Gombe, in general, is less crowded compared to other parks and most wildlife viewing is completed on a hike, a different take on wildlife viewing compared to vehicle safaris in most wildlife parks.
Accommodation is also excellent with numerous options from tented camps, luxury lodges to camping grounds.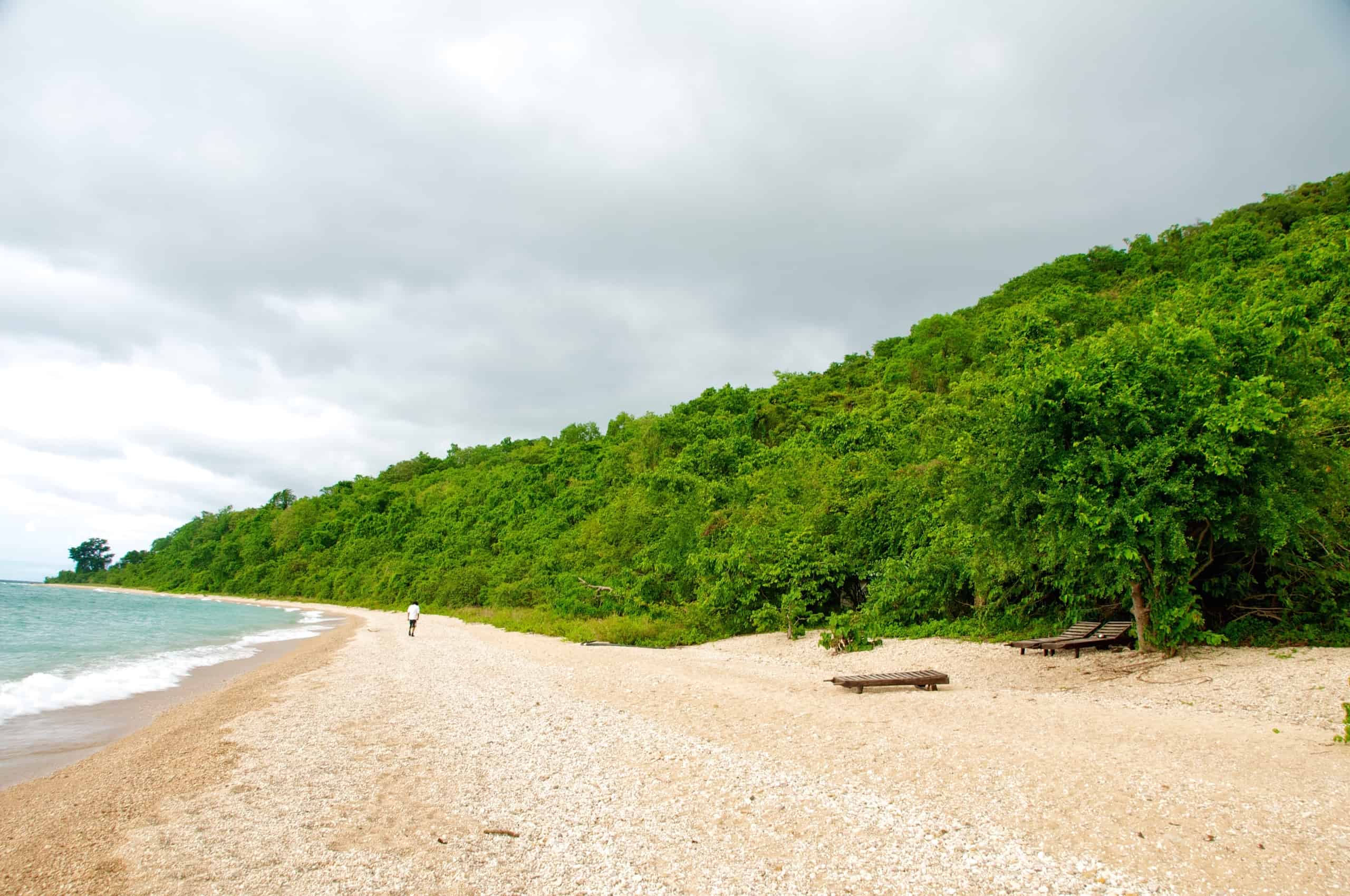 Animals
Visitors will be amazed by the variety and numbers of chimpanzees, monkeys and different primates they will encounter up close including beachcomber olive baboons, red colobus monkeys, red-tailed monkeys, snakes and the occasional leopard and hippo.
Bushpigs can also be found here, a member of the pig family that inhabits forests, woodland, riverine vegetation and cultivated areas.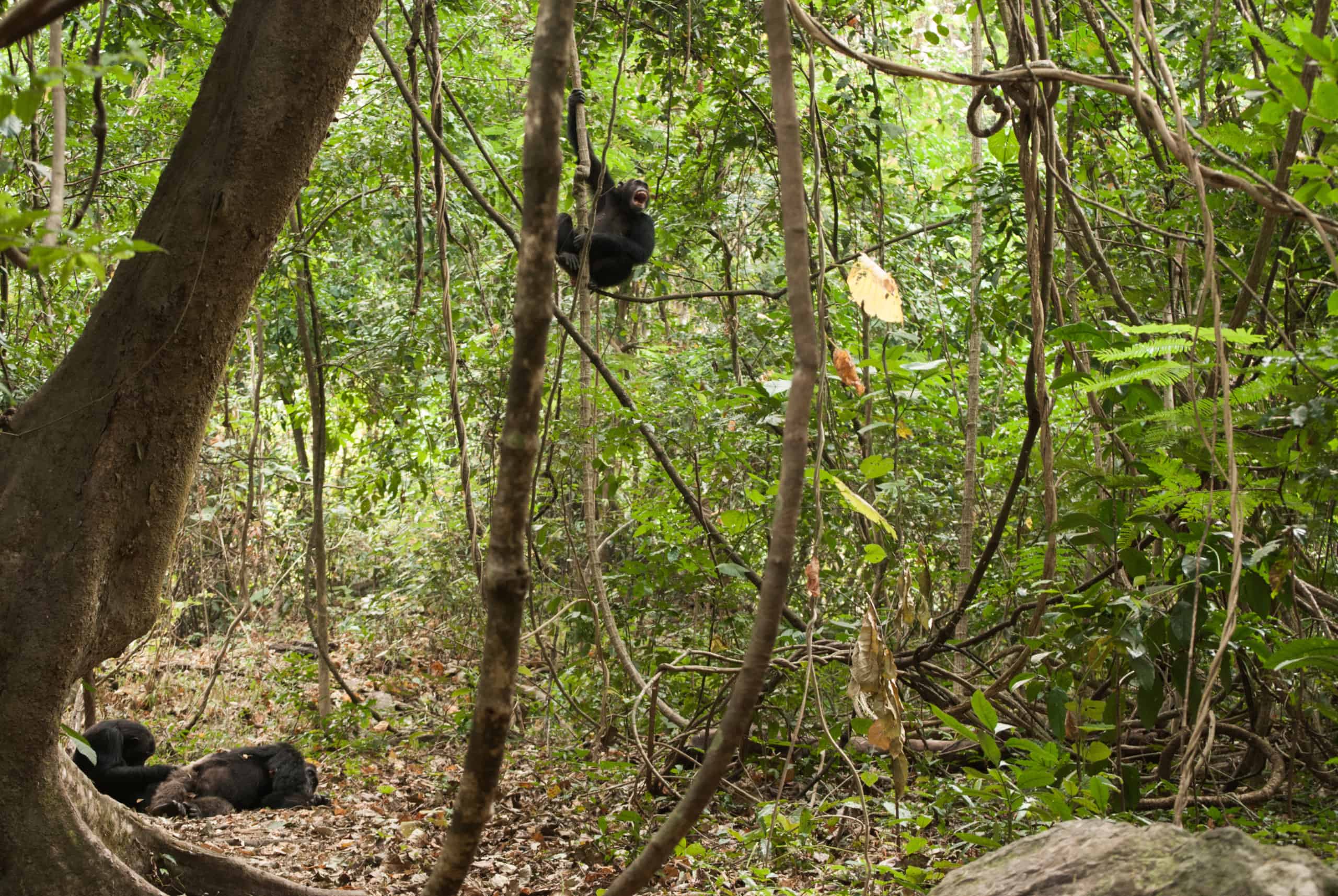 Birds
Over 200 species of birds can be found here, particularly along the lake shore including the African fish eagle, Livingstone's turaco, Palm-nut vulture, Kenya rufous sparrow and the African paradise flycatcher.
Other activities at Gombe NP
There are multiple activities and things to do in Tanzania that can be added to your safari including walking safaris. Here are some other activities which visitors can consider during their visit:
Chimpanzee trekking tour: A spectacular trek through forest lands and lakeside exploring the chimpanzee habitats and similar primates.
Walking safaris: Explore the wildlife with a local safari company or tour operator on foot, an authentic and economical means of exploring the wildlife.
Kakombe and Mkenke waterfall viewing: Besides the incredible wildlife experience, visitors can head out to Kakombe trail and Mkenke valley and explore the gorgeous natural Kakombe and Mkenke waterfalls.
Boat cruise: Choose a luxury boat or speedboat and feel Lake Tanganyika's breeze while savoring a view of the Great Rift Valley slope.
Mountain safari: Trek the wonderful mountain with magnificent views of the rift slope falling westwards into the lake.
How to get to Gombe National Park?
By Boat
The only way to get to Gombe NP is by boat from Kigoma town.
By Flight
Tourists from the United States, EU and beyond may also book international flights to Kilimanjaro International Airport (JRO).
International flights also into the country also arrive via Dar es Salaam (DAR) airport for visitors wondering how to get to Tanzania. DAR airport is located 18km south of Dar Es Salaam and a Tanzania visa and certain vaccinations may be required to enter the country.
From there, visitors can make their way west to Gombe via a domestic flight to Kigoma airport and charter a private motorboat to Gombe, taking less than an hour.
Tariffs & Regulations
Entrance fee
Prices per day:
USD $100 per adult to enter the conservation area

This is applicable only to time spent in the forest, not to time spent in camp.

USD $20 per child (aged 5 -16)
USD $20 additional guide fee per tour party for chimpanzee tracking
The main access gates open at 8am and close at 6pm.
Carrying a small amount of Tanzanian currency, the Tanzania Shilling (TZS) is recommended as back-up when paying for items where credit card facilities are unavailable. Visitors can also review further details on overall Tanzania safari prices here.
Regulations
Visitors must respect the rules of Gombe National Park, including the flora and fauna. Details will be provided at the park entrance gate.
Accommodation at the Gombe National Park
Gombe NP offers a good selection of accommodation to suit all budgets and tastes.
Lodges
For a luxury experience, the Gombe Forest lodge and Mbali Mbali Gombe Lodges in the heart of the park offer peace and quiet in the lush shade of ancient forest trees just off the shores of Lake Tanganyika.
Newlyweds may also indulge on a Tanzania honeymoon safari where they'll receive a lot of extra pampering as well as those on luxury safaris to ensure they're feeling the love and top notch service of a Tanzania safari.
Hotels
Gombe has a number of hotels nearby including the Imperial Hotel in Kigoma.
Camping
Public camping areas are also available.
Bars/restaurants/amenities: Lodges will typically have all meals and drinks included in the lodge package.
Useful information
Geography: Located on the northwest of Tanzania, a trip to the Gombe National Park is often combined with a trip to Mahale Mountains National Park and the Serengeti.
Weather: Day-time high temperatures range from 25C/77F to 28C/82F with the last of the rain falling in May.
Best time to go: Trekking chimpanzees in Gombe National Park can be done throughout the year. The easiest time to find them quickly however is towards the end of the Dry season, from July to October. Understanding the best time to visit Tanzania is useful as this impacts flight prices and availability.
Health: Visitors should seek medical advice from their doctor and consider antimalarial medication before travelling to Gombe.
FAQs
Where is Gombe National Park located?
In north-west Tanzania, Gombe NP is located by boat from Kigoma town. 
How much is the entrance fee to the Gombe National Park?
USD $100 per adult, USD $20 per child (aged 5 – 16) & USD $20 additional guide fee per tour party for chimpanzee tracking. 
What time does the entrance gate open and close at?
The gates into the Gombe NP open at 8am and close at 6pm. 
What animals will visitors see?
Visitors can expect to find many chimpanzees, beachcomber olive baboons, red colobus, red-tailed monkeys, blue monkeys, vervet monkeys, red-tailed monkeys, blue monkeys and bushpigs.