Tanzania has a huge variety of options for walking safaris and things to do, whether visitors are looking for short walks from their camps or longer immersive multi-day trips in east Africa.
A short flight from Dar es Salaam to any of Tanzania's incredible national parks will take guests closer to immersing themselves in the wild on a walking safari, getting closer to the incredible wildlife and surrounding landscapes.
Why go on a walking safari in Tanzania?
Walking safaris offer guests a different perspective on the magic and awe of an African safari. In the company of trained park rangers and professional guides, visitors can access special areas which are not typically open to the public.
This includes walk-in areas such as black rhino zones in the Serengeti and other unique opportunities to see the Great Migration on foot across remote bush lands on mobile safaris, as well as meeting local tribes for some additional cultural engagement.
Visitors can also enjoy the peace and tranquillity a walking safari brings, surrounded by wildlife and nature, without any engine revving disturbances.
Tours can also be customised per the guest's preferences for particular animals including leopards, elephants and more on the pristine lands.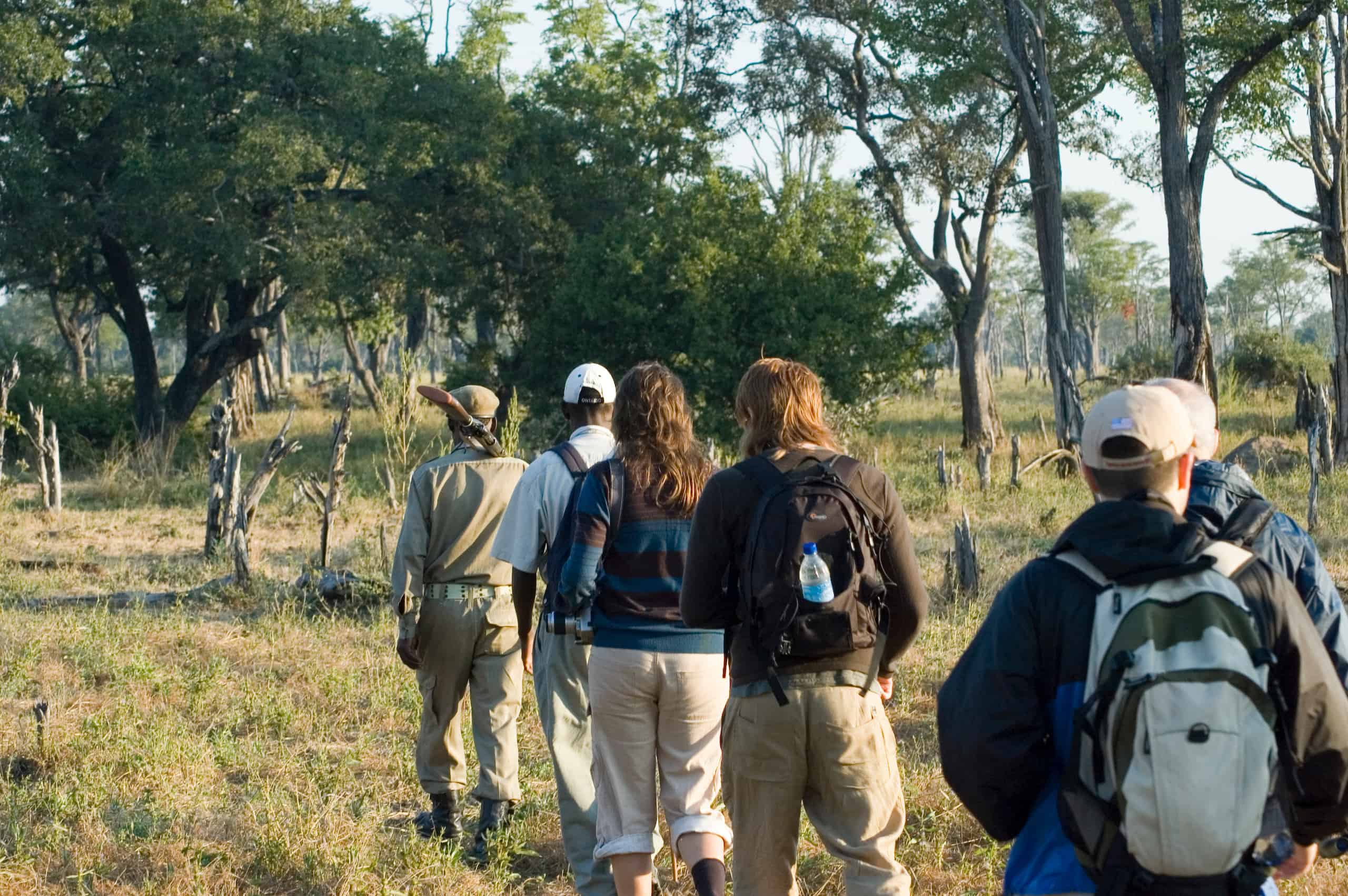 What will I see on a walking safari?
The main focus of a walking safari experience is to embark on slow paced, guided walks exploring different wildlife and big game species and landscapes in the bush.
Depending on the type of walking safari, visitors may see elephants and leopards up close in the Serengeti in northern Tanzania or on a week-long walking tour of Mahale Mountains National Park, home to some of the largest populations of chimpanzees in the world.
Guests can also opt to explore the wildlife rich Ngorongoro Crater rim and Rift Valley or the beautiful Lake Manyara.
In Katavi National Park, visitors can trek across plains exploring the large herds of Cape buffalo, zebra, wildebeest, giraffes, and elephants, as well as predators such as hyenas, wild dogs, and cheetahs.
Visitors can also have the choice of going on both walking and Jeep safaris or a combination of the two. Reviewing the recommended Tanzania vaccinations is advised prior to travelling to Tanzania.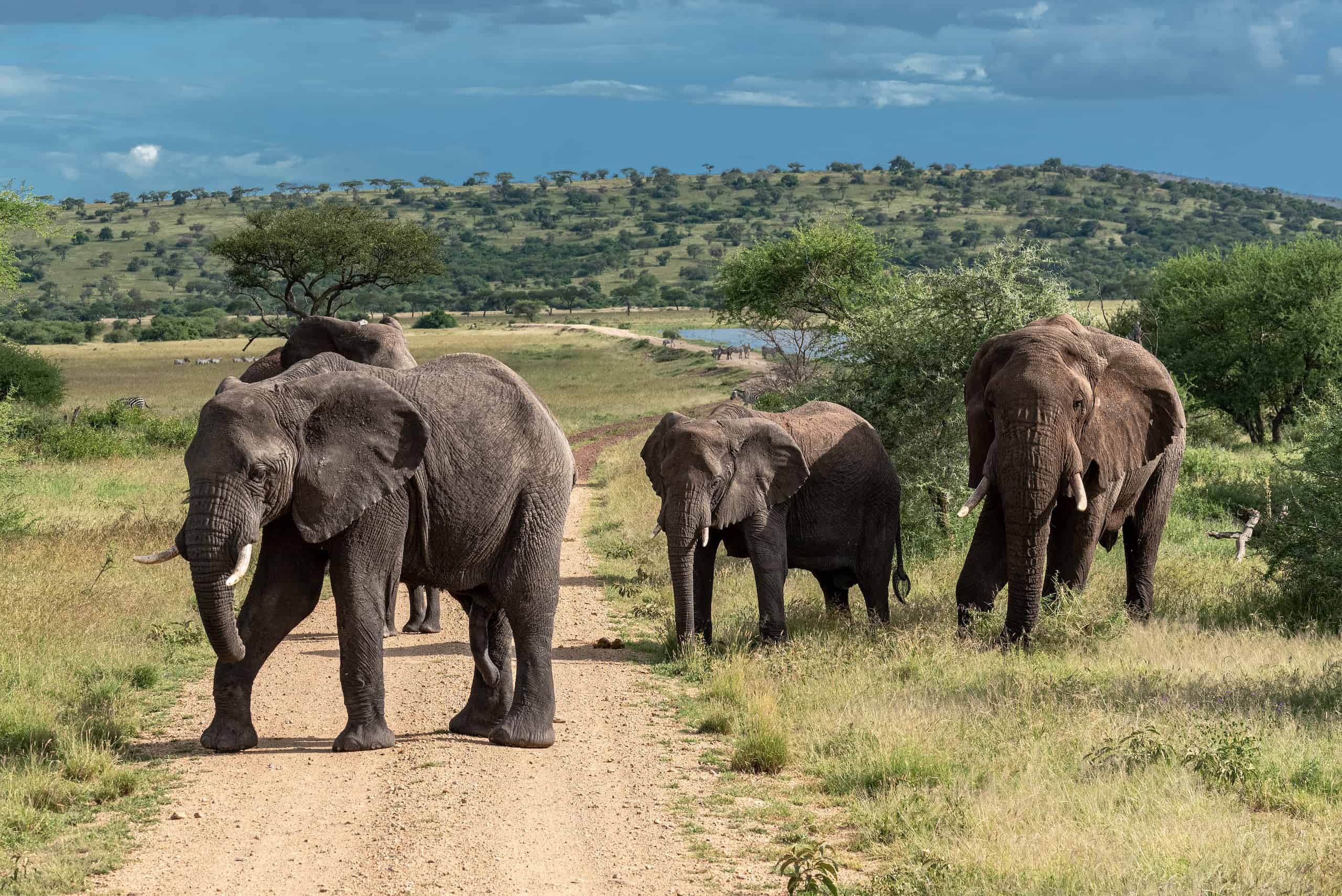 When to go on a walking safari in Tanzania?
Walking safaris are possible in Tanzania throughout the year. Where to walk in any given month is more nuanced as Tanzania is a huge country and its sheer size means that its climate varies considerably within it, as well as year on year.
Understanding the best time to visit Tanzania for a walking safari is important as this can impact accommodation, flight prices, availability and the weather that visitors can expect on their safari.
As a rule, the long dry season lasts from June to October across the country – rainfall is rare and this is generally considered the best time for a walking safari in most areas.
If walking on the Serengeti, it's more about where the migration is and where you can catch up with the wildlife without the crowds.
Cost of a walking safari in Tanzania?
The price of a walking safari package is difficult to estimate given costs can vary depending on the time of year, type of accommodation and how secluded it is, locations travelled to, activities selected and add-ons selected.
Walking guides for such safaris can start from USD $40 per person for short walks to $4,000 for a multi-day overnight trip. Carrying a small amount of Tanzanian currency, the Tanzania Shilling (TZS) is recommended as back-up when paying for smaller items. Visitors can also review further details on overall Tanzania safari prices here.
Sample Tanzania walking safari itineraries
A multi-day walk through the game-rich Serengeti national park offers visitors a very different off-piste safari experience compared to more luxury safari and honeymoon safari options. Walking in nature allows guests to explore the quieter areas of this park over several days in specially designated wilderness zones where game-driving is not allowed.
Walking is tightly regulated and is always conducted by experienced and knowledgeable armed guides.
Sample 10-day Serengeti walking safari itinerary:
Day
Sights
Stay
Day 1
Arrive into the Tanzania overnight
Rivertrees Country Inn
Day 2
Transfer to Arusha Airport and fly to Seronera.
Lunch & afternoon walk/drinks.
Serengeti Walking Safari Camp
Day 3
Walk along Orange River criss-crossing the river through great rock kopjes exploring wildlife along the edges of the woodlands & plains.
Wayo Serengeti Walking Camp
Day 4
Continue hiking & cross over large (now dry) flood plains with great vistas. Travel between small patches of forest & open plains.
Wayo Serengeti Walking Camp
Day 5
Heading towards the Lobo rocks, the woodlands get thicker with larger potential of elephant herds & denser animal numbers.
Wayo Walking Camp (Lobo)
Day 6
Hike round the north of Lobo.
Camp with spectacular views over the entire Northern Serengeti.
Serengeti Camp (Buffalo Camp)
Day 7
Turn west and walk into the woodlands with huge amounts of migrating animals. Camp on top of a ridge line with stunning views.
Serengeti Walking Camp
Day 8
Keep on walking into the Northern Serengeti. Following various drainage line, will end up on the Bologonja River.
Wayo Walking Camp (Chumvi)
Day 9
Continue walking the Northern Serengeti. Follow various drainage lines, ending up on the Bologonja River by the fly camping.
Main Serengeti Walking Camp
Day 10
Game viewing drive to Kogatende airstrip.
Morning flight back to Arusha Airport.
Transfer for international flight departure
FAQs
What will I see on a walking safari in Tanzania?
Visitors will see Tanzania's incredible wildlife and safari plains up close & personal including leopards and elephants in areas typically restricted for safari vehicles, all in a quiet and intimate environment.
How much does a Tanzania walking safari cost?
Prices range from $40 to $4,000 per person depending on the number of hours/days selected and add-ons chosen.
When to go on a walking safari in Tanzania?
A Tanzania walking safari can be done all year round. The dry season from June to October is the best time of year for a walking safari in Tanzania.