During a stay in east Africa, guests will have to consider the many element that make up Tanzania safari prices including accommodation, food, park entrance fees, activities and all of the great things to do upon arrival in Dar es Salaam, the main tourist hub. Below, we detail the essentials on the Tanzania currency and what is and isn't accepted.
What is the official currency of Tanzania?
The official currency of Tanzania is the Tanzania Shilling (TZS), which is subdivided into 100 senti (cents in English).
Notes and coins
Visitors can expect to find the following denominations.
Notes of: 1,000, 2,000, 5,000 & 10,000 shilingi
Coins of: 50, 100, 200 & 500 shilingi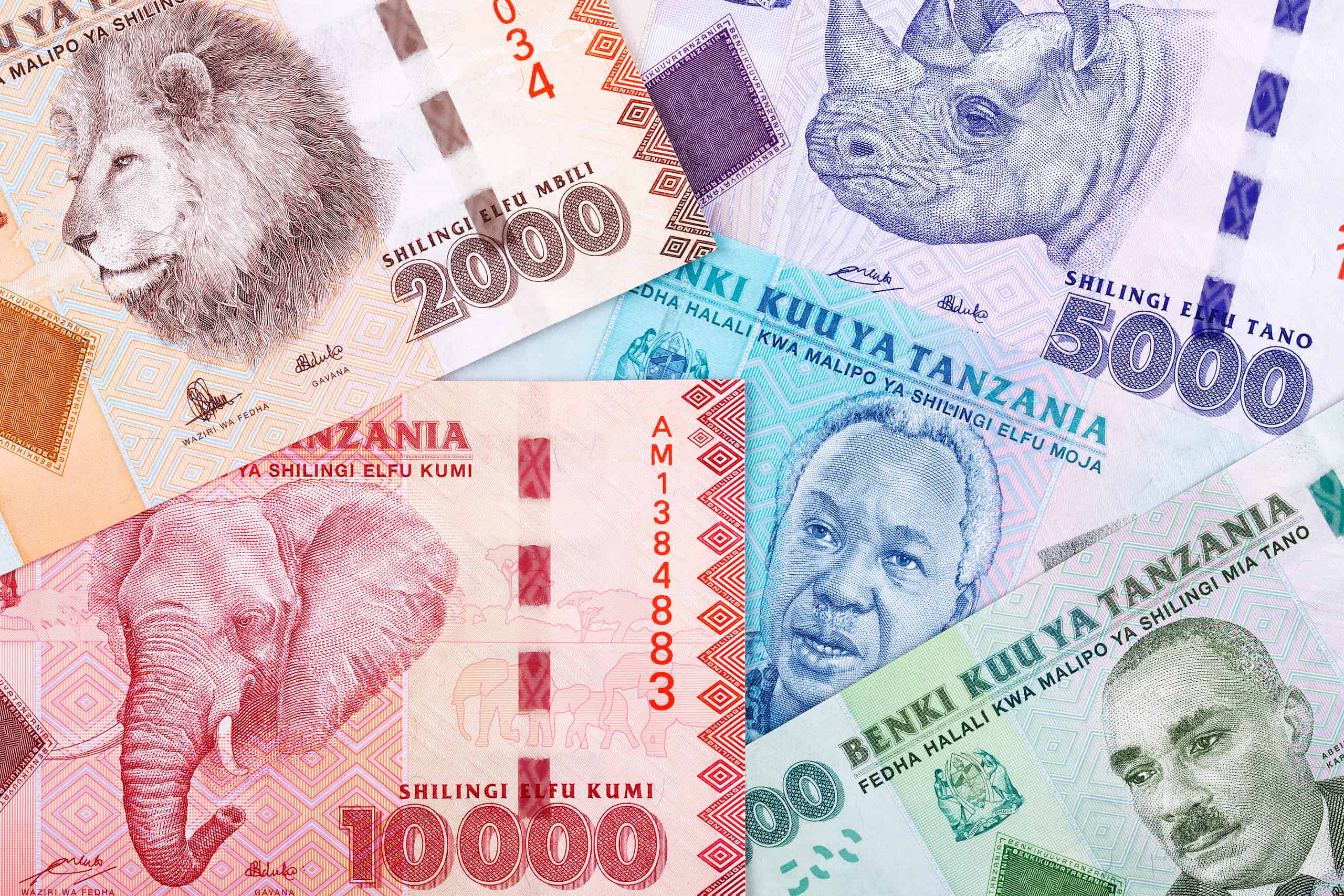 Shilling currency
The Tanzanian shilling replaced the East African shilling on 14 June 1966.
An amount in the Tanzanian shilling is written in the form of x/y, where x is the amount above 1 shilling, while y is the amount in senti. An equals sign or hyphen represents zero amount.
For example, 50 senti is written as "=/50" or "-/50", while 100 shilingi is written as "100/=" or "100/-". In common, daily use, the symbol TSh is used.
Older coins made from nickel brass and cupro nickel with denominations of 20 and 50 have since been updated. On 14 June 1966, the Benki Kuu Ya Tanzania (Bank of Tanzania) introduced notes for 5, 10, 20 and 100 shilingi (also denominated in shillings on the first series of notes).
What is the Tanzania currency exchange rate?
| Currency | TZS Shilling Conversion |
| --- | --- |
| 1 GBP | 3,120 Tanzania Shilling |
| 1 USD | 2,296 Tanzania Shilling |
| 1 EUR | 2,609 Tanzania Shilling |
| 1 DDK | 350 Tanzania Shilling |
Where do visitors exchange their money?
There are several places visitors can exchange their money but it is advised to use hotels, banks, and foreign exchanges. US dollars are recommended over euros or pounds.
Most Tanzanian shops won't accept U.S. bills dated 2006 or earlier as the older-issued bills were easier to forge.
Credit cards in Tanzania
Credit cards, debit cards and cash. These three should function as visitors' primary methods of carrying money. Visa is most widely recognized, followed by Mastercard (5% surcharge per swipe). Most lodges and higher-end shops accept credit cards.
Credit cards are a safe alternative to cash and are widely accepted in hotels, upscale souvenir stores, and restaurants, and can be used to pay for safaris.
However, some small camps do not have credit card facilities and visitors will be asked to settle your outstanding account in cash, so it's always wise to make inquiries first.
Upon getting to Tanzania, most visitors will require a Tanzania visa and should be prepared to pay in cash in case connectivity issues make electronic transactions impossible.
Diners Club is unheard of, and American Express is accepted at only a few establishments.
Upmarket restaurants in Arusha or Moshi have been known to refuse credit card payments under $50 (or even $80). Note that there will also be a 5% to 7.5% surcharge on the bill (and for any other credit card purchases, for that matter).
Traveler's Checks
Traveler's checks are not recommended for Tanzania. Travellers cheques are not widely accepted and non-Bank of England sterling notes may be subject to less favourable exchange rates.
Cash machines in Tanzania
ATM's aka cash machines aren't found outside major cities (Arusha, Moshi, Dar, Zanzibar). Visitors should be aware of this before going to the island of Zanzibar and other remote Zanzibar beaches. Visitors are recommended to withdraw what they need before travelling anywhere else (daily maximum of 400,000TSh, less than USD $200).
To minimise the risk of card cloning, only use ATMs located within a bank.
It is also useful to inform visitors' home banks ahead of travelling to ensure there are no issues with withdrawing cash or paying for accommodation in Tanzania, a transaction which may be deemed a suspicious transaction by your bank and blocked.
USD in Tanzania
US dollars are also widely accepted in tourist areas. Dollar notes printed before 2009 are usually not accepted.
Everyone in Tanzania accepts dollars as payment rather than local currency (parks will, in fact, only accept U.S. dollars in cash), so it's worth bringing a certain amount of dollars in cash.
Note that if visitors bring euros or sterling, they will have to convert them to shillings and then to dollars. Most street vendors and even some hotels take a very relaxed attitude to actual conversation rates and will simply knock off three zeros (Tsh 1,000 = $1).
FAQs
What currency does Tanzania use?
Tanzania Shilling (TZS) is the main currency and $1 USD = 2,296 Tanzania Shilling (TZS)
Do businesses accept credit and debit cards?
Most lodges and higher-end shops accept credit cards including Visa and MasterCard.