Bwindi Impenetrable National Park is a large primeval forest located in south-western Uganda in the Kanungu District.
The park's name comes from the extensive stands of bamboo interspersed amongst the larger forest hardwoods. The bamboo and thick ground cover of ferns, vines, and other plant growth severely hinder direct access on foot.
Bwindi is known for its exceptional biodiversity, with more than 160 species of trees and over 100 species of ferns. It is also host to a rich fauna including a number of endemic butterflies and one of the richest mammal collections in Africa.
Why visit Bwindi Impenetrable National Park?
Bwindi Impenetrable National Park safari
The park is inhabited by about 459 individual mountain gorillas which, per the 2019 Gorilla Census, are known to make up almost half of all the mountain gorillas in the world, more than the renowned Virunga National Park in the Congo.
Also a UNESCO World Heritage Site, a safari here is truly unique and undoubtedly the best place in Uganda to track mountain gorillas. This Ugandan national park protects around 40% of the world's mountain gorilla population and has several habituated groups.
The main attraction in Bwindi is its mountain gorillas which generate much revenue for Uganda Wildlife Authority.
Twelve habituated mountain gorilla groups are open to tourism in four different sectors of Buhoma, Ruhija, Rushaga, and Nkuringo, a very rewarding experience on any east Africa safari seeing these huge mammals in the wild.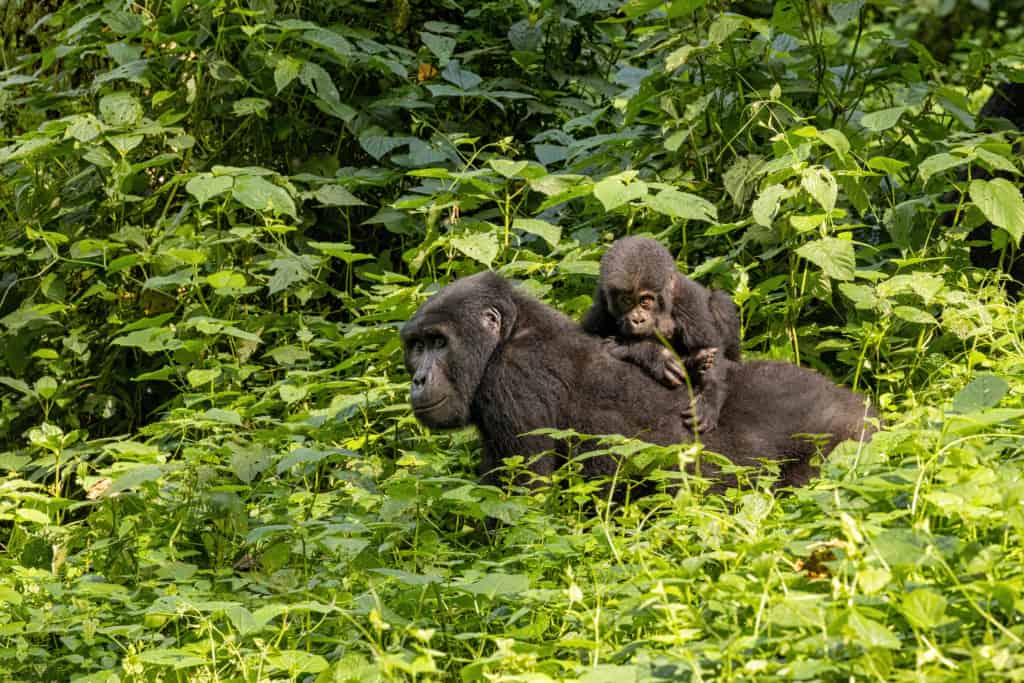 Animals
Aside from the endangered mountain gorillas, nine other primate species are found in the forest.
These include chimpanzee, olive baboon, black-and-white colobus and l'Hoest's monkey. Elephants are present but seldom seen.
Bushbuck and several types of forest duiker can sometimes be spotted. The park has a very impressive bird and butterfly checklist.
Other animals include elephants, duikers, buffaloes, golden cats, bush pigs, giant forest hogs, black-fronted Duiker, yellow-backed duiker, clawless otters, side-striped jackals, civets as well as numerous bats and rodents.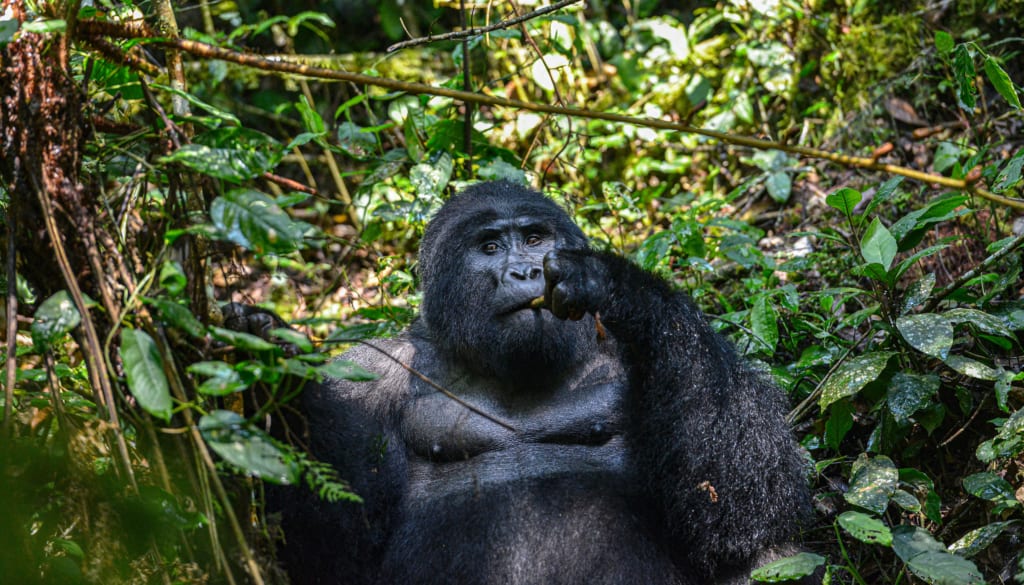 Birds
Bwindi should be on every birder's itinerary. The park offers some of the best montane-forest (mountain-forest) bird watching in Africa. There are an estimated 350 bird species, with 14 not recorded anywhere else in Uganda.
There are 23 birds unique to the Albertine Rift (which is 90% of all Albertine Rift endemics), including Neumann's warbler and blue-headed sunbird. Migratory birds are present from November to April.
Trees
An ancient rainforest, the Bwindi Impenetrable Forest extends over a series of steep ridges in the Virunga Volcanoes mountain range.
Trees species in Bwindi Impenetrable Forest include African brown mahogany tree, Ceiba trees, Cecropia trees and Ebony tree species.
Bwindi impenetrable park has many equatorial rain forest trees and these trees can grow to a height of up to 55-75 feet, they form thick canopies, many trees have broad leaves and contain hardwood.
This park alone has about half of all the tree species in Uganda, some of these include African brown mahogany which is an endangered tree, Brazzzeia longipediliata. Ebony, ceiba tree, cecropia trees and more.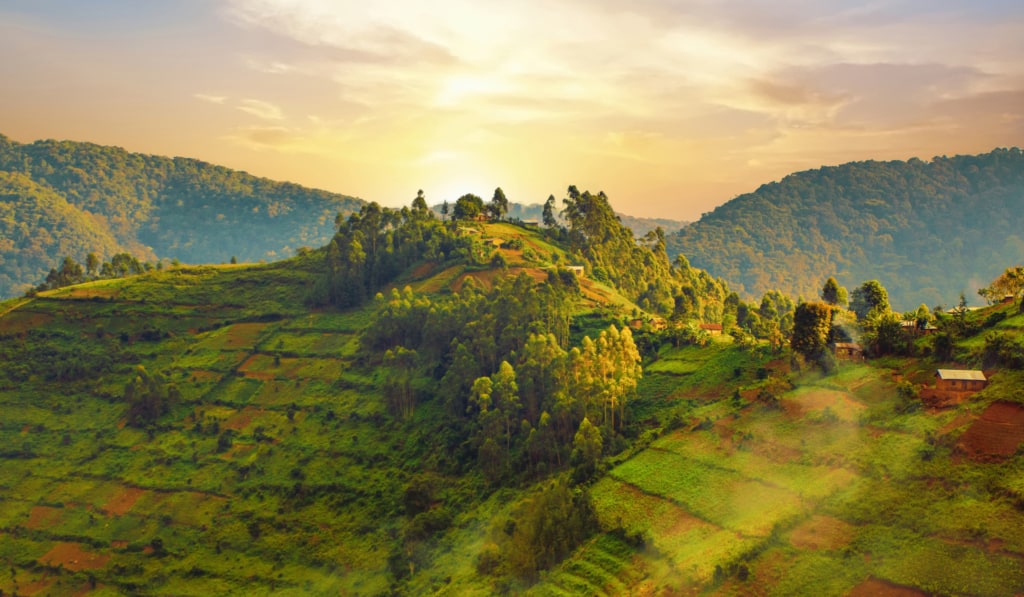 Other activities at Bwindi Impenetrable National Park
Here are some other Ugandan safari activities in Bwindi Impenetrable National Park that visitors can look forward to on their trip:
Gorilla Trek: Bwindi has 19 habituated gorilla families that travelers can track in the four different sectors of the park. Buhoma, Ruhija, Nkuringo and Rushaga gorilla sectors, a unique way to get up close and personal with these incredible creatures.
Forest hikes: Guided nature walks through carefully developed trails in the park including the Munyaga River trail takes travelers to the beautiful waterfalls in the park whilst viewing the abundant and amazing flora and fauna in the park.
Mountain biking: The Buhoma sector guides will share their knowledge of the area and the community plus the culture and numerous birdlife you will come across, a great way to explore the park.
Buhoma community walks: In the Buhoma sector, the Buhoma community walk will involve walking through the village visiting a local school, hospital, traditional healer and also get to see and take part in the traditional winemaking process.
Lake Mutanda: Located in the southern part of the park, this is a beautiful and refreshing place that travelers should go and unwind from after the gorilla trekking experience. The lake has many islands that can be explored on a dugout canoe.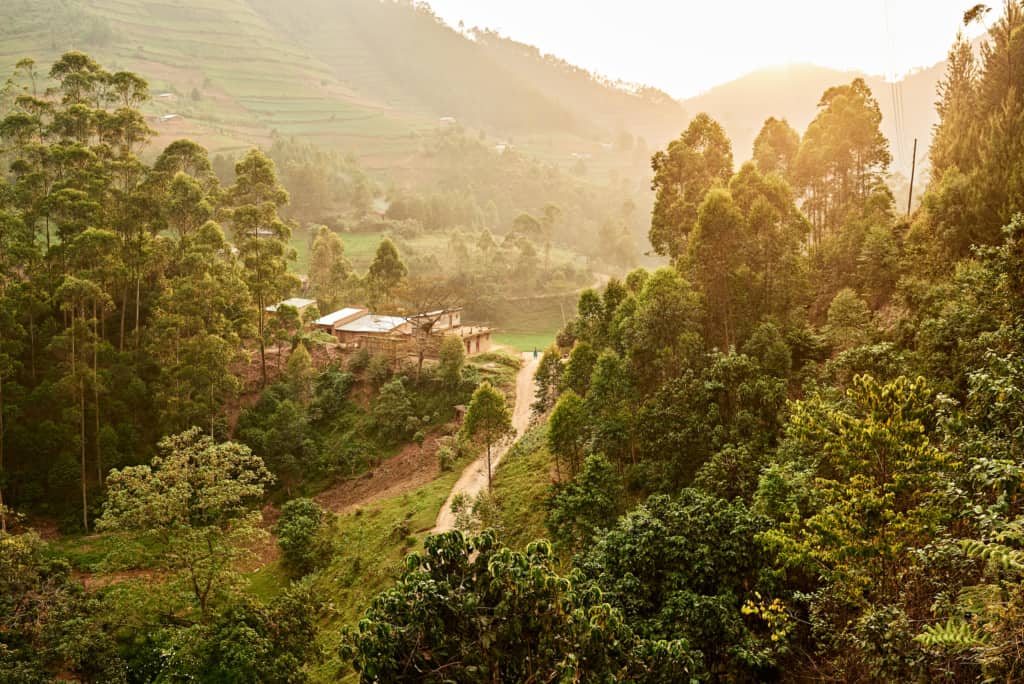 How to get to Bwindi Impenetrable National Park?
By Plane
Entebbe International Airport (EBB) is how most visitors enter Uganda and visitors should be aware of the latest Uganda visa requirements.
The airport is about 46km/29mi from the capital city of Kampala and it's possible to fly by domestic carrier from Entebbe or Kampala (Kajjansi Airfield) to Kihihi or Kisoro near Bwindi.
Most domestic flights between parks are arranged by tour operators and are included in your tour package. There are two domestic carriers flying scheduled services to Kihihi (40km from the park) or Kisoro.
By Road
There are four discrete trailheads for gorilla trekking in Bwindi. These are Buhoma and Ruhija in the north, and Rushaga and Nkuringo in the south. They are several hours apart by road.
If visited as part of a Ugandan tour, Buhoma, the main gorilla trekking trailhead, can be reached from Queen Elizabeth NP in 2 to 3 hours (from the Ishasha sector) or 5 to 6 hours (from the more northerly sectors).
It is 5 to 7 hours by road from Lake Mburo NP to the various trailheads. If coming straight from Entebbe or Kampala, the trip by road will take about 8 to 10 hours. During the rainy season, travel by 4WD vehicle is necessary for some trailheads.
Bwindi can also be reached by scheduled or chartered flight. Kihihi is the closest airport to the Buhoma and Ruhija trailheads, Kisoro for the more southerly Rushaga and Nkuringo.
Tariffs & Regulations
Entrance fee
All Bwindi Impenetrable National Park fees are payable at the gate at time of entrance. Park fees are valid for 24 hours and adults are charged as follows:
Adults are charged $40 for Foreign Non-Residents
$30 for Foreign Residents
UGX 20,000 for East African Citizens
Children are charged as follows:
$20 for Foreign Non-Residents
$10 for Foreign Residents
UGX 5,000 for East African Citizens.
Carrying a small amount of Ugandan currency, the shilling (UGX) can be useful when paying for smaller ticket items.
Regulations
If you keep to park rules, you can stay with the animals as long as they are not disturbed by your presence.
Accommodation at Bwindi Impenetrable National Park
Tourists at Bwindi can choose from a number of different options when deciding where to sleep.
Lodges
There are various accommodation options in Bwindi Impenetrable National Park including Gorilla Heights Lodge, a 4-star lodge with 15 rooms and conveniences like a full-service spa, an outdoor pool, and free in-room WiFi.
This luxury lodge also offers a seating area with a flat-screen TV and a private bathroom with bathrobes, slippers and shower. There is also a kitchen in some of the units equipped with a microwave, an oven, and a stovetop.
Continental and buffet breakfast options are available every morning at the accommodation.
Another fine alternative in Bwindi is Engagi Lodge, a small, simple lodge located just outside of the Bwindi park headquarters at Buhoma, where you start and end your gorilla tracking excursions.
There are eight cottages located on the property, all of which boast views of the forest valley and hills opposite from the comfort of their balconies.
Each has double or twin beds and en suite bathrooms with hot and cold running water, showers and flush toilets and the main bar and restaurant area is excellent; very stylishly designed and decorated.
Camping
Camping is done at selected safari lodges that offer camping grounds in Bwindi. Book a camping safari and enjoy the outdoor experience for a small fee.
Gorilla Conservation Camp is one of the top choices for budget travelers. You can actually camp if you have your own tent, but there are also self-contained rooms available to rent.
Bwindi Forest Farm helps organize projects for interested campers. The farm is on a coffee plantation and you may help with farming, building structures, or working in a local school. You can rent a tent at the camp or reserve a banda to sleep in.
Campervan
Guests on a self-drive safari with a campervan can make significant savings by sleeping in their vehicle.
Bars/restaurants/amenities
Lodges will typically have all meals and drinks included in the lodge package.
Useful information
Geography
Located in the southwest of Uganda in the Kanungu District, a must-do stop on any Uganda safari trip and a popular combination safari with visitors to Kibale National Park.
Weather
Bwindi Impenetrable National Park has a wet, yet mild, climate. Temperatures remain consistent yearlong due to its short distance from the equator. Daytime temperatures of around 23°C/73°F are usual, with a significant drop at night to around 11°C/52°F.
Bwindi receives a lot of rain throughout the year. The months of June and July receive the least rain. From March to May and October to November the rainfall is highest. Waterproof clothing and hiking shoes are essential.
Best time to go
Understanding the best time to visit Uganda is important as this will impact accommodation, flight prices, availability and the weather that visitors can expect on their safari vacation.
Bwindi is open for gorilla trekking all year long, but the best times to go are from June to August and December to February. At these times, the forest trails are drier and therefore less slippery.
Also, your chance of a dry gorilla viewing experience is higher during these months. This might result in a better experience and photography will be easier.
Health
It is advised to stay up-to-date with the latest Uganda vaccine requirements and to ensure to take measures against malaria, as well as have certain vaccinations (contact your local doctor or travel clinic).
You can protect yourself from malaria risk by using a mosquito repellent (those containing DEET are most effective), covering up in the evening and taking antimalarial medication.
Visitors should also take precautions such as covering up in the evening and applying mosquito repellent (those containing DEET are most effective).
It is recommended to visit a travel clinic before coming to Uganda. Several vaccinations are recommended and usually administered before your departure and a yellow fever vaccine is required when traveling from a country with high risk of transmission.
FAQs
Where is Bwindi Impenetrable National Park located?
Bwindi Impenetrable National Park is located in the southwest of Uganda, the journey by flight can be completed by domestic carrier from Entebbe or Kampala (Kajjansi Airfield) to Kihihi or Kisoro near Bwindi.
How much is the Bwindi entrance fee?
The entrance fee for Bwindi is $40 for Foreign Non-Resident adults and $20 for Foreign Non-Resident children.
What animals will visitors see at Bwindi Impenetrable National Park?
Visitors to Bwindi Impenetrable National Park will see mountain gorillas, chimpanzees, olive baboons, black-and-white colobus, l'Hoest's monkey, elephants, Bushbuck, forest duiker,  buffaloes, golden cats, bush pigs, side-striped jackals and civets.