Budongo Forest contains two ecotourism sites: Kaniyo Pabidi and Busingiro. Kaniyo Pabidi (en route to Murchison Falls and part of the greater Murchison Falls Conservation Area) offers excellent chimpanzee trekking.
Depending on where you are in the forest, the landscape can change drastically, morphing between savannah, riverine marshlands, and woodland. The forest sits at a medium altitude of 1,100 meters, and the land slopes from southeast to northwest.
The forest is famous for its population of chimpanzees. Chimp trekking is possible here, and sightings are around 80%.
Why visit Budongo Forest?
Budongo Forest safari
The forest is a famous destination for chimpanzee safaris and nature walks safaris in Uganda.
This fame is, especially, attributed to the fact that it continues to be the only naturally grown forest in Uganda over the years and it is a home for the endangered primate species, the chimpanzees.
The forest has 600-700 chimpanzees, which is the largest number in Uganda. Though the chimps are the main attraction, down by the savannah you can occasionally spot buffaloes and elephants.
The morning is the best time to go on a safari trek to view the wildlife, as several forest inhabitants can be found licking salt by the forest glades.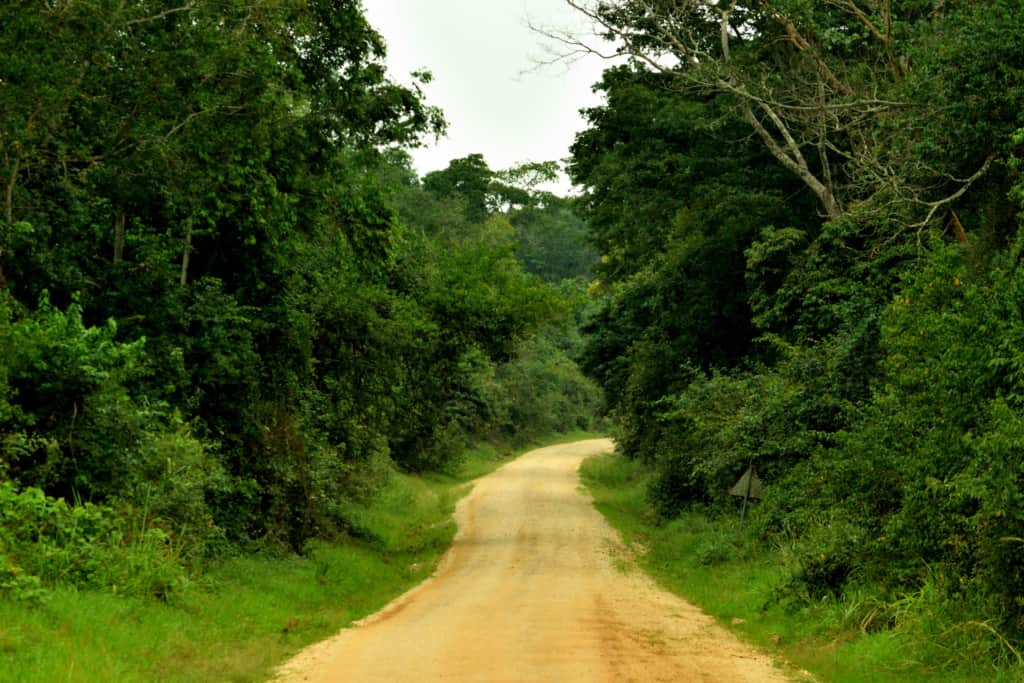 Animals
Budongo's main attraction is tracking a troop of habituated chimpanzees at Kaniyo Pabidi. Your guide will take you along the forest trails to find them. Once found, you can observe them for one hour.
They may be feeding in the canopy, or resting and grooming on the ground. If they're on the move, following them can be quite an adventure.
Aside from chimpanzees, other primates that can be seen along the forest trails include black-and-white colobus, red-tailed monkey, blue monkey and olive baboon.
Nocturnal primates include potto and various forest galago species. The rarely seen tree pangolin is also resident. Keep an eye out for the checkered elephant shrew on the forest floor and the forest giant squirrel up in the trees.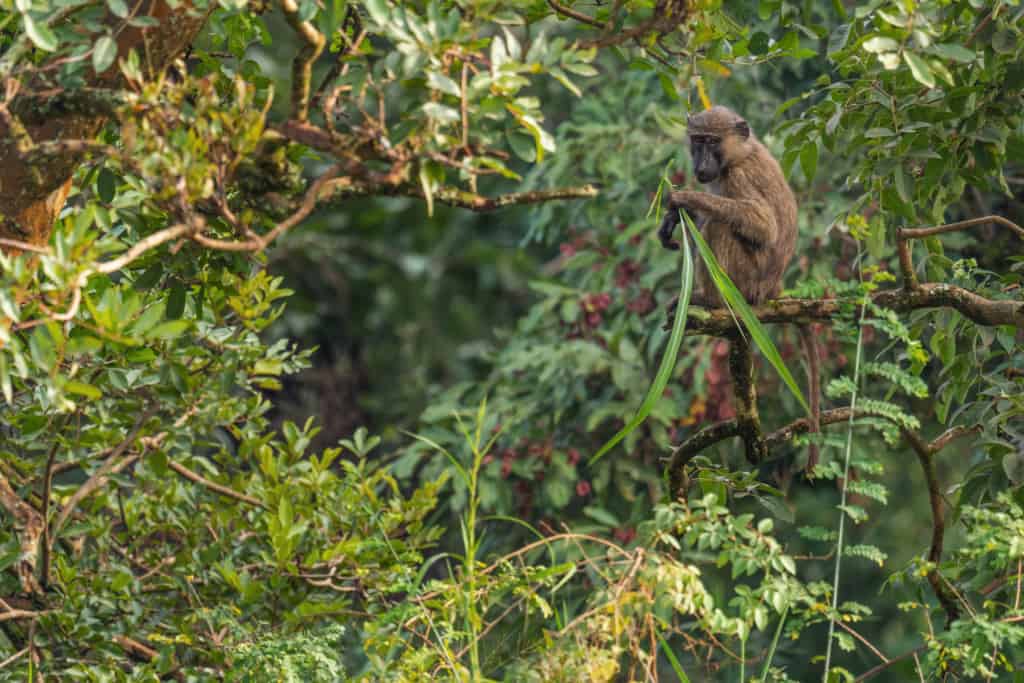 Birds
Budongo Forest is of great interest to birders. It has a checklist of more than 360 birds, of which 60 are considered West or Central African birds.
The forest is the second most important in Uganda (after Semuliki National Park) for species of the Guinea-Congo forest region.
Two species of birds found in Budongo Forest are found nowhere else in East Africa: yellow-footed flycatcher and Puvel's illadopsis.
The best location for bird watching is on 'The Royal Mile' at Busingiro, but Kaniyo Pabidi also offers excellent forest birding and is easier to explore. Migratory birds are present from November to April.
Trees
Home to at least 465 species of trees, the forest is known for its former abundance of East African mahogany trees as well as being home to a population of chimpanzees.
An exceptionally large mahogany tree is still found here, and is more than 80 meters tall and some 20 meters in circumference.
Other activities at Budongo Forest
Here are some other Ugandan activities that visitors to Budongo Forest can look forward to on their trip:
Chimpanzee tracking: Budongo is an excellent spot to track chimpanzees and the success rate in seeing Chimpanzees is quite high here, an enjoyable way of spending an afternoon with these intelligent creatures.
Guided nature walks: Taken through woodland and savanna terrain, visitors can spot wildlife licking salt in the forest clearings and large mammals wandering into this part of the park including elephants, lions, buffaloes and leopards.
Bird tours: Birders will find Budongo literally a paradise with its 360 plus species of birds on tours led by knowledgeable guides spotting Sabine's spinetail, Cassins spinetail (rare), Pygmy crakes, Kingfishers and White spotted fluff Tails.
How to get to Budongo Forest?
By Plane
Entebbe International Airport (EBB) is how most Ziwa Rhino Sanctuary visitors enter Uganda. Travellers should also be aware of the latest Uganda visa requirements.
Its location is about 46km/29mi from Kampala. It is customary that your local tour operator will pick you up from the airport or hotel.
It is also possible to fly to Pakuba Airfield in Murchison Falls NP by scheduled or chartered aircraft from Entebbe International Airport (EBB) or Kajjansi Airfield near Kampala.
By Road
Budongo is located about 300km/186mi north of Kampala. The drive takes at least 4 hours. Coming from the southwest, the 280km/170mi drive from Fort Portal takes at least 6 hours.
Kaniyo Pabidi, the center for chimp tracking in Budongo Forest, is usually visited en route to or from Murchison Falls National Park.
Tariffs & Regulations
Entrance fee
All Budongo Forest fees are payable at the gate at time of entrance. Park fees are valid for 24 hours. Entrance to Budongo Forest reserve costs $50 per person, not including vehicle fees.
Carrying a small amount of local currency, the Uganda currency (UGX) is advised for smaller purchases.
Regulations
If you keep to park rules, you can stay with the animals as long as they are not disturbed by your presence.
Accommodation at Budongo Forest
Tourists at Budongo Forest can choose from a number of different options when deciding where to sleep with accommodation ranging from luxury safari lodges to lower budget camping.
Lodges
Budongo Forest Eco-Lodge is an eco-friendly establishment with tucked away cabins in forest and dorm rooms. The service is good and the main thing is the convenient location.
The lodge consists of comfortable eco-cabins with private veranda, four spacious dorm rooms, a visitor's center and restaurant.
In addition, many different forest activities are offered in the direct surroundings, including chimp tracking, chimpanzee habituation, forest walks and bird watching.
The Chimps can be so near that they can be heard from the Budongo Eco lodge and the trek to find them will take a few minutes.
Bandas
Busingiro has 2 African bandas (huts), with each accommodating up to 5 visitors. They're located in the forest, meaning you can fall asleep to the sound of the surrounding forest.
Similarly, Kaniyo Pabidi has cottage accommodation, as well as a campsite. At Boomu Women's group, there are grass-thatched bandas visitors can stay in, which are surrounded by gardens, butterflies, and weaver birds.
Most visitors choose to spend the night at one of the lodges in Murchison Falls.
Campervan
Guests on a self-drive safari with a campervan can make significant savings by sleeping in their vehicle.
Bars/restaurants/amenities
Lodges will typically have all meals and drinks included in the lodge package.
Useful information
Geography
On a Uganda safari tour, the Budongo Forest in Uganda can be found northwest of the capital city Kampala on the way to Murchison Falls National Park and can be accessed via chartered flight into Pakuba Airfield in Murchison Falls NP from Entebbe International Airport (EBB).
Trips here are often combined with tours of Bwindi Impenetrable National Park and Murchison Falls National Park.
Weather
Budongo Forest has a hot, tropical climate. Temperatures range from 32°C/90°F during the day to a much cooler 17°C/63°F at night.
The area experiences a Wet season from April to October, when rain usually comes as heavy storms. There is little rainfall during the Dry season (December to February).
Best time to go
Understanding the best time to visit Uganda is important as this will impact accommodation, flight prices, availability and the weather that visitors can expect on their safari vacation.
Watching wildlife and tracking chimpanzees in Budongo Forest is good all year long. It is best from December to March and also in June and July when there is less rainfall.
Health
Antimalarials are advised, as well as covering up in the evening and using mosquito repellent (those containing DEET are most effective).
It is recommended to visit a travel clinic before coming to Uganda. Several Uganda vaccinations are recommended and usually administered before your departure.
FAQs
Where is Budongo Forest located?
The Budongo Forest in Uganda is northwest of the capital city Kampala on the way to Murchison Falls National Park, and is located on the escarpment northeast of Lake Albert.
What animals will visitors see at Budongo Forest?
Visitors to Budongo Forest will see a troop of habituated chimpanzees at Kaniyo Pabidi. Other primates that can be seen include the black-and-white colobus, red-tailed monkey, blue monkey and olive baboon and various forest galago species.