Ziwa Rhino and Wildlife Ranch in central Uganda is located in the Nakasongola district. It's a famous home for only wild rhinos in Uganda, a project of Rhino Fund Uganda and the Uganda Wildlife Authority (UWA).
Ziwa Rhino Sanctuary is the only place in Uganda where visitors can spot the most elusive of the big five, the rhino, with significant numbers of Southern White Rhinos found here in the wild.
Visitors can travel to Ziwa Rhino Sanctuary for these unique Wildlife species before proceeding to Murchison Falls National Park, Queen Elizabeth National Park or Kidepo Valley National park to view the remaining four of the big five animals (Lions, Elephants, Buffaloes and Leopards).
Why visit Ziwa Rhino Sanctuary?
Ziwa Rhino Sanctuary safari
Safari treks starts from the sanctuary headquarters together with an armed ranger guide who will be escorting and guiding you. They are knowledgeable and they will first brief you on the rules and regulations before you set out into the wilderness to trek.
Rhino trekking is the main adventure in Ziwa Rhino Sanctuary where visitors can track these fascinating species through the thickets normally over a 2 to 3 hour period.
The rhino sanctuary has over 65 trained game rangers for security, and they will guide you during your activities.
By nature, the White Rhinos are not violent and aggressive like the Black Rhinos and thus there are minimal attacks provided that you follow the tracking guidelines and a trek to view these stunning mammals is the most thrilling experience worth exploring in Uganda.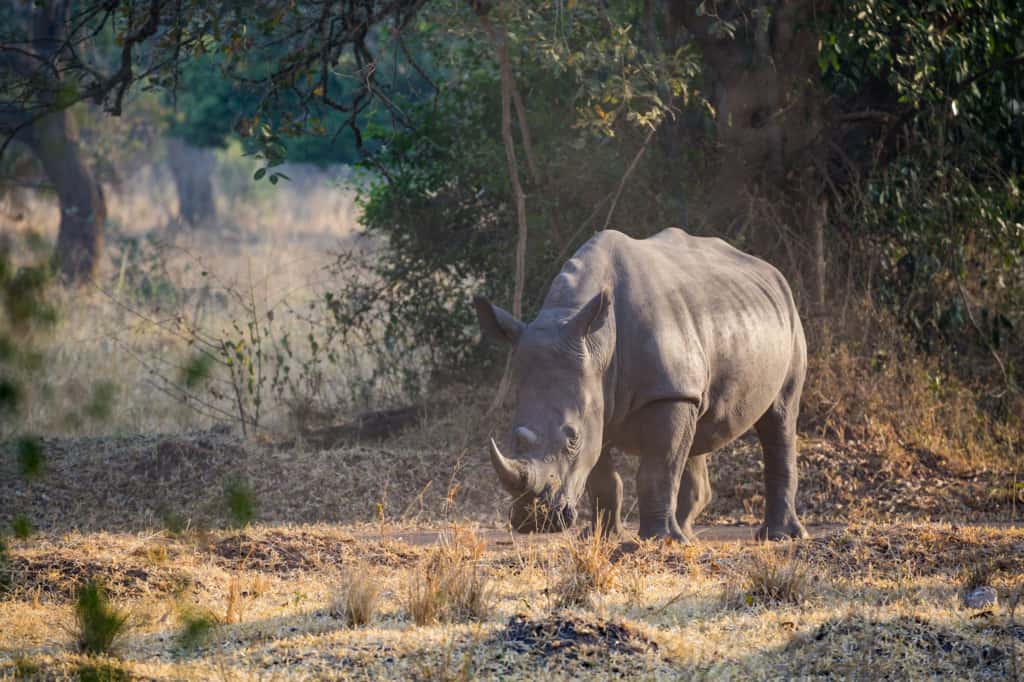 Animals
Ziwa Rhino Sanctuary also has other animals that you will enjoy seeing during your trek through the area.
The sanctuary has about 40 mammal species including the antelopes, hippos, crocodiles, monkeys, to mention but a few, it also has a number of bird species enough to make it the birder's place to be.
These exceptional creatures come in five distinct species with two found in Africa and they include the Black and White Rhinos both featuring a pair of horns and always viewed in East and South African nations.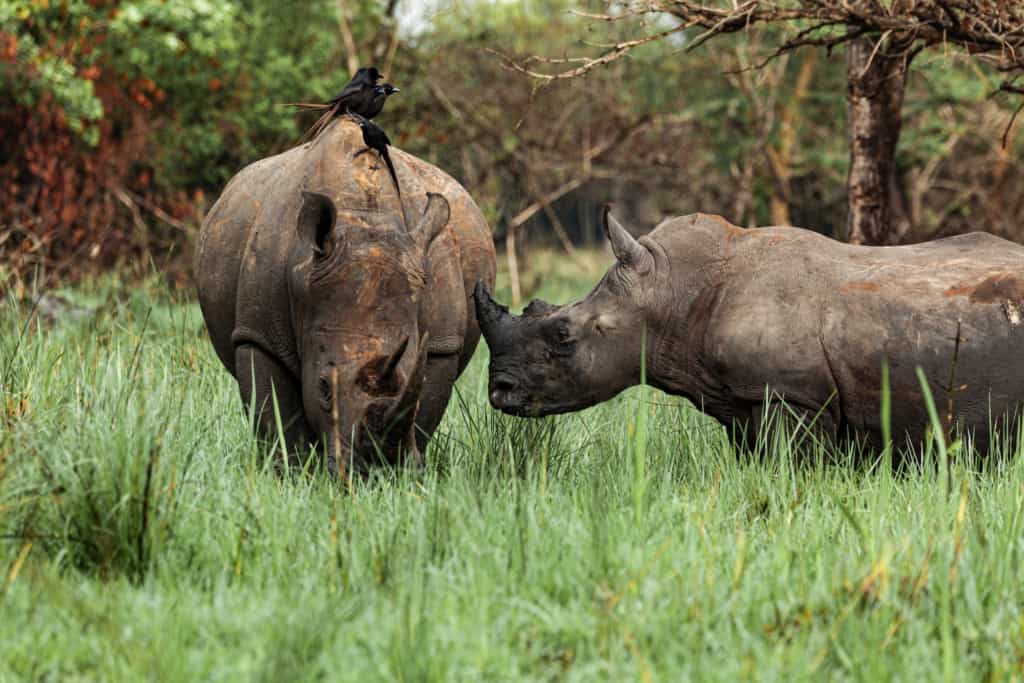 Birds
For those who love birds, Ziwa is a great option as there are four different trails to choose from which take you across the savannah, woodlands or swamps, each a habitat to the various species of bird that live here.
Early morning between 6am and 8am and in the evening between 4pm and 6pm are the best time for birding at Ziwa Rhino and wildlife Ranch sanctuary.
Some of the birds to catch a glimpse in the sanctuary include the Meyer's parrot and Brown parrot, Fork tailed kingfisher, Gabar goshawk, purple banded sunbird, Green winged ptyilia, Butler eagle, Martial eagle, Rupell's long tailed starling and the Black headed gonolek.
Trees
Visitors to the reserve will find dense acacia forest and the rhinos are free to roam across the savannah, acacia woodlands and cool muddy swamps, Uganda's only rhinos spend their day grazing on the thick shrubbery or resting under the shade of tall trees.
Rhinos are herbivores and they feed on only vegetation, especially foliage of trees and bushes. They spend their morning and evening hours feeding and during the day resting under the trees.
Other activities at Ziwa Rhino Sanctuary
Here are some other Ugandan activities that visitors to Ziwa Rhino Sanctuary can look forward to on their trip:
Rhino tracking: This is a unique activity which grants you a chance to see rhinos on foot, up close but from a safe distance and observe these endangered rhinos feed in their habitat..
Birding tours: The sanctuary is home to over 350 bird species and birders can have a full or half day time of birding either on a guided nature walk or on boat. You will be guided by experienced guides spotting Blue spotted doves and Shoebill storks.
Nature walks: These can take a half day or full day as you hike through the sanctuary where you will spot animals like the oribis, reed bucks, grey duikers, bush bucks, hartebeests, monkeys, butterflies and monitor lizards.
Shoebill Stork and canoe ride: Head out on an early morning canoe ride in the adjacent swamp, to see this prehistoric looking bird and enjoy a beautiful sunrise over the Lugogo Swamp.
How to get to Ziwa Rhino Sanctuary?
By Plane
Entebbe International Airport (EBB) is how most Ziwa Rhino Sanctuary visitors enter Uganda and connect via road to the sanctuary. Travellers should also be aware of the latest Uganda visa requirements.
By Road
It is situated about 3 hours drive from Kampala, over a distance of 176 km via the gulu highway, it is actually half way to Murchison Falls National Park, near Nakitoma village trading center where you will branch from.
Carrying a small amount of local currency, the Uganda currency (UGX) is advised for smaller purchases.
Tariffs & Regulations
Entrance fee
Those who are interested in only entering the Sanctuary only pay the entrance fee of $50.
Regulations
If you keep to park rules, you can stay with the animals as long as they are not disturbed by your presence.
Accommodation at Ziwa Rhino Sanctuary
Tourists at Ziwa Rhino Sanctuary can choose from a number of different options when deciding where to sleep with accommodation ranging from luxury safari lodges to lower budget camping.
Lodges
After enjoying your time with the Rhinos, you enjoy your overnight stay in the Amuka safari lodge that offers comfortable accommodation, an on-site restaurant that serves mouth-watering dishes and has a swimming pool for tourists who wish to just relax.
There are also self-contained luxury tents where tourists can relax and spend an overnight.
Camping
Ziwa Rhino Sanctuary also offers visitors the option to camp overnight, with the skilled and armed guides nearby staying up all night for your safety and protection
Campervan
Guests on a self-drive safari with a campervan can make significant savings by sleeping in their vehicle.
Bars/restaurants/amenities
Lodges will typically have all meals and drinks included in the lodge package.
Useful information
Geography
Ziwa Rhino and Wildlife Ranch in central Uganda is located in the Nakasongola district. Visitors here have a chance to see all of the Big 5 animals if their safari trip includes a visit to Murchison Falls National Park.
Ziwa is a must-do stop on any Uganda safari trip and a popular combination safari with visitors to Kibale National Park.
Weather
Temperatures barely change throughout the seasons, sitting around 75°F to 86°F, so you can visit Uganda all year round.
January and February are considered the dry season here and one of the best times to visit Uganda, although rainfall can be expected here in any month.
Wildlife spotting is particularly good at this time of year as there is less vegetation to obstruct your view and a variety of wildlife can be seen seeking waterholes.
November is considered a wet season with heavy rain showers falling across the landscape, also a good time to see migratory birds.
Best time to go
Understanding the best time to visit Uganda is important as this will impact accommodation, flight prices, availability and the weather that visitors can expect on their safari vacation.
Ziwa is in one of the drier parts of Uganda. For visitors wondering what time of year is best for rhino tracking, it matters less than for other wildlife activities in the country. In general however, between December-January and June-August are still the driest and best times to visit.
Health
Antimalarials are advised, as well as covering up in the evening and using mosquito repellent (those containing DEET are most effective).
It is recommended to visit a travel clinic before coming to Uganda. Several Uganda vaccinations are recommended and usually administered before your departure.
FAQs
Where is Ziwa Rhino Sanctuary located?
Ziwa Rhino Sanctuary is located in central Uganda in the Nakasongola district, a 3 hour drive from Kampala over a distance of 176 km via the gulu highway.
What animals will visitors see at Ziwa Rhino Sanctuary?
Visitors to Ziwa Rhino Sanctuary will see black and white rhinos, antelopes, hippos, crocodiles, monkeys and numerous species of birds.
How much is the Ziwa Rhino Sanctuary entrance fee?
The entrance fee for Ziwa Rhino Sanctuary is USD $50 for foreign non residents.