During a stay in Uganda on the east African continent, guests will have to pay for accommodation, food, park entrance fees, activities and more upon arrival in Entebbe.
Below, we detail the essentials of the Uganda currency and what is and isn't accepted.
What is the official currency of Uganda?
The shilling is the official currency of Uganda. Officially divided into cents until 2013, due to substantial inflation the shilling now has no subdivision. UGX is the currency code for the Ugandan shilling, although the symbol USh is used to represent the currency locally.
Ugandan Shilling currency
After 2013, the shilling became the smallest unit of currency used and cents were abandoned. Like any currency, Ugandan exchange rates fluctuate based on supply and demand. The best time to visit Uganda is during its two dry seasons; visitors can plan their currency purchases accordingly.
Before you travel to Uganda, plan ahead concerning exchange rates. Taking the time to find the best deal can significantly increase the amount of money you get. For starters, search USD to UGX or EUR to UGX—or whatever your local currency may be.
Notation in the Ugandan shilling is written in the form of x/y, where x is the amount above 1 shilling, while y is the amount in cents. An equals sign or hyphen represents zero amount.
For example, 50 cents is written as "-/50" and 100 shillings as "100/=" or "100/-". Sometimes the abbreviation USh is prefixed.
This pattern was modelled on sterling's pre-decimal notation, in which amounts were written in some combination of pounds (£), shillings (s), and pence (d, for denarius). In that notation, amounts under a pound were notated only in shillings and pence.
Denominations
Banknotes — UGX 1,000 UGX 2,000 UGX 5,000 UGX10,000 UGX 20,000 and UGX 50,000
Coins — UGX; 1,2,5,10,50,100,200, 500 and 1000
Symbols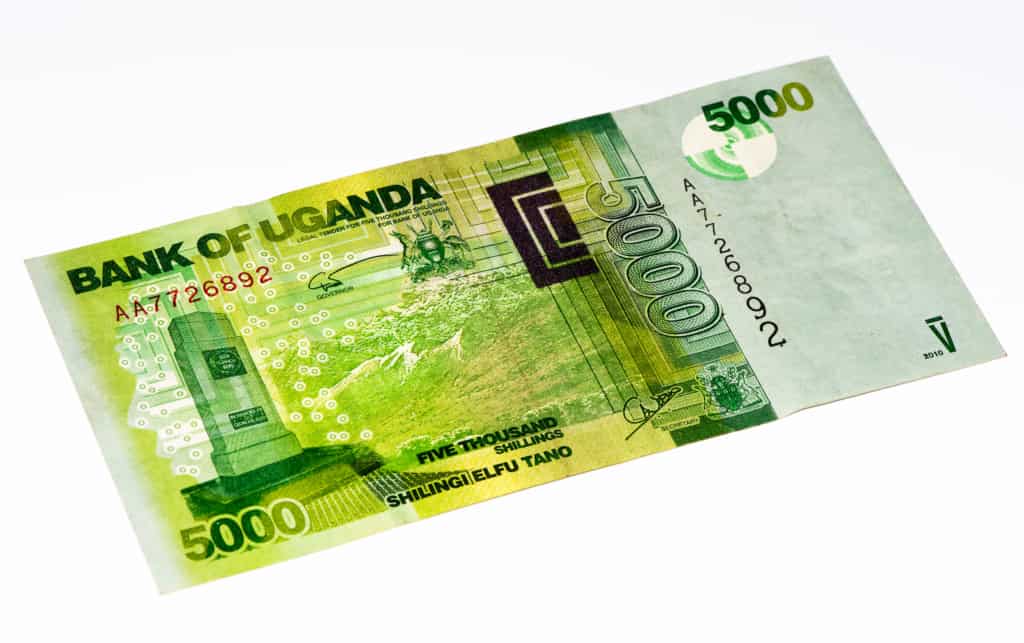 What is the Uganda currency exchange rate?
| | |
| --- | --- |
| Currency | Conversion Rate |
| 1 GBP | 4,677 Ugandan Shillings |
| 1 USD | 3,745 Ugandan Shillings |
| 1 EUR | 4,015 Ugandan Shillings |
| 1 CHF | 3,894 Ugandan Shillings |
For currency conversion rates, see XE.com for the latest USD and other rates.
Where do visitors exchange their money?
It is best to go to a Forex Bureau or a Bank and not use a Money Changer. Money Changers are primarily found at entry into Uganda and rarely in Kigali for their safari in Uganda.
Be aware that money changers are more common there. Unlicensed money changing is illegal, and a tourist could get arrested along with the money changer. No matter how good the exchange rate offered might sound. Turn it down.
ATM's
ATMs are located in cities and towns, and you can easily withdraw Ugandan Shillings at your convenience, but there are both local and your home bank charges.
It is recommended to carry a small amount of cash, enough to pay for your Visa and some smaller items. We recommend that you have no more than $500 on you. You can always withdraw from your account in local currency using an ATM.
Money can draw unnecessary attention that you do not want. Your driver will have mobile Money on his phone and money can be sent to that number from anywhere in the world.
Paying with cash in Uganda
When traveling to Uganda, you'll want to bring cash. The good news? In major cities and towns, you can withdraw funds at the largest and most common banks, such as Crane, Barclays, Orient, and Standard Chartered. When using an ATM, Visa is what's preferred.
If you're traveling to Uganda, you will be able to easily convert your home currency for shillings and then use that currency to buy products and services throughout Uganda.
This is a sensible option because credit cards are often charged additional service fees, which is good to know when paying for different activities beyond your main safari in Bwindi Impenetrable NP or Kibale NP.
In addition to the shilling, the euro (EUR), Great Britain pound (GBP), and United States dollar (USD) are also used throughout Uganda.
If you plan on taking a gorilla trekking trip, firstly ensure you are up-to-date with the latest Uganda vaccines and secondly, note that most operators will accept these international currencies.
Credit & Debit Card payments in Uganda
If you bring your credit card, know that this payment option is not widely used unless you use your card in high-end restaurants, major hotels, or safari lodges. You should expect a surcharge added to your bill when using your card.
The UK government recommends travellers do not use credit cards in Uganda where possible due to the possibility of someone stealing your card information. According to the UK government website, such has happened even in high-end hotels.
If you have no other choice, the first choice of Credit card in Uganda is Visa, followed by Mastercard.
Some companies use the PesaPal system to make it even easier to use credit cards. The charge is less than using Bank Merchant Services available in Uganda and tourists can use Visa, Master Card, and American Express.
Travellers should know that it is common for a hotel rate of 100 USD per night to be billed an additional 5% service charge, making it 105 USD. This is common in Uganda, even if there is nothing to suggest a service charge will be added.
Travellers Cheques
Visitors should use American Express travellers cheques as other travellers cheques can be more challenging to redeem.
You will pay a fee for exchanging them for cash and you will also need a proof of purchase and a passport to prove ownership of the cheques.
Using Traveller Cheques in Uganda becomes a nuisance and investment of time, often with moments of frustration added. The best advice is to not bring Travellers Cheques and use an ATM card instead.
FAQs
What currency does Uganda use?
The Uganda Shilling is the main currency and $1 USD = 3,745 Ugandan Shillings (USh)
Do Ugandan hotels accept credit and debit cards?
Tourists in Uganda can bring a credit card; however this payment option is not widely used unless in a high-end restaurant, major hotel, or safari lodge. You should expect a surcharge added to your bill when using your card.