When planning a trip to Africa, choosing the best time to visit Uganda and its surroundings is important. Guests should be aware of the differences in climate, availability, activities and pricing when choosing between the various months and seasons.
Best time to go to Uganda: Regions and months
The best time to visit Uganda is during its two dry seasons: between December and February, and between June and August, when conditions are particularly good for trekking to see mountain gorillas and chimpanzees.
Visitors should be aware of entry requirements including Uganda vaccine and Uganda visa restrictions.
Game spotting on a Uganda safari is also good at this time, as well as between February and March. The best months for visiting Uganda are, in general, June to September, as there's little rain and the days are a bit cooler.
The eastern portion of the country is a little drier than the rest. This area doesn't tend to be visited quite as much by tourists, though it has many gems to offer like impressive game parks, Sipi Falls, coffee farms, and Mt Elgon National Park.
The southern portion of Uganda contains the capital city of Kampala, Entebbe International Airport, beautiful Lake Victoria, the Victorian source of the White Nile at Jinja, and the incomparable Lake Bunyonyi.
There are many fantastic game parks in the south and west of the country including Murchison Falls, Lake Mburo and Queen Elizabeth.
Meanwhile the southwestern border region is mountainous and covered in misty jungle including Bwindi Impenetrable National Park, the Virunga Mountains, and the Rwenzori Mountains.
Uganda wildlife viewing
Visitors can go gorilla trekking in Uganda at any time of the year. Permits are sold for gorilla trekking in both Bwindi Impenetrable National Park and Mgahinga Gorilla National Park all year round.
However, gorilla trekking in Uganda's wet seasons can be a very muddy and slippery experience, so it is advised to opt for one of the dry seasons if possible.
It's worth pointing out that the forests where mountain gorillas live are never actually dry, even in the so-called dry season. Both Bwindi and Mgahinga experience rain and mist to some degree throughout the year, and they're always wet..
The best time to see the Big-five is during the dry season and on an early morning or an evening game drive. This is during the months of December to February and June to mid-October when there is not too much rain, and the roads that lead to the national parks are not slippery.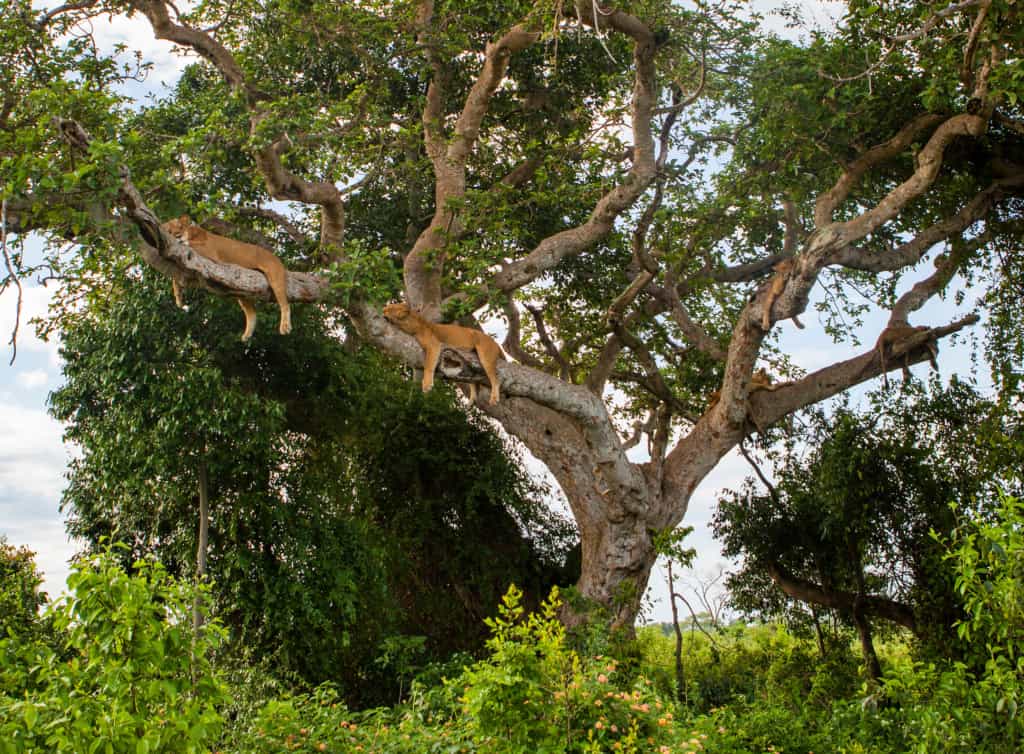 Weather and climate in Uganda
Seasons in Uganda
Uganda generally has two wet seasons and two dry seasons, with dry seasons being from December to February and June to August.
Wet seasons are from March to May and September to November. March to May is wetter and warmer, while December to February is hotter and drier and it can sometimes get as hot as 96.8°F (36C).
Temperatures in Uganda
Uganda lies on the Equator and has a warm subtropical climate. Daytime temperatures average between 25 and 29°C (77 and 84°F).
Night-time temperatures frequently drop below 20°C (68ºF), offering a nice reprieve on hot days. Humidity is pretty much always high, so don't forget your Mitchum.
When to go to Uganda: Activities
There are always tourists around the country at various times of the year eager to partake in the huge array of Ugandan activities thrill-seekers can engage in including the national parks, River Nile water activities, wildlife sanctuaries and those that come for other specific activities.
The main entry point for flights into Uganda is Entebbe International Airport (EBB) for those wondering how to get to Uganda.
Outdoor activities
Uganda has some of the most beautiful landscapes in Africa or perhaps even the world. It's hard to explain what makes its mountainous areas so inspiring and mesmerizing, but many would say that the country's biggest asset is its wide-open spaces.
Volcano hikes
Straddling the Kenyan border, freestanding Mount Elgon is the centerpiece of the eponymous national park on both sides of the border. At 4,321m, it is the second-highest massif in Uganda, and it boasts the largest base of any extinct volcano in the world.
This massive extinct volcano, topped by an immense collapsed caldera, is a hiker's paradise and far more budget-friendly than East Africa's other major mountains. Additionally, all three of the volcanic Virunga peaks protected within Mgahinga can be tackled on guided day hikes.
White water rafting on the Nile
The Nile is considered one of the safest and yet wildest grade 5 whitewater rapids globally, perfect for adrenaline junkies and learners to face the mighty rapids. The trips include huge rapids and beautiful scenery, with time to relax and swim on calmer stretches.
Grade 4 and 5 rapids are usually challenging, and the guide will explain to you about the planned route through, for you to choose if you would prefer to join the safety boat or, where possible, walk around and then rejoin the raft.
Bwindi Impenetrable National Park
A UNESCO World Heritage Site and the best place in Uganda to track mountain gorillas. Bwindi NP protects around 40% of the world's mountain gorilla population and has several habituated groups.
The forest is also a bird-watcher's paradise with 350 species recorded, including many Albertine Rift endemics. Another popular park is the superb Kibale National Park, famous for its unique biophysical environment and scenery.
Murchison Falls National Park
Excellent wildlife viewing with four of the big five seen here. Huge herds of elephant and buffalo are common, as are lions. The Victoria Nile bisects the park and boat trips to Murchison Falls are spectacular. Carrying a small amount of local Uganda currency can be useful when paying for refreshments.
Boat cruise
The River Nile can be explored with a 2-hour riverboat cruise which usually starts from the newly formed Bujagali Lake, between Owens Falls Dam and the Bujagali Dam. The spot is at the Source of the Nile, in Jinja. You will be able to see beautiful scenery, birdlife, and animals.
You can enjoy lunch cruises or even a breathtaking sunset cruise offered by Nile River Explorers, Noah's Ark, and Nile River Camp. At Murchison Falls National Park, the launch trip upstream from Paraa to Murchison Falls' foot presents a fantastic display of wildlife and birdlife.
Bungee jumping
Challenge your fear of heights by touching the source of the Nile from free-falling from a tall structure 44m into the Nile is not for the faint of heart. It is an unforgettable thrilling activity that will get your adrenaline pumping.
3km upstream from Bujagali Falls, the Nile river and forest canopy views are amazing. You can either use the ankle tie or the full-body harness. Adrift specializes in tandem jumps, water touches, and full-moon jumps at most times, including at night.
Horse-back riding
Horseback riding is an exciting activity to explore the tranquility of nature, wildlife, and birds. This experience can be suitable for all ages, including children and aged persons. You can enjoy this experience either in the East at Jinja or in the West at Lake Mburo National Park.
FAQs
What is the best time to visit Uganda?
The best time to visit Uganda is between December and February and also between June and August, when conditions are particularly good for trekking to see mountain gorillas and chimpanzees.
What type of climate does Uganda have?
Uganda's climate is largely tropical with two rainy seasons per year, March to May and September to December. The northern region experiences only one rainy season from March to October.