Semuliki National Park in Bwamba County is a remote part of the Bundibugyo District in the Western Region of Uganda that was established in October 1993. It encompasses 219 km2 (85 sq mi) of East Africa's only lowland tropical rainforest.
One of the less visited national parks in Uganda, the park is famous for being home to the largest population of Uganda kobs and birds and in general is a rich wildlife destination with a variety of tourist attractions.
It is also one of the richest areas of floral and faunal biodiversity in Africa, with bird and butterfly species being especially diverse in an area managed by the Uganda Wildlife Authority, making it especially popular for camping safaris in Uganda,
Why visit Semuliki National Park?
Semuliki National Park safari
There are mainly three game tracks to explore the grasslands around Semuliki. Smaller forest and larger savannah elephants are regularly seen along with buffalo, waterbuck, crocodile, warthog and Uganda kob.
With luck, visitors will see lions, leopards, pygmy hippopotami and bushbabies. The Sempaya – Ntandi Road is also of interest to safari visitors as this 6km section of public road runs through one of the nicest tracts of forest in Uganda and provides views of birds and monkeys high up in the forest canopy.
Birding walks take place in Sempaya, as well as night hikes deep into the forest. In Ntandi, local Batwa dancers put on traditional performances for visitors. Another local attraction is the Mungiro Falls near the hot springs.
As if that wasn't enough, the park is dominated by eastern extension of the great Ituri forest of the Congo basin. This is one of Africa's most ancient and bio-diverse forests; one of the few to survive the last ice age some 12-18,000 years ago.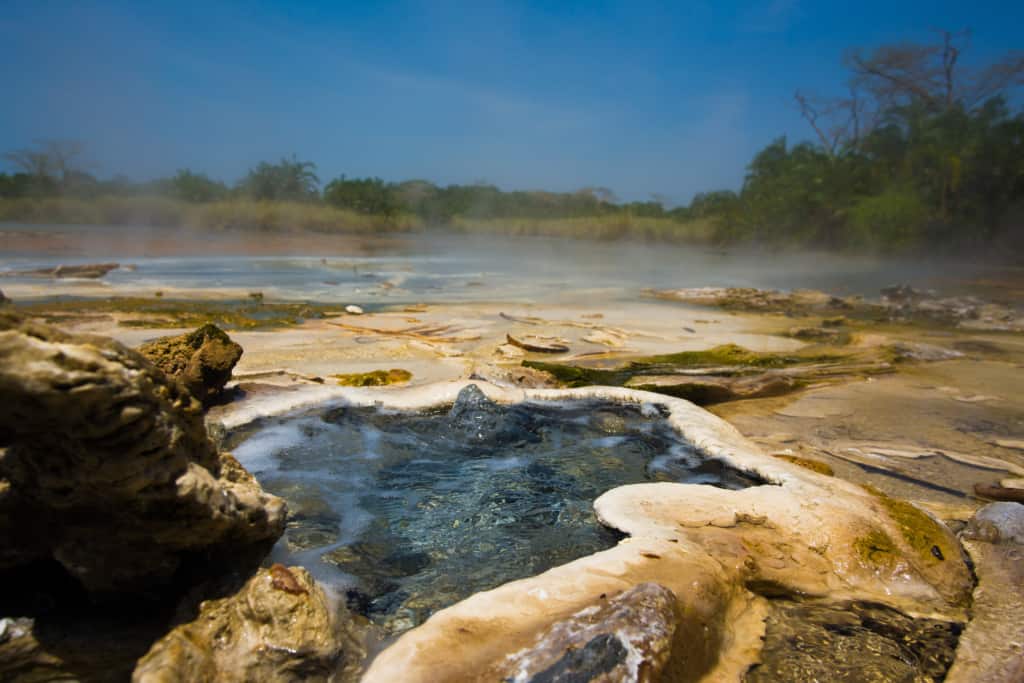 Animals
The forest is home to 53 mammals of which 27 are large mammals. 11 species are endemic to the park including the pygmy antelope and two flying squirrel species. It is also home to the peculiar water chevrotain, known as the "fanged deer".
Semuliki National Park is also home to forest elephants and buffalo which are smaller versions of their savannah-dwelling relatives.
The forest is remarkably rich in primates including the baboon, gray-cheeked mangabey, black-and-white colobus, Central African red colobus, blue, red-tailed, de Brazza's, vervet, and Dent's mona monkeys.
Chimps are commonly found during the rainy season when fruiting fig trees are abundant and nocturnal primates include the potto and bushbaby. Hippos and crocodiles are common along the Semliki River.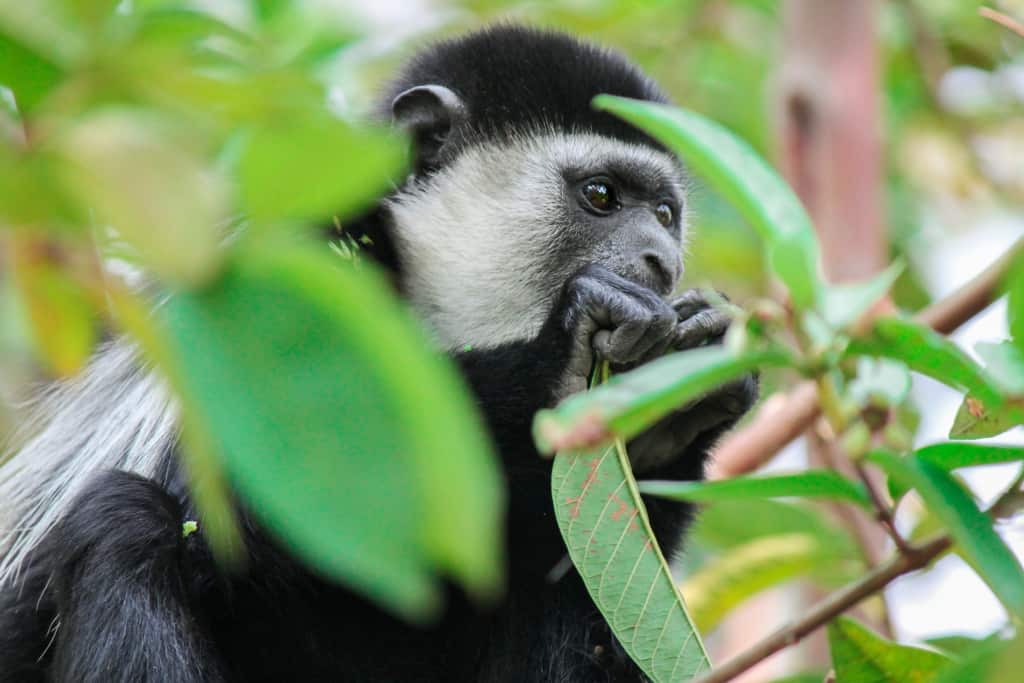 Birds
Birdlife is especially spectacular in Semuliki National Park with 441 recorded species, representing 40% of Uganda's total bird species and 66% (216) of the country's forest bird species.
The list is expanded by the riverine habitat and a fringe of grassland in the east of the park. There are numerous rarities; 46 Guinea-Congo biome species are found nowhere else in East Africa while another 35 can be seen in only two or three other places in Uganda.
Five species are endemic to the Albertine Rift ecosystem and species to watch out for include the Nkulengu Rail, Yellow-throated Cuckoo, Piping Hornbill, Red-billed Dwarf Hornbill, Black Dwarf Hornbill, White-crested Hornbill and Black-casqued Wattled Hornbill.
Trees
The area of Semuliki National Park is a distinct ecosystem within the larger Albertine Rift ecosystem. The park is located at the junction of several climatic and ecological zones, and as a result has a high diversity of plant and animal species and many microhabitats.
Most of the plant and animal species in the park are also found in the Congo basin forests, with many of these species reaching the eastern limit of their range in Semuliki National Park.
The vegetation of the park is predominantly medium altitude moist evergreen to semi deciduous forest. The dominant plant species in the forest is the Uganda ironwood and there are also tree species of a more evergreen nature and swamp forest communities.
Other activities at Semuliki National Park
The following are some other Ugandan activities that visitors to Semuliki National Park can look forward to on their trip:
Game drives: Discover savannah elephants. buffalo, waterbuck, crocodiles, warthogs and Uganda kob as well as lions, leopards, hippos and bushbabies.
Primate/Forest Walks: Visitors can take a 4-6 hour guided nature walks through the Mugiri River Forest provides the opportunity to find habituated chimpanzees and other primates plus a wealth of birdlife.****
Boat Rides: Launched from Ntoroko onto Lake Albert offering excellent opportunities to see the rare shoebill, hippos, and the dramatic Nkusi Falls which plunges over the steep rift valley escarpment into the lake.
How to get to Semuliki National Park?
By Plane
Entebbe International Airport (EBB) is how most most visitors enter Uganda and travellers should be aware of the latest Uganda visa requirements.
It is possible to fly here from Entebbe with Aerolink. The flight is approximately two hours in duration and may be direct or stop first at other parks.
Semliki Airstrip, also known as Semuliki Airstrip, is an airstrip serving the Semliki Wildlife Reserve with chartered flights.
By Road
Driving from Entebbe international airport will take at least six hours, in normal conditions. Semuliki is also about an hour away from Kibale Forest National Park, which makes it a nice add-on destination for those visiting this and Queen Elizabeth National Park.
The reserve is also 55 kilometers by road from Fort Portal to the nearest prominent city near the reserve. Carrying a small amount of local currency, the Uganda currency (UGX) is advised for smaller purchases.
Tariffs & Regulations
Entrance fee
All Semuliki National Park fees are payable at the gate at time of entrance. Park fees are valid for 24 hours.
Foreign Adults: USD $35 per day
Residents: USD $25 per day
Children aged 5-15 years: USD $5 per day
East African nationals: Ush 15,000
In addition to personal entrance fees, private 4×4 vehicles pay an entrance fee of USD $15 for Ugandan registrations and USD $150 for foreign vehicles.
Carrying a small amount of local currency, the Uganda currency (UGX) is advised for smaller purchases.
Regulations
If you keep to park rules, you can stay with the animals as long as they are not disturbed by your presence.
Accommodation at Semuliki National Park
Tourists at Semuliki National Park can choose from a number of different options when deciding where to sleep with accommodation ranging from luxury safari lodges to lower budget camping.
Lodges
Semuliki Safari lodge is one of the luxury lodges buried in Toro Semuliki Game Reserve that provide a unique lodging experience in African designed thatch cottages.
It evokes the spirit of the old explorers and piques the curiosity of arriving visitors. The location is as remote as it is unique: in the middle of nature with quite some wildlife around it.
Semuliki Safari lodge has a maximum capacity of 18 guests, leaving guests with an unforgettable experience of life in the true wilderness. Visitors can visit the local Batwa communities and nearby hot springs during their downtime.
A number of other safari lodges have started in and around Semuliki NP including Nyati Game Lodge, a more budget friendly option.
Camping
In Semuliki National Park, camping is commonly used by travelers on tight budgets and Bumaga Campsite is among the popular sites used in Semuliki National Park, located some 2.5kms from Sempaya Hot Spring and managed by Uganda wildlife Authority.
Visitors will be required to carry their own camping gear including sleeping bags, sleeping mats, solar table lamps, mattress, chairs, tables, gas take and burners among others.
Campervan
Guests on a self-drive safari with a campervan can make significant savings by sleeping in their vehicle.
Bars/restaurants/amenities
Lodges will typically have all meals and drinks included in the lodge package.
Useful information
Geography
On a Uganda safari tour, Semuliki National Park can be found in Bwamba County, a remote part of the Bundibugyo District in west Uganda.
The park lies on Uganda's border with the Democratic Republic of the Congo. The Rwenzori Mountains are to the south-east of the park, while Lake Albert is to the park's north.
The reserve is often confused with the Toro-Semliki Wildlife Reserve, 10km away. The confusion is unfortunate as despite their proximity, the habitats are strikingly different; Toro Semliki is principally grassland and Semuliki NP is predominantly rainforest.
Trips to the park can be combined with tours of Bwindi Impenetrable National Park and Murchison Falls National Park.
Weather
The coldest month is July, with an average high-temperature of 81°F and an average low-temperature of 63°F whilst the warmest month is March, with an average maximum temperature of 83°F.
The driest month of the year is January with an average of 1.69″ of precipitation and annual mean temperatures range from 18C minimum to 30C maximum, with relatively small daily variation.
Best time to go
Understanding the best time to visit Uganda is important as this will impact accommodation, flight prices, availability and the weather that visitors can expect on their safari vacation.
Due to moderate weather, the park can be visited at any time, but be prepared for afternoon rain during the wet months. Semuliki receives an average annual rainfall of 1,250mm concentrated during March – May and September – December.
Health
It is recommended to visit a travel clinic before coming to Uganda. Several Uganda vaccinations are recommended and usually administered before your departure.
Antimalarials are advised, as well as covering up in the evening and using mosquito repellent (those containing DEET are most effective).
It is recommended to visit a travel clinic before coming to Uganda. Several Uganda vaccinations are recommended and usually administered before your departure.
FAQs
Where is Semuliki National Park located?
Semuliki National Park is located in a remote part of the Bundibugyo District in west Uganda, typically accessed via chartered plane to Semliki airstrip or a six-hour drive from Entebbe international airport (EBB).
What animals will visitors see at Semuliki National Park?
Visitors to Semuliki National Park will see elephants, buffaloes, hippos, crocodiles, pygmy antelope, flying squirrels, water chevrotains, chimpanzees, baboons, gray-cheeked mangabey, black-and-white colobus, red colobus, blue, de Brazza's and Dent's mona monkeys.
How much is the Semuliki National Park entrance fee?
The entrance fee for Semuliki National Park is USD $35 per day for foreign non-resident adults and USD $5 per day for children aged 5-15 years old.