Kibale National Park is a popular destination for tourists to track chimpanzees in western Uganda governed by the Uganda Wildlife Authority. Chimpanzee tracking has taken place in the park since 1993, with successful tracking rates of 90%.
The park has a unique biophysical environment beautified by quite a range of various sceneries which include the magnificent crater lakes, undulating hills, the verdant forest, swamps and the valleys, that provide a verified prospect to eco-tourism in the area.
Other popular tourism activities include the chimpanzee habituation exercise, nature walks and bird watching.
Why visit Kibale National Park?
Kibale National Park safari
Kibale Forest National Park is one of the best safari destinations in Africa for chimpanzee and gorilla trekking safaris and has the highest number and diversity of primates in East Africa.
There are 13 species of primates including chimpanzees living within its 795km2 land cover with the most beautiful and most diversified tracts of tropical forest in the whole of Uganda.
The Forest covering predominates in the central and northern part of the park on the raised Fort Portal plateau. At the park's northern tip, Kibale is highest and stands 1590m above sea level
The mix of evergreen and deciduous trees, 351 species in total, is home to a broad range of primates, but man's closest relative is the star of the show, something which ever safari-goer in this park will truly appreciate.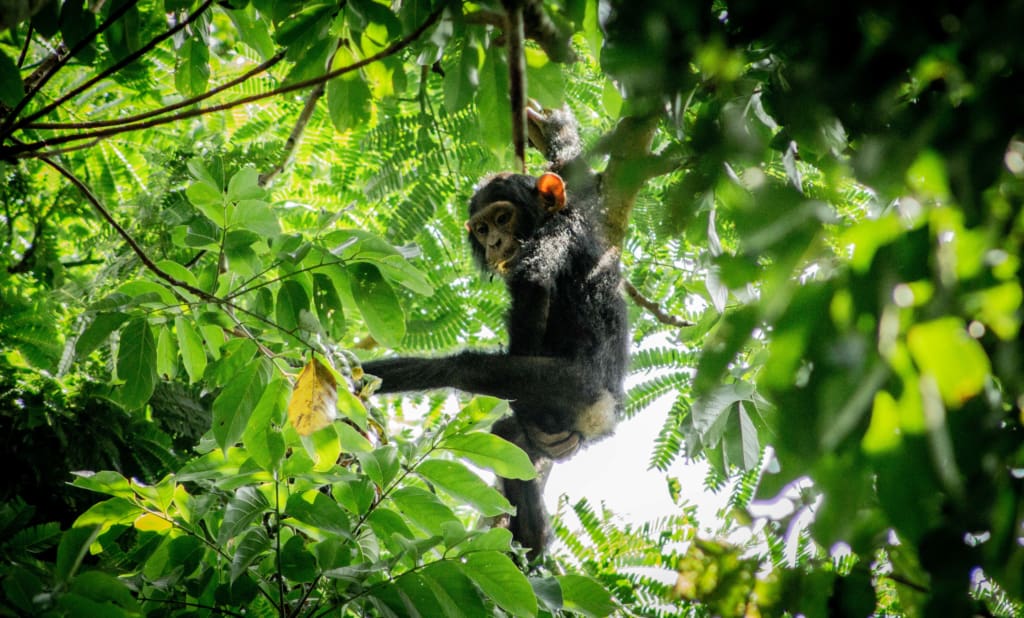 Animals
The park contains a grand total of 13 primate species, including chimps, black-and-white colobus monkey, blue monkey, and L'Hoest's monkey. There are also red and blue duikers, bushbuck, bushpig, warthog, giant forest hog, and buffalo.
As well as all the forest dwellers, Kibale has lion, leopard, golden cat, serval, mongoose, and otters. And an abundance of elephants travel between this park and Queen Elizabeth national park.
The park provides refuge to the world's largest population of the endangered red colobus monkey, and it is an important stronghold for Uganda mangabey, a rare national endemic.
Kibale is home to many mammal species aside from primates, but they are rarely encountered. Buffalo roam the forest and other species present are giant forest hog, warthog, bushpig, bushbuck, and blue, red and Peter's duiker.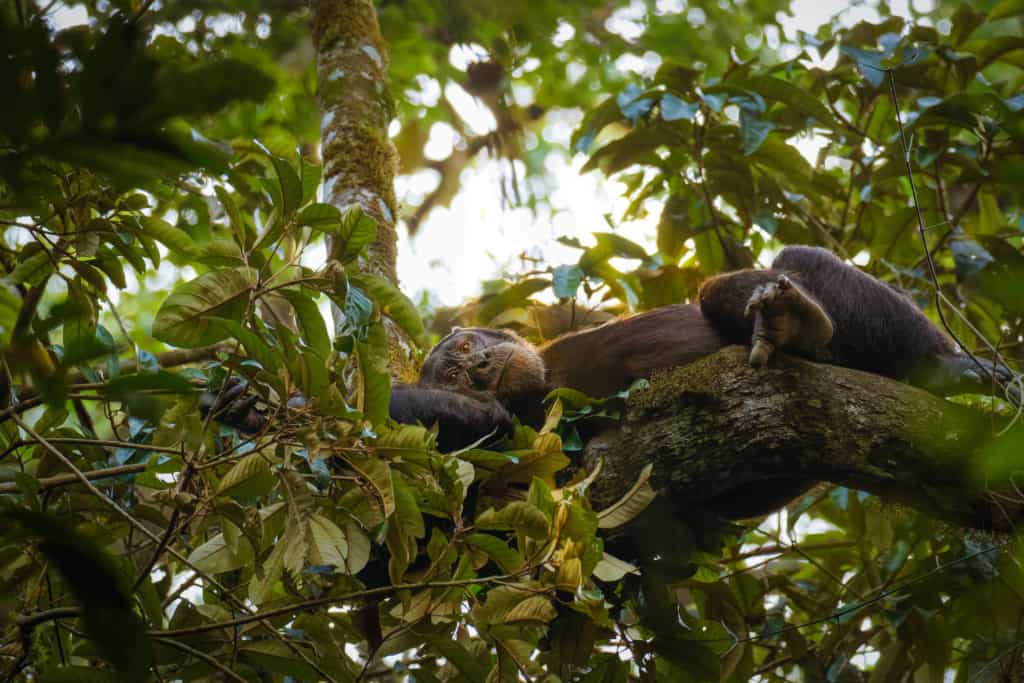 Birds
Kibale is a bird-watcher's paradise. More than 370 species have been recorded and many are forest specials, including the sought-after African pitta.
Four bird species have not been recorded in any other national park of Uganda: Cassin's spinetail, blue-headed bee-eater, Nahan's francolin and Masked apalis.
The best bird-watching spot is the Bigodi Wetland Sanctuary – a community project where experienced guides take you on a four-hour trail. Migratory birds are present from November to April.
Trees
351 tree species have been registered in the park and Kibale's varied vegetation offers different varieties of wildlife habitat.
This ranges from the moist evergreen forest (wet tropical forest) along the Fort Portal plateau, then through the dry tropical forest (moist semi deciduous), and then to the woodland and savanna along the rift valley floor.
In the central part of the park, around Kanyanchu, the high forest consists of a mixture of evergreen trees and deciduous with the evergreen species being dominant. The vegetation rises to over 55m and establishes a semi-closed canopy of massive stratified tree crowns.
With shade tolerant herbs, a variety of ferns, shrubs and broad leafed forest grasses, the undergrowth is sparse.
Other activities at Kibale National Park
Here are some other Ugandan safari activities that visitors to Kibale National Park can look forward to on their trip:
Chimpanzee Trekking: Among all other sites in Uganda where chimpanzees are found, Kibale has a more dense population of these humble primates amounting to more than 1500 primates, a spectacular trekking experience.
Forest walks and hiking: Learn about different bird species and also different primates which are spotted during scheduled morning, afternoon or evening walks in small groups.
Amabere Ga Nyina Mwiru cave: These are rocks located in a cave in the Kabarole District. The visit to these rocks includes one having to pass by certain amazing waterfalls, an area which the local Batoro tribe have a strong cultural attachment to.
Bigodi Wetland Sanctuary: This is a jungle swamp which happens to be a project of the local community where visitors can go bird watching, see mammal species and various vegetation cover.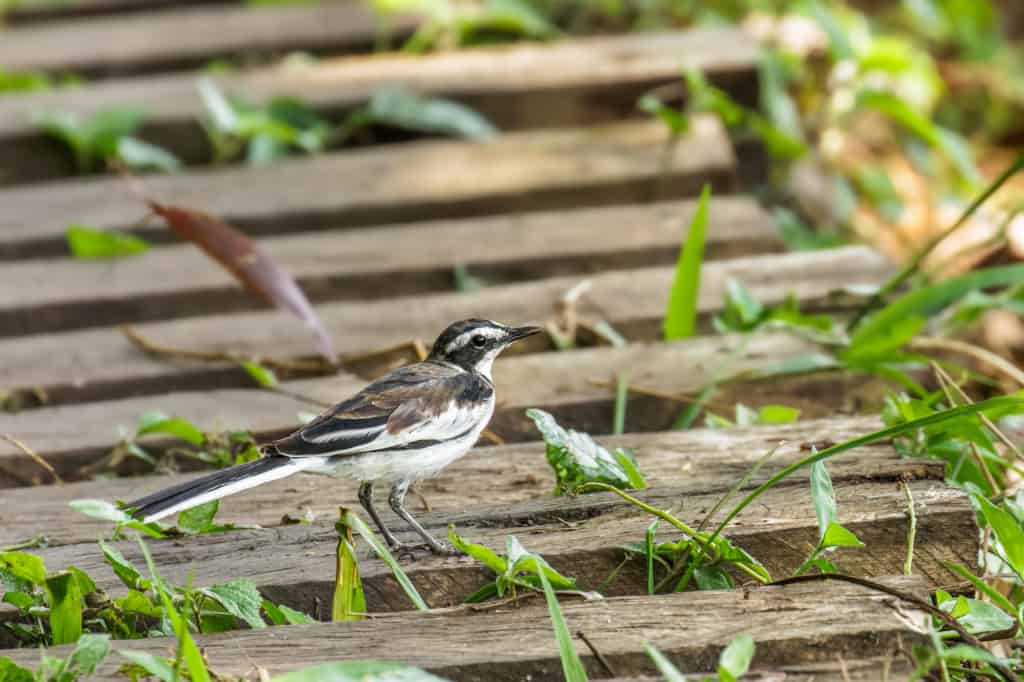 How to get to Kibale National Park?
By Plane
Entebbe International Airport (EBB) is how most visitors enter Uganda and visitors should be aware of the latest Uganda visa requirements. It is located about 46km/29mi from the capital, Kampala.
In most cases, your local tour operator will pick you up from the airport and will also provide any additional transportation as part of your tour package.
By Road
The location of Kibale National Park is in the western part of Uganda about 348km (5 hrs drive) from Kampala and about 26km south-east of the beautiful Fort Portal town – one of Uganda's nicest areas to explore.
Kibale will rarely be a destination in itself – it's more suited as a stop among other parks on a tour of Uganda.
The chimp trekking trailhead at Kanyanchu is 35km/20mi southeast of the town of Fort Portal, a 30- to 45-minute drive on what is now a good surfaced road, and 360km/224mi (about 6 hours) from Kampala.
Carrying a small amount of local Uganda currency, the Ugandan Shilling (UGX) is advised for smaller purchases.
Tariffs & Regulations
Entrance fee
All Kibale National Park fees are payable at the gate at time of entrance. Park fees are valid for 24 hours.
Foreign Adults: USD $40
Children Under 16: USD $20
Carrying a small amount of Ugandan currency, the shilling (UGX) can be useful when paying for smaller ticket items.
Regulations
If you keep to park rules, you can stay with the animals as long as they are not disturbed by your presence.
Accommodation at Kibale National Park
Tourists at Kibale National Park can choose from a number of different options when deciding where to sleep.
Accommodation in the form of safari lodges ranging from luxury to low budget can be found just inside Kibale National Park's borders.
Lodges
Crater Safari Lodge is designed to blend unobtrusively into the surrounding scenery with its low-profile cottages with thatched roofing and timber decking. There are nine suites; two suites are able to host up to four travelers and are ideal for sharing by families or groups.
The lodge also offers hot and cold water available in the en suite baths, and each cottage is fitted with Internet access and solar-powered lighting.
The beautiful views stretch out over Lake Nyinabulitwa, and the lush greenery surrounding the luxury Uganda safari lodge is a constant and soothing presence, ensuring guests are always enveloped in untouched wilderness.
Another fine alternative is Kyaninga Lodge, situated on the rim of an ancient crater where visitors will find a wooden castle with gardens similar to an English country house.
The lodge's eight thatched cottages are built on raised platforms and connected by extensive wooden walkways. Inside, canopied and mosquito-netted beds boast the softest bed linens and feather pillows, and indoor sitting areas lead to private decks.
En suite bathrooms feature marble countertop basins set atop beautifully crafted Elgon Olive pedestals, clawfoot freestanding baths, glass walled showers, and plenteous hot water from solar water heaters.
Camping
Nyankuruba nature reserve and community campsite are located at the rim of the famous Crater Lake called Nkuruba. It is closest to Kibale NP.
Nkuruba nature reserve and community campsite is an eco-tourism project and the money received from the visitors who camp here is used to revamp the livelihood of the people within the vicinity.
All the six bandas at Nkuruba nature reserve and campsite have a spectacular view of the Rwenzori Mountains. The location of the lodge makes it the best budget accommodation as it is located on the top of the hill.
Campervan
Guests on a self-drive safari with a campervan can make significant savings by sleeping in their vehicle.
Bars/restaurants/amenities
Lodges will typically have all meals and drinks included in the lodge package.
Useful information
Geography
Kibale National Park is located in western Uganda and can be accessed via a 6 hour drive from Kampala. Kibale is also a popular combination safari with the incredible Bwindi Impenetrable National Park.
Weather
The climate in Kibale National Park is moist and temperate. Temperatures stay almost the same year-round. Daytime temperatures are about 27°C/81°F, cooling off nightly to about 15°C/59°F.
Kibale lacks a real Dry season; rain is possible anytime. However, December through February are typically drier and so are June and July. Two Wet seasons exist: March to May and August through November. It is recommended to bring waterproof clothing.
Best time to go
Understanding the best time to visit Uganda is important as this will impact accommodation, flight prices, availability and the weather that visitors can expect on their safari vacation.
Kibale is open for chimpanzee trekking throughout the year. December to February and the months of June and July are the driest months and are therefore the best times for this activity.
Walking the trails is easier at these times and the overall experience tends to be more enjoyable.
Health
It is advised to stay up-to-date with the latest Uganda vaccine requirements and to ensure to take measures against malaria, as well as have certain vaccinations (contact your local doctor or travel clinic).
Antimalarials are advised, as well as covering up in the evening and using mosquito repellent (those containing DEET are most effective).
It is recommended to visit a travel clinic before coming to Uganda. Several Uganda vaccinations are recommended and usually administered before your departure.
FAQs
Where is Kibale National Park located?
Kibale National Park is located in western Uganda and can be accessed via a 6 hour drive from Kampala.
What animals will visitors see at Kibale National Park?
Visitors to Kibale National Park will see 13 primate species including chimps, black-and-white colobus monkey, blue monkey, and L'Hoest's monkey, red and blue duikers, bushbuck, bushpig, warthog, giant forest hog, lions, leopard, elephants and buffalo.