Toro-Semliki Wildlife Reserve in western Uganda is mainly of interest to bird-watchers. The reserve has an impressive checklist, which includes many birding specials.
The reserve, located in the Albertine Rift Valley, has an amazing setting between the Rift Valley escarpment on the east, the Congolese Blue Mountains on the west and the Rwenzoris on the southwest.
The dominant vegetation is woodland and savannah and there are several rivers running through, flanked by riverine forest, and patches of borassus palms are dotted around.
Other attractions are the hot springs at Sempaya and a Pygmy village in the adjacent Semuliki National Park with the only lodge in the reserve offering a very exclusive bush experience with guided activities.
Why visit Toro Semliki Wildlife Reserve?
Toro Semliki Wildlife Reserve safari
Game drives through Semliki wildlife reserve are a perfect way to get up close to wildlife like chimpanzees, red-tailed monkeys, buffaloes, lions and more.
Lucky visitors may even spot day sightings of the leopards and elusive bush babies on occasion. Nature walks through the reserve allow visitors to explore a variety of habitats ranging from savannah woodland to riverine forests that give home to wildlife.
After dark, one can also view many nocturnal mammals including the white-tailed mongoose and morning trips allow visitors to feast their eyes on rainforests and savanna, creating both a lovely landscape and diverse habitat boosted by the Eastern escarpment of the great rift valley.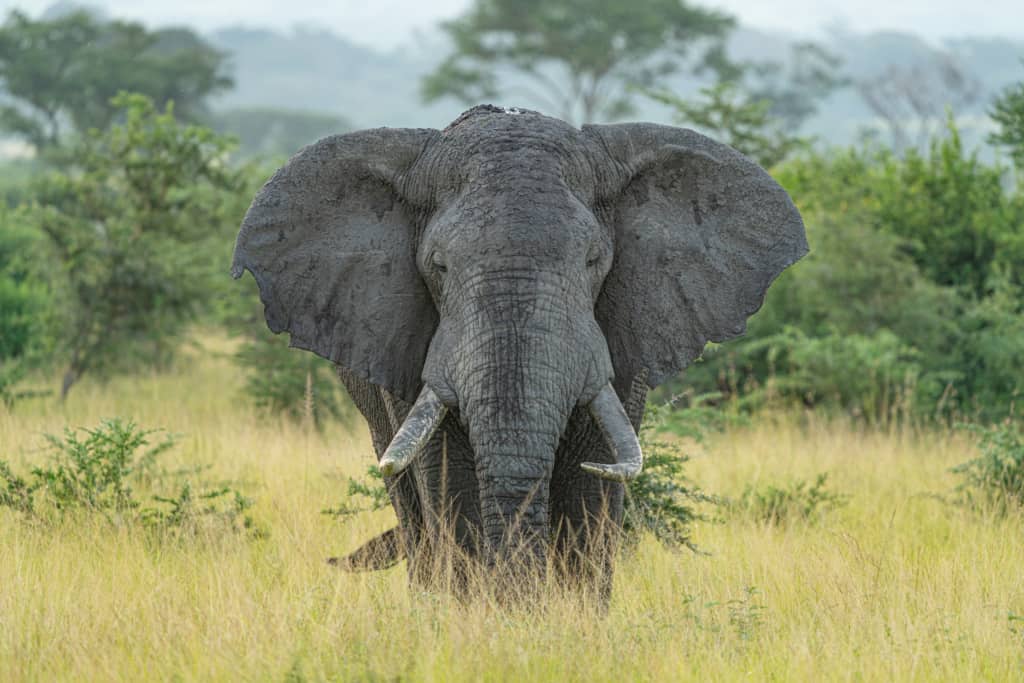 Animals
Wildlife species densities in the park are low. Only the Uganda kob is common. All wildlife are quite skittish and hard to approach by car. Lions and hyena are around, but are rarely seen; it is much more common to hear them at night.
Buffalo and elephant are rarely seen. Leopards can sometimes be spotted on night drives, but lions are more often heard than seen. The park is home to many primate species, including chimpanzees, but encounters are rare.
Grey-cheeked mangabey, black-and-white colobus, Central African red colobus, baboon, blue monkey, red-tailed monkey, de Brazza's monkey, vervet monkey, and Dent's mona monkey can all be found along the forest trails.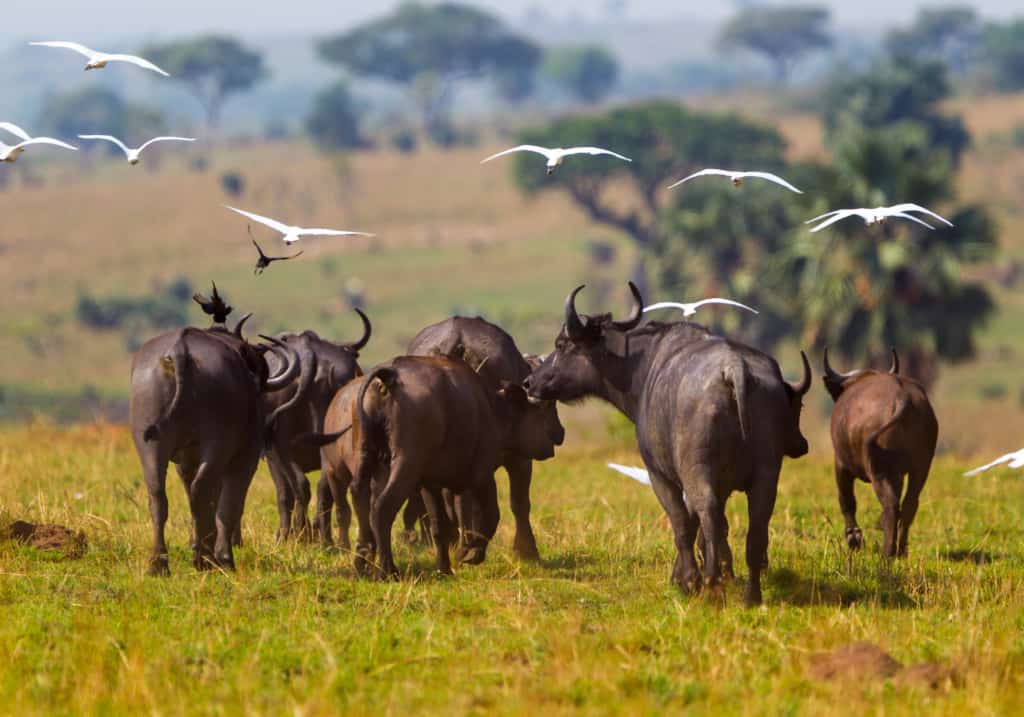 Birds
Toro-Semliki Wildlife Reserve might not be the best destination for wildlife viewing, but it is a bird-watcher's paradise. It has more than 460 species recorded in a variety of habitats.
Boat trips on Lake Albert are ideal for a chance to see the elusive shoebill and a breeding colony of the stunning red-throated bee-eater.
The adjacent Semuliki National Park offers a great opportunity to add several species associated with the Congolese rainforest. Migratory birds are present from November to April.
Bird species include the Arrow Marked Babbler, Tropical Boubal, Black-headed Bushrike, Luhdrers Bushrike, Red necked Falcon, Black-billed Barbet, the turkey like Ground Hornbill, Tropical Boubal.
Trees
Toro-Semliki is a mosaic of habitat and vegetation zones and can be described as a forest-grassland mosaic.
Within the reserve, the Wasa and Mugiri rivers and their numerous tributaries support 30-50m tall gallery forests in 50-250m wide strips. The most common main canopy riverine tree species are the Ugandan ironwood, followed by Millettia dura and Kigelia africana.
The understory is dominated by Beilschmiedia ugandensis, by far the most common tree in the riverine forests.
Tree stature declines as visitors move away from the water sources, sometimes transitioning gradually to open-habitat species such as Acacia, Albizia and bushy species, but more often the transition from forest to grassland is abrupt.
Other activities at Toro Semliki Wildlife Reserve
The following are some other Ugandan activities that visitors to that visitors to Toro Semliki Wildlife Reserve can look forward to on their trip:
Birding: The birdlife in Toro Semliki Wildlife Reserve is superb year-round, but at its best at the height of the breeding season in March, just after the relatively dry spell from December to February.
Hot springs at Sempaya: These amazing springs have high temperatures up to 100 degrees Celsius (212F) and the force, strength and hotness of these springs show the strength of the geographical forces underground.
Pygmy village in Semuliki National Park: Discover the unique culture, heritage and lives as the Pygmy have lived as hunters and gatherers for generations in a very dense forest, part of the great Ituri Forest that stretches into the DR Congo.
Hiking to Nyaburogo Gorge: Hike through the 7km Nyabugogo Gorge trail with a diversity of habitats in the gorge ranging from open acacia -combretum woodland and grassy savannah, following primate walks along the palm forest.
How to get to Toro Semliki Wildlife Reserve?
By Plane
Entebbe International Airport (EBB) is how most most visitors enter Uganda and travellers should be aware of the latest Uganda visa requirements.
It is also possible to fly to the airstrip by scheduled or chartered aircraft from Entebbe International Airport (EBB) or Kajjansi Airfield near Kampala.
Your tour operator will usually arrange for your pick-up from the airport, and arrange any travel needed as part of your safari package.
By Road
Toro-Semliki Wildlife Reserve is only 1 hour's drive from Fort Portal (the closest town to Kibale National Park). The reserve is located about 300km/180mi from Kampala. The direct drive takes 6 to 8 hours.
Carrying a small amount of local currency, the Uganda currency (UGX) is advised for smaller purchases.
Tariffs & Regulations
Entrance fee
The entrance fee is USD $35 for foreign adults. No fee is charged for driving or walking along the main road to Bundibugyo, which falls just outside the park's southeastern boundary, or for staying overnight at Bumaga Visitor Camp.
As Semliki National Park and Toro-Semliki Wildlife Reserve are separate entities, visitors will need to pay two sets of entrance fees if they visit both, even if it falls within the same 24-hour period.
Regulations
If you keep to park rules, you can stay with the animals as long as they are not disturbed by your presence.
Accommodation at Toro-Semliki Wildlife Reserve
Tourists at Toro-Semliki Wildlife Reserve can choose from a number of different options when deciding where to sleep with accommodation ranging from luxury safari lodges to lower budget camping.
Lodges
Aramaga Rift Valley Lodge overlooks east Africa's spectacular Great Rift Valley, the Rwenzori Mountains, the Toro-Semliki Wildlife Reserve, the Congo's Blue Mountains and on clear days, it's even possible to see the outline of Lake Albert.
The accommodation comes with spectacular individual pods, each pod with a 180-degree viewing window so guests don't miss a moment.
Each of the six space themed pods (Moonshot, Starship, Galactic, Orbit, Supernova and Gravity) was designed to take advantage of the breathtaking views and the natural curves of the landscape to create exclusive experiences with a relaxed approach to luxury.
A great alternative is the Semliki Safari Lodge, a luxury safari camp guaranteeing guests ultimate privacy and seclusion to explore the variety of ecosystems within the reserve from its tropical rainforest to open grassy plains to wetlands and Lake Albert.
This beautiful lodge accommodates a maximum of only 16 guests in eight spacious en-suite safari tents. Each is well appointed ensuring both privacy and fantastic rift valley views.
There is also a main lounge area, which has been built only from natural materials such as wood, stone and thatch as well as a relaxing swimming pool.
Camping
There is a campsite and budget bandas (huts) which are operated by Uganda Wildlife Authority (UWA) along the shores of Lake Albert Ntoroko.
Visitors can also opt for Semliki Safari Lodge, Ntoroko Game Lodge or campsite at the headquarters in Karugutu or campsite at Ntoroko landing site.
Campervan
Guests on a self-drive safari with a campervan can make significant savings by sleeping in their vehicle.
Bars/restaurants/amenities
Lodges will typically have all meals and drinks included in the lodge package.
Useful information
Geography
On a Uganda safari tour, the Semliki Wildlife Reserve can be found in the Western Region with its headquarters at Karugutu in Ntoroko District.
Trips to the park can be combined with tours of Bwindi Impenetrable National Park and Murchison Falls National Park.
The reserve is often confused with the Semuliki National Park, 10 km to the southwest. The confusion is unfortunate as despite their proximity, the habitats are strikingly different; Toro Semliki is principally grassland and Semuliki NP is predominantly rainforest.
Weather
Toro-Semliki Wildlife Reserve has a hot climate. These high temperatures remain throughout the year. Daytime temperatures hover at 30°C/86°F, and taper off at night to around 18°C/64°F.
Rain is unpredictable in Toro-Semliki, as there is no true Dry season. There are, however, two distinctive Wet seasons – from March to May and from August to November.
Best time to go
Understanding the best time to visit Uganda is important as this will impact accommodation, flight prices, availability and the weather that visitors can expect on their safari vacation.
The Dry season is the best time for a trip to Toro-Semliki Wildlife Reserve. The two Dry seasons are from December to February and from June to July.
During the Wet season months (March to May and August to November) the roads become almost impassable and wildlife-viewing drives are very limited.
Health
It is recommended to visit a travel clinic before coming to Uganda. Several Uganda vaccinations are recommended and usually administered before your departure.
Antimalarials are advised, as well as covering up in the evening and using mosquito repellent (those containing DEET are most effective).
It is recommended to visit a travel clinic before coming to Uganda. Several Uganda vaccinations are recommended and usually administered before your departure.
FAQs
Where is Toro-Semliki Wildlife Reserve located?
The Semliki Wildlife Reserve is a conservation protected area in the Western Region of Uganda and can be accessed by flying a chartered flight to the reserve airstrip via Uganda's main Entebbe International Airport (EBB) or Kajjansi Airfield near Kampala.
What animals will visitors see at Toro-Semliki Wildlife Reserve?
Visitors to Toro-Semliki Wildlife Reserve will see the Uganda kob, buffalo, elephant, waterbuck, lions, hyenas, leopards, chimpanzees, grey-cheeked mangabey, black-and-white colobus, Central African red colobus, baboons, blue monkeys and red-tailed monkeys.
How much is the Toro-Semliki Wildlife Reserve entrance fee?
The entrance fee for Toro-Semliki Wildlife Reserve is USD $35 for foreign adults. No fee is charged for driving or walking along the main road to Bundibugyo, which falls just outside the park's southeastern boundary.