Mgahinga Gorilla National Park protects the Ugandan slopes of the majestic Virungas, a range of freestanding volcanoes that rises to a maximum altitude of 4,507m/14,787ft on the border with Rwanda and the Democratic Republic of Congo (DRC).
The park is located on the south-western corner of Uganda in the town of Kisoro. Mgahinga was upgraded from a game reserve into a full national park in 1991 mainly to protect the mountain gorillas that were in frequent conflicts with humans living nearby.
The park gets its name from a Kinyarwanda word "Gahinga" referring to the small lava stones common in gardens at the foot of the mountain and is also known to be the smallest national park in Uganda, covering an area of 34 square kilometers.
Why visit Mgahinga Gorilla National Park?
Mgahinga Gorilla National Park safari
Gorilla trekking is the most famous activity in Mgahinga gorilla national park which involves visitors moving through the tropical rainforest in search of the mountain gorillas and once found, spending time with the gorillas in their natural habitat.
Mgahinga gorilla national park is home of one habituated gorilla family, the Nyakagezi, which are available for trekking on a daily basis.
Trekking of mountain gorillas in Mgahinga gorilla national park takes about 30 minutes to 6 hours and during trekking you will be able to view different wildlife species.
This includes primates such as chimpanzees, black and white colobus monkeys, l'hoest monkeys, different bird species, mammals, plant and tree species among others.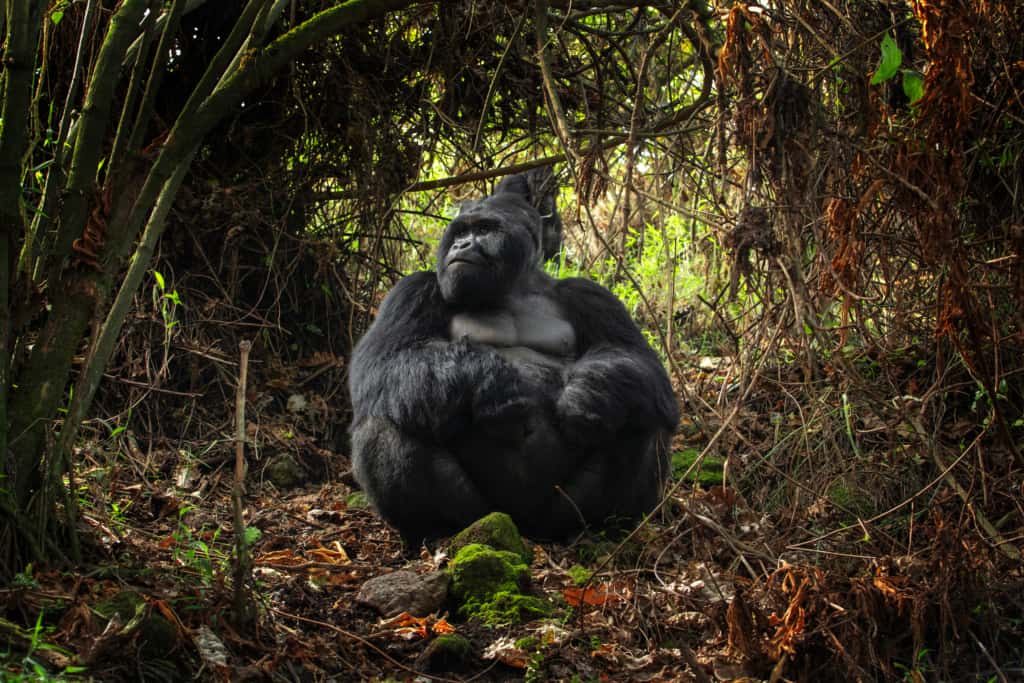 Animals
Mgahinga Gorilla National Park is best known as an alternative destination to Bwindi Impenetrable National Park for mountain gorilla trekking, but it also offers good birding, and an opportunity to spend time with the localized golden monkey.
The Nyakagazi group is the only habituated gorilla troop here. This means only eight permits a day are available, resulting in a very exclusive experience on the day of trekking.
The same group of mountain gorillas is notable for incorporating four sibling silverbacks. A troop of habituated golden monkeys, which is endemic to the Albertine Rift and more or less restricted to the Virungas, can also be tracked.
Bushbuck and buffalo are quite often encountered, while other more secretive resident mammals include golden cat, side-striped jackal, giant forest hog, bushpig and elephant.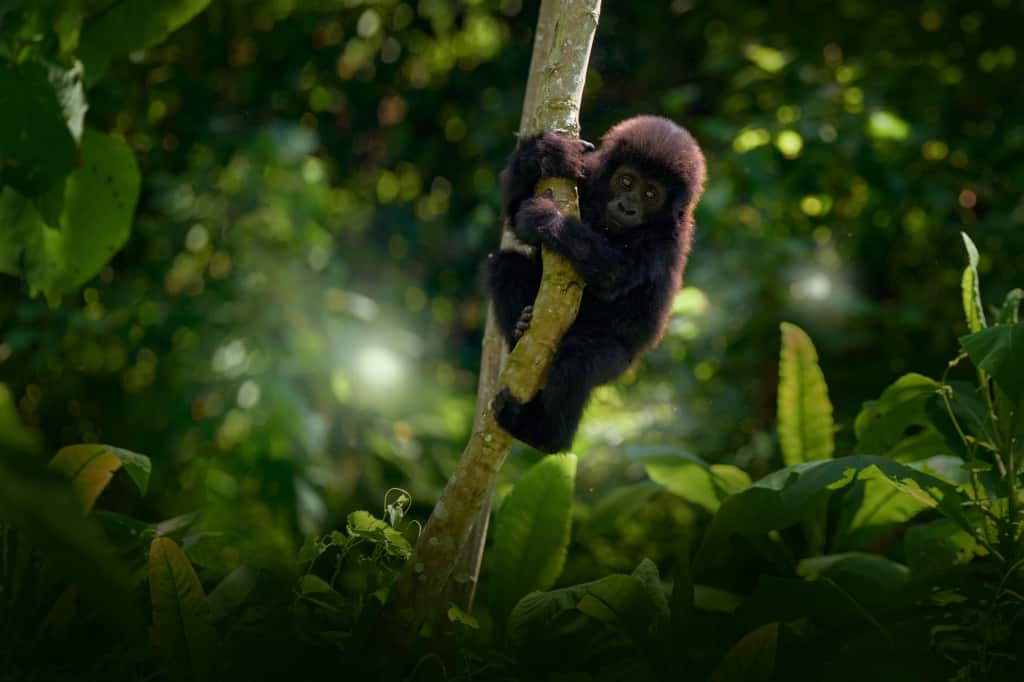 Birds
Not much research has been done so far regarding the birds of Mgahinga Gorilla National Park, but the park is still of great interest to bird-watchers.
More than 180 bird species have been recorded, and several are localized forest birds – 12 of which are considered endemic to the Albertine Rift (birds restricted to this area).
There are several guided mountain hikes on offer where birders get an opportunity to tick off some Afro-alpine endemics, such as the scarlet-tufted malachite sunbird. Migratory birds are present from November to April.
Notable birds visitors will find include the African paradise flycatcher, Black kite and Cape robin-chat.
Trees
Mgahinga VegetationMgahinga National Park's vegetation consists of an afro montane forest covering the smallest area as a vegetation type on the continent.
The vegetation in Mgahinga consists of woodland and only a small area of pure montane forest still remains at the base of Mt. Muhabura following encroachment in the 1950s. Montane woodland is an open forest with dense ground cover.
At the lower slopes grow wild herbs and shrubs. Given that in the 1980s, there was encroachment on the park by the locals who live adjacent to the park, the tilled gardens have now grown into shrubs and grasslands.
Other activities at Mgahinga Gorilla National Park
The following are some other Ugandan activities that visitors to that visitors to Mgahinga Gorilla National Park can look forward to on their trip:
Gorilla tracking: About 80 mountain gorillas are found in Mgahinga National Park. Studying these creatures is fascinating and the gorillas in Mgahinga have developed more fuzzy coats than those in Bwindi Impenetrable Forest.
Golden Monkey Tracking: Golden monkeys are subspecies of blue Monkeys and visitors will be in awe of their cute looks and beautiful golden coats. They are very playful and active primates living in large groups that can contain 80 individuals.
Mountain climbing: One of the attractive activities in Mgahinga is climbing one of the three volcanoes found in the park. Reaching the summit of Mount Sabyinyo provides a unique opportunity of standing in Uganda, Congo and Rwanda at the same time.
Bird Watching: Mgahinga National Park is one of Uganda's best birding spots. Over 110 species of birds can be found in the caves, forests, lakes and mountains of Mgahinga National Park including the Yellow-Vented Bulbul, yellow-throated long claw and White-starred Robin.
Nature walks: The pristine forests, lakes, rivers, swamps and mountain slopes of Mgahinga National Park offer perfect spots for nature walks. One of the walking trails lead up to the beautiful village plantations.
The Batwa Trail and Cultural Visit: There are a number of tribes living in the areas surrounding Mgahinga gorilla national park but the most interesting are the Batwa people who have lived in Mghinga forest for thousands of years as hunters, a fascinating day trip.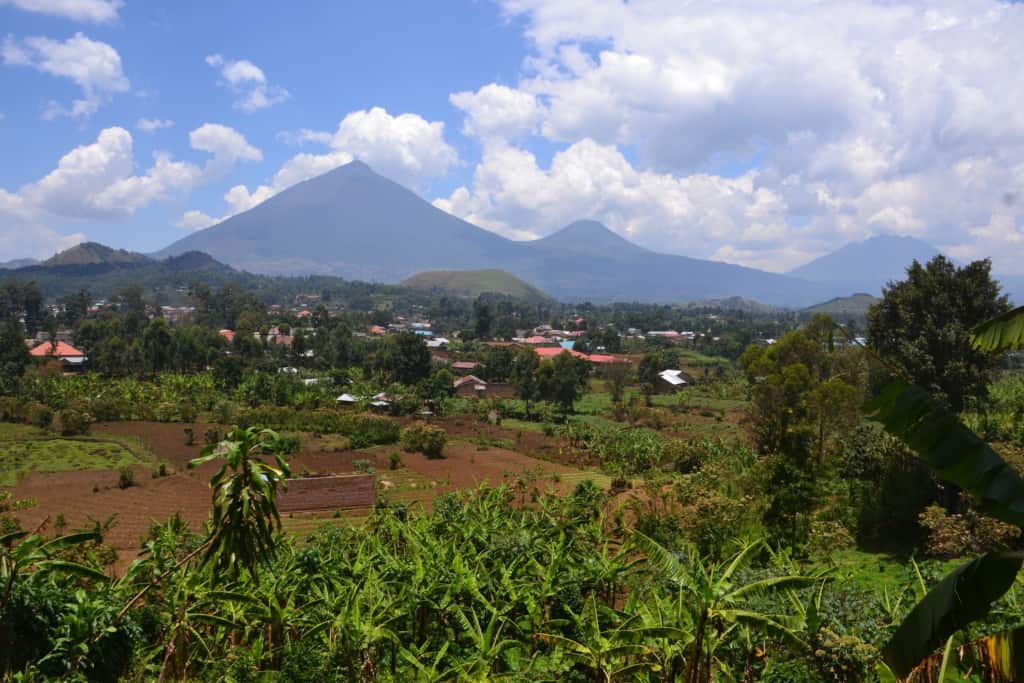 How to get to Mgahinga Gorilla National Park?
By Plane
Entebbe International Airport (EBB) is how most most visitors enter Uganda and travellers should be aware of the latest Uganda visa requirements. It is possible to take a domestic flight from Entebbe to Kisoro.
By Road
Mgahinga Gorilla National Park lies 14km from the small town of Kisoro along a rough ascent road (allow 45 minutes).
A 4WD vehicle is recommended for this road at all times and is essential in the Wet seasons (from February to May and September to November).
The park is 510km/317mi from Kampala (at least 9 hours' drive) and it can be reached by road from Queen Elizabeth National Park (around 6 hours) or Lake Mburo National Park (5 to 7 hours).
Carrying a small amount of local currency, the Uganda currency (UGX) is advised for smaller purchases.
Tariffs & Regulations
Entrance fee
All Mgahinga Gorilla National Park fees are payable at the gate at time of entrance and cost USD $40 for both foreigner non-residents and foreign residents. This is not inclusive of mountain gorilla trekking or habituation.
Regulations
If you keep to park rules, you can stay with the animals as long as they are not disturbed by your presence.
Accommodation at Mgahinga Gorilla National Park
Tourists at Mgahinga Gorilla National Park can choose from a number of different options when deciding where to sleep with accommodation ranging from luxury safari lodges to lower budget camping.
Lodges
Chameleon Hill Lodge: This luxury lodge is built overlooking the beautiful Lake Mutanda. The lodge has a beautiful compound with great views of the three volcanoes in the park.
It is a good lodge for those who have come for gorilla trekking, bird watching, golden monkey tracking, visiting the Batwa or canoeing on Lake Mutanda.
Mount Gahinga Rest Camp: This lodge is built at the foot of the volcanoes with beautiful views of Lake Mutanda and the mountains in the park. There are nine grass thatched rooms (bandas) and three tents with private balconies.
Besides the bandas, it is possible for visitors to pitch their own tents in designated places. Electricity is supplied using solar panels. The hotel arranges several activities including a visit to the Batwa people.
Clouds Mountain Gorilla lodge: Clouds Mountain is a luxury lodge built in the town of Kisoro. The lodge has eight cottages made of stone and grass thatched. The lodge has both twin and single rooms that are beautifully set up with a fireplace.
Camping
Amajambere Iwacu Community Camp: Camping is allowed for those with their own equipment. The meals are mostly Ugandan dishes and are served at the communal area in the camp.
A campfire is set late in the evening for guests with cultural performances from the Batwa. The thing about booking with this camp is that you indirectly contribute to the well-being of the community.
Campervan
Guests on a self-drive safari with a campervan can make significant savings by sleeping in their vehicle.
Bars/restaurants/amenities
Lodges will typically have all meals and drinks included in the lodge package.
Useful information
Geography
On a Uganda safari tour, Mgahinga Gorilla National Park can be located in the southwest of the country and can be reached via chartered flight from Uganda's Entebbe International Airport (EBB) to Kisoro.
Trips to the park are often combined with tours of Bwindi Impenetrable National Park and Murchison Falls National Park.
Weather
The climate in Mgahinga Gorilla National Park is mild to cold and wet. The high altitude (2,227m to 4,127m or 7,306ft to 13,540ft) makes this one of the coldest destinations in the country. It is on average 20°C/68°F during the day, becoming cold in the evening (9°C/48°F).
Mgahinga experiences no real Dry season, so rain is always possible, but there tends to be less rainfall in December to January, while June and July receive the least amount of rain. There are two recognizable Wet seasons: from February to May and from September to November. It is advised to pack decent hiking shoes and waterproof clothing.
Best time to go
Understanding the best time to visit Uganda is important as this will impact accommodation, flight prices, availability and the weather that visitors can expect on their safari vacation.
Mgahinga Gorilla National Park is open for gorilla trekking the whole year, but the best times are during the drier seasons from June to August and December to January.
At these times the trails tend to be easier to navigate and spending a precious hour with the gorillas might be more pleasant when it isn't raining.
Health
It is recommended to visit a travel clinic before coming to Uganda. Several Uganda vaccinations are recommended and usually administered before your departure.
Antimalarials are advised, as well as covering up in the evening and using mosquito repellent (those containing DEET are most effective).
It is recommended to visit a travel clinic before coming to Uganda. Several Uganda vaccinations are recommended and usually administered before your departure.
FAQs
Where is Mgahinga Gorilla National Park located?
Mgahinga Gorilla National Park is located in southwestern Uganda and can be reached via chartered flight from Uganda's Entebbe International Airport (EBB) to Kisoro.
What animals will visitors see at Mgahinga Gorilla National Park?
Visitors to Mgahinga Gorilla National Park will see gorillas, golden monkeys, birds as well as sibling silverbacks, Bushbuck, buffalo, golden cat, side-striped jackal, giant forest hog, bushpig and the elephant.