Namib-Naukluft National Park is located on the western side of Namibia just south of the midway point. The park lies between the shoreline of the Atlantic Ocean through to the beginning of the Great Escarpment which extends into South Africa.
The Park was formed from four regions namely Namib, Naukluft, Sesriem/Sossusvlei and is the largest national park in Africa and the fourth largest in the world.
Visitors to this great park will be amazed by the ridges of the sand dunes and sheer scale of the place, an ant-like human among great waves of sand and interspersed wildlife as well as the Naukluft mountains boasting massive and varied rock formations.
Why visit Namib-Naukluft National Park?
Namib-Naukluft National Park safari
The wildlife and scenery make for a superb desert safari in Namibia and the vegetation of the Naukluft complex has been categorized as semi-desert savanna. It is home to some of the rarest and weirdest plant and animal species in the world.
The park is not primarily a wildlife destination, but quite a few species are easily encountered. Seeing a herd of oryx walking at Dune 45 in the Sossusvlei area is an unforgettable sight.
To see more wildlife, you need to go to other areas of the park which are less visited. The Naukluft massive is primarily a hiking destination and Hartmann's mountain zebra are easily spotted here.
The breathtaking views and stunning scenery with its vast deserts, impressive mountains and deep canyons spotting elusive mammals that have adapted to this harsh desert environment will take your breath away.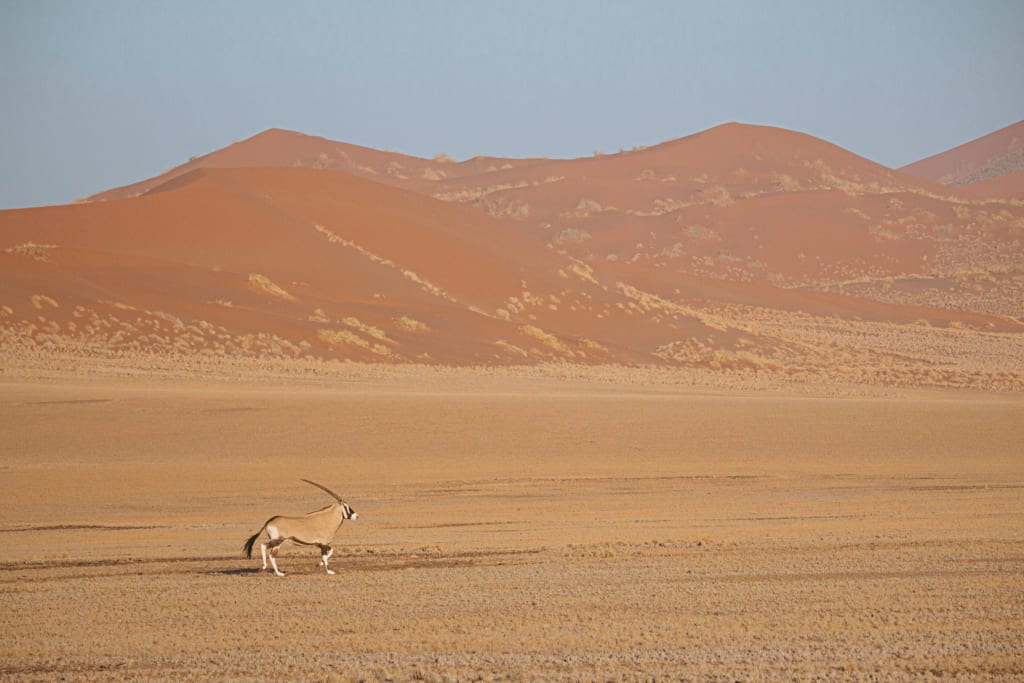 Animals
Visitors will find the Leopard, cheetah, zebra, oryx, giraffe, spring buck, bat eared fox and many more animals.
Other fascinating desert-adapted wildlife of the Namib Desert include: Baboon, Klipspringer, Springbok, Steenbok, Cape as well as many insects, reptiles, small mammals and even wild Desert Horses.
The Naukluft Mountains is a less visited section of the park. This area is more lush and home to additional species including the endemic Hartmann's mountain zebra.
Smaller creatures include meerkat, yellow mongoose and Cape ground squirrel. Both spotted and brown hyena are present and you might well come across their distinctive white droppings.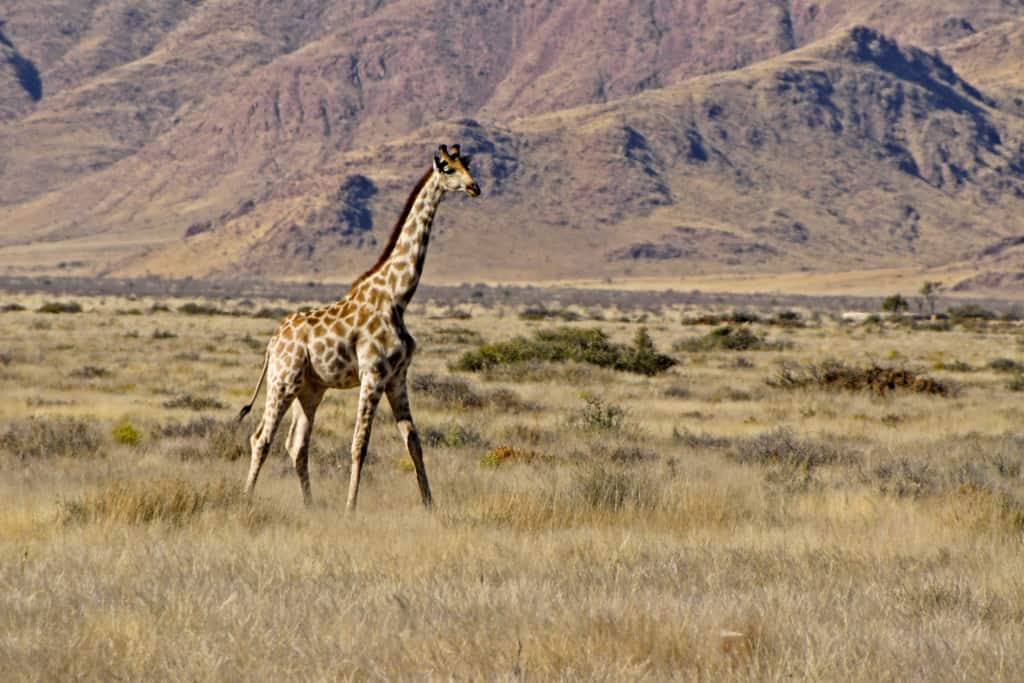 Birds
Namib-Naukluft NP is a great birding destination with over 200 species recorded. The popular area of Sossusvlei is extremely dry and although there are some interesting species to be found, such as the dune lark, this is not a prime birding area.
For excellent birding, head for the Naukluft Mountains where more species are present and easier to spot. Sandwich lagoon on the coast is great for Palearctic waders in the Wet season. Visitors will also find the Augur buzzard, Lappet-faced vulture and Monteiro's hornbill.
Trees
The Naukluft supports a surprisingly varied flora and fauna. Its high plateau and mountain sides tend to be rocky with poor, if any, soil. Here are distinctive euphorbia, acacia, commiphora and aloe plants (including quiver trees – which are found in a dense stand in Quivertree Gorge).
Most are low, slow-growing species, adapted to conserving water during the dry season. The variations of slope and situation result in many different niches suiting a wide variety of different species.
Down in the deeper kloofs, where there are permanent springs, the vegetation is totally different, with many more lush, broad-leaf species.
Wild, cluster and sycamore figs are particularly prevalent, whilst you should also be able to spot camelthorn, buffalo thorn, wild olive and shepherd's trees.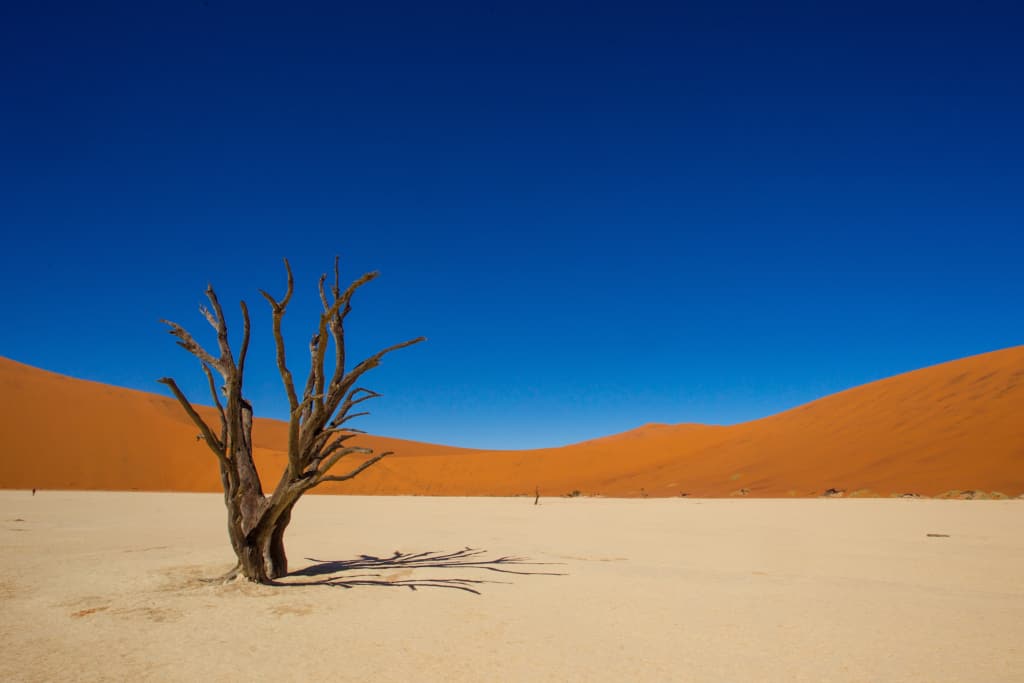 Other activities at Namib-Naukluft National Park
Here are some other Namibian safari activities that visitors to Namib-Naukluft National Park can look forward to on their trip:
Game rides: Adventure in the Namib Desert and Etosha National Park on this tour with accommodation and meals included. Visit incredible landscapes and take part in exciting game rides.
Sosussvlei guided tour: Begin the two-day tour with a stop at the amazing Walvisbay. Visit Sossusvlei and its monumentally high dunes with windy crests and warm colors changing as the day waxes and wanes. Spend the night in the Namib Desert.
Kayaking at Bird Rock: Paddle for about an hour in the calm water of the bays. Enjoy wonderful bird life, seals and the occasional dolphin.
Photo safaris: Overlooking Walvis Bay, experience the spectacular sunset of Sandwich Harbor on this photography trip. Capture on camera the interplay between light and shadows in the dunes, as the sun sets behind the Atlantic Ocean.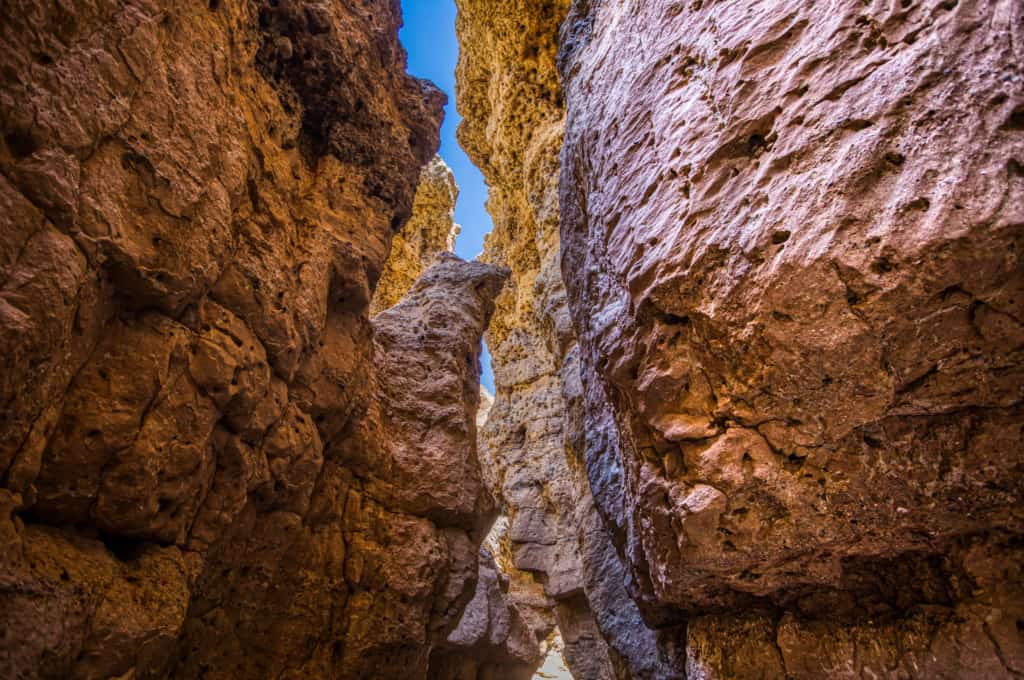 How to get to Namib-Naukluft National Park?
By Plane
The main point of entry into Namibia is Hosea Kutako International Airport (WDH) located 40km/25mi east of Windhoek.
Both self-drive visitors and people who've booked an organized safari will usually start their trip by 4×4 in Windhoek.
By Road
Most people who visit the park come to see the Sossusvlei area, which is located about 360km/223mi from Windhoek by car and accessed through the Sesriem entry point.
Namib-Naukluft National Park consists of different sections with different entry points. The park can be visited on an organised tour or independently, on a self-drive safari.
The main routes to and within the park are open to normal 2WD cars. Permits are required for minor roads and a 4×4 vehicle is recommended.
Adventures to Namib-Naukluft National Park are often combined with trips to the Skeleton Coast National Park.
Tariffs & Regulations
Entrance fee
All Namib-Naukluft National Park fees are payable at the gate at time of entrance. Park fees are valid for 24 hours and fees at the Sesriem entrance include:
Foreign Adults: N$80 Per Day ($5 USD)
Children Under 16: Free Of Charge
Private Vehicle: N$10 Per Day ($0.60 USD)
Carrying a small amount of local Namibian currency, the Namibian Dollar (NAD) is advised for smaller purchases.
Regulations
If you keep to park rules, you can stay with the animals as long as they are not disturbed by your presence.
Accommodation at Namib-Naukluft National Park
Tourists at Namib-Naukluft can choose from a number of different options when deciding where to sleep.
Lodges
There are various accommodation options in Namib-Naukluft National Park including:
Namib Naukluft Lodge caters for the individual holidaymaker. Its architectural design allows unity with nature: backed by impressive granite hills, which are granting natural protection against the East winds.
Enjoy the stunning view onto the open plains from every room and the main veranda. Feel at home and check-into your en-suite, stylishly furnished room with inside and outdoor seating, air-conditioning, private veranda, refrigerator and direct dial telephone.
Eagle Tented Lodge and Spa also offers brilliant game viewing activities. Situated on the 21, 000 hectare Epacha Private Game Reserve, guests will find breathtaking views over the surrounding mountains and valley will overwhelm both new and accustomed visitors to Namibia.
The lodge offers sophistication and style combined with high standards of service, all in a relaxing atmosphere at this Namibia safari lodge.
Camping
Accommodation is available on campsites in 3 areas: Sesriem camp, Naukluft camp and Namib camps.
Sesriem Campsite is ideal for travellers looking for a life-changing camping experience in the desert but with the added benefit of nearby facilities.
Sesriem Campsite has been upgraded, and guests can use the gas station, shop, restaurant and bar. But when you're at your campsite under the acacia's shade, you can enjoy being on the edge of Namib.
The famous orange dunes are visible from the campsites, and if you're lucky, you can spot some of the Namib-Naukluft Reserve wildlife too.
Campervan
Guests on a self-drive safari with a campervan can make significant savings by sleeping in their vehicle.
Bars/restaurants/amenities
Lodges will typically have all meals and drinks included in the lodge package.
Useful information
Geography
Located in the west of Namibia, the Namib-Naukluft Park is situated between the coast of the Atlantic Ocean and the edge of the Great Escarpment.
It encompasses part of the Namib Desert (considered the world's oldest desert), the Naukluft mountain range, and the lagoon at Sandwich Harbour.
Weather
Namib-Naukluft National Park has a hot and extremely dry climate with very little rainfall. Temperatures can peak well above 38°C/100°F during summer (November to April), but nights can drop below freezing point in winter (October to April).
The altitude in the park varies widely; Sossusvlei is located at a low altitude and temperatures get very hot. The higher altitudes are mostly in the Naukluft Mountains section where it tends to be a bit cooler.
Best time to go
Understanding the best time to visit Namibia is important as this will impact accommodation, flight prices, availability and the weather that visitors can expect on their safari vacation.
Namib-Naukluft is a premier travel destination in Namibia, mostly visited for its stunning desert scenery and less for its wildlife.
Therefore, the park may be visited throughout the year, but the most comfortable time is during the cooler months from May to October. Outside of these months it can be very hot, limiting how much time you may want to spend outside.
Health
A visit to your local travel clinic is recommended for advice on vaccinations and malaria protection. Namib-Naukluft NP is a malaria-free zone, but you will need anti-malarials if you plan on visiting other areas where it may be a concern.
Covering up in the evening and applying mosquito repellent (those containing DEET are most effective) is also recommended.
It is recommended to visit a travel clinic before coming to Namibia. Several Namibia vaccinations are recommended and usually administered before your departure.
FAQs
Where is Namib-Naukluft National Park located?
Located in the west of Namibia, the Namib-Naukluft Park is situated between the coast of the Atlantic Ocean and the edge of the Great Escarpment, some 360km/223mi from Windhoek by car.
How much is the Namib-Naukluft entrance fee?
All Namib-Naukluft National Park fees are payable at the gate at time of entrance. Park fees are valid for 24 hours with foreign adults paying $5 USD and $0.60 USD for private vehicles.
What animals will visitors see at Namib-Naukluft National Park?
Visitors to Namib-Naukluft National Park will see the Leopard, cheetah, zebra, oryx, giraffe, spring buck, bat eared fox, Baboon, Klipspringer, Springbok, Steenbok, Cape as well as many insects, reptiles, small mammals and even wild Desert Horses.