The Caprivi Strip aka the Zamebi region is a 400-kilometre-long, narrow corridor of land in northeast Namibia. It is surrounded by Botswana to the south and Angola and Zambia to the north.
Its former colonial rulers German south west Africa secured this narrow strip of land for trade purposes to navigate to the Indian Ocean via the Zambezi river, a route to Africa's east coast.
Unfortunately for the Germans, they overlooked the non-navigable Zambezi River rapids and also the 355-foot drop to the Victoria Falls waterfall, rendering the route useless for trade.
Trivia aside, the Caprivi Strip today is a haven for safari wildlife including antelope, elephants, wild dogs, hippos and lions.
Why visit the Caprivi Strip?
Caprivi Strip safari
Part of the traditional migration route between southern Angola and northern Botswana, the Caprivi Strip is part of an ecosystem that supports nearly 145,000 elephants at any one time. Herds of up to 700 animals often surround safari vehicles.
The lodges are still few and far between, and that's a large part of the region's attraction — the Caprivi area allows a feeling of really being off the grid, far removed from modern civilization.
Adding to the region's utter wildness is the fact that many of the safari camps are unfenced, allowing animals of any spot or stripe to wander onto the grounds any time of day.
Veined by permanent rivers, the Caprivi is home to birds and animals that live almost nowhere else in Namibia. While often explored from a 4WD, this world of plenty is perfect for boating, at its best in the early morning or towards sunset.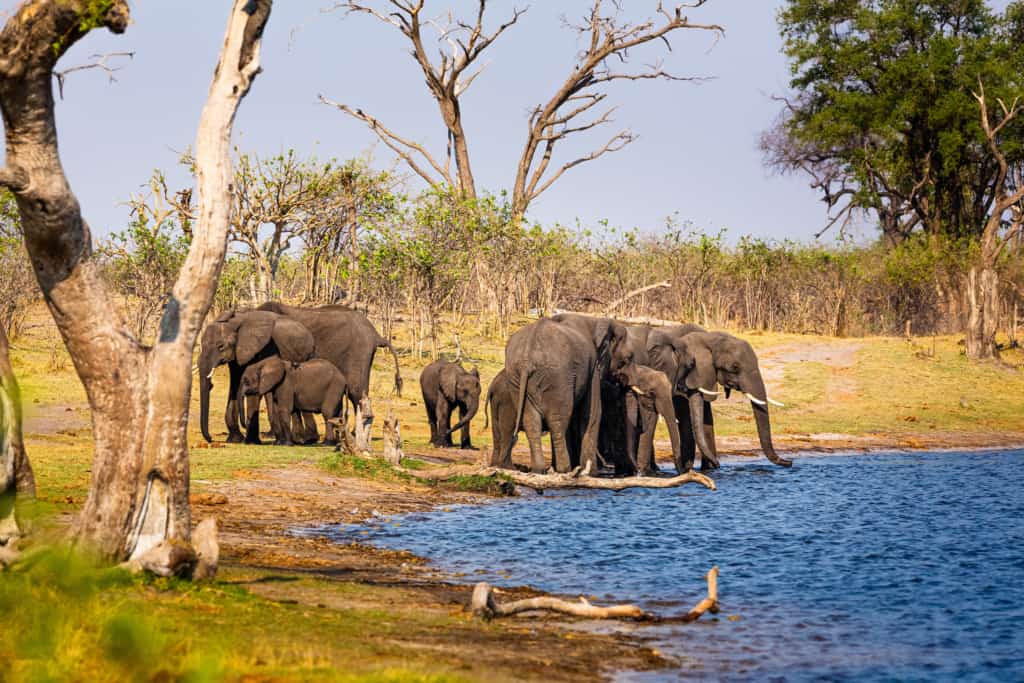 Animals
Wildlife in the Caprivi Strip is varied with 4 out of the Big Five game present. The border of Botswana is unmarked so the animals move seasonally from area to area and through unfenced National Parks.
In this Zambezi region, visitors will see hippos and crocodiles are abundant in the rivers and antelope such as waterbuck, red lechwe and the rare semi-aquatic sitatunga thrive in the marshes.
There is plenty of food for resident lions and wild dogs often roam this area as well. Sitatunga and red lechwe thrive within the wetlands of the national parks – Bwabwata, Mudumu and Nkasa Rupara – whose plains are home to Cape buffalo and sable antelope as well as elephant aplenty.
Visitors can also see large herds of Elephant, also Buffalo, Hippo, Crocodile, Lion, Leopard, Wild Dog and a variety of antelope including Giraffe, Lechwe, Roan, Sable, Tsessebe, Sitatunga, Reedbuck and Waterbuck.
There are no rhinos, but other animals to look out for include giraffe, zebra and wildebeest.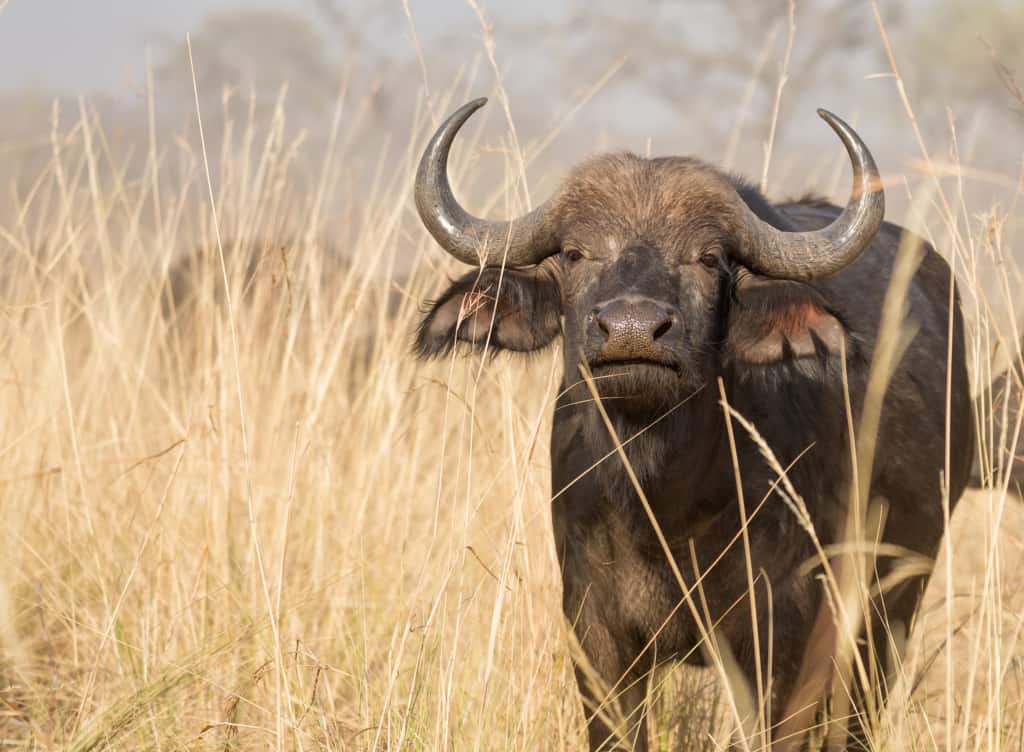 Birds
African fish eagles perch on branches high above the water; a thrilling flash of blue marks the passage of a bejewelled kingfisher.
Indeed the Caprivi Strip has over 450 species recorded including slaty egret, racket-tailed roller and wattled crane.
Permanent water in the area makes it a popular stopover for many migrants from Eurasia and elsewhere in Africa, from November to April. A variety of waders is abundant throughout the year.
Trees
The ecosystems here are similar to those in the Okavango Delta: there are deep-water channels, which are lined by wide reedbeds and rafts of papyrus.
Larger islands in the river have baobab, water fig, umbrella thorn, knobthorn, mopane, pod mahogany, star chestnut and sickle-leaved albizia trees on them.
Other activities at the Caprivi Strip
Here are some other Namibian safari activities in the Caprivi Strip including game drives, bush walks and sundowners on floating pontoons.
Game viewing by boat, sunset cruises and canoeing adventures are a great way to relax. From a houseboat, you can watch wildlife at the water's edge at prime times and enjoy wonderful passing scenery whilst cruising along.
Mahangu Game Reserve: This small reserve borders on the Okavango River and Botswana. It has diverse scenery and wildlife, with lush riverine forest and Okavango floodplains on one side and dry Kalahari bush on the other.
Bwabwata National Park: Next to Mahangu is Bwabwata which stretches from the Okavango River to the Kwando River. The waters are clear and there are lush islands in the river. Popa Falls is a series of rapids in a very scenic area on the Okavango River.
Fishing: Anglers try their luck for catfish, tilapia – and, most sought-after of all, the ferocious tigerfish. Several lodges run tours that take visitors into the local settlements, allowing them to experience Caprivian culture for themselves.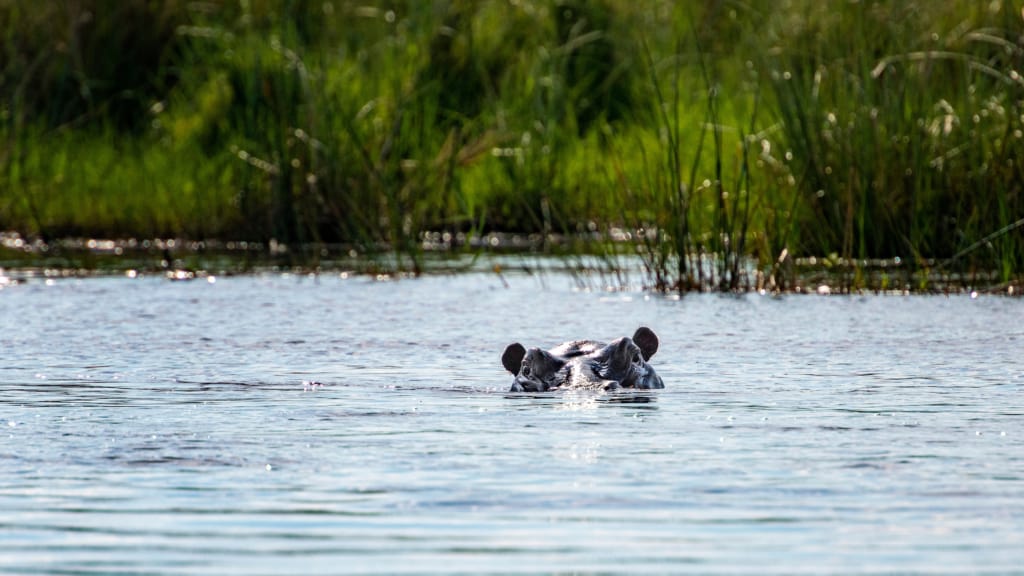 How to get to the Caprivi Strip?
By Plane
The main point of entry into Namibia is Hosea Kutako International Airport (WDH) located 40km/25mi east of Windhoek. Visitors will usually start their trip by 4×4 in Windhoek. Alternatively, there are fly-in trips that travel between different Namibian parks by charter flight.
For most travelers, the Zambezi Region is an access route for travelling from Namibia to Victoria Falls in Zambia or Zimbabwe, Chobe NP in Botswana and vice versa.
By Road
The distance from Victoria Falls is about 400km/250mi (driving time 4½ hours) and from Chobe 380km/240mi (driving time 5½ hours).
Tariffs & Regulations
Entrance fee
Some National Parks in Caprivi have entrance fees including Bwabwata National Park which requires a Permit to enter any area of the park.
Permits cost N$30 per person and if you'll be self-driving, an additional N$10 vehicle fee. Fees are payable on arrival at game/core area entrance gates.
Regulations
If you keep to park rules, you can stay with the animals as long as they are not disturbed by your presence.
Accommodation at Caprivi Strip
Tourists at Caprivi can choose from a number of different options when deciding where to sleep.
Lodges
Some of the accommodation options include:
Rainbow River Lodge: Visitors can either rent a little chalet or pay to pitch your tent. They have a pool, restaurant, and bar on-site, and you can book a river safari from them too.
Shametu River Lodge: Offering views right out over Popa Falls, Shametu River Lodge is a great pic for those wanting to stay right at the edge of Mahango Game Reserve.
Divava Okavango Resort & Spa: A gorgeous property set right off the river from Popa Falls, Divava Okavango Lodge & Spa offers lovely chalets with amazing views over the river.
Ndhovu Safari Lodge: Located right on the river, the Ndhovu Safari Lodge is a great option that offers both lodge rooms and tents.
Campervan
Guests on a self-drive safari with a campervan can make significant savings by sleeping in their vehicle.
Bars/restaurants/amenities
Lodges will typically have all meals and drinks included in the lodge package.
Useful information
Geography
Located in the northeast of Namibia, the strip runs about 280 miles (450 km) from the corner of the main block of the country eastward to the Zambezi River. Its width varies from about 20 to 65 miles (32 to 105 km).
Weather
The Zambezi Region (formerly Caprivi Strip) has a hot climate. Rain usually falls in the form of heavy thunderstorms.
There is a Wet season, which coincides with the summer months of November to April. During the dry winter months, from May to October, there is virtually no rain at all and it gets very cold in the morning.
Best time to go
Understanding the best time to visit Namibia is important as this will impact accommodation, flight prices, availability and the weather that visitors can expect on their safari vacation.
The Zambezi Region (formerly Caprivi Strip) can be visited throughout the year, but the best time for wildlife viewing is in the dry winter months from June to September.
At this time water is scarce and animals gather around the few remaining water sources. The vegetation is also thinner during these months, which makes it easier to spot wildlife.
Health
A visit to the Zambezi Region (formerly Caprivi Strip) should be safe, especially when on an organised safari.
It is recommended to visit a travel clinic before coming to Namibia. Several Namibia vaccinations are recommended and usually administered before your departure.
Malaria is a concern in the Zambezi Region. It is recommended to take anti-malarials. Precautions such as covering up in the evening and applying mosquito repellent (those containing DEET are most effective) are a good idea
FAQs
Where is the Caprivi Strip located?
Located in the northeast of Namibia, the strip runs about 280 miles (450 km) from the corner of the main block of the country eastward to the Zambezi River.
How much is the entrance fee?
Some National Parks in Caprivi have entrance fees including Bwabwata National Park which requires a Permit costing N$30 per person and an additional N$10 vehicle fee.
What animals will visitors see at the Caprivi Strip?
Visitors to the Caprivi Strip will see 4 out of the Big Five game including the Elephant, Buffalo, Hippo, Crocodile, Lion, Leopard, Wild Dog, Giraffe, Lechwe, Roan, Sable, Tsessebe, Sitatunga, Reedbuck and Waterbuck.