To help prepare visitors for their trip to Namibia, we've detailed the key elements for a visa for Namibia, if a visa is required, how to apply and how much it costs.
Visa for Namibia and other requirements
The Government of Namibia allows citizens of specific countries and territories to travel to Namibia for tourist reasons for three months with ordinary, diplomatic and service passports without having to obtain a visa.
Most tourist visitors to Namibia can travel there freely including citizens of the U.S, U.K, Switzerland and many EU countries. Most international flights arrive via Hosea Kutako International Airport (WDH) for visitors wondering how to get to Namibia.
Not all EU nationals are exempted from visa requirements when travelling to Namibia including nationals of Bulgaria, Croatia, Cyprus, Czech Republic, Estonia, Greece, Hungary, Latvia, Lithuania, Malta, Poland, Romania, Slovakia and Slovenia.
Your passport should be valid for a minimum period of 6 months from the date of entry into Namibia. Make sure you have three blank pages in your passport on arrival.
Visitors should also be aware of any new entry or negative Covid-19 entry requirements. As of now, Namibia requires the presentation proof on arrival of a negative COVID-19 PCR test taken in the country of departure.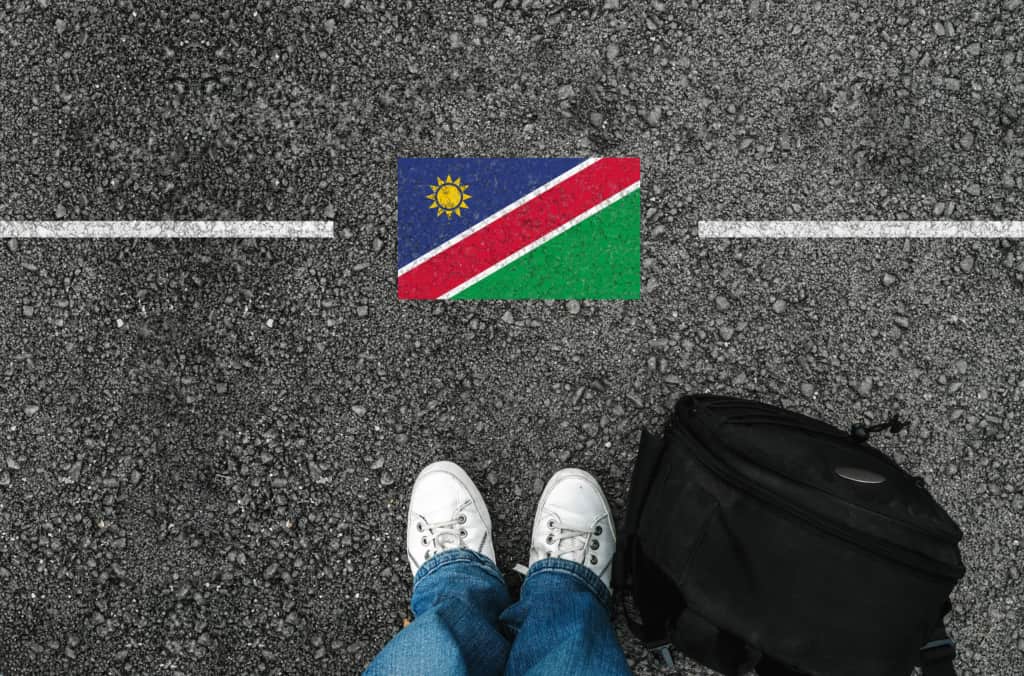 U.S. visitors visa and passport
Citizens of the United States visiting Namibia for tourism purposes for fewer than 90 days per calendar year are not required to obtain a visa in advance of their arrival. Visit the  Embassy of Namibia's website  for the most current visa information.
Upon arrival, check your visa validity before leaving the immigration counter to ensure that the visa stamp is valid for the length of your intended stay (up to 90 days) or transit through Namibia.
It is also worth checking if the immigration officials have given you a correctly dated entry stamp, as this stamp will be checked upon departure. Overstaying the time granted or having an incorrect or missing entry stamp can result in detention, arrest, and fines.
Please visit the U.S. State Department for more information on entry/exit requirements related in Namibia.
The passport holder must have at least six (6) months' validity and 3 blank pages in their official passport before they can travel to Namibia.
U.K. visitors visa and passport
Although British nationals can enter Namibia for a holiday or private visit of up to 90 days without a visa, there have been cases where visitors have only been given permission to stay for periods much shorter than 90 days, sometimes as short as only 7 or 10 days.
Before leaving the immigration desk in the port of entry airport arrivals, check that you have been given permission to stay in Namibia for the duration of your intended visit.
This is typically up to a maximum allowable of 90 days and that you have been given a correctly dated entry stamp by Namibian Immigration officials, as this will be checked on departure.
Overstaying the time granted or an incorrect or missing entry stamp could lead to detention, arrest and a fine.
EU visitors visa and passport
Many EU passport holders including Germany, Austria and Italy do not need a tourist visa to enter Namibia. Other EU countries including Romania, Hungary and Poland do require a via.
Switzerland visitors visa and passport
Switzerland passport holders do not need a tourist visa in order to enter Namibia and can stay for a period of 90-days visa free.
Visa summary by country
| | | | |
| --- | --- | --- | --- |
| Passport holder | Visa required? | Length of stay? | Other requirements |
| U.S. | No | 90 days | Passport valid for at least 6 months |
| U.K. | No | 90 days | Passport valid for at least 6 months |
| EU countries | No, for many countries | 90 days | Passport valid for at least 6 months |
| Switzerland | No | 90 days | Passport valid for at least 6 months |
The full list of countries that do & don't require a visa to enter Namibia can be found here.
Visa application process
A Namibia visa on arrival is available on arrival for tourists going on a Namibia safari that require one.
How to receive a Namibia visa on arrival
Step 1: Tourists can travel to Namibia and receive a visa on arrival
Step 2: After arriving, citizens can go to the Namibia immigration counter
Step 3: Fill out the immigration form of Namibia
Step 4: Submit the form and travel document to the immigration officer and pay the visa fee required
Step 5: Based on your passport and documents, you will be granted a visa for Namibia
Step 6: Once you get an entry stamp, you can enter Namibia and stay for the duration on your visa
5 documents required for Namibia tourist visa
Health Document: Negative COVID-19 PCR test result required for all international travellers coming to Namibia. The negative PCR test must be issued within 72 hours of departure.
Vaccination Document: COVID-19 vaccination proof for travellers coming to Namibia. The last dose of vaccine must be taken at least 14 days prior to travel departure.
Passport: Original Passport or Travel document of your citizenship with at least 6 months remaining validity on the date of travel and have at least 2 visa pages clear of any markings.
Travel itinerary: Travel reservation to and from your country in your name, not a ticket. Embassies recommend not purchasing hotel and flight tickets until a visa is approved. So don't risk your money, time and effort by buying actual tickets.
Proof of funds: Enough money for your stay and to leave Namibia. Carrying a small amount of Namibian currency can be useful when paying for smaller items.
Other requirements
Visitors to Namibia should also be aware of vaccine and Covid-19 entry requirements including
Anti-malaria treatment is recommended
Yellow fever vaccine is recommended
DTPP, hepatitis B, typhoid, hepatitis A vaccines are recommended
Parents travelling with children under 18 must show the original or certified copy of the unabridged birth certificate showing the details of both parents.
If the child is travelling with one parent only, then a parental legalised consent affidavit signed by the absent parent is required.
To find out more, read our article dedicated to vaccines in Namibia.
Useful visa contacts
FAQs
Do visitors need a visa for Namibia?
U.S, U.K, Switzerland and most EU citizens have a visa exemption when entering Namibia and can typically stay in the country for up to 90 days.
Any other entry requirements for visitors to Namibia?
Visitors should adhere to the latest Covid-19 entry requirements which may require a negative PCR test.