Kaokoland in northwestern Namibia is bordered by Angola and the Kunene River to the north, the Owambo geographic region to the east, the Hoanib River to the south, and the Atlantic Ocean to the west.
It is an arid, sparsely populated, and extremely isolated region that was originally settled by the Herero, who migrated from central Africa in the mid-16th century.
The area is one of the wildest and least populated areas in Namibia, with a population density of one person every 2 km².
Why visit Kaokoland?
Kaokoland safari
Kaokoland is a safari destination for the truly adventurous. The vast and sparsely populated landscape is punctuated by dry river beds, drought-hardy grass plains, and scattered kopjes (rocky hills) that spring up at random as if flung from the nearby mountain ranges.
It is within these riverine borders that the nomadic Himba people have lived for generations. Clad only in calfskin skirts and homemade sandals, they are recognized as much for their distinct dress as they are for their intricate braided hairstyles, each styled differently.
Also making their home in Kaokoland, the desert-adapted elephant and black rhino thrive here in isolation. Elephants in this region can survive as many as four days without water, quite a handy trait in these inhospitable conditions.
The landscapes you'll find on a Kaokoland safari are especially impressive: they include some of the world's most ancient rocky plateaus and dry riverbeds tracing their paths through a mineral universe.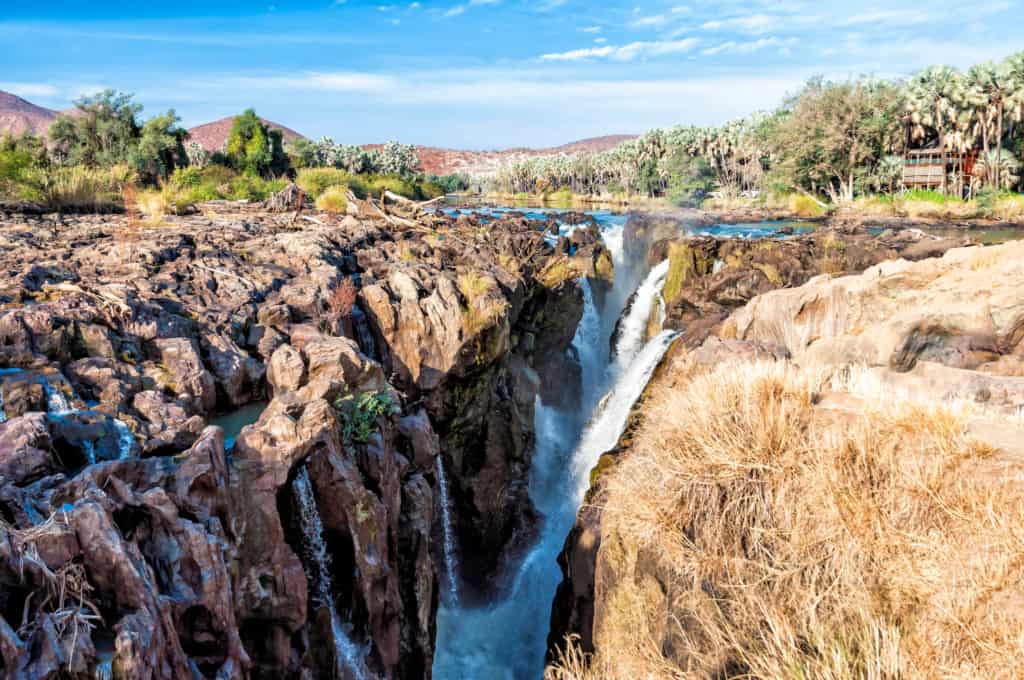 Animals
Herds of springbok and ostriches can be found in Kaokoland as well as elephants, giraffes, oryx and lions.
The desert elephants have adapted to extreme conditions. They play a very important role in this fragile ecosystem.
When they go to dry riverbeds in search of food and water, they dig holes in the sand on which a large number of other species depend on. Almost forced into extinction in the 70s due to poaching, they now number about 100.
The very remote desert wilderness doesn't support large populations of animals, but gemsbok, springbok and Hartmann's mountain zebra are scattered throughout the area.
The Kunene River, which forms the border between Namibia and Angola, harbors many nile crocodiles as well as a few hippos.
Birds
Kaokoland doesn't have a lot of bird activity due to its dry desert environment. There are, however, many interesting species present, including the rare rufous-tailed palm-thrush. One of the best birding spots is in the palm forest along the Kunene River.
Boat trips on the Kunene river are a great way to pick up some of the water-associated birds, such as giant and malachite kingfisher, fish eagle and goliath heron. Migratory birds are present from November to April.
Trees
Plenty of Baobab trees can be found in Kaokoland, the iconic tree known as "the Tree of Life". Over time, Baobabs adapt to their environment.
It is a succulent, which means that during the rainy season it absorbs and stores water in its vast trunk, enabling it to produce a nutrient-dense fruit in the dry season when all around is dry and arid.
Other fauna and vegetation found in the area include mopane bark, tamarisk, reeds and the pods, bark and leaves of the ana tree.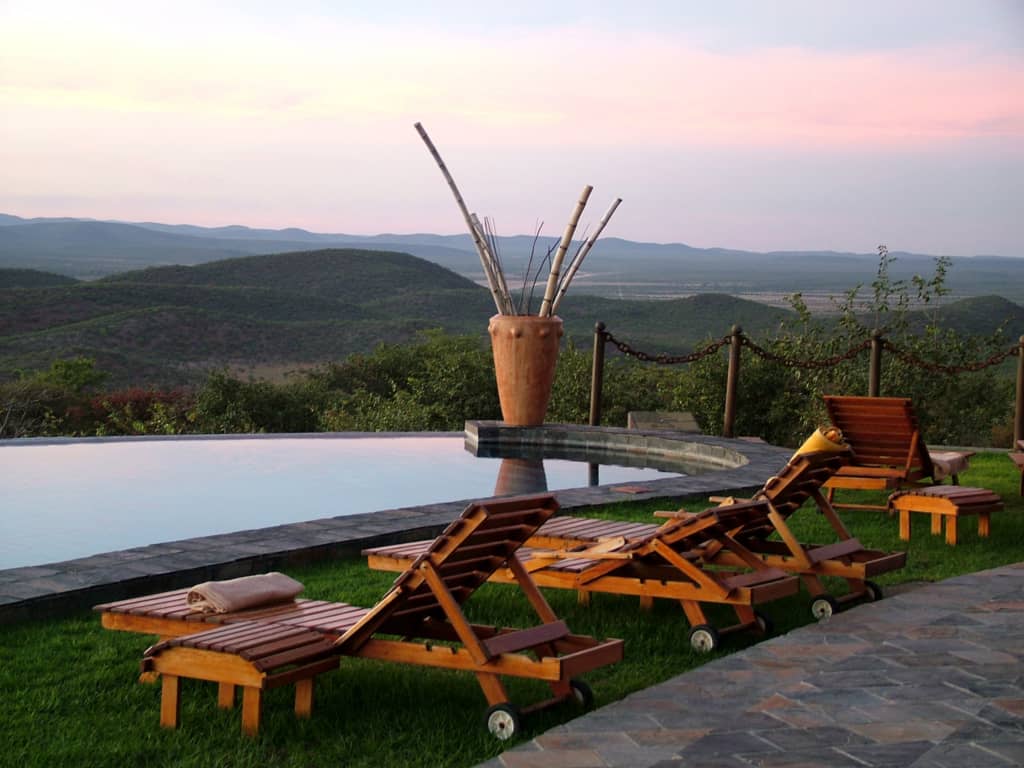 Other activities at Kaokoland
Here are some other Namibian safari activities that visitors to Kaokoland can look forward to on their trip:
Himba tribe: Experience some incredible interactions with the Himba nomadic tribe, who number between 30,000 and 50,000 individuals and their unique way of life and culture.
River activities: Explore the Kunene River on an incredible canoeing or river rafting adventure.This area has become a sought after frontier destination for adventures on the water and in the surroundings.
Epupa Falls: The Kunene River meanders through palm forests and arid regions until it plunges into a deep gorge, the Epupa Falls, a spectacular waterfall thrill for bird watchers and photography enthusiasts.
Track elephants: Track desert dwelling Elephants in a 4×4. These amazing animals as well as Black Rhino, Giraffe and Lion have adapted to a desert environment and learn about how they survive and traverse vast areas of land in search of water and food sources.
How to get to Kaokoland?
By Plane
Most visitors to Kaokoland fly by chartered plane to one of the few lodges in the area. Kaokoland is usually booked as part of a fly-in safari and visitors can fly here from Windhoek (the main point of entry into Namibia) or any other park or reserve in the country.
Hosea Kutako International Airport is located 40km/25mi east of Windhoek.
By Road
Driving independently is not recommended, unless you have experience in these kinds of hard-core expeditions.
The area is totally undeveloped and remote. Anybody driving through must possess ample 4×4 skills, supplies and, ideally, travel in a convoy with another vehicle.
Carrying a small amount of local Namibian currency, the Namibian Dollar (NAD) is advised for smaller purchases.
Regulations
If you keep to park rules, you can stay with the animals as long as they are not disturbed by your presence.
Accommodation at Kaokoland
Tourists at Kaokoland can choose from a number of different options when deciding where to sleep.
Lodges
There are various accommodation options in Kaokoland including Epupa Camp containing uxury safari-style tents erected on stone platforms, each with two single beds and en-suite bathroom.
All tents have electricity and mosquito netting and an outside, shaded balcony overlooking the tranquil Kunene River. Large Makalani palms overhead provide welcome shade from the midday sun.
Another option for guests includes Okahirongo River Camp which takes you to the edge of the wild in ultimate comfort.
With only four luxury tents and one family suite, the camp can accommodate up to 14 guests, an appropriate size to maintain the scale of the vast surrounds.
Fort Sesfontein Lodge is also a fantastic option with all modern facilities which guests have come to expect.
The central court of Fort Sesfontein Lodge is planted with palm trees and has a generous pool. The former officer's mess has been refurbished as a restaurant with an integrated lodge and bar.
Camping
Epupa Falls Lodge has a campsite as does the Opuwo Country Lodge's campsite, a perfect place for an ice-laden gin and tonic overlooking the vast landscape.
A Epupa Falls, guests are met with friendly staff and a lookout-point bar, the perfect spot to pitch camp for two days. Guests can also visit a Himba settlement and spend the rest of the time exploring the falls and wallowing in rock pools.
Campervan
Guests on a self-drive safari with a campervan can make significant savings by sleeping in their vehicle.
Bars/restaurants/amenities
Lodges will typically have all meals and drinks included in the lodge package.
Useful information
Geography
Kaokoland can be found in northwestern Namibia and is bordered by Angola and the Kunene River to the north, the Owambo geographic region to the east, the Hoanib River to the south, and the Atlantic Ocean to the west.
Weather
Kaokoland is a desert with typical big differences in night and day temperatures. The graph above illustrates averages, though temperatures can build upwards to well above 38°C/100°F and freezing temperatures can occur during winter nights (May to October).
There is a Wet season (November to April) during the summer – although it never rains that much – occasional thunderstorms can be expected. Winter time (May to October) is totally dry.
Best time to go
Understanding the best time to visit Namibia is important as this will impact accommodation, flight prices, availability and the weather that visitors can expect on their safari vacation.
Kaokoland can be visited throughout the year, but the climate is most pleasant during the winter months, from May to September.
The region turns a stunning green after rainfall, but the exact timing of the rains is hard to predict, and it doesn't rain much during the Wet season. Wildlife viewing is hit-and-miss throughout the year.
Health
The majority of Kaokoland lies in a malaria-free zone, but the eastern section does not. Consult your doctor about anti-malarials and please note that in case you visit other areas in the malaria-zone (e.g. Etosha and the Zambezi Region) anti-malarials are recommended.
And don't forget to cover up in the evening and use a mosquito repellent (those containing DEET are most effective).
It is recommended to visit a travel clinic before coming to Namibia. Several Namibia vaccinations are recommended and usually administered before your departure.
FAQs
Where is Kaokoland located?
Kaokoland is located in northwestern Namibia, bordered by Angola and can be accessed by  chartered plane from Windhoek.
What animals will visitors see at Kaokoland?
Visitors to Kaokoland will see desert adopted elephants, springbok, giraffes, oryx, lions,  Hartmann's mountain zebra, Nile crocodiles and hippos.