Bwabwata National Park is a large but little-known, sub-tropical game reserve in north-eastern Namibia. The park is an amalgamation of the Mahango and Caprivi Game Reserves and is an exceptional big game and birding safari destination.
Bwabwata includes a number of zones: the Divundu area, the West Caprivi Triangle, the Mahango Game Reserve, Popa Falls, former West Caprivi Game Reserve and the Kwando Core Area.
The Mahango Game Reserve presently has the largest concentrations of wildlife, while the Kwando Core Area is where the repopulation of carnivores is really taking off.
Why visit Bwabwata National Park?
Bwabwata National Park safari
Bwabwata National Park is likely Namibia's most unique protected area. With verdant landscapes, Bwabwata is home to abundant wildlife and several villages, making it quite different from Namibia's other parks.
Humans and animals coexist within the national park which have led to novel conservation efforts to protect the wildlife within the borders of Bwabwata but also to improve the standard of living for the local population that calls this area home.
Bwabwata is also a key migration route of the famed elephants of Chobe National Park, making their journey from the Angolan Highlands to Botswana every year.
Safari visitors to the park will have access to this area's unique biodiversity – self-drives are common on designated roads while an all-wheel drive and professional guide are recommended for authentic game viewing safaris.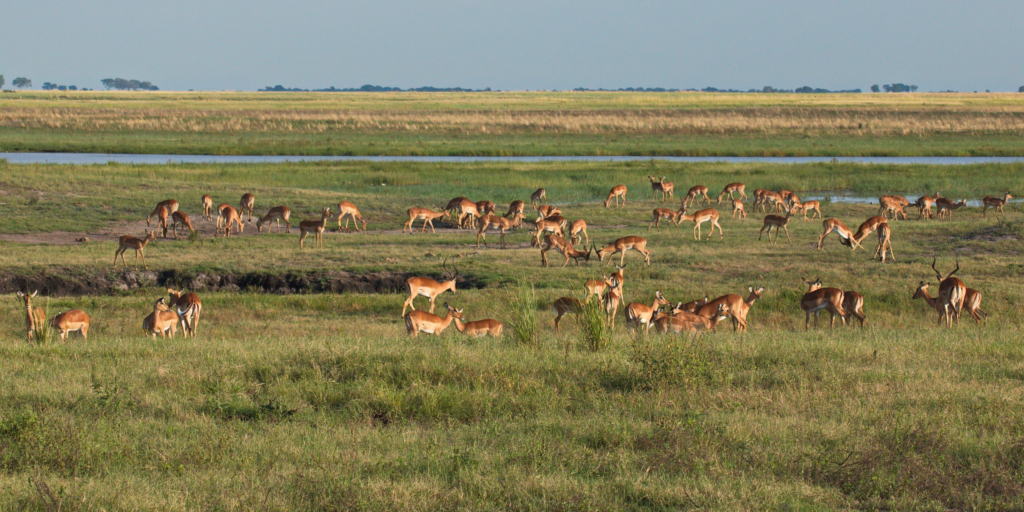 Animals
Four of the Big Five are present, with rhinos excluded, but wildlife densities are low and animals tend to be skittish.
The abundance of water in the region supports huge herds of game and bird species. Animals that you will likely come across are African elephants, blue wildebeest, zebras, buffalo, a variety of large and small sable antelope, crocodile and hippopotamus.
Predators like the cheetah, spotted hyena and red lechwe can also be found but the dense bush and abundant water make this more of a challenge – more like a genuine safari of old where no wildlife sightings are guaranteed and you see and experience nature the way it is meant to be.
Visitors can also expect to see lions (which are making a big comeback in the area), leopards, African wild dogs, giraffes and the usual impala and kudu.
In the rainy season, the drainage lines fill with rain that sits in natural pans, providing drinking water for game long into the dry months. Once the water evaporates completely, the game moves to the Kwando and Kavango rivers.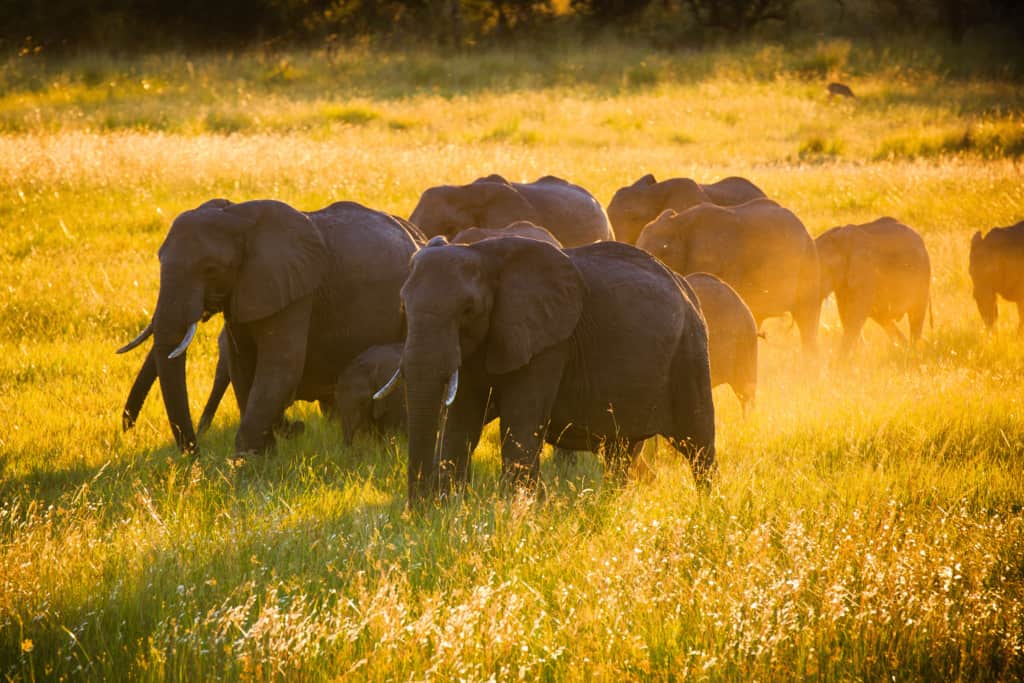 Birds
The Mahango Area and Kavango River in western Bwabwata are listed as an internationally Important Bird Area supporting globally threatened species and is an avian diversity hotspot.
Visitors can expect to find black-winged pratincole, slaty egret, wattled crane, African skimmer, African pygmy-goose, coppery-tailed coucal, white-backed night heron, rufous-bellied heron, Allen's gallinule, Dickinson's kestrel and the black-faced babbler.
Other birds known in the area include the swamp boubou, collared palm thrush, Meves's starling, southern ground hornbill, barred owlet, Bennett's woodpecker, wood owl, various warblers and cisticolas.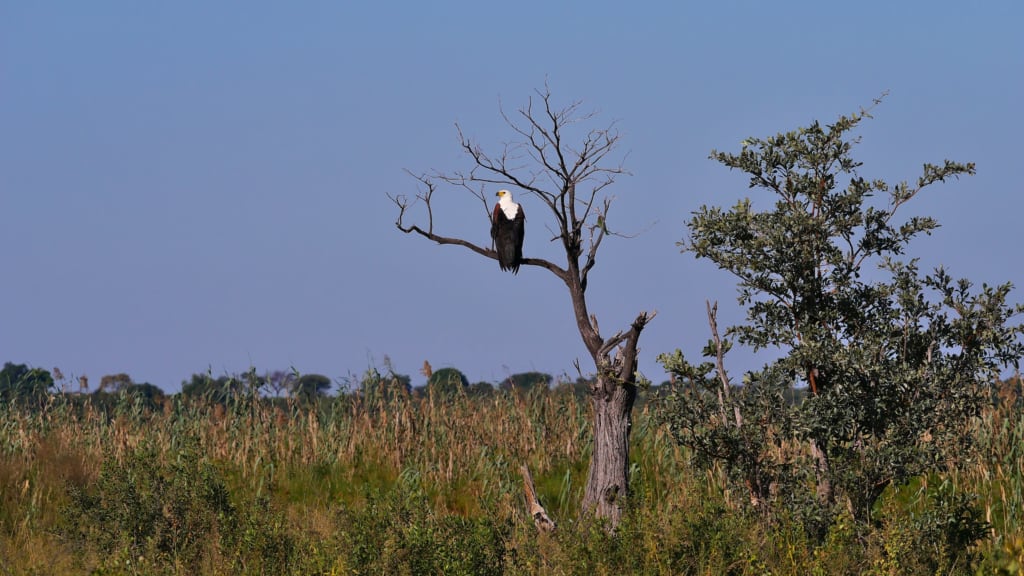 Trees
Bwabwata falls into the Tree and Shrub Savanna biome which is known for wetlands, floodplains and woodlands. Not many places allow you to experience the variety of sand dunes, swamps, forest and green river beds that this one does
Other activities at Bwabwata National Park
Here are some other Namibian safari activities that visitors to Bwabwata National Park can look forward to on their trip:
Game drive: Exploring Bwabwata National Park's wildlife with spectacular views of large concentrations of elephants and buffalo as well as one of the last refuges of the wild dog in Namibia and hippo along the rivers.
Sundowners: On floating pontoons, go game viewing by boat, sunset cruises and canoeing adventures, a great way to relax. From a houseboat, you can watch wildlife at the water's edge at prime times and enjoy wonderful passing scenery whilst cruising along.
Bush walks: Walk with professional guides at a peaceful, relaxed pace through the extraordinary Bwabwata NP where you can see birds wildlife and beautiful tree species
How to get to Bwabwata National Park?
By Plane
You can fly to one of two airports: Hosea Kutako Windhoek International Airport or Kasane Airport in Botswana. From there the park can be reached by the B8 Trans-Caprivi Highway where it is located 200 km east of Rundu.
Trips to Bwabwata National Park are often combined to the Caprivi Strip and Etosha National Park.
By Road
Located off the Trans-Caprivi Strip Highway 900 kilometres from Windhoek, Bwabwata National Park isn't a place you just end up as it's quite out of the way from most of the other big destinations in Namibia.
Most visitors to Bwabwata arrive independently, rather than on organized tours as the national park is typically not on tour itineraries.
Carrying a small amount of local Namibian currency, the Namibian Dollar (NAD) is advised for smaller purchases.
Regulations
If you keep to park rules, you can stay with the animals as long as they are not disturbed by your presence.
Accommodation at Bwabwata National Park
Tourists at Bwabwata National Park can choose from a number of different options when deciding where to sleep.
Accommodation in the form of safari lodges ranging from luxury to low budget can be found just outside Bwabwata's borders.
Lodges
Namushasha River Lodge celebrates the wonders of the Zambezi water world with accommodation fit for a king.
Namushasha's impressive central entrance, designed in true African style with a wooden chandelier and carved animals, leads guests into the attractive lodge set between the trees. The dining room, with its high thatched roof, is open on the sides to the river world, providing a suitable – and airy – welcome to wonderland.
Standard twin rooms, triple rooms and family rooms are available with prices for a 1-night stay for 2 adults at Namushasha River Lodge starting from USD $225, excluding taxes and fees.
Alternative lodge options includes Divundu Guest house which offers more affordable accomodation in a beautiful nature surrounding with clean ablutions, friendly staff, a restaurant as well as breakfast included.
Camping
Bwabwata has three community-operated campsites within the park, namely Nǁgoabaca, Nambwa and Bum Hill. Local communities, organised into communal area conservancies, earn revenue from these campsites.
Campervan
Guests on a self-drive safari with a campervan can make significant savings by sleeping in their vehicle.
Bars/restaurants/amenities
Lodges will typically have all meals and drinks included in the lodge package.
Useful information
Geography
Bwabwata National Park occupies a large part of north-eastern Namibia in an area known as the Caprivi, which forms the northern part of Botswana's Okavango Delta and Chobe regions.
Weather
The Bwabwata National Park is a sub-tropical climate – it is very hot and humid in summer, with heavy rainfall during the wet season (November to March).
The average rainfall is 550 – 600 mm per year, which makes it the wettest region in Namibia. The best time for game viewing is from April to September and it is during this period the weather is at its most pleasant as well.
During these dry winter months you can expect comfortable temperatures between 26 – 28°C (79 – 82°F) during the day.
Best time to go
Understanding the best time to visit Namibia is important as this will impact accommodation, flight prices, availability and the weather that visitors can expect on their safari vacation.
The best time for game viewing is from April to September and it is during this period the weather is at its most pleasant as well. Animals congregate around reliable water sources and foliage shrinks back due to the lack of rain, making it easier to spot wildlife.
Health
Your doctor can also provide you with assistance in preventing malaria, which is a major concern in Bwabwata NP, especially in the wet months from October to April.
Anti-malarials are strongly advised, as well as covering up in the evening and using mosquito repellent (those containing DEET are most effective).
It is recommended to visit a travel clinic before coming to Namibia. Several Namibia vaccinations are recommended and usually administered before your departure.
FAQs
Where is Bwabwata National Park located?
Bwabwata National Park occupies a large part of north-eastern Namibia in an area known as the Caprivi. Visitors can fly to one of two airports: Windhoek International (WDH) or Kasane Airport in Botswana. From there the park can be reached by the B8 Trans-Caprivi Highway.
What animals will visitors see at Bwabwata National Park?
Visitors to Bwabwata National Park will see Four of the Big Five including rhinos, elephants, blue wildebeest, zebras, buffalo, sable antelope, crocodile, hippopotamus, cheetah, spotted hyena, African wild dogs, giraffes and impala.