Skeleton Coast is a 40 km wide and 500 km long coastal stretch in Namibia, a hostile but fascinating area. Here the cold and unpredictable Benguela Current of the Atlantic Ocean clashes with the dune and desert landscape of north-western Namibia.
The name Skeleton Coast derived most probably from the huge numbers of stranded whales that lost their life here and whose skeletons could be seen all over the place.
Despite the hostile character of the Skeleton Coast, there are quite a number of wild animals to observe including desert-adapted elephants, rhinos, desert lions, brown hyenas, jackals, giraffes, seals, oryx, kudus and zebras.
Why visit Skeleton Coast National Park?
Skeleton Coast National Park safari
Skeleton Coast Park is acknowledged as one of Namibia's greatest treasures, in that it is one of the world's last great wildernesses.
The park can essentially be divided into two sections. The Northern part; a wilder, desolate area that is almost inaccessible yet home to the famous beach of wrecks. And the southern, where one can venture by road, visit the year round seal colony, and go off the beaten track.
Despite the hostile character of the coast, there are quite a number of wild animals to observe and plants that are incredibly adapted to the rainless area. All that survive there depend solely on the daily fog from the Atlantic Ocean as a source of water.
Here, visitors can explore its ancient sand dunes, legendary desert-adapted wildlife, mysterious shipwrecks along the Skeleton Coast, and beautiful Himba people, all from the comfort of some of the country's most exclusive and luxurious safari camps.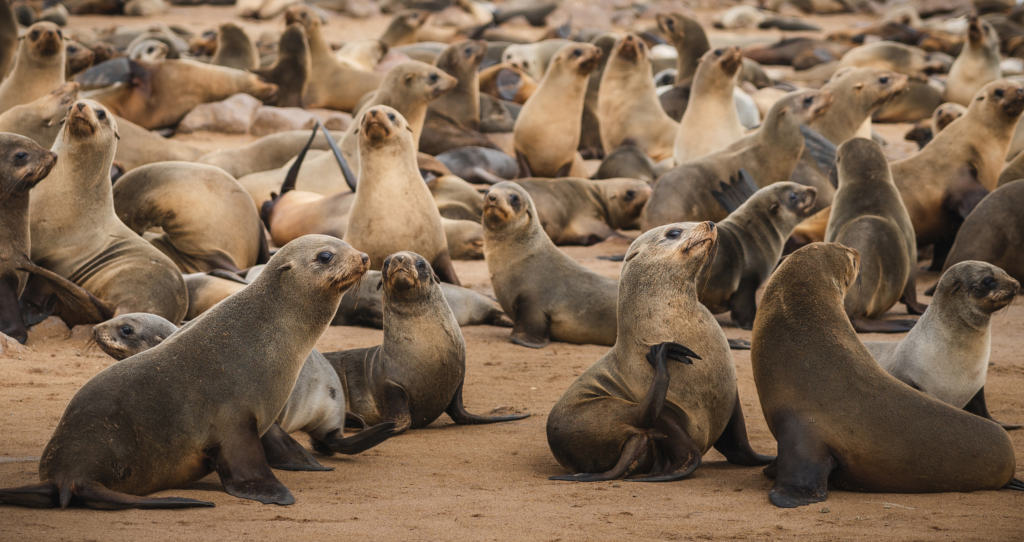 Animals
In this stark environment, enormous elephants thrive along with giraffes, lions and brown hyenas. Gemsbok (oryx), springbok, steenbok, scrub hare, and inquisitive ground squirrel are also seen.
Entirely different to the rugged mountains and valleys inland, the Skeleton Coast hosts Cape fur seals in their thousands along with black-backed jackals and brown hyena.
This coastal park is home to a variety of marine wildlife. The most accessible colony is at Cape Cross, outside the park to the south. Up to 100,000 animals can be seen here at any time.
Wooden boardwalks make for easy viewing and vantage points. Be prepared for an overpowering stench and high noise levels.
It is also worth looking out into the sea for a glimpse of the rare Heaviside's dolphins. The mouth of the Uniab River attracts some wildlife coming in from Kaokoland, further inland. This includes oryx, springbok and greater kudu.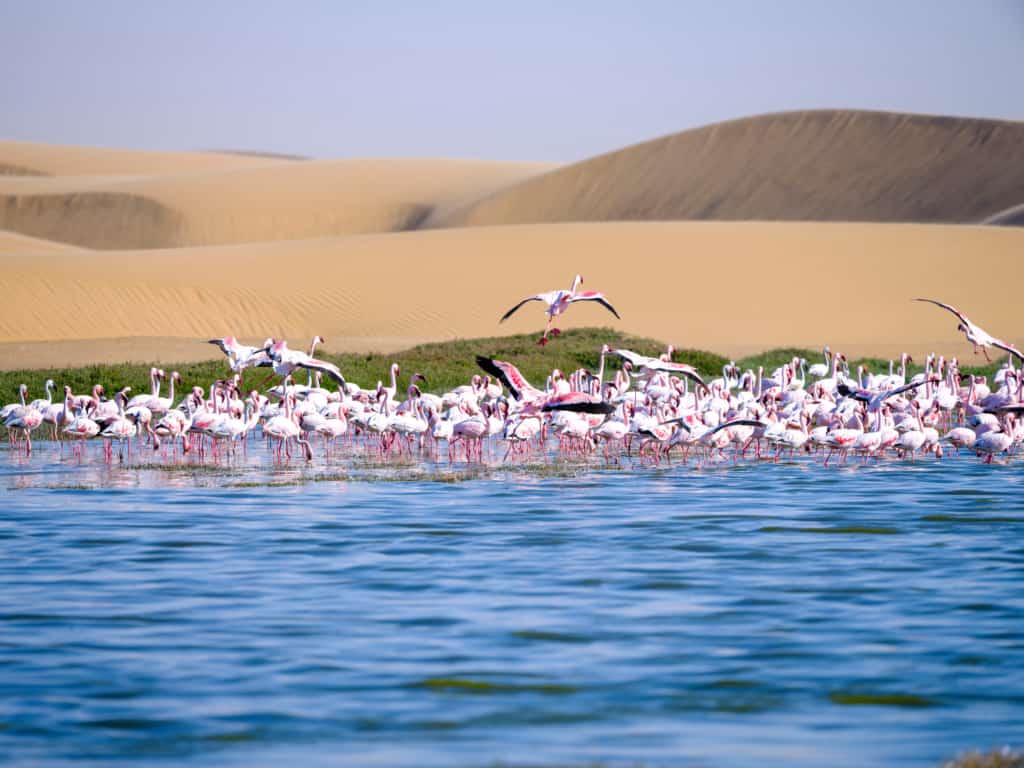 Birds
Birds are equally diverse, with regular endemics like Rüppell's korhaan, Benguela long-billed lark and lark-like bunting. Towards the coast, the bird community changes and tractrac chat can be seen, as well as jaegers and skuas found around the seal colonies.
Fauna
For much of the year, but especially in winter, the coast is shrouded in mist with a strong westerly breeze taking the fog far inland. This moisture gives life to strange desert plants such as the unique living fossil Welwitschia, which survives for hundreds of years.
The Desert Elephant has become so adapted that it eeks out a living inland along parched riverbeds and feeds on grass and trees fed by underground springs.
Other activities at Skeleton Coast National Park
Here are some other Namibian safari activities that visitors to Skeleton Coast National Park can look forward to on their trip:
Cape Cross seal colony: Watch the drama of this breeding colony as they fill the beach up with young pups and lusty males. Lurking in the background are jackals and other predators.
Surfing: Namibia is fast becoming of Africa's surfing hotspots. Incredible waves make this an awesome place to go on an active adventure. May to October is the perfect time to surf, as the swells are truly epic.
Explore the ghostly Kolmanskop: An abandoned mining settlement a few kilometres from the beaches of the Skeleton Coast. The first inhabitants were after diamonds, which literally littered the land. It was soon abandoned and what's left is a sand-covered shell of this former bustling settlement. Eerily fascinating.
Dune safaris: This thrilling activity is not for the faint of heart. It's best to do this activity with an experienced tour operator, familiar with the changing landscape of the dunes.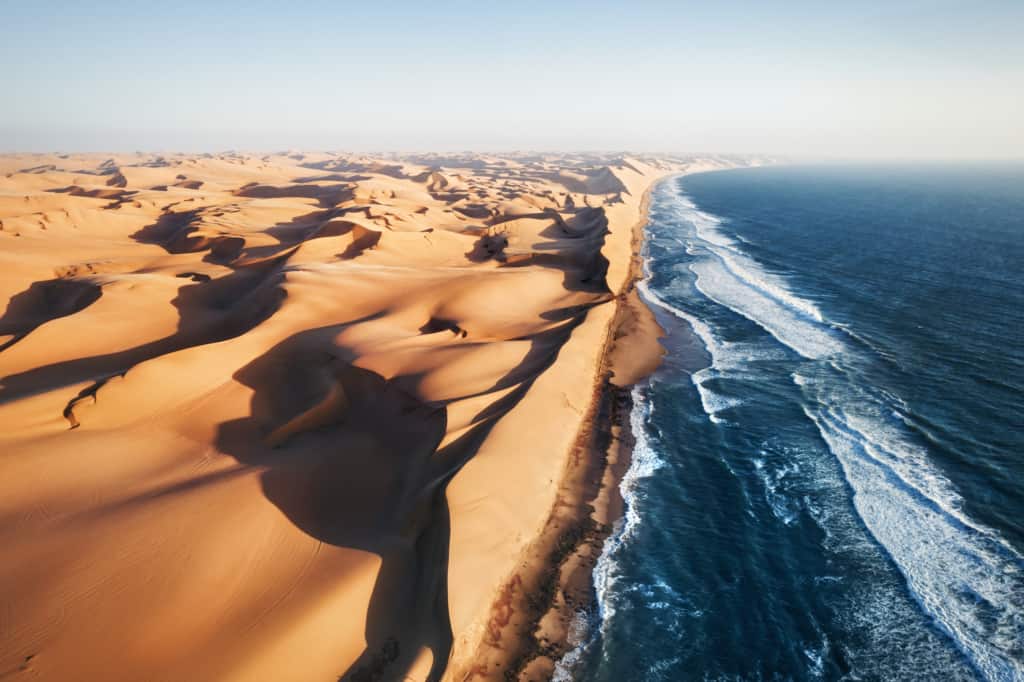 How to get to Skeleton Coast National Park?
By Plane
Even though all the evidence points to an incredibly unwelcoming and desolate area, scores of tourists make the lengthy journey there, seemingly to experience just that.
480kms from Windhoek Airport to the southern border of the park, and even an additional charter flight to Skeleton to be able to view the wrecks, it is still regarded as worth the trek.
An alternative is to arrange a trip which reaches different destinations via chartered flight.
By Road
When entering from the south, the Skeleton Coast NP is located 200km/124mi from the town of Swakopmund and 485km/300mi from Windhoek.
Most people who want a taste of the Skeleton Coast drive up as close as Cape Cross seal colony, which is about 100km/62mi south of the park entrance.
It is also possible to drive to the Skeleton Coast from Etosha in the north of the country. The distance is about 620km/385mi and the driving time is about eight hours.
Tariffs & Regulations
Entrance fee
All Skeleton Coast National Park fees are payable at the gate at time of entrance. Park fees are valid for 24 hours and include:
Foreign Adults entrance: N$100 Per Day ($6.70 USD) & N$50 (USD $3.35) conservation fee
Carrying a small amount of local Namibian currency, the Namibian Dollar (NAD) is advised for smaller purchases.
Regulations
If you keep to park rules, you can stay with the animals as long as they are not disturbed by your presence.
Accommodation at Skeleton Coast National Park
Tourists at Namib-Skeleton Coast NP can choose from a number of different options when deciding where to sleep.
Lodges
There are various accommodation options in Skeleton Coast National Park including in the far north of the park there are no roads, but there are a few super-high end, fly-in lodges.
Cape Cross Lodge stands on a windswept beach of Namibia's Skeleton Coast, very close to Cape Cross Seal Reserve. Comfortable and modern, it's about an hour-and-a-half's drive north of Swakopmund and offers excellent ocean views.
Another excellent option is Shipwreck Lodge which balances rugged beauty with contemporary style, allowing guests to experience the remoteness of the Skeleton Coast in comfort.
Shipwrecks can be the stuff of fantasy – delivered at Shipwreck Lodge complete with mist-shrouded sands and crashing seas.
On closer inspection, the debris transmutes into light-wood cabins with great big picture windows that bring the sea to you – without the waves and the salt-stinging wind; toasty wood burners keep the cold at bay, and colourful fabrics offset the oft-monochrome hues of your surroundings.
Bed & Breakfast
There are two small settlements in the center of the park: Terrace Bay offers double B&B style rooms for $90pn, open December and January only.
Camping
Torra Bay, 50km south of Terrace bay has a decent campsite from $15-$70pppn as well as Palmwag Campsite offering a pool area, food and a bar.
Campervan
Guests on a self-drive safari with a campervan can make significant savings by sleeping in their vehicle.
Bars/restaurants/amenities
Lodges will typically have all meals and drinks included in the lodge package.
Useful information
Geography
Located in the west of Namibia, the Skeleton Coast NP is a 40 km wide and 500 km long coastal stretch in the northern part of the Atlantic coast of Namibia and south of Angola from the Kunene River south to the Swakop River.
Weather
The Skeleton Coast is characterized by heavy fog and a desert climate tempered by cold sea breezes. Early mornings tend to be very misty, but this often clears by mid-morning. Aside from the fog, it is mostly sunny and precipitation is low.
The dry season from May to October is the coolest time of the year. Rainfall is practically absent. These winter months experience heavy fog and strong westerly winds, coming off the ocean and cooling things down.
May, June, July & August – Mornings tend to be foggy, but it is mostly sunny in the afternoon. There is almost no rain.
These are the coolest months and the average afternoon temperature is 21°C/70°F. It is cold in the early morning with temperatures averaging 12°C/54°F.
Best time to go
Understanding the best time to visit Namibia is important as this will impact accommodation, flight prices, availability and the weather that visitors can expect on their safari vacation.
Skeleton Coast can be visited throughout the year, but the ideal time is during the warmer months from October to March. These months see a little bit of rain, which keeps the skies clear. Mornings are less foggy and it's warmer at night than in the winter months. However, wildlife viewing in is less productive at that time, but this is only relevant if visiting both parks.
Trips to Skeleton Coast are often combined with tours to Etosha National Park and Namib-Naukluft National Park.
Health
Skeleton Coast NP is a malaria-free zone, but if you are visiting other destinations in the country where malaria poses a threat, it is recommended to take anti-malarials.
It is also important to apply mosquito repellent (those containing DEET are most effective) and wear protective clothing. You should visit your doctor or travel clinic before your trip to get information about necessary vaccinations
It is recommended to visit a travel clinic before coming to Namibia. Several Namibia vaccinations are recommended and usually administered before your departure.
FAQs
Where is Skeleton Coast National Park located?
Located in the west of Namibia, the Skeleton Coast NP is a 40 km wide and 500 km long coastal stretch in the northern part of the Atlantic coast of Namibia and south of Angola from the Kunene River south to the Swakop River.
How much is the Namib-Skeleton Coast NP entrance fee?
All Skeleton Coast National Park fees are payable at the gate at time of entrance. Park fees are valid for 24 hours with foreign adults paying $6.70 USD for entrance and USD $3.35 for conservation fees.
What animals will visitors see at Skeleton Coast National Park?
Visitors to Skeleton Coast National Park will see enormous elephants, giraffes, lions, brown hyenas, Gemsbok (oryx), springbok, steenbok, scrub hare ground squirrels and many seals.