During a stay in Namibia on the east African continent, guests will have to pay for accommodation, food, park entrance fees, activities and more upon arrival in Windhoek.
Below, we detail the essentials of the Namibia currency and what is and isn't accepted.
What is the official currency of Namibia?
The Namibian Dollar (NAD) is an official national currency and used only in Namibia. 1 Dollar is divided into 100 Cents.
The Namibian Dollar is tied to the South African Rand with a fixed exchange rate. Therefore, 1 Dollar always equals 1 South African Rand.
Namibian Dollar currency
Although the rand is no longer the official currency of Namibia, it is still considered legal tender in the country and can be easily exchanged for NADs at a rate of one ZAR per NAD.
The country's bank notes circulate in denominations of 10, 20, 50, 100, and 200 NAD. All of these notes feature a portrait of Hendrik Witbooi, a revolutionary who fought for national independence against German rule in the late 1800s.
In March of 2012, the 10 and 20-dollar notes were redesigned to depict Sam Nujoma, who was the first president of Namibia following its independence.
The NAD's first coins were issued in December 1993, in denominations of 5, 10, and 50 cents (each made of a steel and nickel alloy) , as well as 1 and 5 dollars (each made of bronze and aluminium).
In recent years, the NAD has steadily depreciated against the USD. Whereas in 2011 one USD was equivalent to around 8 NAD, that number rose to almost 17 in 2016. As of March 2022, the rate was about 15 NAD to one USD.
Denominations
Bills: $10, $20, $50, $100, $200
Coins: 5, 10, 50 cents. $1, $5
Symbols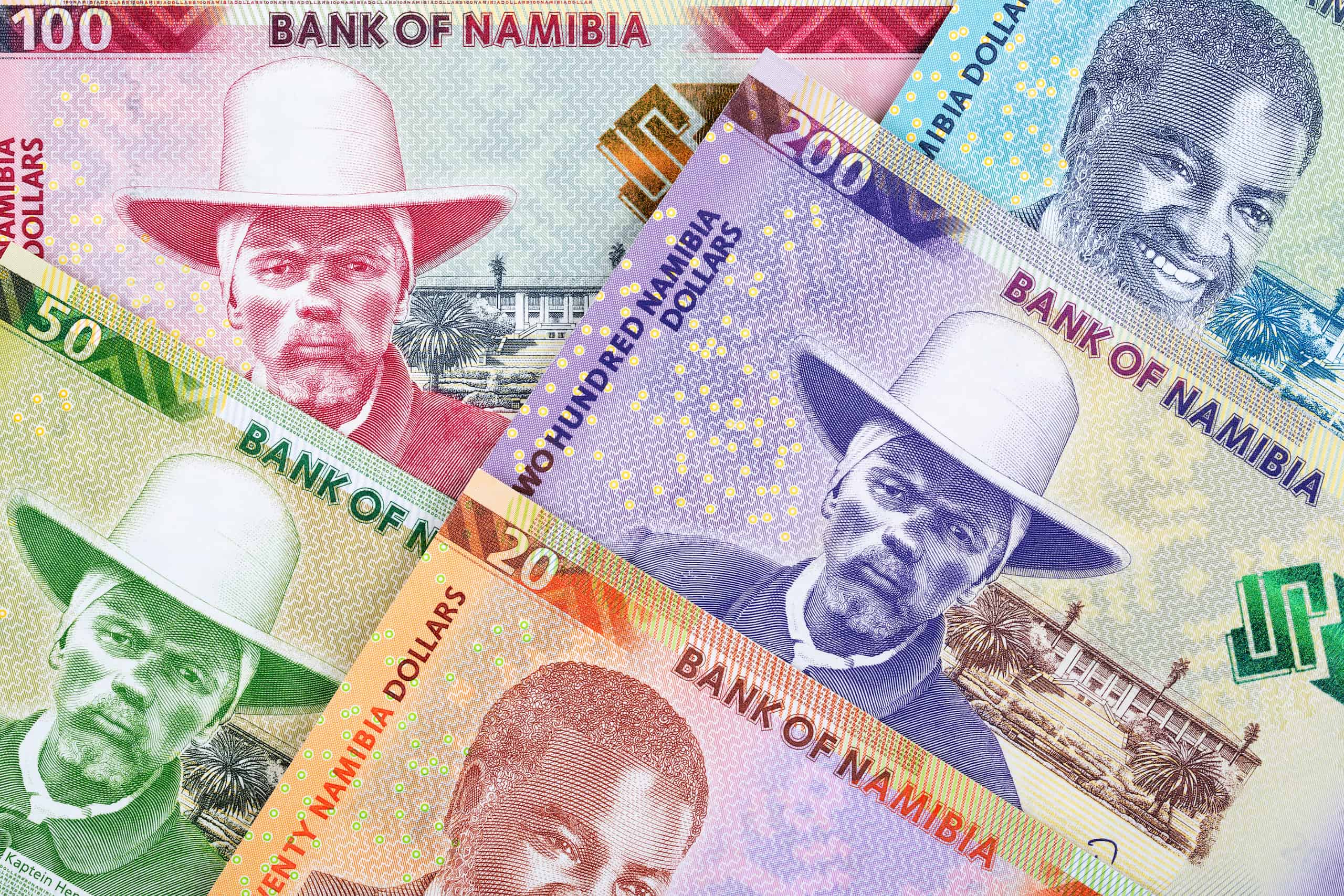 What is the Namibia currency exchange rate?
| | |
| --- | --- |
| Currency | Conversion Rate |
| 1 GBP | 19.80 Namibian Dollars |
| 1 USD | 15 Namibian Dollars |
| 1 EUR | 16.48 Namibian Dollars |
| 1 INR | 0.20 Namibian Dollars |
For the latest exchange rates, see here.
Where do visitors exchange their money?
Money can be exchanged in banks and exchange offices. Banks generally offer the best rates. ATMs at all the main bank branches throughout Namibia.
ATM's
Credit cards can be used in ATMs displaying the appropriate sign or to obtain cash advances over the counter in many banks; Visa and MasterCard are among the most widely recognised.
You'll find ATMs at all the main bank branches throughout Namibia, and this is undoubtedly the simplest (and safest) way to handle your money while travelling.
Paying with cash in Namibia
While most major currencies are accepted in Windhoek and Swakopmund, once away from these two centres you'll run into problems with currencies other than US dollars, euros, UK pounds and the South Africa rand (you may even struggle with pounds).
Play it safe and carry US dollars – it makes life much simpler. When changing money, you may be given either South African rand or Namibian dollars; if you'll need to change any leftover currency outside Namibia, the rand is a better choice.
There is no currency black market, so beware of street changers offering unrealistic rates.
Credit & Debit Card payments in Namibia
Credit cards and debit cards are accepted in most shops, restaurants and hotels, and credit- and debit-card cash advances are available from ATMs. Check charges with your bank when paying for various items including a Namibia visa and activities beyond your safari excursion.
Credit-card (but not debit-card) cash advances are available at foreign-exchange desks in most major banks but set aside at least an hour or two to complete the rather tedious transaction.
Keep the card supplier's emergency number to-hand in case your card is lost or stolen. Understanding the best time to visit Namibia will also be useful in determining seasonal fluctuations in accommodation, flights and other means when exploring how to get to Namibia.
Travellers Cheques
Travellers' cheques can be cashed (normally fetching a better rate than cash) at most banks and exchange offices. American Express (Amex), Thomas Cook and Visa are the most widely accepted brands.
It's preferable to buy travellers cheques in US dollars, UK pounds or euros rather than another currency, as these are most widely accepted. Get most of the cheques in largish denominations to save on per-cheque rates.
Travellers' cheques may also be exchanged for US dollars cash – if the cash is available – but banks charge a hefty commission. You must take your passport with you when cashing cheques.
FAQs
What currency does Namibia use?
The Namibia Dollar is the main currency and $1 USD = 15 Namibian Dollars (NAD)
Do Namibian hotels accept credit and debit cards?
Most shops, restaurants and hotels accept debit cards and credit cards.