An incredible country with wild landscape, incredible migration safaris, stunning Atlantic ocean views and rich biodiversity, Namibia is a stunning destination with so much to see.
Below, we've detailed the best things to do in Namibia including free things to do in this beautiful part of southwest Africa.
Namibia regions to visit
Cities and places of interest in Namibia
Namibia has a population of 2.54 million people, with the capital and largest city Windhoek home to over 460,000 people, often the point of departure and arrival for travel to Namibia thanks to its international airport (WDH).
Namibia borders South Africa, Botswana, Angola, Zambia and the Atlantic Ocean. Formerly a colony of Germany, Namibia was administered by South Africa under a League of Nations mandate after WWI, and annexed as a province of South Africa after WWII.
Namibia boasts remarkable natural attractions such as the Namib desert, the Fish River Canyon Park, Etosha National Park and the Kalahari desert and so much more, ranging from desert landscapes to lush reserves thus understanding Namibia vaccine requirements prior to your trip will be useful.
Its people speak nine different languages, including some of the Khoisan languages which include the 'clicks' that present an enigma to most native English-speakers.
The country has 4 regions:
Caprivi: The panhandle in the north-east of the country. With two major rivers, the Caprivi is one of the few areas of Namibia that have water
Northern Namibia: North of the Ugab river mouth to the border with Angola
Central Namibia: Between the Tropic of Capricorn and the Ugab river mouth
Southern Namibia: South of the Tropic of Capricorn.
Namibia has 13 cities, ten of which have populations of over 10,000 including:
Windhoek — Namibia's capital and largest city, often the entry point for getting to Namibia with Hosea Kutako International Airport 45km away.
Keetmanshoop — Small town on the rail lines and highway, jumping off point for treks in the Fish River Canyon Park.
Town of Lüderitz — Colonial-era German coastal town.
Ondangwa and Oshakati — Twin towns in the heart of Owamboland, northern Namibia.
Outjo — Gateway to the Etosha National Park, Koakoveld and Damaraland.
Swakopmund — Coastal town, a mecca for Namibians on holiday.
Tsumeb — Mining town east of Etosha.
Tsumkwe — rural desert town surrounded by San (Bushmen) villages.
Walvis Bay — Desert sports.
Warmquelle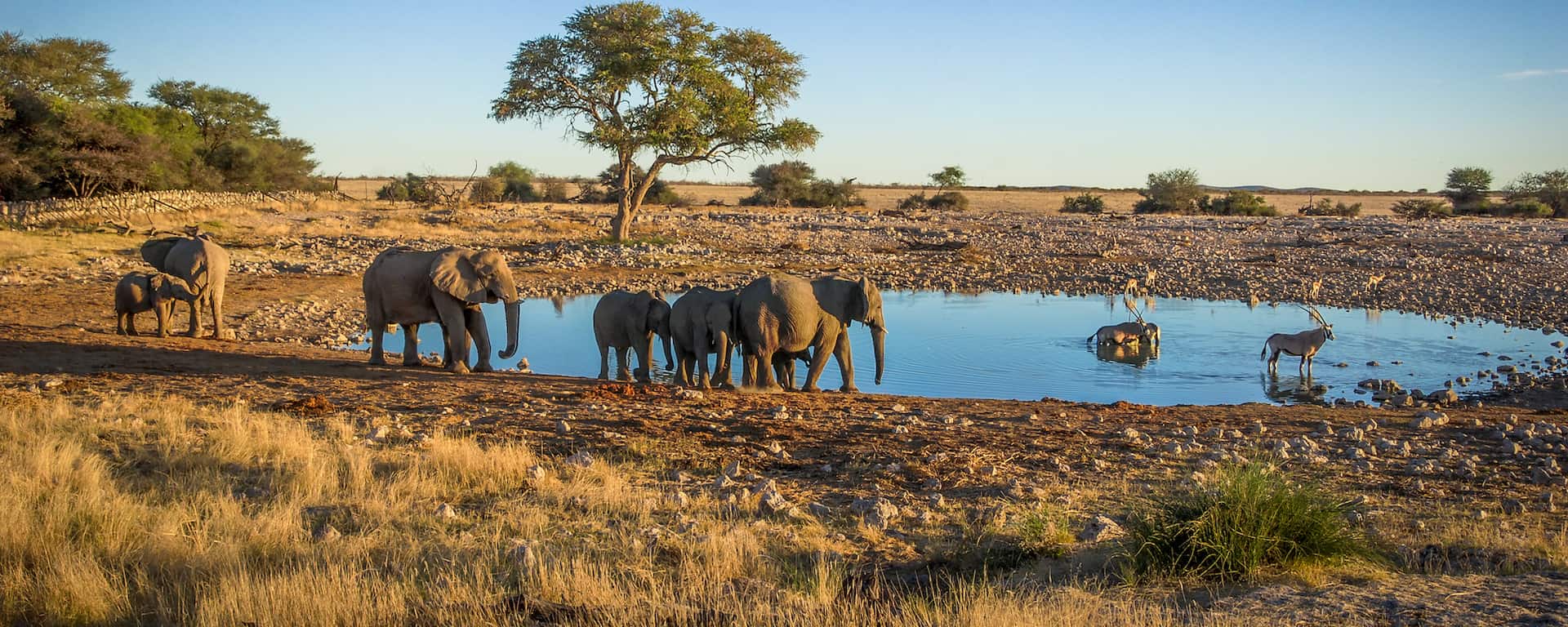 Windhoek
Windhoek is located in the central region of the country, surrounded by the Khomas Highland plateau area. Due to its location near a permanent spring, this area has always drawn human inhabitants.
In 1840, the population grew significantly after the construction of a church. The next significant growth did not occur until after World War II when schools, hospitals, and transportation infrastructure were built.
Today, Windhoek is the administrative and economic center of Namibia and visitors can learn about Namibia's history of resistance to colonialism at the impressive Independence Memorial Museum.
As a former German colony, you can take a stroll through the city centre and spot plenty of German colonial era architecture amongst the modern office buildings.
Rundu
This city is located in the northern area of the country and is the capital of the Kavango-East Region. It has been the capital of this region since 1936.
The local economy here revolves around the Rundu Open Market, which was a project developed between the government of Namibia and the government of Luxembourg and woodcarving is a common economic activity here.
The city is close to the Popa Falls and the Mahangu Game Reserve. Because of this unique location and the distances to get to these areas, it's a good stopover city.
Walvis Bay
This city is located on the coast, named for the Walvis Bay. This bay serves as a natural ship harbor and because of its diverse marine life and plankton, attracts large populations of southern right whales.
Fishing and whaling are common economic practices here. European explorers originally discovered this bay in 1485, when it became an important stop along the Cape of Good Hope trade route. Fishing continues to be an important industry to the local economy.
Namibia safari: The main event
Namibia: A global safari destination
A blockbuster combination of sublime landscapes that will make you feel like you're on another planet and with some of the best wildlife viewing on the continent, a host of fascinating desert-adapted animals and jaw-dropping natural wonders make Namibia a country you'll never forget.
Namibia continues to be a safe, friendly and diverse country to visit and home to iconic and richly rewarding safari destinations.
Namibia boasts the Etosha National Park, renowned for the highest concentration of wildlife in Namibia where you'll find not only the Big Five of the elephant, lion, buffalo, leopard and rhino, but also over 130 other mammals.
Our comprehensive Namibia Safari Guide is a helpful resource in helping visitors to plan their trip.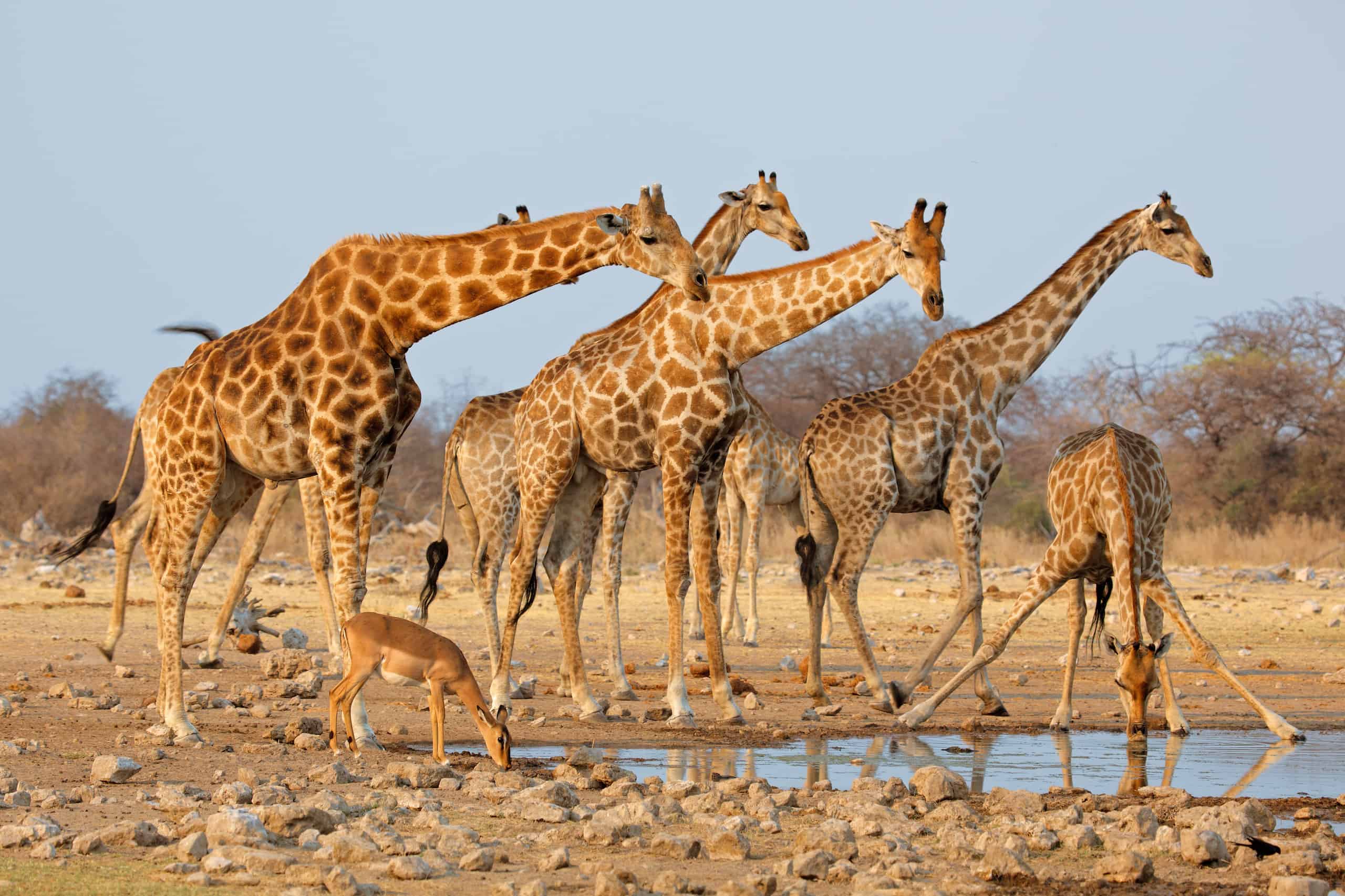 The 3 Best Parks and Reserves to Visit in Namibia
All the parks and reserves in Namibia have their own unique draw and offer something different and unique. However, a safari visitor to Namibia should take in the following must-see parks on their safari trip:
Etosha National Park
The park's main characteristic is a salt pan so large it can be seen from space. Yet there is abundant wildlife including zebras, giraffes, hippos, hyaenas, various monkeys and antelopes and even the rare African wild dogs.
Etosha remains considerably more affordable as a safari destination than many of its regional contemporaries and the element that makes this park unique is the floodlit waterholes at all the main camps. Some of the camps even have photography hides near the waterholes.
As the park is a vast expanse of salt with lone salt springs, it is used by animals as salt licks meaning the park is a photographer's dream and most of the lodges have private decks or verandas to observe the pristine landscape.
Namib-Naukluft National Park
The Namib-Naukluft is one of Africa's largest parks. It is home to the Sossusvlei area – an ocean of enormous red dunes and one of Namibia's main tourist attractions.
The desert habitat doesn't support many large animals, but if you take time to visit absorb the spectacular scenery and smaller creatures, any visit here will be more than worthwhile.
The park is not primarily a wildlife destination, but quite a few species are easily encountered. Seeing a herd of oryx walking between the red dunes in the Sossusvlei area is an unforgettable sight.
To see more wildlife, you need to go to other areas of the park which are less visited. The Naukluft massive is primarily a hiking destination including Dune 45 and Hartmann's mountain zebras are easily spotted here.
Skeleton Coast National Park
The Skeleton Coast is a windswept strip of desert covering almost 500km/310mi of the Atlantic coast. This spooky park is often shrouded in fog.
Its name comes from the numerous shipwrecks lying on the shore. A big draw for visitors is the fascinating Cape fur seal colonies. The most visited colony is at Cape Cross, located south of the park.
The Skeleton Coast is not a prime wildlife destination. Most people visiting this area stop prior to reaching the national park at Cape Cross seal colony. Similar, less accessible colonies can be found inside the park, including a huge colony at Cape Fria further north.
They attract scavengers like brown hyena and black-backed jackals. Other marine wildlife includes Heaviside's dolphin and green turtle.
Other places of interest in Namibia
Other places worth a visit on your trip to Namibia include:
Ai-|Ais/Richtersveld Transfrontier Park
The park spans both South Africa and Namibia and Ai-|Ais Richtersveld Transfrontier Park some of the most spectacular desert mountain scenery in Africa. Mainly a scenic wilderness destination, it's the world's only area classified as an arid biodiversity hotspot.
Densities of large animals are low however in Namibia, it features the extraordinary Fish River Canyon, the world's second largest canyon.
Damaraland
This huge wilderness is one of Africa's last remaining unofficial wildlife areas. The area is thinly populated and animals still roam around freely. The main attraction is the stunning desert environment.
Wildlife is sparse and desert elephants and black rhinos are what most people come to see. The region also harbours several important ancient rock art sites.
Kaokoland
Kaokoland is a genuine wilderness area. The desert scenery is breathtaking and inhospitable at the same time. There is scattered wildlife around, including desert elephants, but this is not really a wildlife viewing destination as densities are very low.
The area is the ancestral home of the proud Himba people and a visit to a tribal village is highly recommended.
Nkasa Rupara (Mamili) National Park
Nkasa Rupara National Park (formerly Mamili NP), located in the Zambezi Region (formerly Caprivi Strip), is an adventurous, undeveloped destination. The birding is great and it's a stronghold for water-loving antelope.
Wildlife densities are rather low, but there is a good variety of resident and migrating species. The park's swampy environment makes it inaccessible during the Wet season.
Zambezi Region (Caprivi Strip)
The Zambezi Region (formerly Caprivi Strip) is a narrow strip of land in northeastern Namibia bordering Botswana. There are three off-the-beaten-track national parks here: Bwabwata, Nkasa Rupara and Mudumu.
Animals cross freely from Botswana and there is wildlife not common in the rest of Namibia, including buffalo, hippo and crocodiles. This is mainly a 4×4 self-drive destination for the adventurous traveller.
Impalila Island
The island interior is forested with baobabs, waterfigs, knobthorn, mopane, pod mahogany and star chestnut trees. On the river banks you find jackalberries and the Chobe waterberry tree.
In the middle of the island there is a particularly old and large baobab tree and if you make it to the top you can see the point where the four countries of Botswana, Zambia, Zimbabwe and Namibia meet.
While elephants and buffalo are sometimes seen near and on the island, they are more commonly seen beside the Chobe River. Hippo and crocodile can be seen in the waters and there is spectacular birdlife.
Penguin Islands
A historical group of 20 mostly scattered islands and rocks situated along a stretch of 355 kilometres (221 mi) along the coastline of Namibia.
Their name comes from the presence of southern African penguins which inhabit the coastal region surrounding Namibia and South Africa.
The largest island is Possession Island with 0.90 square kilometres (0.35 sq mi) in area and boat trips are popular to see the beautiful penguins in their element.
Halifax Island
Halifax Island is a small rocky island about 100m from the mainland, near Lüderitz in Namibia. It is the third most important breeding site for African penguins in Namibia.
The island itself is out of bounds for the public, even though the catamarans are allowed to sail past the island to offer a view of the penguins as well as seabirds, including cormorants and flamingos.
Other things to do in Namibia
Namibia also has many other activities that visitors can add on during their safari vacation.
Luxury safari lodges
With excellent wildlife viewing and lodges with incredible design and décor, Namibia is home to some of the African continent's most supreme luxury lodges with beautiful, modern suites, well trained staff and excellent food.
Sleep under the stars
This extraordinary, experiential sleep out, under the stars is a truly amazing encounter. Eco-friendly boutique lodges provide specialised stargazing tents offering prolific views of the twinkling night sky.
Walking safaris
Explore the wildlife and wilderness via a guided walking tour, an authentic means of exploring wildlife in Namibia. Carrying a small amount of Namibian currency or USD dollars is useful to tip your tour guide.
Scuba Dive In Lake Otjikoto
Lake Otjikoto, a National Monument outside Tsumeb is a popular dive spot for sightings of the endemic Otjikoto tilapia, and WWI artefacts at depths from 25m to over 80m.
Lake Guinas, Otjikoto is more suited to advanced, technical divers as access is by 30m high cliffs.
Sossusvlei and Deadvlei
Sossusvlei is a must-see place in Namibia, a desert that is home to the world's largest sand dunes. Don't miss Deadvlei too – the white salt pan with ancient acacia trees that you see in all Namibia travel guides. Make sure you climb at least one of the higher sand dunes.
Stay at the accommodation inside the park and catch the sunrise from the top of Big Daddy Dune, a spectacular experience.
Fish River Canyon
The Fish River Canyon, Africa's answer to the Grand Canyon, is one of the best places in Namibia to stand in awe of the raw power of nature.
Measuring 27 kilometres wide, 550 metres deep and 160 kilometres long, it's the largest canyon on the continent and Namibia's greatest geological wonder.
It is one of the most visited tourist attractions in the country, a long drive to get there but definitely worth it.
Visit Fish River Canyon at sunrise for the best views. You don't have to hike in order to see the canyon, as there are plenty of great viewpoints. However, hikes and multi-day treks are available too.
Spitzkoppe
Very little known and left out of the main tourist routes, Spitzkoppe offers some of the most breathtaking views in Namibia of spectacular landscapes and with few visitors.
With a campground at Spitzkoppe, this is one of the most beautiful places to camp in Namibia, typically reached on a road trip.
Cape Cross Seals
Hundreds of thousands of seals as far as the eye can see, an incredible place that has to be seen to believe it, an experience you'll never forget.
Walvis Bay Flamingos
Walvis Bay waterfront is home to a big colony of wild flamingos. Expect to see thousands of pink flamingos, as well as pelicans and other birds.
Twyfelfontein
Twyfelfontein is the largest site of ancient Bushman rock engravings in Africa. It's also a UNESCO World Heritage Site.
There are several routes that you can choose and a local guide will take you on a tour. If you can't decide, we recommend choosing The Lion Man route – it's said to be the best option.