Etosha National Park is a national park in northwestern Namibia and one of the largest national parks in Africa.
It was proclaimed a game reserve in March 1907 in Ordinance 88 by the Governor of German South West Africa, Friedrich von Lindequist.
Etosha NP is unique in Africa. as the park's main characteristic is a huge salt pan that can be seen from space. Yet there is abundant wildlife that congregates around the waterholes, giving visitors almost guaranteed game sightings.
At the same time Etosha National Park is one of the most accessible game reserves in Namibia and Southern Africa.
Why visit Etosha National Park?
Etosha National Park safari
Covering some 8,598 square miles (22,269 square km), it centres on the Etosha Pan, a vast expanse of salt with lone salt springs, used by animals as salt licks.
The park is considered one of the best places to go on Safari in Southern Africa and for good reason. The lack of water in the area means animals are concentrated at watering holes.
The quality of roads, lack of huge crowds, and general ease of travelling in Namibia are big attractions to this beautiful park alsol.
The floodlit waterholes at all the main camps and hides nearby are a photographer and nature lover's dream whilst most lodges have private decks or verandas to observe the pristine landscape.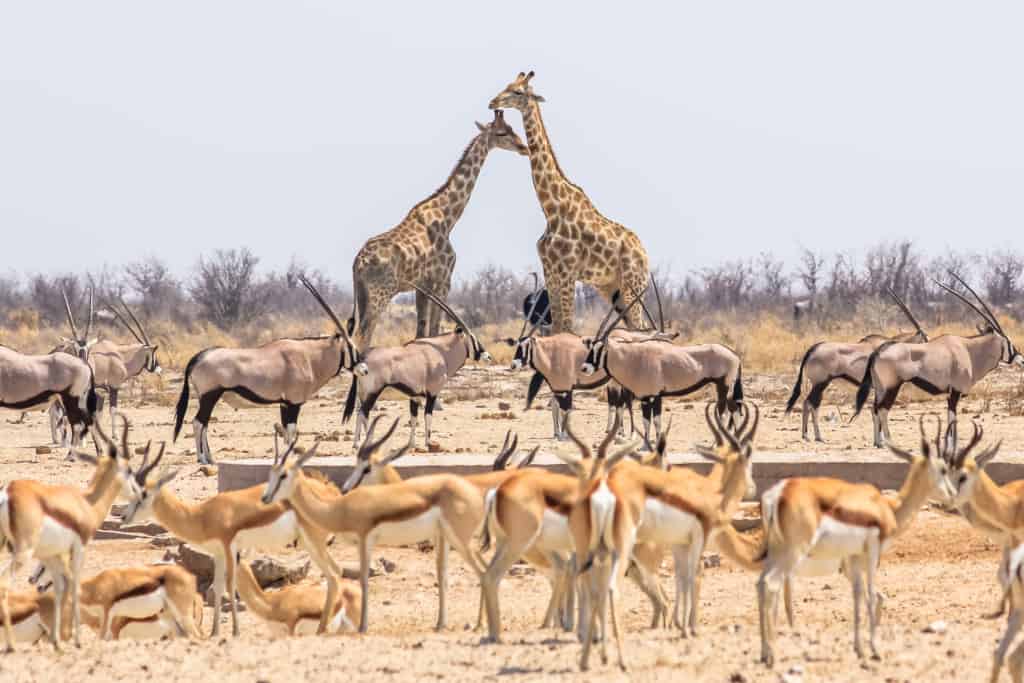 Animals
The park has a large population of wildlife and has around 114 different mammals that visitors have a chance to spot on their safari. It is also home to four of the big five animals, excluding the African Buffalo.
Water is scarce in the park. However, there are a large number of water holes both natural and manmade that provide water for the wildlife. These concentrated sources of water create great game density as animals all come to the sources of water.
The water holes bring in large herds of elephant, springbok, oryx, zebra, eland, kudu, and even lonely black rhinos. Smaller wildlife that can be found around Etosha include jackals, honey badgers, mongoose, and the bat-eared fox.
Okaukuejo watering hole is always a hit with visitors with its proximity to the rest camp. The watering hole is lit by flood lights throughout the night which provides visitors a chance to watch nocturnal animals come for a drink of water.
Some of Africa's most famous scenes have unfurled here including lion, elephants, hyenas, and rhinos squaring off as they compete for water. Other great viewing success can be had at Homob, Kelin Namutoni, Okundeka, Chudop, and Rietfontein.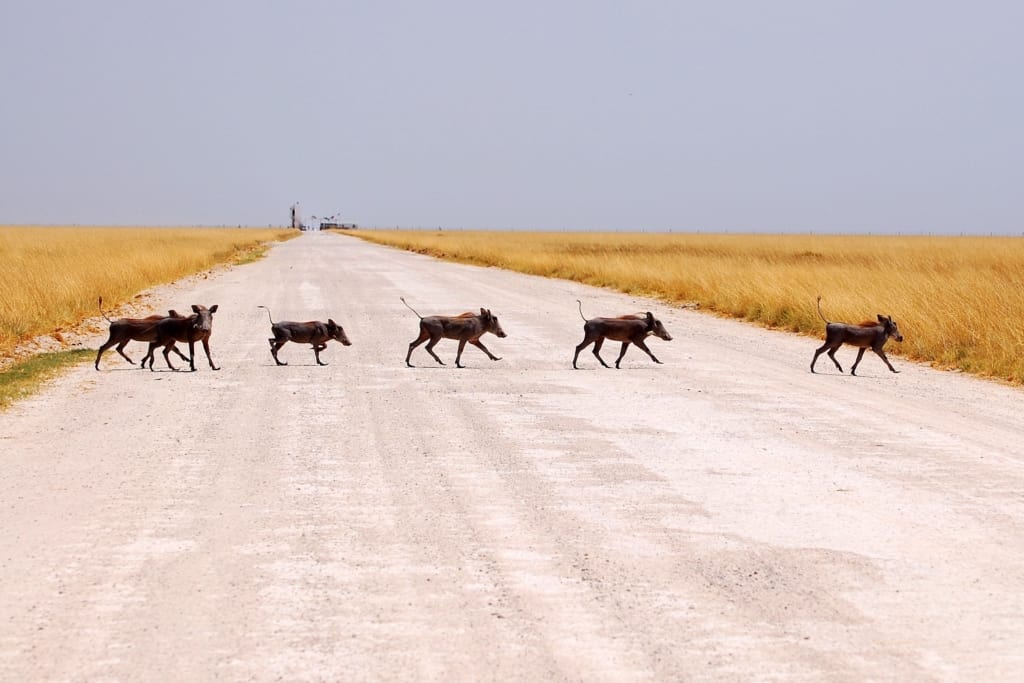 Birds
About one-third of the 340 bird species recorded in the park are migratory; including a good number of waders attracted to the Etosha pan in the Wet season. The pan is an important breeding ground for lesser and greater flamingos.
The desert habitat is excellent for seeing a wide variety of birds of prey – up to 35 species, including many hawks, vultures, eagles and falcons. Migratory birds are present from November to April.
Trees
The eastern portion of Etosha National Park has a tree-savanna type of vegetation, abundant in tambouti, a deciduous tree that is locally used for furniture and cabinet work, wild fig, and date palms.
Moringa trees are typical of the more arid thorn-shrub savanna of the western part of the park. The German colonial fort of Namutoni at the eastern end of the pan resembles a fort of the French Foreign Legion. It has been restored for use as a tourist camp for the park.
Other activities at Etosha National Park
Here are some other Namibian safari activities in Etosha National Park that visitors can look forward to on their trip:
Game drives: Enjoy a fascinating African wildlife adventure in Namibia during day and night game drives or watch wild animals like Hippo, Giraffe and Lion on the waterholes with amphitheatre-like atmosphere and floodlights at the Rest Camps.
Photo safaris: Started by avid wildlife photographer Rian van Schalkwyk, the tour takes amateur and professional photographers to all the right places to get that shot you always wanted to hang on your wall.
Discover the native Hai||Om Culture: For many thousands of years, the Hai||Om San (or Bushmen) inhabited the areas that now constitute the park. Get a uniquely Hai||Om perspective on the plants, animals, history, and geography of Etosha.
Watering hole: Join the Etosha "Night Life" at Okaukuejo Water Hole where the big show begins at dusk when floodlights are turned on to transform the waterhole into one of Namibia's greatest stages. You can kick back on the benches that surround the waterhole with a Windhoek lager and watch as the wildlife – unphased by the light – slinks and strolls out of the darkness to the banks of the spring-fed pool.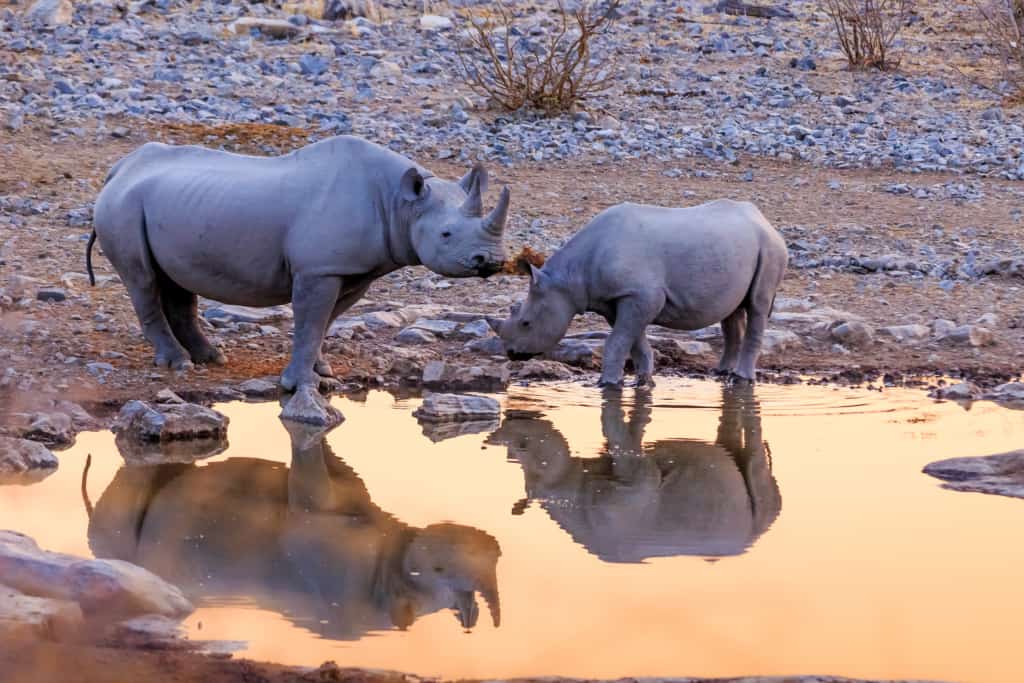 How to get to Etosha National Park?
By Plane
There are no scheduled flights, but there are three airstrips inside the park for charter flights. Most of the upmarket lodges outside the park have private airstrips as well.
Travelling from Windhoek to Etosha by plane is a short route – the journey from the capital Windhoek to the nearby Ongava Lodge's airstrip will take approximately an hour.
Air Namibia also offers daily one-hour flights from Eros Airport, also located in Windhoek, to Ondangwa Airport, which is located just north of Etosha National Park.
Alternatively, there are fly-in trips that travel between different Namibian parks by charter flight.
By Road
Etosha is located 435km/270mi north of Windhoek. It is easy to visit either independently (self-drive) or on a tour. The drive on paved roads takes about six hours.
The roads in the eastern section of the park are accessible by 2WD car.
Tariffs & Regulations
Entrance fee
All Etosha National Park fees are payable at the gate at time of entrance. Park fees are valid for 24 hours.
Foreign Adults: N$80 Per Day ($5 USD)
Children Under 16: Free Of Charge
Private Vehicle: N$10 Per Day ($0.60 USD)
Regulations
If you keep to park rules, you can stay with the animals as long as they are not disturbed by your presence.
Accommodation at Etosha National Park
Tourists at Etosha can choose from a number of different options when deciding where to sleep.
Lodges
There are various accommodation options in Etosha National Park including Gondwana's Etosha Safari Camp and Lodge offering great food, excellent service and is renowned as one of the best lodges in Etosha National Park.
Eagle Tented Lodge and Spa also offers brilliant game viewing activities. This Namibia safari lodge near Etosha National Park and spa is situated on the 21 000 ha Epacha Private Game Reserve.
At this lodge, the breathtaking views over the surrounding mountains and valley will overwhelm both new and accustomed visitors to Namibia. The lodge offers sophistication and style combined with high standards of service, all in a relaxing atmosphere at this Namibia safari lodge.
Camping
There is a nice selection of camps to explore Etosha National Park with pools, good facilities, watering holes for night viewing, and decent restaurants.
Three camps outside of Etosha that can be booked include the Gondwana Collection's Etosha Safari Camp that is located to the south near the Anderson Gate.
The second being Onguma's Tamboti Luxury Campsite and the third is Hobias Campsite in Damaraland to the west of the park.
Campervan
Guests on a self-drive safari with a campervan can make significant savings by sleeping in their vehicle.
Bars/restaurants/amenities
Lodges will typically have all meals and drinks included in the lodge package.
Useful information
Geography
Located in the northwest of Namibia, the gateway to Northern Namibia and Ovamboland and a very popular stop on any Namibian tour.
Weather
Etosha National Park is hot and relatively dry. Like most semi-desert climates there is a large variation in temperature between night and day. Rain usually falls in the form of heavy thunderstorms.
There is a Wet season, which coincides with the summer months of November to April. During the dry winter months, from May to October, rainfall is a rarity.
Best time to go
Understanding the best time to visit Namibia is important as this will impact accommodation, flight prices, availability and the weather that visitors can expect on their safari vacation.
The best time to visit Etosha National Park is during the dry winter months from July to October. Less water is available during this time and the animals tend to gather around the few sources that are available.
The Wet season (November to April) is less productive for spotting wildlife because the animals tend to scatter.
Health
Malaria does occur in Etosha – the risk is low from May to September and increases in the wet months from October to April. During these months it is recommended to take antimalarials and also to take precautions such as covering up in the evening and applying mosquito repellent (those containing DEET are most effective).
It is recommended to visit a travel clinic before coming to Namibia. Several vaccinations are recommended and usually administered before your departure and a yellow fever vaccine is required when traveling from a country with high risk of transmission.
It is recommended to visit a travel clinic before coming to Namibia. Several Namibia vaccinations are recommended and usually administered before your departure.
FAQs
Where is Etosha National Park located?
Located in the northwest of Namibia, the journey by flight from the capital Windhoek to the nearby Ongava Lodge's airstrip will take approximately an hour.
How much is the Etosha entrance fee?
All Etosha National Park fees are payable at the gate at time of entrance. Park fees are valid for 24 hours with foreign adults paying $5 USD and $0.60 USD for private vehicles.
What animals will visitors see at Etosha National Park?
Visitors to Etosha National Park will see four of the big five animals, excluding the African Buffalo as well as elephant, springbok, oryx, zebra, eland, kudu, black rhinos, jackals, honey badgers, mongoose and the bat-eared fox.