Lake Manyara National Park (NP) is a 125 sq. mile park in northern Tanzania, some 55 miles/2hrs 40 minutes driving from the Ngorongoro Crater.
This is a small park at the base of the great Rift Valley slope with a groundwater forest offering shelter to the unique tree-climbing lions found in the area. Elephants and birdlife including pelicans are also prolific and commonly found in the area.
Why visit Lake Manyara National Park?
Safari in Lake Manyara NP
A Lake Manyara safari offers visitors the chance to go game viewing near the legendary tree-climbing lions and impressively tusked elephants as well as large buffalo, wildebeest and zebra herds congregating on the grassy plains.
Visitors to Lake Manyara will also enjoy the peace and tranquility of game drives with lesser crowds, compared to the busier Serengeti, guests will be able to fully appreciate their Tanzania safari experience and see plenty of animals.
Lake Manyara also is home to the only 'Treetop Walkway' in Tanzania, a sky-high adventure through the beautiful forest of Lake Manyara walk amongst the treetops and experiencing the untouched nature and surroundings.
The alkaline lake is also a seasonal home to large flocks of flamingos, and a wide array of waterbirds can be found on the shore at all times.
Accommodation is also available with numerous lodges in the surrounding area.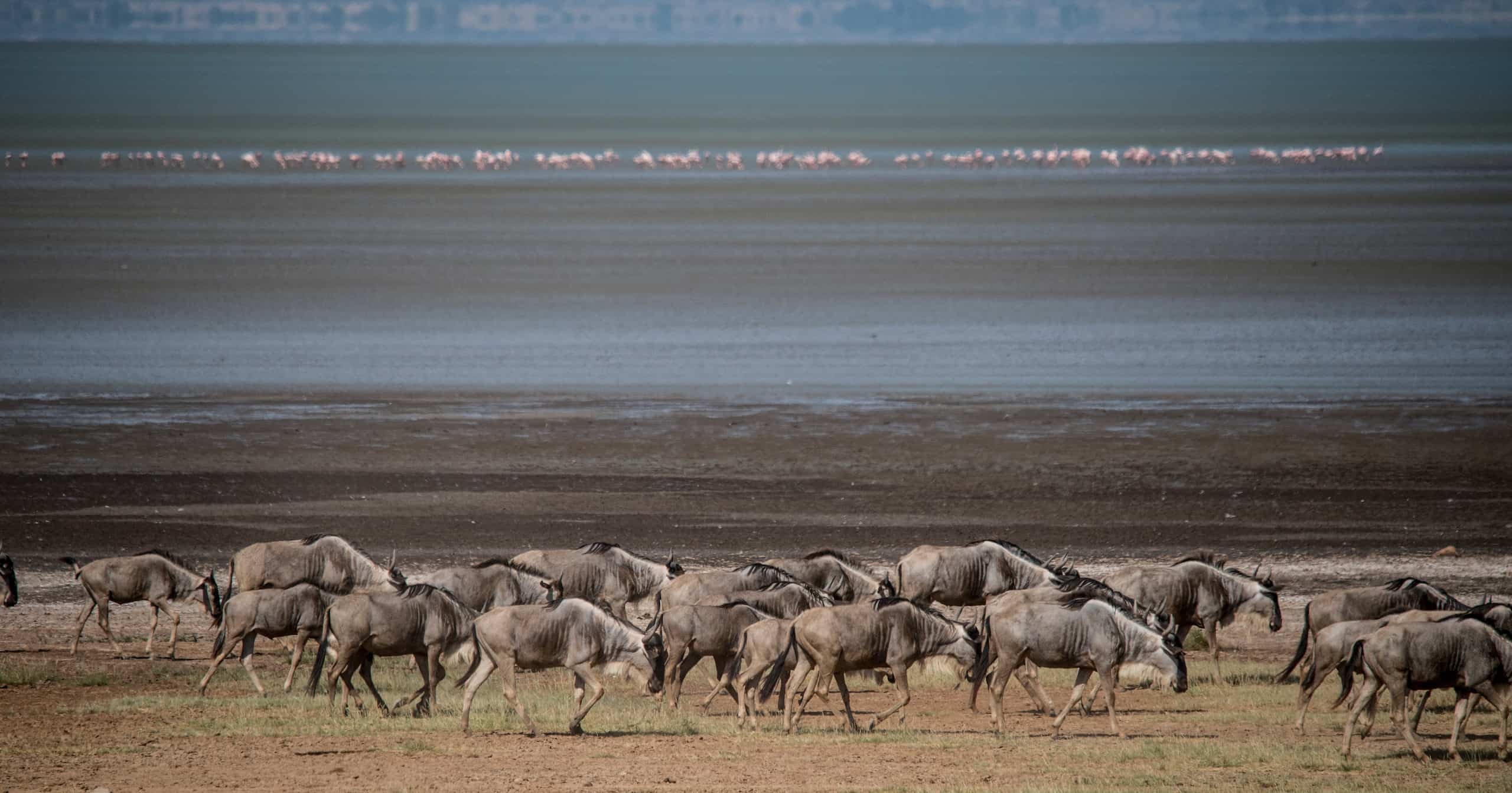 Animals
Visitors will find tree climbing lions, elephants as well as the hippo, giraffe, impala, zebra, flamingos, blue and vervet monkeys, bushbuck, baboons, leopard and more.
The lions climb the trees to avoid tsetse flies and other bugs, but also to enjoy the cooler breeze and get an extended view of the surroundings while spotting potential prey.
Typically, tree-climbing lions tend to choose trees that are short and stout, easy to climb and quickly jump out of if needed.
The density of wildlife and vegetation makes the park unique as well as the different ecosystems that create a diverse environment from arid lands to the stunning salt lake to lush forests and acacia woodlands, attracting large and small animals alike.
Mahogany and sausage trees are alive with blue and vervet monkeys; elephants feed on fallen fruit, and bushbuck, baboons and leopards make their homes in the forest.
Birds
Over 400 species of birds can be found including black heron, glossy ibis, little bee-eater, and more.
A big array of water-associated birds, including pink-backed pelicans, are easily seen around the hippo pool. More than 50 birds-of-prey have been recorded including the crowned eagle.
The extended lake which gives the park its name attracts several species of birds and creates the perfect oasis for wildlife. The most impressive view includes that of hundreds of pink flamingos by the lake waters of the lake, making for breath-taking scenery and great shots.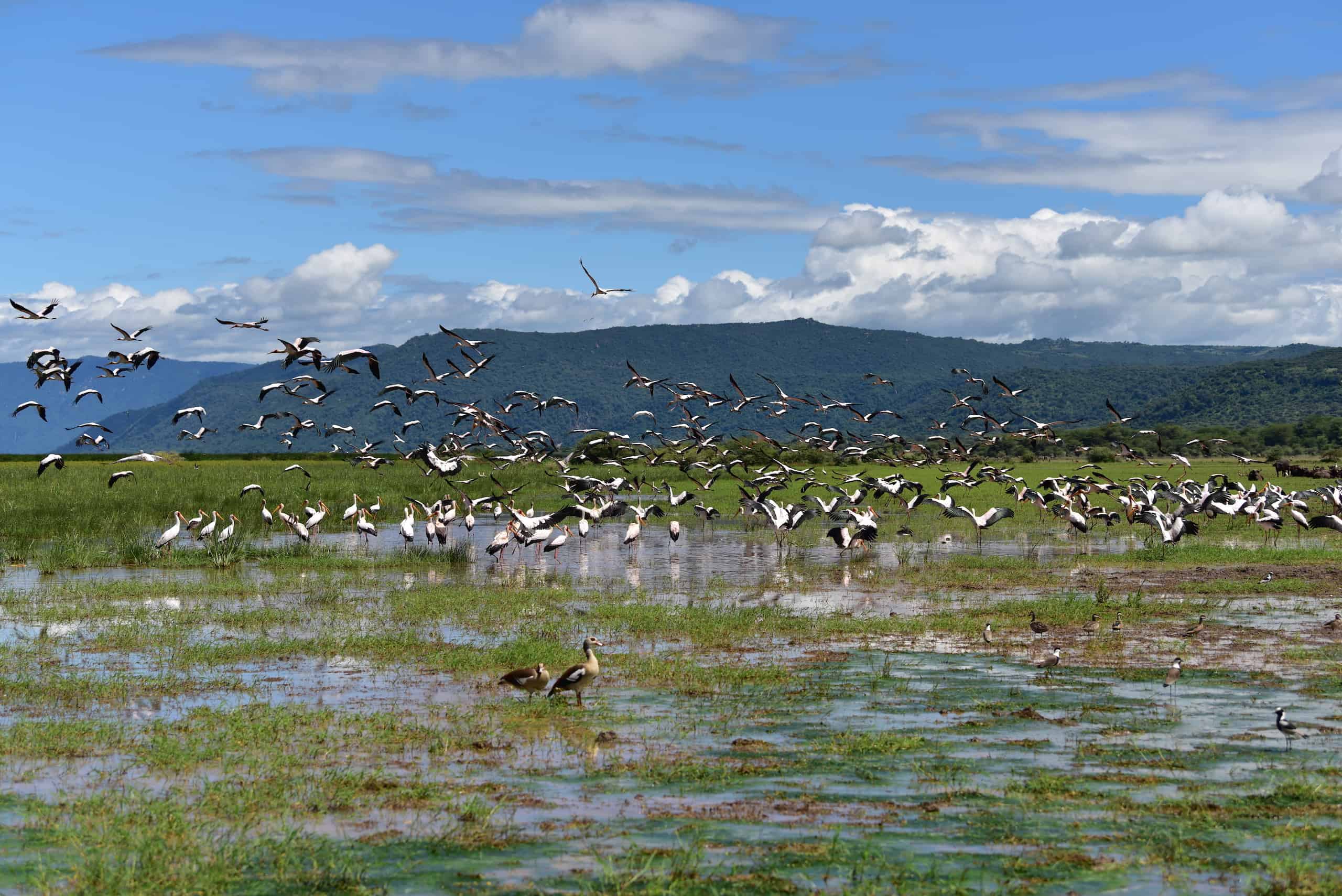 Other activities at Lake Manyara NP
There are multiple activities and things to do in Tanzania that can be added to your safari including walking safaris and trips to the Ngorongoro Crater. Here are some other activities which visitors can consider during their visit to Lake Manyara NP:
Lake Manyara walking safari: Explore the African safari experience with a local guide on a day trip walking safari, an authentic and economical means of exploring the wildlife and exploring the wonderful Lake Manyara Treetop Walkway, local Maasai tribe bombas huts and and lake adventures spotting flamingos, storks and pelicans
Boat cruise: Choose a luxury boat or speedboat and feel the salt lake breeze while savoring views of the surrounding scenery.
Bird tours: With an incredible range of birds to view including the Martial eagle and silvery cheeked hornbill in a tranquil setting.
Canoeing at Manyara Lake: A fun and relaxed way to discover nature and the beautiful Manyara lakes. This provides visitors with magnificent lake views, coming close to flamingos and pelicans. Expect to spend between 2 and 3 hours.
Hot springs: Experience the hot springs on the western shores of Lake Manyara National Park, through which flows several hot springs that seep from the nearby rift valley escarpment.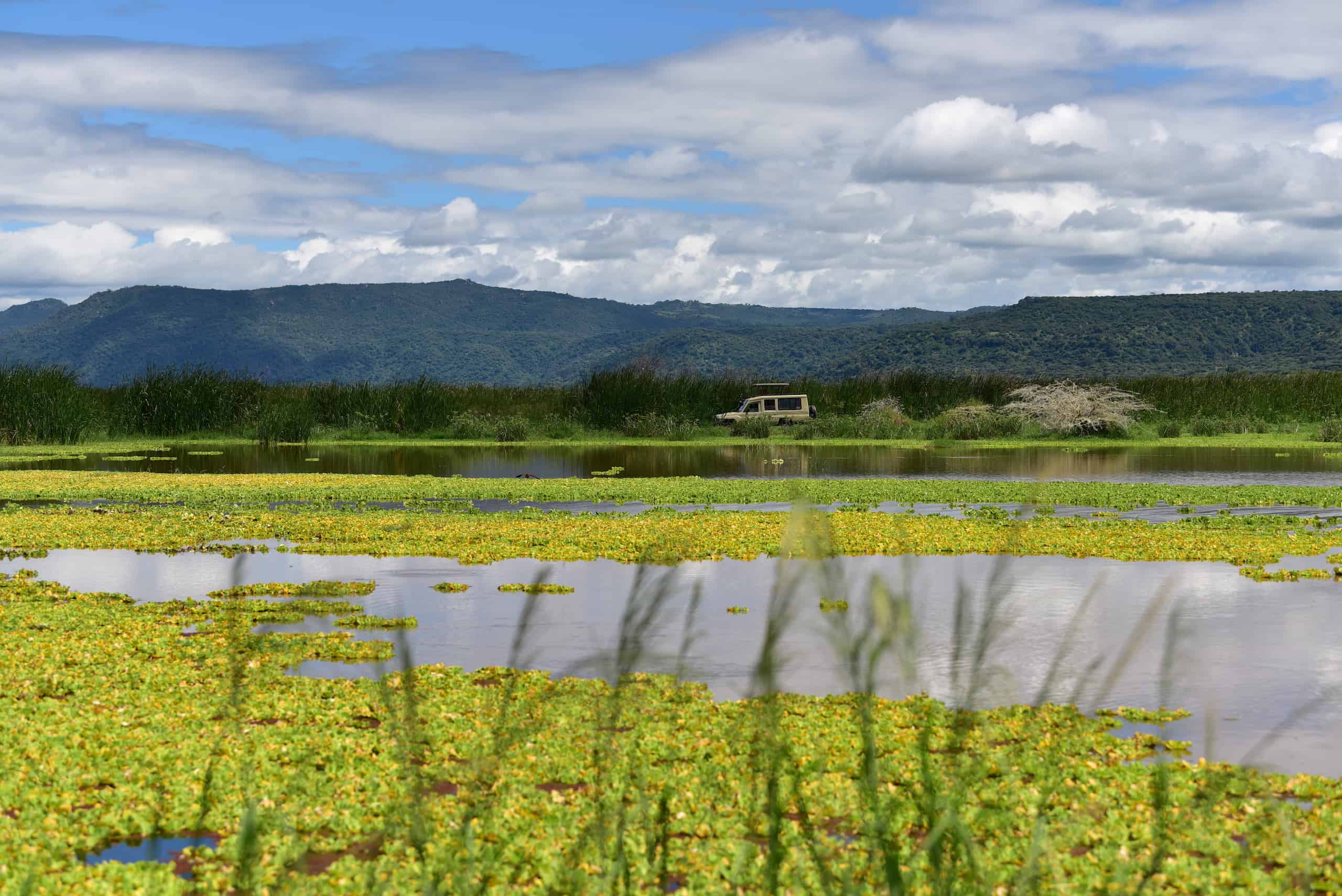 How to get to Lake Manyara National Park?
By Flight
Lake Manyara NP is located close to Kilimanjaro International Airport (JRO), which is situated 29 miles from Arusha.
International flights into the country also arrive via Dar es Salaam (DAR) airport for visitors wondering how to get to Tanzania. DAR airport is located 18km south of Dar Es Salaam and a Tanzania visa and certain vaccinations may be required to enter the country.
By Road
Lake Manyara NP is located a 90-minute drive from the town of Arusha and 3 hours from Tarangire National Park.
Tariffs & Regulations
Entrance fee
Prices per day:
USD $59 per adult to enter
USD $17.70 per child
Carrying a small amount of Tanzanian currency, the Tanzania Shilling (TZS) is recommended as back-up when paying for items where credit card facilities are unavailable. Visitors can also review further details on overall Tanzania safari prices here.
Regulations
Visitors must respect the rules of the park including the flora and fauna. Details will be provided at the park entrance gate.
Accommodation at Lake Manyara National Park
Lake Manyara NP offers a variety of accommodation options including lodges.
Lodges
Lodges at Arusha NP for visitors to choose from include:
Manyara Tree Lodge
Lake Manyara Serena safari lodge
Newlyweds may also indulge on a Tanzania honeymoon safari or a luxury safari where they'll receive a lot of extra pampering and top notch service, ensuring they feel all the love of a Tanzania safari.
Camps
Safari camps at Lake Manyara NP for visitors to choose from include:
Migunga Forest Camp
Lemala Manyara Camp
Camping
4 camping areas are available within the grounds of Manyara Park and more at Mto Wa Mbu. Bagayo A, Bagayo B and Lakeshore are the 3 camping areas inside the park.
Bars/restaurants/amenities: Lodges will typically have all meals and drinks included in the lodge package.
Useful information
Geography: Located in northern Tanzania, visitors typically fly into the nearby Kilimanjaro International Airport (JRO), 29 miles from Arusha. The onwards trip from Arusha on the tarred road takes 90 minutes to drive.
Weather: Day-time high temperatures range from 22C/71F to 28C/82F with the last of the rain falling in May.
Best time to visit: Watching wildlife in Lake Manyara National Park is good all year, but at its best from late June to October during the Dry season.

This scenic park however is at its most beautiful during the Wet season, from November to May, when the vegetation is lush and waterfalls cascade down the slopes.
Understanding the best time to visit Tanzania is useful as this impacts flight prices and availability.

Health: Visitors should seek medical advice from their doctor and consider antimalarial medication.
FAQs
Where is Lake Manyara National Park located?
Located in northern Tanzania, visitors typically fly into the nearby Kilimanjaro International Airport (JRO), 29 miles from Arusha. 
How much is the entrance fee to Lake Manyara National Park?
USD $59 per adult and USD $17.70 per child.
What animals will visitors see?
Visitors can expect to find tree climbing lions, elephants as well as the hippo, giraffe, impala, zebra, flamingos, blue and vervet monkeys, bushbuck, baboons and leopards.