Tarangire National Park is a park in Tanzania's northern Manyara Region. The name of the park originates from the Tarangire River that crosses the park, which provides water for the baobab trees, birds, Masai people and migrating wildlife including the big five and rare tree-climbing lion.
Covering 1,100 square miles, Tarangire NP is known for its great number and diversity of wildlife and birding, this park is less touristy than the Serengeti or Ngorongoro Crater whilst on safari.
Why visit Tarangire National Park?
Safari in the Tarangire
A safari trip to the Tarangire is less busy than visitors will find in the Serengeti. This doesn't take away from the quality of this park however as the big five can easily be found along with large numbers of other wildlife, migration sightings, beautiful acacia trees as well as red termite mounds.
Another unique feature of Tarangire NP are the baobab trees, also referred to as the Tree of Life. These trees are 'gigantic' in nature and can store between 300 litres and 1000 litres of water in its trunk.
This tree is a significant source of food to various animals which normally feed on its edible seed. On the other hand, elephants sharpen their huge tusks on the bark of these trees.
Accommodation is also excellent with numerous options from tented camps, luxury lodges to camping grounds.
Animals
Visitors will be amazed by the variety and numbers of animals they will encounter including the big five including the African bush elephant, the lion, rhinoceros, leopard, African buffalo and numerous giraffes, impala, ostriches, baboons, big cats, wild dogs and cheetahs.
One of the key attractions that have made the Tarangire NP to become internationally popular is its largest elephant population which in fact is considered to be the highest in the whole of Tanzania.
Visitors will see numerous large elephant herds of about 300 individuals per herd digging the dry riverbed of Tarangire River in search for underground streams of water to quench their thirst.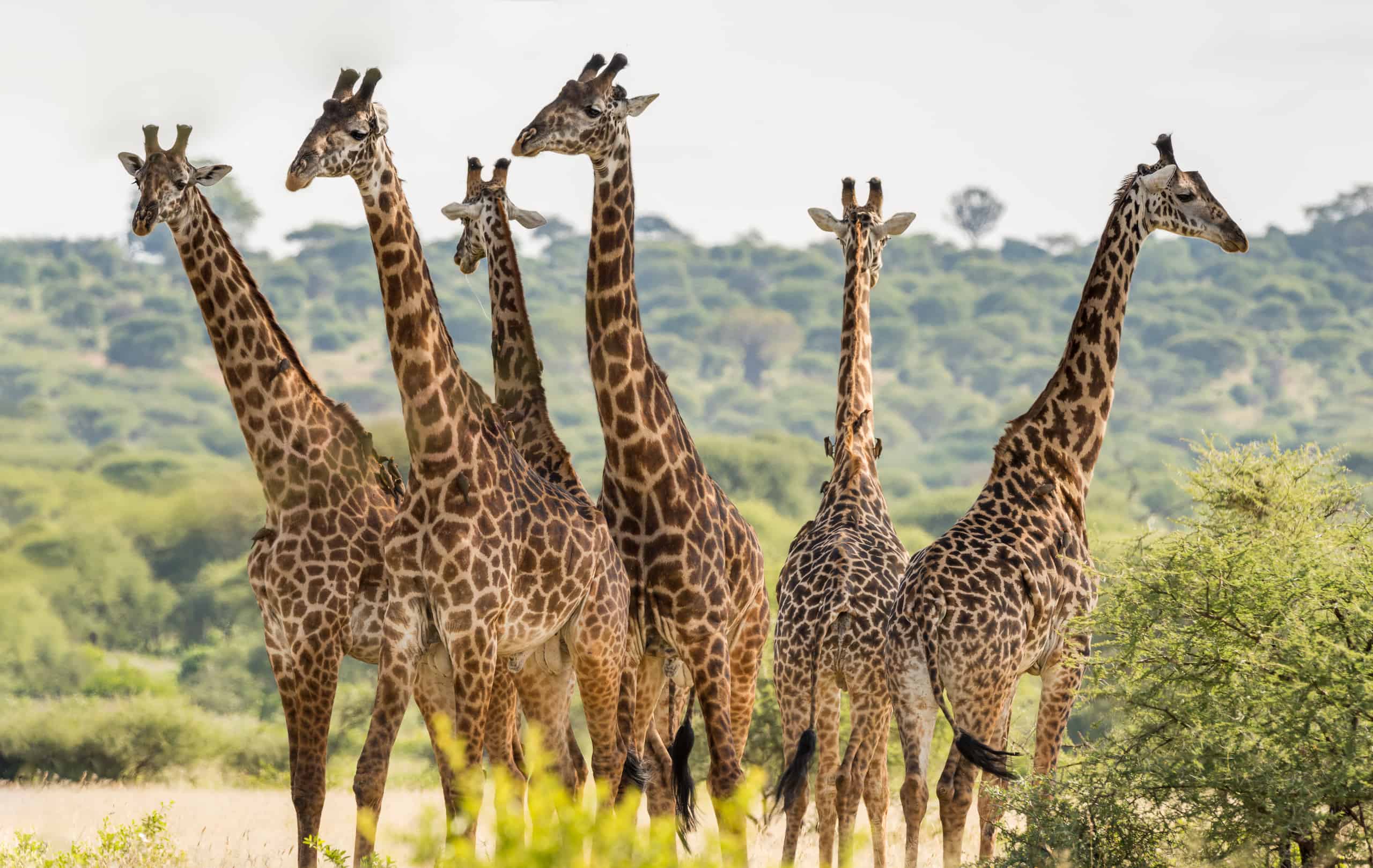 Birds
Over 500 species of birds can be found here including the ashy starling, red and yellow barbet, tawny eagle, red bellied parrot, the yellow collared lovebird and the speckle-fronted weaver.
Trees
The most spectacular trees to be found include the Baobab which have a long life span and can survive up to six hundred years.
The park also has a mix of granite ridges, river valleys and swamps. Vegetation here is a mix of Acacia woodlands, Combretum woodlands and seasonally flooded grasslands.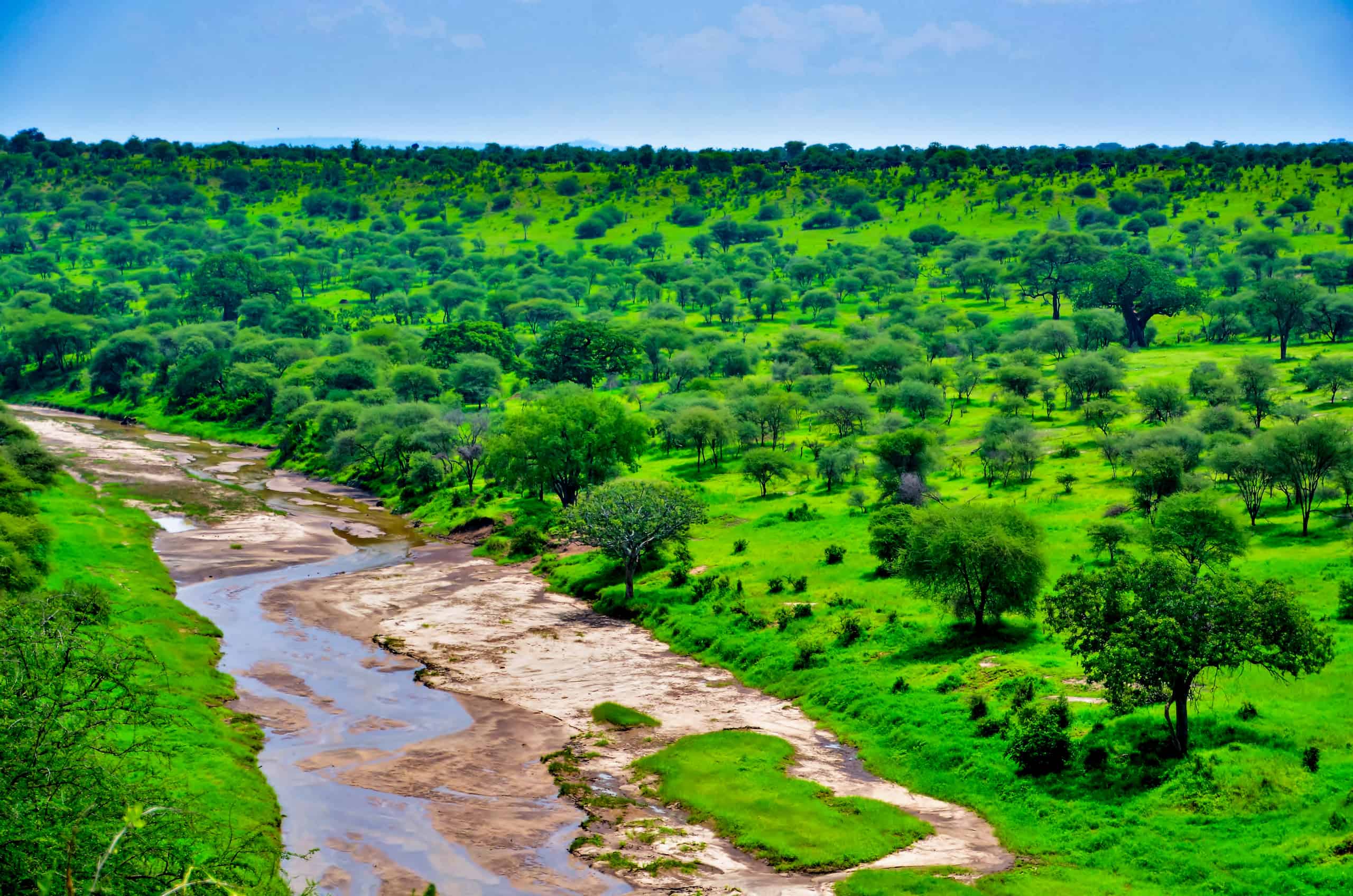 Other activities at Tarangire NP
There are multiple activities and things to do in Tanzania that can be added to your safari including walking safaris. Here are some other activities which visitors can consider during their visit to Tarangire NP:
The Great Migration tour: A spectacular scene with millions of animals moving through Tarangire National Park in search of food and breeding grounds.
Photo safaris: Visitors on an African safari will have endless photo opportunities in Tarangire where small groups of just 3 travellers can share a luxury photography tour with like-minded individuals and enjoy big game drives whilst capturing their favourite moments.
Walking safaris: Explore wildlife and private concessions on foot, an authentic and economical means of exploring the wildlife.
Hot air balloon tour package: A magical way of seeing the Great Migration in a hot air balloon flight over the landscape. Offering a unique perspective on the abundant wildlife and amazing scenery.
Ngorongoro Crater tour: Although not part of Tarangire National Park, the Ngorongoro Conservation Area is worth a visit, with a huge intact volcanic caldera and Olduvai Gorge. This area and park is home to over 25,000 animals including wildebeests and zebras as well as thousands of Masai tribe members.
Tarangire luxury tours: With excellent game viewing, Tarangire National Park also offers some of the very best luxury lodges in the world. With incredible décor, modern decorated suites, excellent views, superb service and food, these intimate safari experiences have it all to make the perfect Tarangire safari tour.
4×4 safari: A stunning self-drive Tarangire journey will allow visitors to enjoy the very best wildlife at their own pace.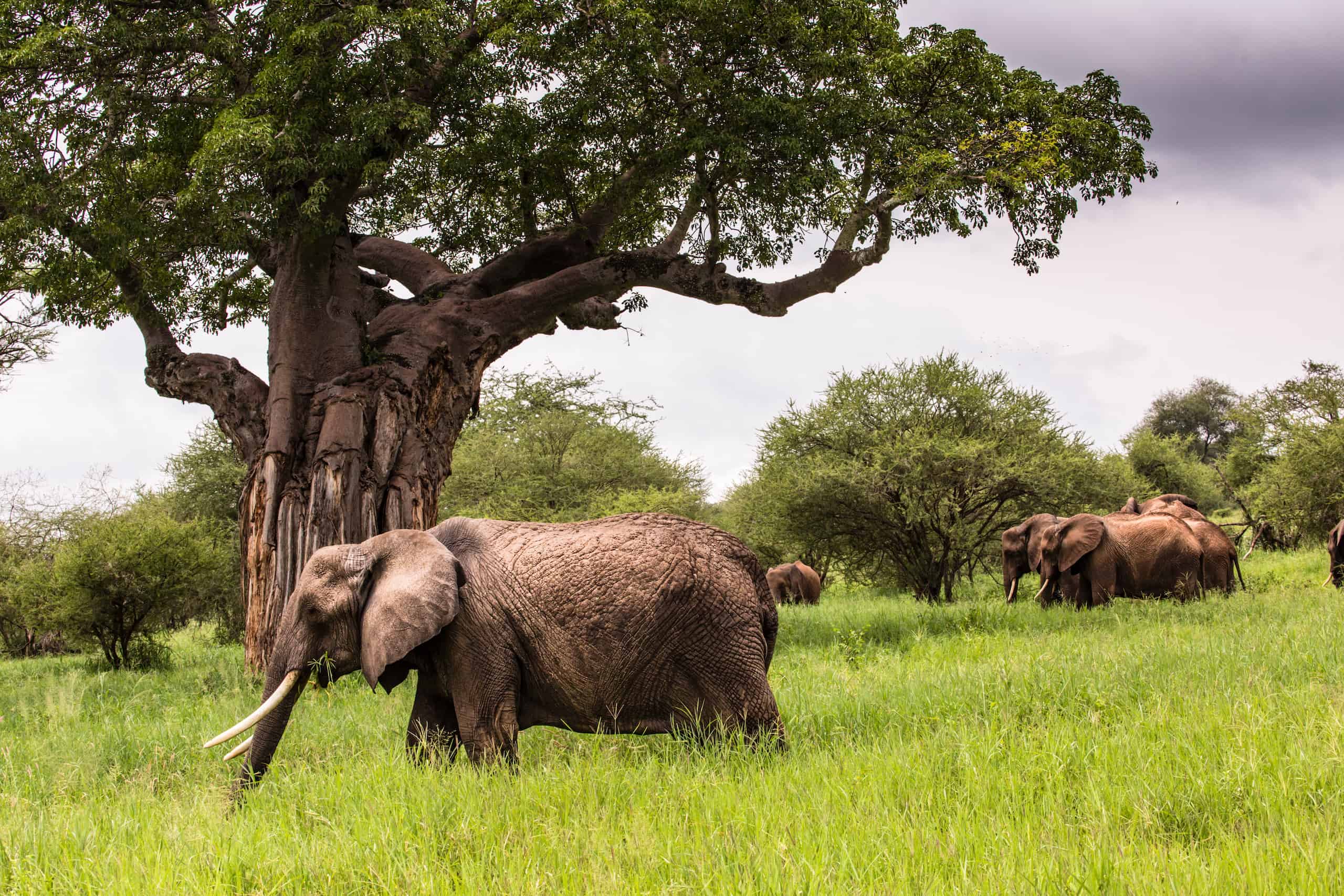 How to get to Tarangire National Park?
By Plane
Tarangire NP is located via flight from Arusha to local Tarangire airstrips. There are regular flights from Arusha and the Serengeti to Tarangire.
International flights into the country also arrive via Dar es Salaam (DAR) airport for visitors wondering how to get to Tanzania. DAR airport is located 18km south of Dar Es Salaam and a Tanzania visa and certain vaccinations may be required to enter the country.
By Road
Arusha is 95 miles/3.5 hours drive by road. From Tarangire NP, visitors can easily drive to Lake Manyara (60 miles/2 hours driving) or visit the Ngorongoro Crater (110 miles in four hours).
Tariffs & Regulations
Entrance fee
Prices per person per day:
USD $53 per adult to enter the conservation area
USD $18 per child (aged 5 – 16)
The main access gates open at 6.30am and close at 6.30pm.
Carrying a small amount of Tanzanian currency, the Tanzania Shilling (TZS) is recommended as back-up when paying for items where credit card facilities are unavailable. Visitors can also review further details on overall Tanzania safari prices here.
Regulations
Visitors must respect the rules of Tarangire National Park, including the flora and fauna. Details will be provided at the park entrance gate.
Accommodation at the Tarangire National Park
Tarangire NP offers a good selection of accommodation to suit all budgets and tastes.
Lodges
The lodges have proper bedrooms with sanitary facilities and often a private terrace. For a classic luxury experience, the Tarangire Treetops offers rooms built on the branches of ancient baobabs and fig trees, offering a panoramic view of the park.
Lodges
For more luxury lodge options, visitors can choose to stay at the Tarangire Treetops. The lodge has luxury facilities, a bathroom and a private terrace.
This is an incredible property built on the branches of ancient baobabs and fig trees, offering a panoramic view of the park.
Newlyweds may also indulge on a Tanzania honeymoon safari or a luxury safari where they'll receive a lot of extra pampering and top notch service, ensuring they feel all the love on a Tanzania safari.
Tents
Tarangire has a number of canvas tents with private rooms, some of which are very luxurious with a swimming pool, restaurant, bar and more.
Baobab Tented Camp in the north of the park is very popular with visitors.
Camping
Public camping areas are available including one camp directly at the main entrance to the park.
Organized groups have "special camping" areas in which the organizers must bring everything they need.
Bars/restaurants/amenities: Lodges will typically have all meals and drinks included in the lodge package.
Useful information
Geography: Located on the northern circuit of Tanzania, just south of Lake Manyara, a trip to the Tarangire National Park is often combined with a trip to the Ngorongoro Crater.

62 miles long and about 18 miles wide, the Tarangire National Park covers more than 1,100 square miles.

Weather: Day-time high temperatures range from 24C/75F to 29C/84F with the last of the rain falling in May.
Best time to go: The middle and end of the Dry season, from late June to October, is the best time for wildlife viewing in Tarangire National Park. Most of the animals migrate out of the park during the wet season.
Health: Visitors should seek medical advice from their doctor and consider antimalarial medication.
FAQs
Where is Tarangire National Park located?
In northern Tanzania, Tarangire NP is located via flight from Arusha to local Tarangire airstrips. There are regular flights from Arusha and the Serengeti to Tarangire.  
How much is the entrance fee to the Tarangire National Park?
USD $53 per adult & USD $18 per child (aged 5 – 16). 
What time does the entrance gate open and close at?
The gates into the Tarangire NP open at 6.30 a.m. and close at 6:30 p.m. 
What animals will visitors see?
The big 5 including the African bush elephant, the lion, rhinoceros, leopard, African buffalo and numerous giraffes, impalas, ostriches, baboons, big cats and cheetahs.