In northern Tanzania, visitors will find Kilimanjaro National Park covering an area of 652 sq. miles. The area is a UNESCO world heritage site and home to the famous Mount Kilimanjaro, the highest mountain in Africa and dormant volcano some 5,895m above sea level.
Kilimanjaro is also the tallest free standing mountain in the world and is located 27 miles/1 hour north of the town of Moshi and 210 miles from the Serengeti National Park.
Commonly associated with climbers scaling the mountain, Kilimanjaro NP is a hidden gem for wildlife safari visitors and much quieter than the Serengeti or Ngorongoro Crater as most visitors are focused on climbing, instead of the abundant wildlife.
Why visit Kilimanjaro National Park?
Safari in Kilimanjaro NP
An African wildlife safari in Kilimanjaro NP offers visitors the chance to explore the incredible wildlife in one of the quieter parks in Tanzania for a more intimate safari experience with plenty of great wildlife to see.
From lions, rhinos, elephants, giraffes, buffalo, leopards, and many more, Kilimanjaro NP guided safaris offer compelling wildlife viewing.
The entire mountain falls under the protection of the Mount Kilimanjaro National Park and safari guests visit Mount Kilimanjaro not just for the incredible wildlife but the beautiful scenery including the snow capped peaks of Shira, Mawenzi and the beautiful Uhuru peak.
The area near Mt Kilimanjaro, on the Tanzanian side of the border, is one of East Africa's most underrated safari destinations.
There's much to do here and with most visitors focused on climbing Africa's highest mountain, or exploring the better-known safari circuits of the Serengeti, Ngorongoro Crater, Tarangire National Park and the nearby Amboseli National Park in Kenya, there are no crowds here​​.
Mount Kilimanjaro has five main vegetation zones from the lowest to the highest point: Lower slopes, heath and moorland, alpine desert and summit, including the montane forest belt, truly spectacular scenery attracting wildlife from far and wide.
Accommodation is also available with numerous lodges and camps in the surrounding area.
Animals
Visitors will find lions, Cape buffaloes, leopards, blue monkeys, rhinos, elephants, giraffes, buffalo, leopards, servals, hyenas, baboons, monkeys, antelopes, aardvarks, mongooses, porcupines, honey badgers, tree hyraxes, bush babies and much more.
Many of the wildlife can be found on the Kilimanjaro Plains, at the bottom of the mountain, particularly the larger mammals, because of access to water and food..
Above the tree line, many mammals can also be found with Cape buffaloes, leopards as well as blue monkeys located in the mountain forest with elephants found between the Namwai and Tarankia rivers.
There are recordings of 154 species of mammals on the mountain, including 7 primates and hundreds of bird species.
All animals in National Parks of Tanzania are completely free to roam, meaning any animals spotted on Kilimanjaro are certainly 'wild'.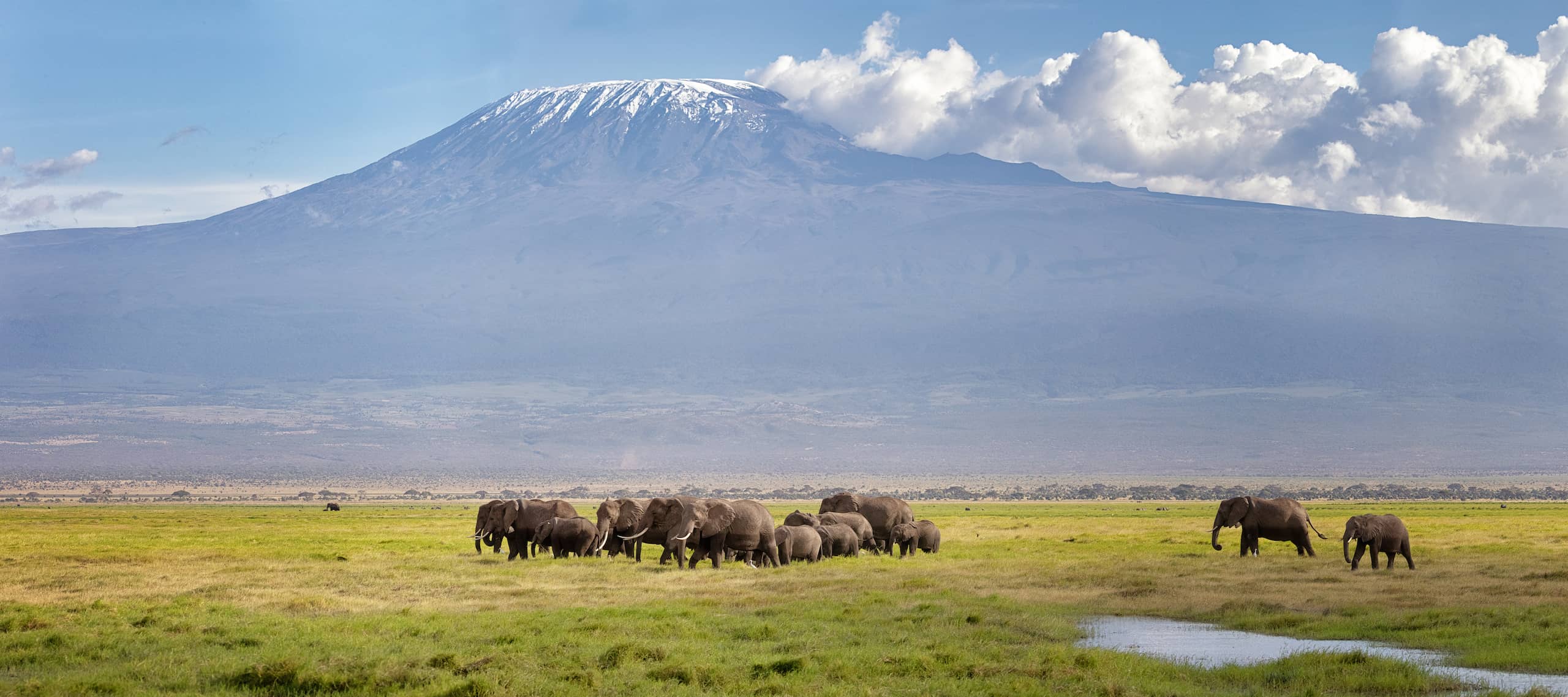 Birds
Over 179 species of birds can be found including the African pitta, the rare Abbot's starling, ​​vultures, buzzards, ravens, shrikes, flycatchers and barbets.
Other birds spotted include the Hartlaub's Turaco, Schalow's Turaco, and the Violet Crested Turaco, Narina Trogon, Silvery-Cheeked Hornbill, African Emerald Cuckoo, Klaas's Cuckoo, Kingfishers and the Trumpeter Hornbill.
Other activities at Kilimanjaro NP
There are multiple activities and things to do in Tanzania that can be added to your safari including walking safaris. Here are some other activities which visitors can consider during their visit to Kilimanjaro NP:
Trek Mount Kilimanjaro: A full trek scaling Mount Kilimanjaro may not be for everyone. However, for many, a Mount Kilimanjaro and safari tour is the perfect adventure, scaling the popular Machame route of Africa's biggest mountain and spending quality time post trek with incredible wildlife.
Golf and Safari Retreat: On the plains below Kilimanjaro lies Siringit golf and safari retreat, a villa retreat of fine dining, wellness and golf on the threshold of the Serengeti where guests can find luxury, tasteful African décor and a dedicated team catering for every need.
Walking safaris: Explore the Kilimanjaro safari experience with a local guide on a day trip walking safari and meeting the Maasai people, an authentic and economical means of exploring the wildlife and exploring the wonderful landscape.
Bike Park Safari: Mountain biking in West Kilimanjaro is a fun and thrilling way to experience one of Tanzania's great game reserves.
Kilimanjaro Serengeti safari: Combination safaris are popular with group safaris travelling to northern Tanzania, looking to take advantage of the incredible landscape Kilimanjaro has to offer as well as seeing the Great Migration in the Serengeti National Park.
How to get to Kilimanjaro National Park?
By Flight
Visitors typically fly into the nearby Kilimanjaro International Airport (JRO). From there, Kilimanjaro NP is a 90 minute drive.
International flights into the country also arrive via Dar es Salaam (DAR) airport for visitors wondering how to get to Tanzania. DAR airport is located 18km south of Dar Es Salaam and a Tanzania visa and certain vaccinations may be required to enter the country.
By Road
Kilimanjaro NP is located 72 miles/2.5 hours from the Arusha National Park.
Tariffs & Regulations
Entrance fee
Prices per day:
USD $70 per adult to enter
Carrying a small amount of Tanzanian currency, the Tanzania Shilling (TZS) is recommended as back-up when paying for items where credit card facilities are unavailable. Visitors can also review further details on overall Tanzania safari prices here.
Regulations
Visitors must respect the rules of the park including the flora and fauna. Details will be provided at the park entrance.
Accommodation at Kilimanjaro National Park
Kilimanjaro NP offers a variety of accommodation options including camps and lodges.
Lodges
Lodges at Kilimanjaro NP for visitors to choose from include:
Kambi Ya Tembo
Kaliwa Lodge
Mount Kilimanjaro View lodge
Newlyweds may also indulge on a Tanzania honeymoon safari or a luxury safari where they'll receive a lot of extra pampering and top notch service, ensuring they feel all the love of a Tanzania safari.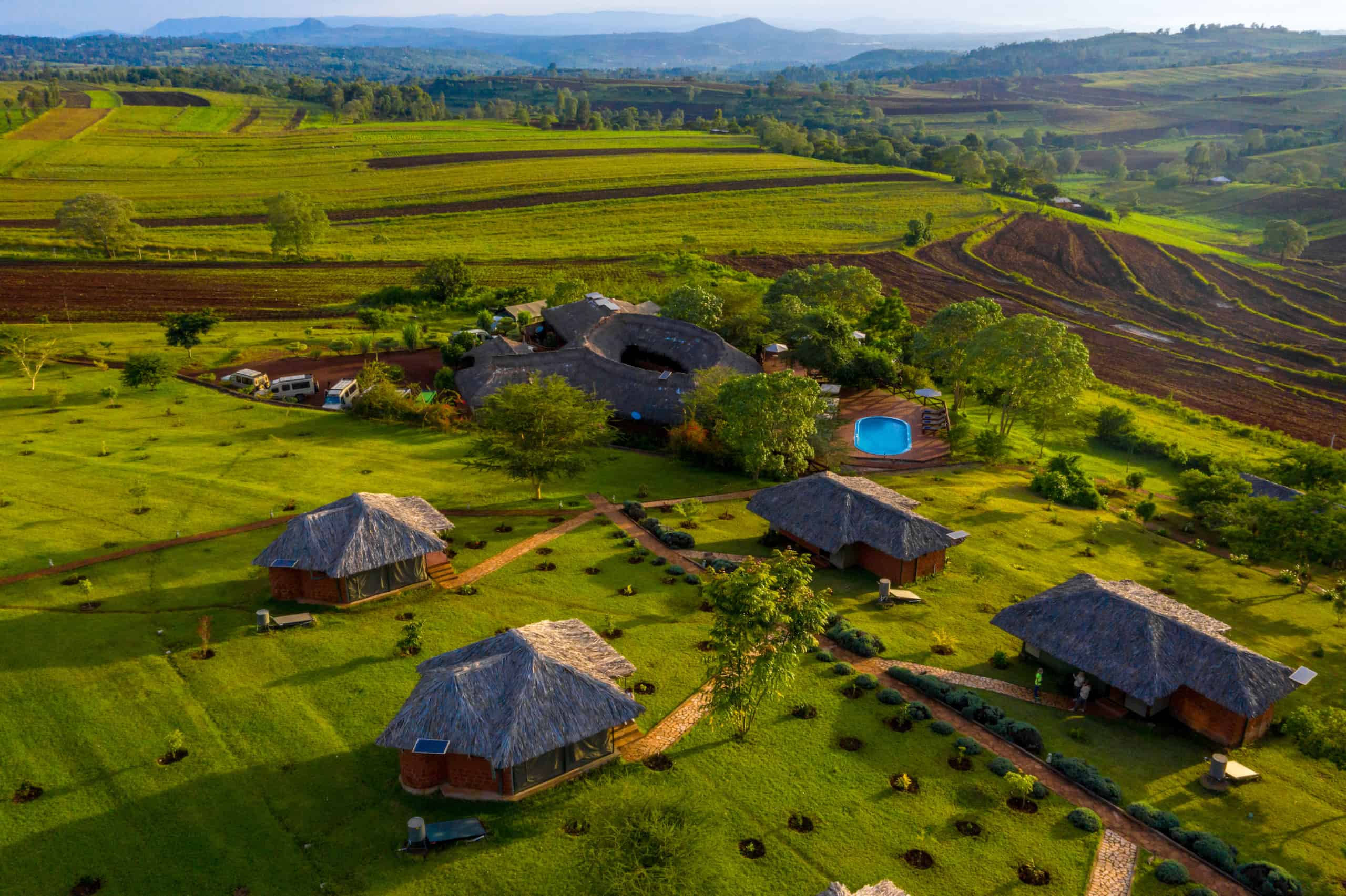 Camps
Camps at Kilimanjaro NP for visitors to choose from include:
Shu'mata camp
Amboseli eco camp
Hotels
Hotels at Kilimanjaro NP for visitors to choose from include:
Kilimanjaro Wonders hotel
Aishi Machame hotel
Kilimanjaro Resort
Camping
Camping options are available and can be booked with your safari tour operator including Kili Homebase & Campsite as well as African Jungles Campsite and Lodges.
Bars/restaurants/amenities
Lodges will typically have all meals and drinks included in the lodge package.
Useful information
Geography: Located in northern Tanzania, visitors typically fly into the nearby Kilimanjaro International Airport (JRO), 90 minutes from the park.
Weather: Day-time high temperatures range from 15C/60F to 32C/90F.
Best time to visit: During the dry seasons and months of July through to October is the best time for spotting animals in the sparse and dry land, especially in the vicinity of the camps next to the waterholes.

During this period, there is minimal rainfall, low humidity and mosquitoes are not generally a problem.
Understanding the best time to visit Tanzania is useful as this impacts flight prices and availability.

Health: Visitors should seek medical advice from their doctor and consider antimalarial medication.
FAQs
Where is Kilimanjaro National Park located?
Located in northern Tanzania, visitors typically fly into the nearby Kilimanjaro International Airport (JRO), 90 minutes from the park. 
How much is the entrance fee to Kilimanjaro National Park?
What animals will visitors see?
Visitors can find elephants, Cape buffaloes, black rhinos, giraffes, leopards, hyenas, baboons, monkeys, antelopes, aardvarks, mongooses, honey badgers and bush babies.