Zanzibar is the home of idyllic beaches, balmy weather & warm tropical waters. An archipelago that's renowned for its clear warm waters, coral reefs and rich marine diversity making it a perfect under-water destination for snorkelling, diving and so much more.
Below, we've detailed the best things to do in Zanzibar including some safari activities included on the nearby Tanzania mainland.
Zanzibar regions to visit
Cities and places of interest in Zanzibar
Zanzibar is located on the west coast of Unguja, the main island of the Zanzibar Archipelago with a population of 705,000.
Zanzibar City comprises two main parts, Stone Town and Ng'ambo: the two areas are historically divided by a creek, now marked by a large street called Creek Road.
Stone Town is the historical core of the city, former capital of the Zanzibar Sultanate; because of its unique architecture and culture, it was declared a UNESCO World Heritage Site in 2000.
Ng'ambo is a much larger, modern area that developed around Stone Town after the Zanzibar Revolution, with office buildings and large apartment blocks such as those of the Michenzani neighbourhood.
Zanzibar City is served by a number of international and domestic airlines via Abeid Amani Karume International Airport. Travellers can fly to Zanzibar via the island's main airport (ZNZ) for visitors wondering how to get to Zanzibar.
This stunning island boasts many beautiful attractions including beaches, water activities and honeymoon safaris.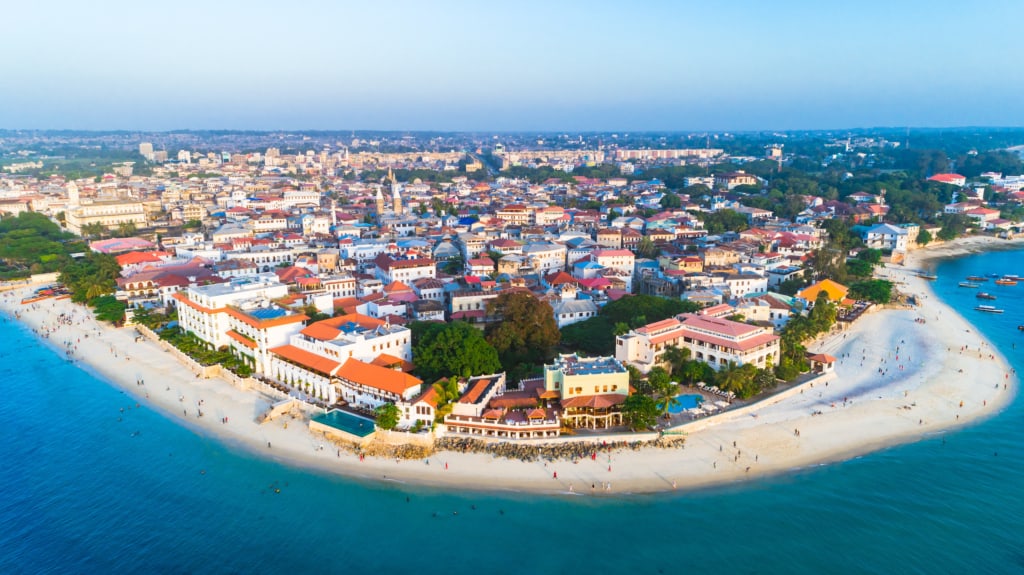 The main cities on the island include:
Stone Town – the vibrant and enchanting capital
Nungwi – at the northern tip of the island. Very popular with tourists since swimming in the ocean is possible even at low tide.
Kendwa – a few km south of Nungwi, also very popular with tourists.
Matemwe – a small traditional village in the North East.
Paje – the liveliest village on the South East coast known for excellent kiteboarding conditions, Great diving, a stunning beach and excellent restaurants.
Jambiani – a small fishing village on the southeast coast, 10 km south of Paje, with lots of small guesthouses and hotels – a quieter option than Paje with plenty of restaurants to choose from
Michamvi – the remotest village on the South East coast, a small picturesque fishermen village with Zanzibar's greatest sunset beach.
Makunduchi : at the south east tip of the island. 70 km from Stone Town. It has its own hospital, magistrates court, secondary school. The village is famous for the "Mwaka Kogwa" festival which happens in July. The beaches are some distance away from the village and are quiet, away from it all. For travelers who are looking for peace.
Kizimkazi : small fishing village famous for the Dolphin tours. The most antic mosque in Africa is to be found in Kizimkazi Dimbani.
Stone Town
Stone Town is the main city and one of prominent historical and artistic importance in East Africa. Its architecture, mostly dating back to the 19th century, reflects the diverse influences underlying the Swahili culture, with a unique mixture of Moorish, Arab, Persian, Indian and European elements.
Attractions include the Old Fort, located adjacent to the House of Wonders, this is a heavy stone fortress that was built in the 17th century by the Omani.
It has a roughly square shape and the internal courtyard is now a cultural centre with shops, workshops, and a small arena where live dance and music shows are held daily.
The Palace Museum is another former sultan's palace, also located on the seafront, to the north of the House of Wonders.
It was built in late 19th century, and now hosts a museum about the daily life of the Zanzibari royal family, including items that belonged to Sayyida Salme, a former Zanzibar princess that fled to relocate in Europe with her husband edit
Nungwi
Nungwi is a charming little village at the northern tip of Zanzibar, a 90 minute drive from Stone Town.
Visitors will enjoy the incredible beach at Nungwi as well as the range of water based activities including scuba diving around Mnemba island atoll.
Most of the dive centres also offer night dives, giving you a chance to see all kinds of life that isn't out during the day including octopus, Spanish dancers and cuttlefish.
Guests can also take a 2 hour sunset cruise on a dhow down to Kendwa and back.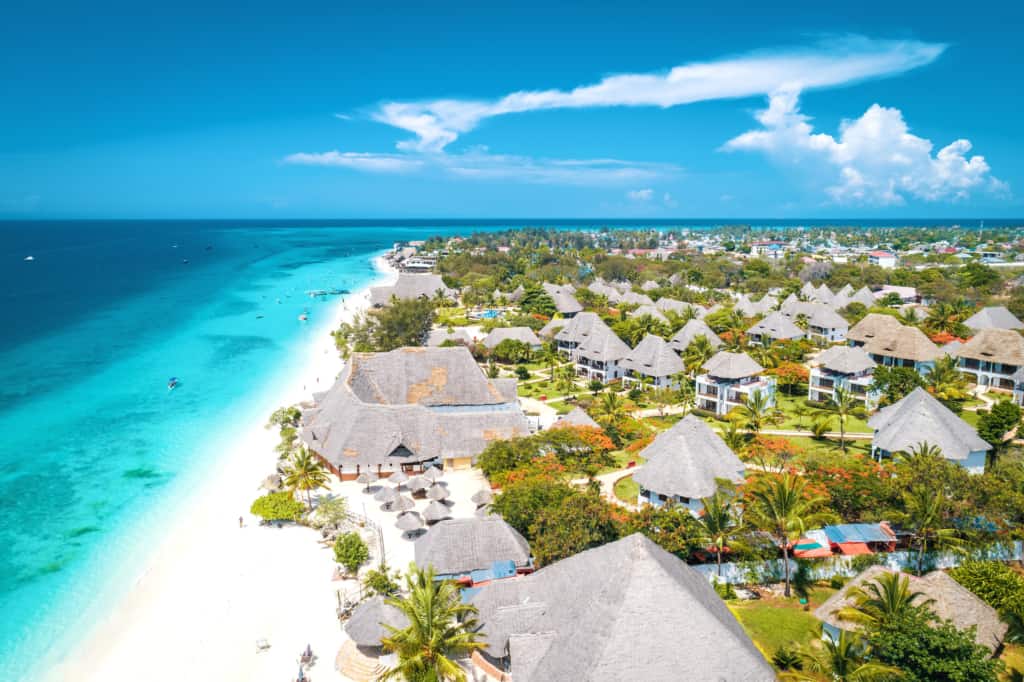 Zanzibar beaches: An ocean paradise
Zanzibar is the home of idyllic beaches, balmy weather & warm tropical waters. This archipelago is renowned for clear warm waters, coral reefs and rich marine diversity making it a perfect under-water destination for snorkelling and diving.
If it is lazy days along white sandy beaches that you are after – Zanzibar is hard to beat. But, in addition to the perfect beach destination, Zanzibar is also full of options for nature lovers, culture vultures, and adventurers with Safari adventures often combined with Tanzania visits to the Serengeti.
The 10 best things to do in Zanzibar
The Zanzibar Archipelago has so much more to offer than romantic coastlines and blissful sunsets. These islands offer a kaleidoscope of sights, smells, tastes and experiences that will feed your soul, rejuvenate your body and reawaken your creativity.
Zanzibar is without a doubt a dream beach destination. An ideal place to get away from it all. But it also has a fascinating history and rich cultural expressions, as well as being a top adventure and eco-tourism destination.
Jozani forest
Jozani Forest is one of the most popular places to visit in Zanzibar. The forest is the last sanctuary in the world to see the Zanzibar red colobus monkey.
The forest is located in the Eastern part of the island and is one of the lushest places on Zanzibar. It's a staunch reminder of what we have done to our environment over the centuries.
It's easy to get lost and find the monkeys in the Jozani forest. Many nature trails lead through beautiful forests, and the red colobus monkeys are not shy. After your visit to Jozani, be sure to cross the street and visit the Mangrove forest.
Stone Town
Stone Town turned from being a humble fishing village into a key trading center over the years and the island also was governed by many colonial rulers, from Portugal to Oman to Great Britain, until it became independent in 1963.
It's a mix of African, Arabic, and colonial styles all packed into one city. Because of all the unique influences and its long history of slave trading and a rich colonial heritage, Stone Town was actually declared a UNESCO World Heritage Site.
Paje Beach
If there is a backpacker spot in Zanzibar, it's Paje beach. The beach has hip cafes, burger joints, kite surfing companies, bars, and hostels, making it one of the great places to visit in Zanzibar.
Spend time relaxing in the inviting turquoise waters, which is the perfect thing to do for those looking for free things to do in Zanzibar.
Make sure to get out of the city and explore as many Zanzibar beaches as you can. There's a beautiful one around every corner. Favourites include Nungwi Beach and Pongwe Beach, but there are so many others to explore.
There are many great beaches in Zanzibar which visitors can also enjoy the nearby islands of Pamunda, Pemba island, Chumbe and Unguja Island.
Go Snorkelling
You will get fitted with flippers and assigned a life vest and snorkel mask, before setting off on a traditional dhow boat.
You then jump off of the boat for some snorkelling, and if you're a strong swimmer, you could even swim with wild dolphins and see some of the most incredible fish the Indian ocean has to offer.
Next up is a visit to a large lagoon for some swimming and relaxing amongst the mangroves.
Go on a Spice Tour
While most farms aren't as expansive as we'd pictured, they all have a staggering variety of spices growing.
Visitors can get a chance to see the form various spices grow in before they reach our supermarket shelves in their powdered form. You also get to taste some of the spices and play guessing games to identify which spices are which.
The highlight of the tour is a performance by a fearless man, who climbs up an extremely tall coconut tree unaided, while loudly singing 'mambo jambo hakuna matata.'
See the Big Five on a wildlife safari
Whilst not technically on the island of Zanzibar, a short plane trip away to the mainland will allow you to take in an incredible Tanzania safari where you'll spend in awe watching large mammals roam including the African bush elephant, the lion, black rhino and white rhino, leopard and the African buffalo.
A visit to the Serengeti or Ngorongoro Crater is a truly incredible experience with memories that will last a lifetime.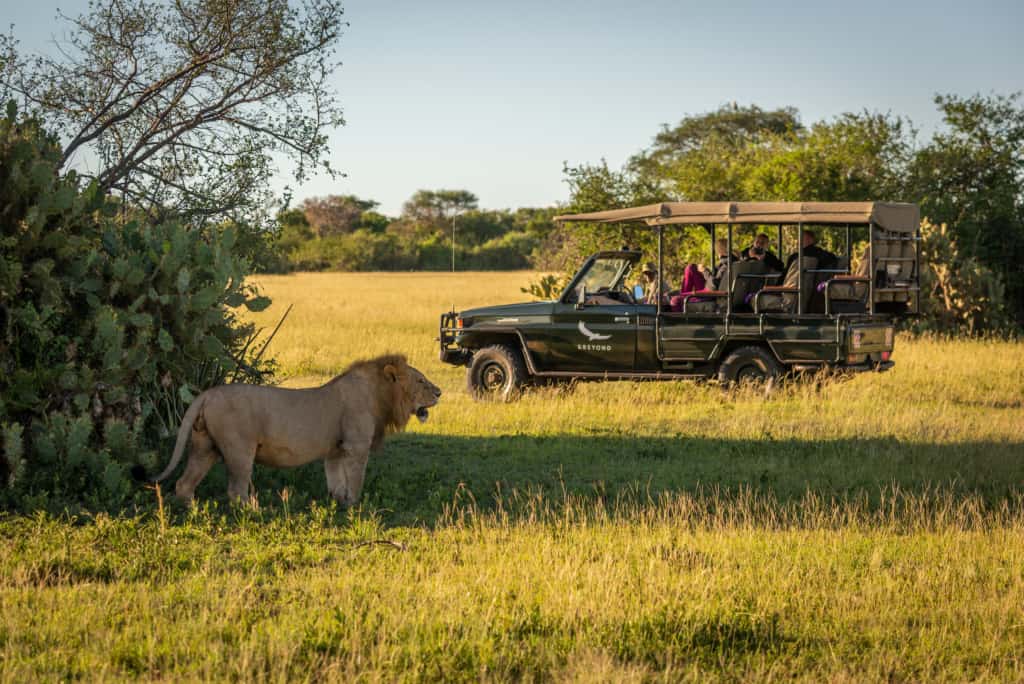 Spend time with the locals
If the idea of wandering around the villages alone isn't your cup of tea, most resorts offer walking village tours, where a member of staff accompanies you into a nearby village and shows you around.
Your guide will also act as a translator when you speak to the locals and take you inside the huts to visit its occupants. Visitors can also take in a turtle sanctuary, a 'boat yard,' where locals sat under trees and tarps, working on traditional dhows, and a fish market selling all sorts of fresh seafood.
Have Dinner At The Tea House Restaurant
Having a meal at this establishment is one of those must-do things in Zanzibar. Anyone wanting a night out in Stone Town should visit the Tea House Restaurant at Emerson on Hurumzi.
The restaurant is located on top of the boutique hotel in the middle of the kasbah. And it has one of the best views of Stone Town, making it a favourite thing to do in Zanzibar.
They get quite popular for sundowners and dinner, so we would recommend making a reservation beforehand.
Spend an entire evening here drinking spicy cocktails, listening to live Zanzibari music, and chowing down on delicious Persian-inspired cuisine before retiring to our gorgeous room.
Coffee At The Zanzibar Coffee House
This Zanzibar Cafe is located right next to Emerson Spice in the heart of Stone Town and is one of those Zanzibar points of interest you have to see for breakfast and lunch.
The Zanzibar Coffee house roasts its own coffee and serves up anything from cafe lattes to delicious vegetable chapati wraps.
Once you walk into the cafe, it feels as if you are transported back in time to a coffee house in the old Arabic world. Even if you don't like coffee, this is a must-visit. Make sure to visit Upendo right across the street for any shopping you may want to do.
Upendo employs all local women through education and teaches them how to sew beautiful clothes.
Watch Locals Do Acrobats And Capoeira At Sunset
On pleasant evenings at sunset, many young local boys will head to the Stone Town public beach to enjoy the last light of the day with some acrobatics and capoeira.
What is capoeira? This is a Brazilian martial art that combines elements of dance, acrobatics, and music. It's pretty fun to watch from any of the nearby restaurants or on the beautiful beaches.
It's far from the nicest beach in Zanzibar, but if you are in Stone Town for sunset, this is one of the best things to do in Zanzibar. Look out for the large crowds – these tend to form around some of the most talented performers!
Other places of interest in Zanzibar
Other places worth a visit on your trip to Zanzibar include:
Prison Island
Prison Island is one of those great places of interest in Zanzibar. Take a boat just 5 km away from Stone Town to reach the iconic Prison Island, or Changuu Island to be technical. Built in the late 1800s, this prison served as an island for slaves, violent prisoners, and quarantined.
The main joy of visiting prison island is seeing the nearby tortoise sanctuary. There are some of the giant Aldabross tortoises that also call the Seychelles home. Make sure to bring sunblock for the boat transfers and snorkeling.
Zanzibar Butterfly Centre
The Zanzibar Butterfly Center is near Jozani Forest, so is a really great experience if you are already in the area. It offers an interactive environment that both children and adults will love.
Butterfly farming is done here with the help of 40 local farmers from a nearby village. Farming provides a stable income for the farmers while giving back to the environment.
At the butterfly centre, you can let the butterflies flutter all around you while having an educational visit and learn about conservation.
You can enjoy a 30 minute guided tour around the property, and the admission fees directly support the training of the farmers.
Seaweed Centre
If you're wondering what to do in Zanzibar that is not beach hopping or wandering around Stone Town, a visit to the seaweed centre is a must.
The Seaweed Centre (now called Mwani Zanzibar) in Paje is a women's initiative that employs local women to make products from the abundance of seaweed around the island.
Guests can take a full tour to see the daily tasks of the seaweed farmers, or they can relax at the shop with a glass of seaweed fruit juice!
What is the best thing to do in Zanzibar?
Nungwi is considered one of the best things to do in Zanzibar, a charming little village at the northern tip. Visitors will enjoy the incredible beach at Nungwi as well as the range of water based activities including scuba diving around Mnemba island atoll.
How long should I spend in Zanzibar?
Visitors should spend at least 7 days in Zanzibar to relax on the islands incredible beaches, check out the historic Stone Town, food, spices and incredible water based activities including scuba diving.