Arusha National Park (NP) is a 213 sq. mile park in northern Tanzania, some 37 miles from the town of Arusha and 150 miles from the Ngorongoro Crater.
The park was established in 1960, previously known as a battleground for the Masai people and their neighbours.
Why visit Arusha National Park?
Safari in Arusha NP
An African safari in Arusha NP offers visitors the chance to go on guided game viewing drives and walking safaris to see the big wildlife all around including the giraffe, warthog, the black-and-white colobus monkey, the blue monkey, flamingo, elephant, and the leopard.
Visitors will also spot peaceful herds of buffaloes and shy bushbucks on the edge of the forest as well as warthogs and zebras. Heading towards the Ngurdoto Crater, visitors will soon find themselves in a lush rainforest – a great place to spot the elegant mitis monkey.
Arusha National Park has an inspiring landscape, inviting visitors to make amazing jeep safaris, beautiful hikes, meaningful treks and canoeing on Lake Momella and climbing Mount Meru.
In the west, the Meru Crater funnels the Jekukumia River; the peak of Mount Meru lies on its rim. Ngurdoto Crater in the south-east is grassland. The shallow alkaline Momella Lakes in the north-east have varying algal colours and are known for their wading birds.
Accommodation is also available with numerous lodges in the surrounding area.
Affordable Arusha safaris
Budget friendly safaris in Arusha are possible with some tour operators offering a more affordable Arusha packages including:
Transport (4×4 Land Cruiser) with open roof
Park fees
Professional English speaking safari guide
Lunch box
Bottled water
Rangers will guide guests through the rainforest up to a sparkling waterfall where black and white colobus monkeys can be found.
After lunch, safaris proceed onwards to the Lakes of Momella and the Ngurduto Crater, watching out for buffalo, waterbuck, giraffe, warthogs, zebra and gazelle as well as a host of different bird species.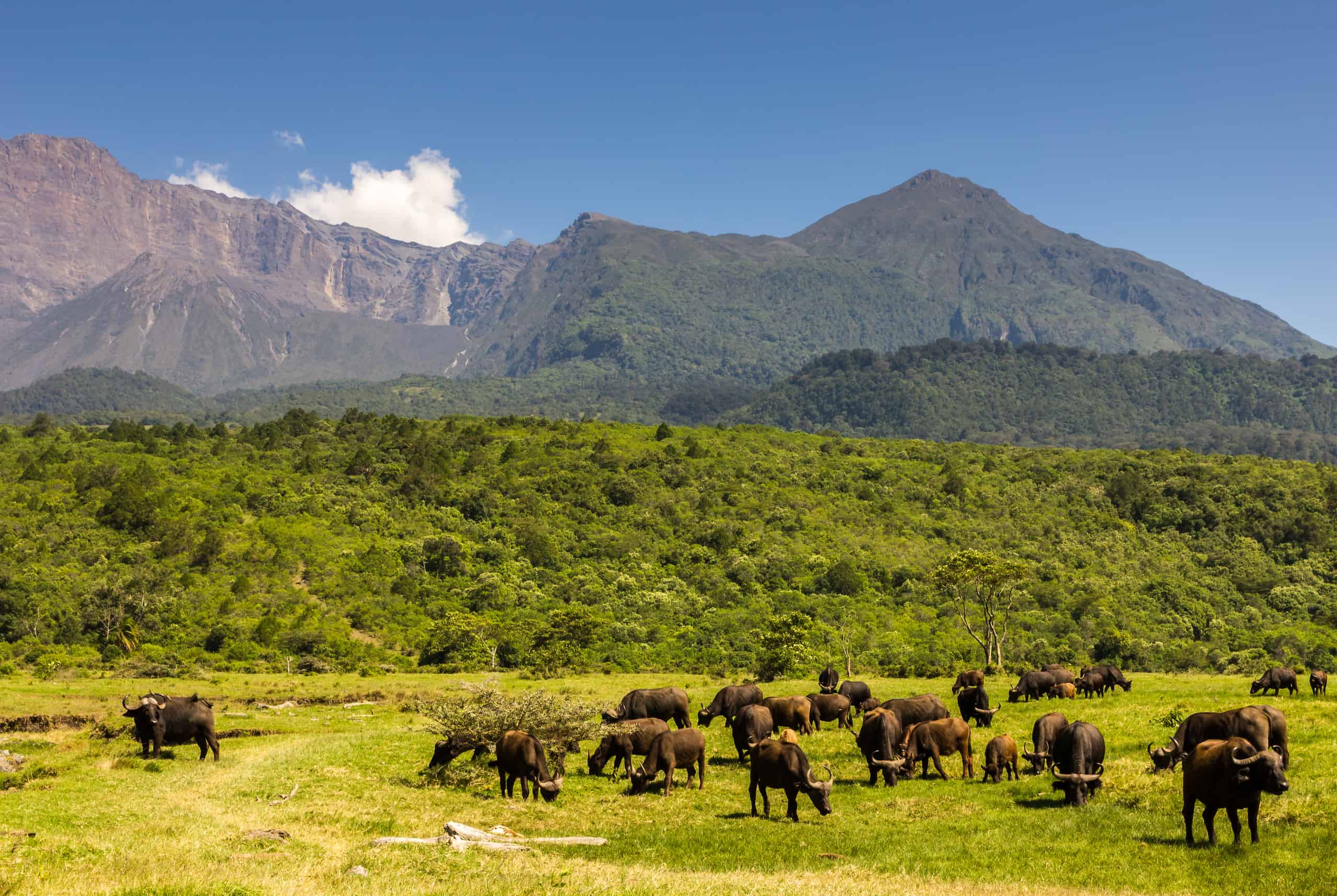 Animals
At the base of Mount Meru, and with Mount Kilimanjaro to the east, this lesser spotted park is famed for its large numbers of African elephants, Cape buffaloes, hippos and zebras with visitors on a circuit of Tanzania.
Arusha NP is home to the world's largest population of giraffes, making it a great place to visit for fans of these long-necked, beautiful animals.
Visitors will also find flamingos, dik diks and baboons. Of the Big Five, only buffalo are regularly seen with the lion and rhino absent. Giraffes are very common within the area that surrounds the Momella lakes.
The charismatic black-and-white colobus monkey is also a key attraction.
The park is made of three different vegetation zones that serve as habitat to different species of animals that have been recorded here.
Close to the water sources, visitors will be able to see reedbucks and waterbucks, whilst within the forested areas of the park, guests will catch sight of the bashful bushbucks plus duikers.
The eco-system of Mount Meru is in particular varied, and serves as home to more hard to find mammals such as hyenas and leopards.
Birds
Over 400 species of birds can be found, particularly along Momella Lake where visitors can find the flamingo, pelican, little grebe, a variety of heron, duck and wader.
The Birdlife inside the forest is considerable, with several forest species much more easily spotted here than in any other areas along the tourist route – Narina Trogon as well as Bar-tailed Trogon are together highlights on any of the birders' visiting, while the array of starling species offer a fairly less flashy interest.
Also found are the Augur buzzard, Verreaux's eagle and other cliff-associated raptors can often be seen flying above Ngurdoto Crater.
Before reaching the top of the park, visitors will come across Kiplinger's and numerous flowers, hanging onto the alpine desert area, perfect for attracting birdlife and with wonderful views of Mount Kilimanjaro some 60 km away.
Other activities at Arusha NP
There are many things to do in Tanzania including walking safaris which visitors may request. Here are some other activities which visitors can consider during their visit to Arusha:
Arusha National Park walking safaris: Explore the Tanzania safari experience with a local guide on a day trip walking safari, an authentic and economical means of exploring the wildlife.

A walking safari gives you a whole new and unique perspective of the national park including the scents and sounds of the African bush. Visitors can walk alongside wild, freely roaming animals in their natural habitat.
Ranger guides will also provide insights into the unique flora & fauna of Arusha National Park and walk near the lakes where thousands of pink flamingos are often spotted.
Explore the wonderful landscapes of the Ngurdoto Crater, Mount Meru, Tululusia Hill and the Fig Tree Arch.

Boat cruise: Choose a luxury safari boat cruise and feel the Momella Lake breeze while savoring views of the surrounding scenery.
Bird tours: With an incredible range of birds to view including the Hadeda ibis and Helmeted guinea fowl in a tranquil setting.
Canoeing the Momella Lakes: A fun and relaxed way to discover nature and the beautiful Momella lakes. This provides visitors with magnificent lake views, coming close to giraffes and buffaloes at the shores as well as flamingoes and other water birds. Expect to spend between 2 and 3 hours.
Ngurdoto Museum: Overlooking the Ngurdoto Forest with its population of black and white colobus monkeys, the Ngurdoto Museum houses an impressive collection of examples of the various animals, birds, and insects that can be found within the park.
Arusha Serengeti safari: Combination safaris are popular with honeymoon safaris and groups travelling to northern Tanzania, looking to take advantage of the incredible landscape Arusha has to offer as well as seeing the Great Migration in the Serengeti National Park and the beautiful baobab trees at Tarangire National Park.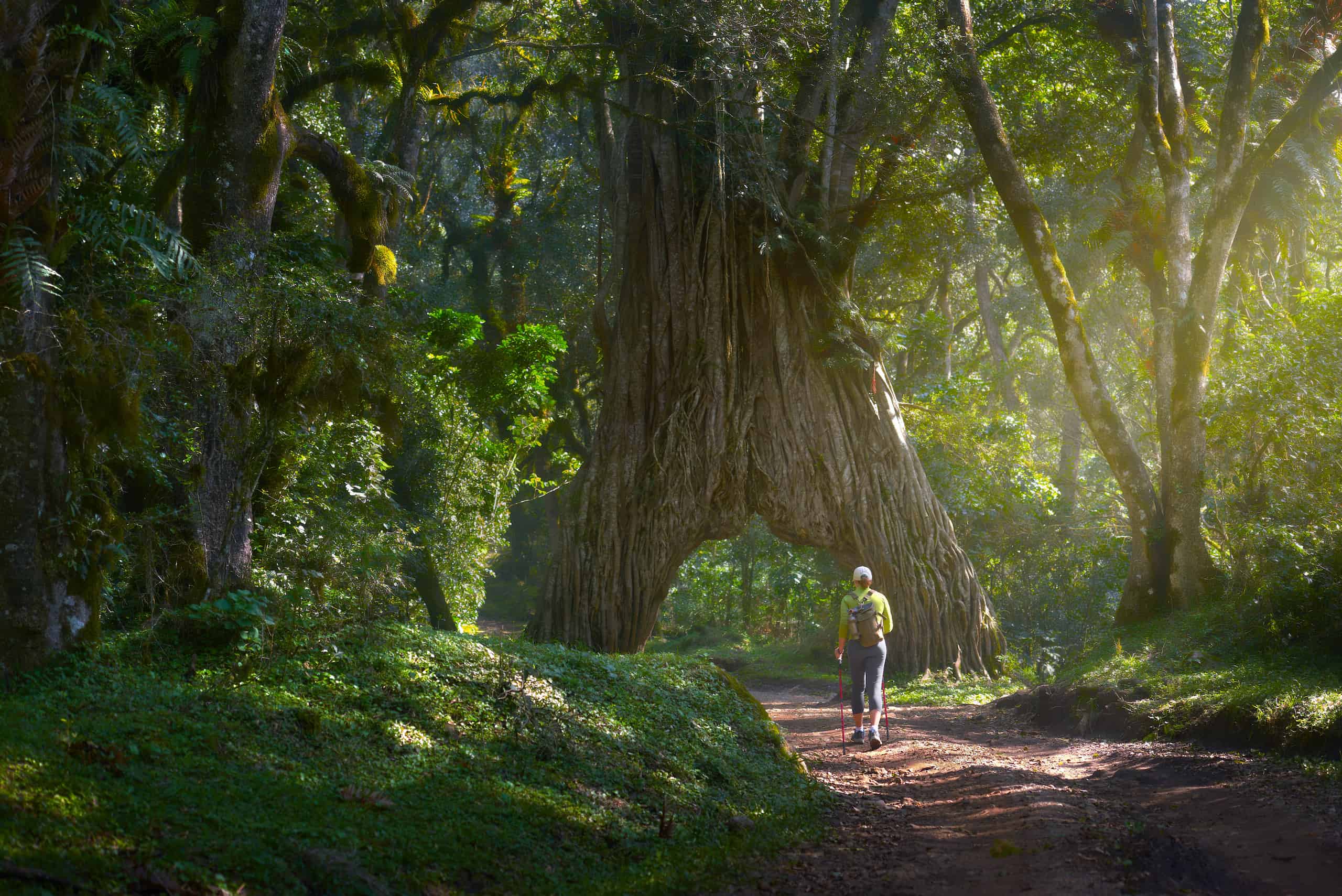 How to get to Arusha National Park?
By Flight
Visitors typically fly into Kilimanjaro International Airport (JRO), 29 miles from Arusha, with visitors often combining trips to Arusha with the Serengeti. Understanding the best time to visit Tanzania is important as this will impact accommodation, flight prices, availability and the weather that visitors can expect on their safari vacation.
International flights into the country also arrive via Dar es Salaam (DAR) airport for visitors wondering how to get to Tanzania. DAR airport is located 18km south of Dar Es Salaam and a Tanzania visa and certain vaccinations may be required to enter the country.
By Road
Arusha NP is located a 45-minute drive from the town of Arusha.
Tariffs & Regulations
Entrance fee
Prices per day:
USD $59 per adult to enter
USD $17.70 per child
Carrying a small amount of Tanzanian currency, the Tanzania Shilling (TZS) is recommended as back-up when paying for items were credit card facilities are unavailable. Visitors can also review further details on overall Tanzania safari prices here.
Regulations
Visitors must respect the rules of the park including the flora and fauna. Details will be provided at the park entrance gate.
Accommodation at Arusha National Park
Arusha NP offers a variety of accommodation options including lodges.
Lodges
Lodges at Arusha NP for visitors to choose from include:
Arusha safari lodge Moivaro
Twiga Lodge
Ngare Sero Mountain Lodge
Cottages
Hillside Retreat is located in the heart of the park and offers two lodges, with a private kitchen and a restaurant serving breakfast.
Camping
Camping options are available and can be booked with your safari tour operator or TANAPA, the administration that governs Tanzania's national parks, at each park entrance gate.
Bars/restaurants/amenities
Lodges will typically have all meals and drinks included in the lodge package.
Useful information
Geography: Located in northern Tanzania, visitors typically fly into the nearby Kilimanjaro International Airport (JRO), 29 miles/45 minutes drive from Arusha. Visitors often combine trips to Arusha with the Serengenti.
Weather: Day-time high temperatures range from 17C/62F to 24C/75F with the last of the rain falling in May.
Best time to visit: Wildlife viewing in Arusha National Park is good throughout the year but is at its best in the Dry season, from late June to October.

The beautiful scenery is most impressive in the Wet season, from November to May.

Health: Visitors should seek medical advice from their doctor and consider antimalarial medication.
FAQs
Where is Arusha National Park located?
Located in northern Tanzania, visitors typically fly into the nearby Kilimanjaro International Airport (JRO), 29 miles from Arusha. 
How much is the entrance fee to Arusha National Park?
USD $59 per adult and USD $17.70 per child.
What animals will visitors see?
Visitors can expect to find elephants, buffaloes, dik diks, hippos, zebras, flamingos and baboons.