Amboseli National Park in southern Kenya is a park known for its large elephant herds carrying massive tusks and views of immense Mount Kilimanjaro, across the border in Tanzania.
Observation Hill offers panoramas of the peak and the park's plains and swamps. Varied wildlife includes giraffes, zebras, cheetahs and hundreds of bird species.
The park is famous for being the best place in the world to get close to free-ranging elephants and for its location at the base of Mount Kilimanjaro, just an hour's flight from Nairobi.
Aside from elephants, many plains animals are easy to spot. Fantastic photo opportunities are possible, and early mornings are best for clear views of Kilimanjaro.
Why visit Amboseli National Park?
Safari in Amboseli NP
There are plenty of great things to do in Kenya and Amboseli is known as a photographer's paradise with postcard perfect photo opportunities of elephants seemingly posing in front of the snow-capped Mount Kilimanjaro.
Kilimanjaro, the largest mountain in Africa and the highest free-standing mountain in the world, towers over the park like a stately and photogenic sentinel. And when the clouds burn off at dusk or dawn, visitors will be treated to visions of its snowy peak. .
The sky and horizon are vast here encompassing Amboseli's 5 wildlife environments which ensure great numbers and diversity: wetlands, savannah, woodlands, thorn-bush and the dry lakebed of Lake Amboseli.
And you'll find the Maasai community in their villages spread around the park. You can visit with them and experience a truly authentic and ancient African culture.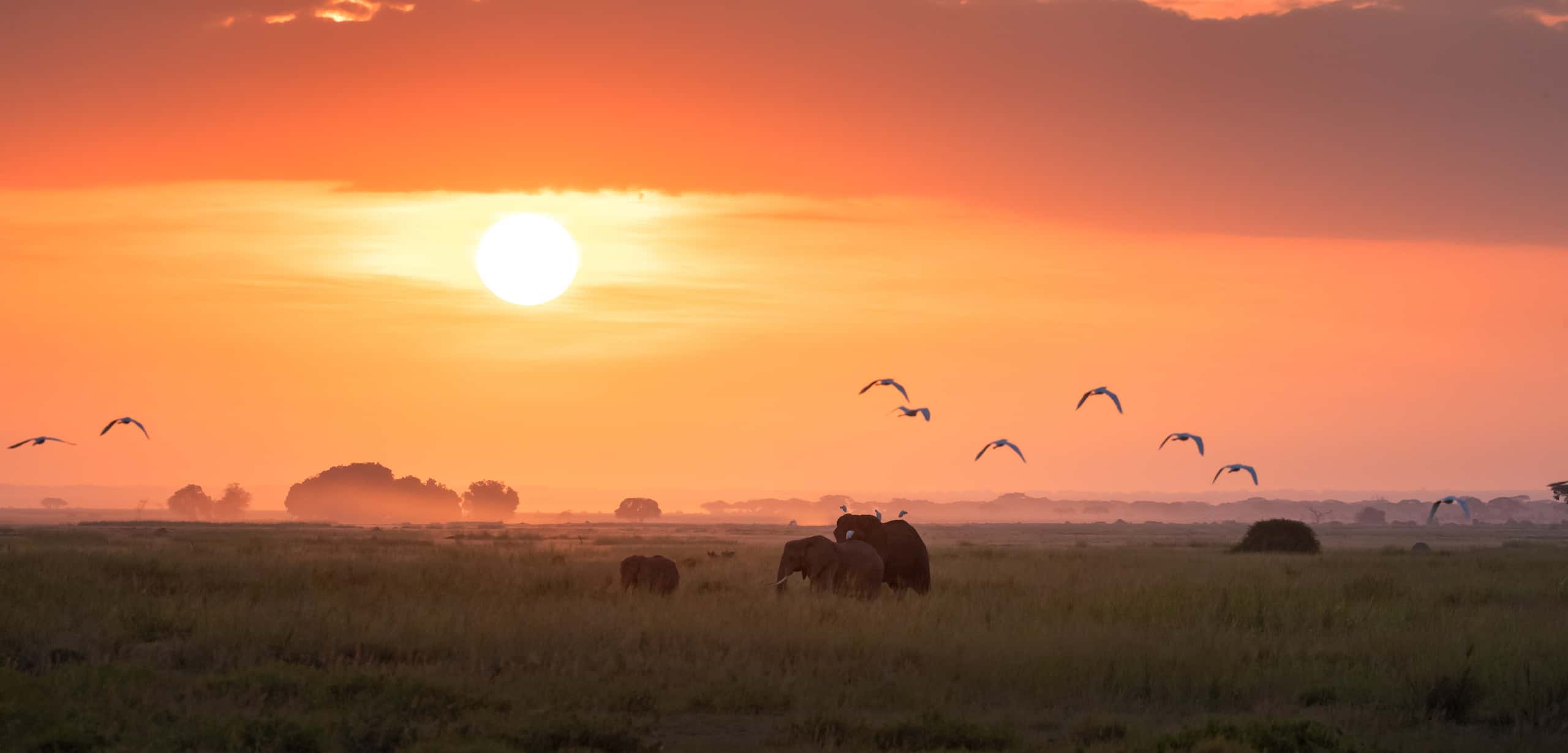 Animals
At only 392km² Amboseli is a small park and the range of animals is not as extensive as other however it would be foolish to think elephants are the only wildlife attraction in the park.
On your game drives on Amboseli's great horizons you can spot wildebeest, zebra, buffalo, gazelle and cheetahs.
Smaller mammals like hyena, foxes, jackals, vervet monkey and the yellow baboon can also be found.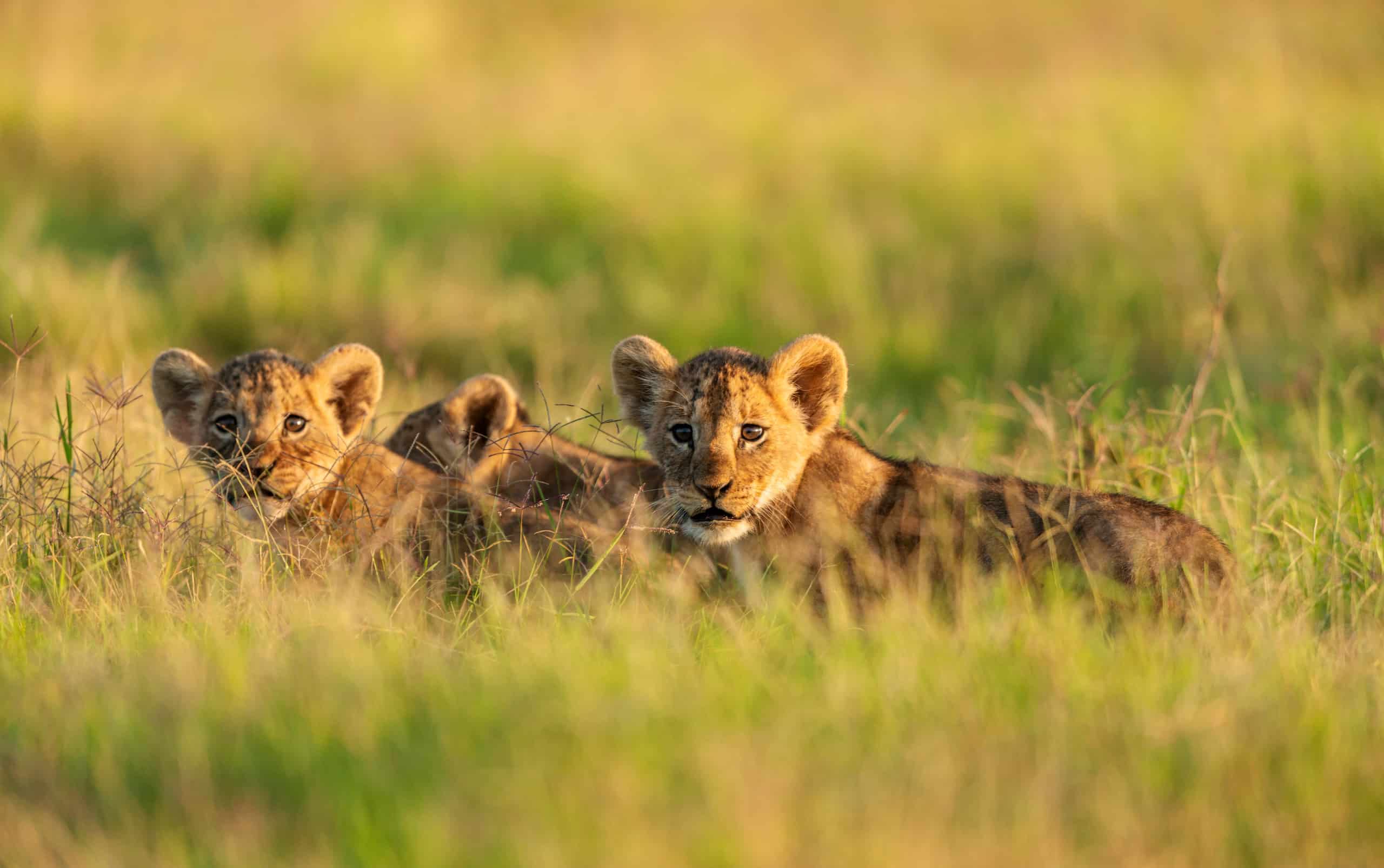 Birds
The bird life is equally rich especially in the park's marshes and lakes. Be ready for sightings of pelicans, kingfishers, crakes, egrets and the Madagascar heron. And raptors – 47 types have been spotted including falcon and the harrier eagle.
Trees
An area dominated by open savannah woodland, the long list of the scrubs at the park made the park declared a UNESCO heritage site to protect the different tree species including the Sausage tree, Argemone Mexicana weed, Elionurus weed.
Other activities at Amboseli National Park
Here are some other activities at Amboseli National Park which visitors can consider during their African safari:
Walking safaris: Explore wildlife and private concessions on foot, an authentic and economical means of exploring wildlife in Amboseli.
Hot air balloon safari: See things from a different perspective with a hot air balloon ride soaring across the landscape and wildlife from high above, a truly great way to spend a morning!
Horseback safari: Like the explorers of old, this is a truly unique way to experience Amboseli without the hum of the safari vehicle and includes cavalcades near elephants and giraffes in their natural environment, and meeting with native tribes.
4×4 safari: A stunning self-drive Amboseli journey will allow visitors to enjoy the very best wildlife at their own pace.
Photography safaris: Visitors on a photo safari will be in dreamland at Amboseli where small groups can share a luxury photography tour with like-minded individuals and capture their favourite moments.
Sightseeing tours: This is best to meet Maasai tribespeople and visit a Maasai village. The park also has views of Mount Kilimanjaro, the highest free-standing mountain in the world.
Visitors often enjoy combining their Kenyan safari adventure with some quiet downtime on Kenya's best beaches, a perfect end to an African adventure.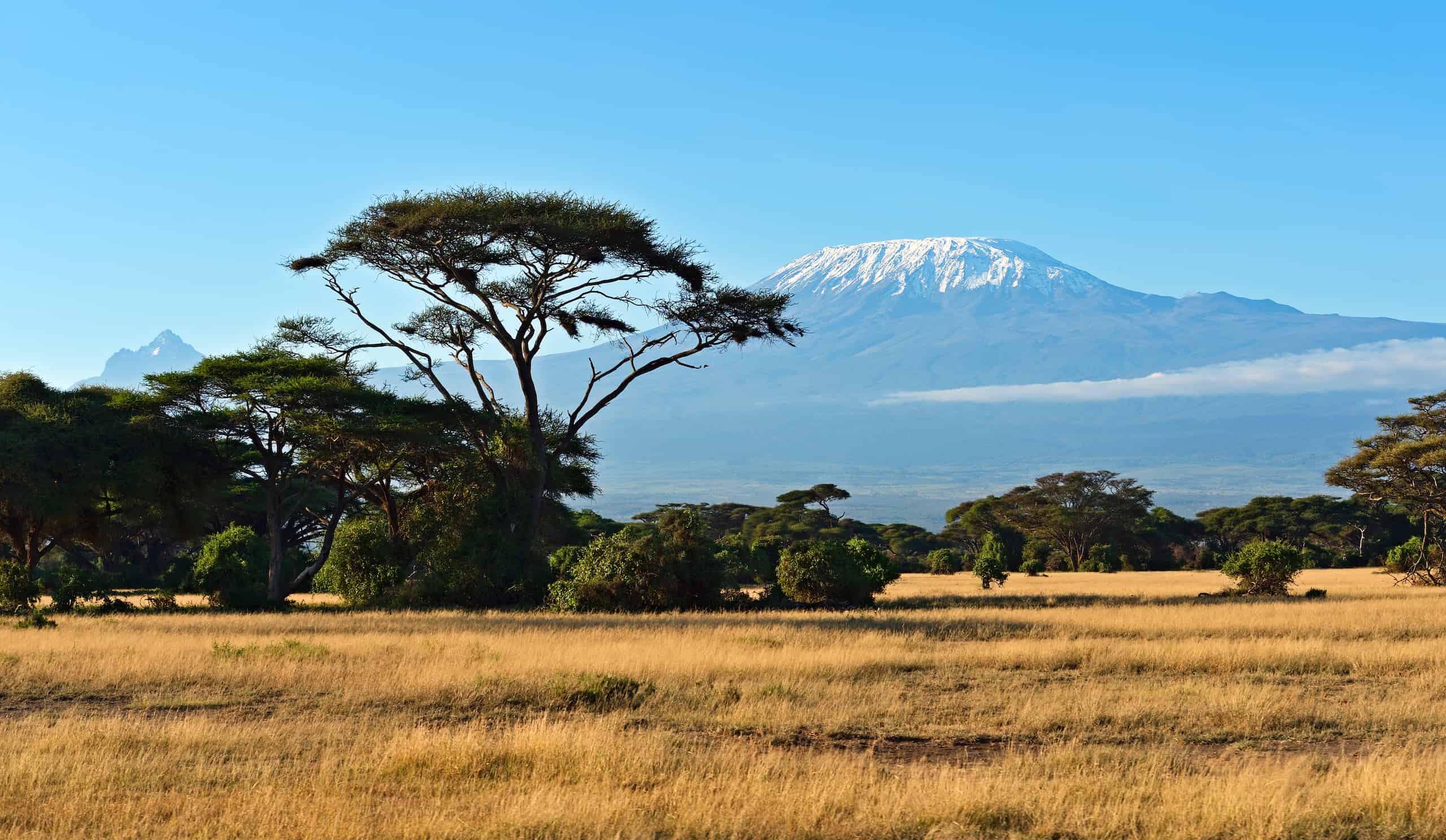 How to get to Amboseli?
By Plane
There are daily scheduled flights from Nairobi to Amboseli's airstrip as well as flights from Tsavo West and Masai Mara for visitors wondering how to get to Kenya.
Nairobi is a popular entry point into. NBO airport is located 15km southeast of Nairobi. The country's second international airport is MBA airport some 9km west of Mombasa. A Kenya visa will most likely be required to enter the country.
By Road
Amboseli is located 365km/226mi southeast of Nairobi. Self-drive from Nairobi to the reserve is a good option. You can also drive from other parks if you're doing a road trip around the country.
The distance from Tsavo East or Tsavo West is about 460km/285mi and the driving time is about eight hours.
Tariffs & Regulations
Entrance fee
Many factors impact Kenya safari prices including the cost of the park entrance fee.
Prices per person per day:
USD $60 per adult non resident per day (24 hrs)
The gates into the Amboseli National Park open at 6am and close at 6pm.
Regulations
If you keep to park rules, you can stay with the animals as long as they are not disturbed by your presence.
Accommodation at Amboseli
Accommodation in Amboseli ranges from tented safari camps to luxury game lodges. Carrying a small amount of Kenyan currency, the Kenya Shilling (KES) is recommended to pay for groceries and smaller items where credit cards aren't accepted.
Staying at Amboseli National Park is possible but the cost of accommodation can vary in price significantly. Rates mainly depend on the season and type of accommodation.
Typical accommodation rates range from $200 to $1,000 per person a night.
Luxury lodges
Lodges are exclusive and luxurious with views amongst the most spectacular in the world along with world-class service, incredible food, all luxury amenities, simply ideal for the perfect honeymoon location.
Some of the luxury accommodations include: Porini Amboseli Camp, Satao Elerai Camp and Tortilis Camp.
Tented camps
These sophisticated structures are large luxury tents on raised wooden floors with excellent guest services and meals provided, often found overlooking incredible views.
For the budget-conscious vacationer in Africa, we recommend an affordable accommodation that provides you with modest rooming and proximity to the most visited areas of Amboseli Park.
Ol Tukai Lodge and Amboseli Sopa Lodge are value lodges that provide clean, comfortable guest rooms, palatable meals and fixed schedules of game activities.
Campsites
There are a number of affordable camping sites offering cheaper camping options for travellers on a budget including Amboseli Cultural Camping.
Campervan
Guests on a self-drive safari with a campervan can make significant savings by sleeping in their vehicle.
Bars/restaurants/amenities
Lodges will typically have all meals and drinks included in the lodge package.
Useful information
Geography
Located in the south of Kenya bordering Tanzania, a Kenya safari in Amboseli National Park is often combined with a safari to Masai Mara. 
Close by lies Chyulu Hills National Park, a small conservation area based around dramatic, ancient volcanic hills that offer great views of Mount Kilimanjaro. Other parks popular with visitors include the unique Saiwa Swamp NP and mesmerising Mwaluganje Elephant Sanctuary.
Weather
Conditions in Amboseli NP are hot and dry. Rain typically falls as short, heavy showers. During the day expect average temperatures of around 28°C/82°F.
Best time to go
Understanding the best time to visit Kenya is important as this will impact accommodation, flight prices, availability and the weather that visitors can expect on their safari vacation.
The dry season from June to October is generally considered the best time to see wildlife in Amboseli; with little rain falling wildlife retreats to the park's swamps where underground water from Kilimanjaro wells up permanently year-round.
Health
Being located near the coast makes it one of the risky malaria places. The park also is covered by the lake called Lake Amboseli where the park got its name. Visitors can find further information on Kenya vaccine details here.
FAQs
Where is Amboseli National Park located?
Nairobi is a popular entry point to Amboseli National Park via Jomo Kenyatta International Airport (NBO), located 15km/9mi southeast of Nairobi. 
How much is the entrance fee to Amboseli?
What animals will visitors see?
Visitors to Amboseli will see the Big 5 as well as  vast herds of elephants, wildebeest, zebra, buffalo, gazelle, cheetahs as well as hyena, foxes, jackals, vervet monkey and the yellow baboon.