The Masai Mara National Reserve is a vast scenic expanse of gently rolling African savannah plains measuring 1,510 sq. km in the south-western area of Kenya bordering the Serengeti National Park in neighbouring Tanzania.
Masai Mara is a unique wildlife conservation haven, famous for its spectacular natural diversity of its abundant wildlife and Kenya's premier safari location in East Africa.
Large numbers of lions, cheetahs, elephants, rhinos, African buffalo, wildebeest, Giraffe, Zebra and many more animals are found in the park in their natural habitat, unconfined and free to roam the vast wilderness stretching for miles on end.
Why visit Masai Mara?
Safari in Masai Mara
There are plenty of great things to do in Kenya and Masai Mara or The Mara as it's also known features a stunning kaleidoscope of wild and rugged landscapes, warm and welcoming people and an exciting array of creatures – big and small.
World famous for hosting the epic Great Migration, the Masai Mara welcomes 1.5 million wildebeests onto its sprawling savannahs each July through October.
The park is unique as it is managed by the local community, not by the central government of Kenya, meaning the locals directly participate in the wildlife conservation of the area.
After a long day touring the incredible wildlife on offer, guests can look forward to the very best safari accommodation Kenya has to offer. The accommodation here is excellent with numerous options from tented camps, luxury lodges to camping grounds.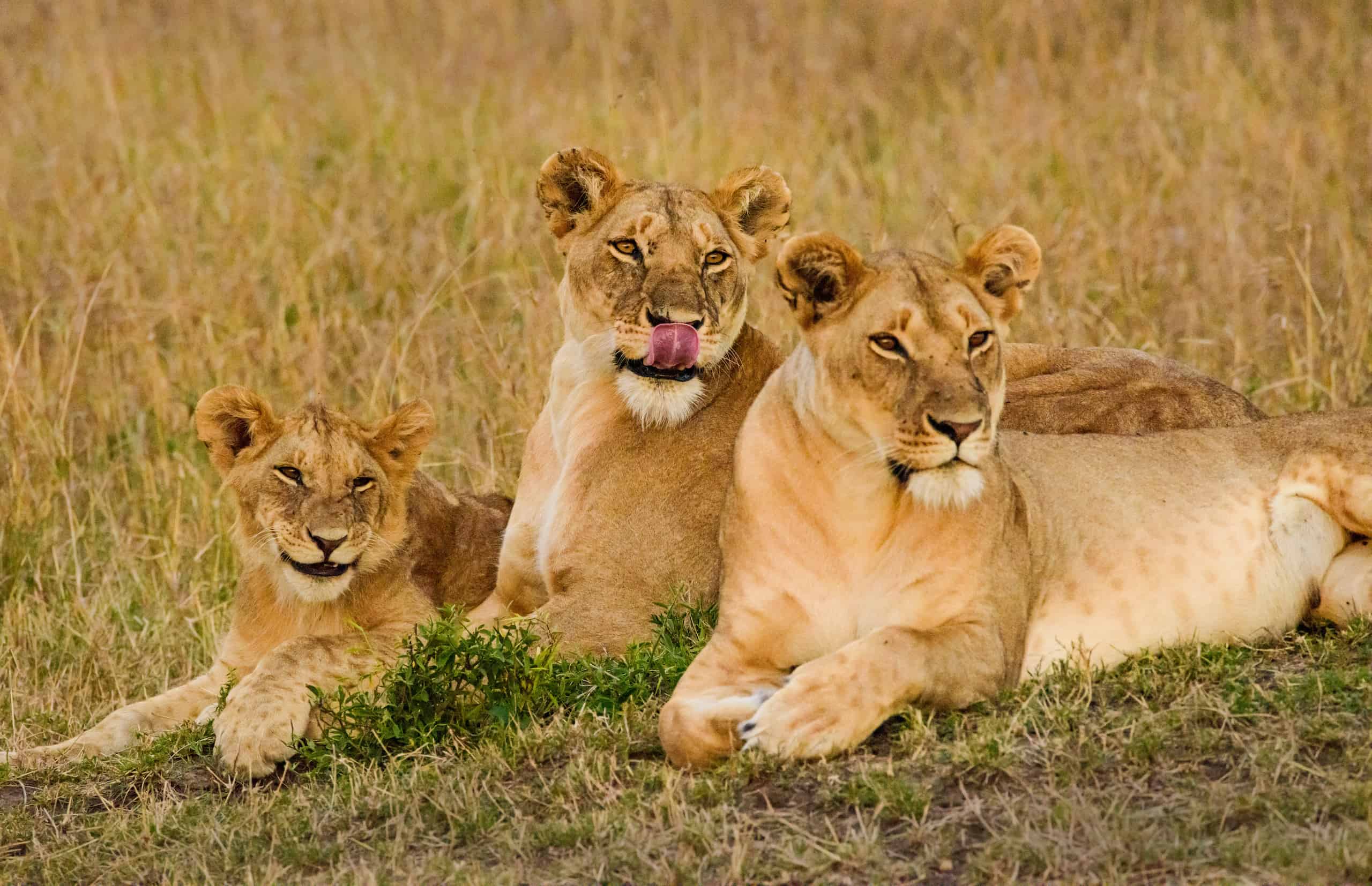 Animals
The reserve is a photographer's and naturalist's paradise, with abundant elephant, buffalo, giraffe, lion and cheetah alongside the migratory wildebeest and zebra.
The park has over 450 animal species. Visitors can also have a clear view of animals catching them in action when on a hot-air balloon safari early in the morning.
Leopards are frequently encountered, endangered black rhino hide in the dense thickets and large rafts of hippo and enormous crocodiles are found in the Mara River crossings.
The reserve is home to the Big Five (lion, leopard, rhino, elephant and African buffalo) and has the highest concentration of Big Cats not just in East Africa but worldwide making the location a perfect research centre for hyenas and Big Cats.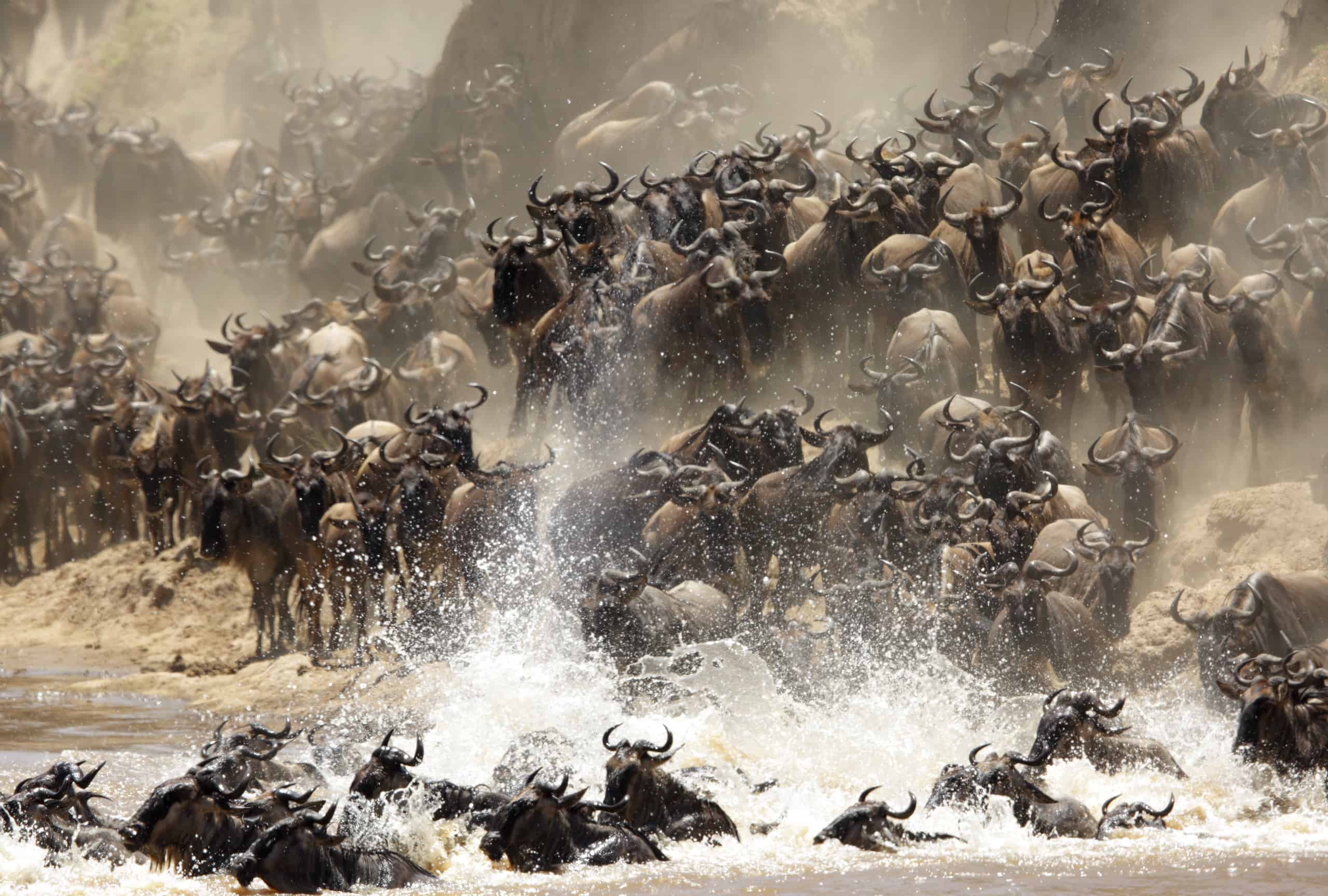 Birds
Masai Mara is also home to over 450 bird species who enjoy the parks' favourable climate and ecosystem with both seasonal and permanent resident birds found throughout including the Ross Turaco, Fishing Owl, Secretary bird and others.
Trees
The Maasai Mara trees are widely spaced at the reserve and are dotted across the wide grassland area. Most of the thorn trees found at the park are food for the great herbivores at the reserve.
Masai Mara also features very unexpectedly green lush riverine forests. Large rivers, such as the Mara River, overflow their riverbanks during the rainy season. During the dry season, these areas remain a source of water for all the creatures in the Mara.
The presence of water enables the growth of broad-leaved evergreen trees. The forest floor is carpeted with shade-loving plants and even the trees are hosts to a multitude of orchids and creeping vines.
Other activities at Masai Mara
Here are some other activities which visitors can consider during their Kenyan safari in the Mara:
Photography safaris: Visitors on a photo safari will be in dreamland at Maasai Mara where small groups can share a luxury photography tour with like-minded individuals and capture their favourite moments of the Great Migration.
Meet the Maasai tribe: Discover the homes and traditions of the Maasai people and attend traditional dance performances and meet the elders.
Walking safaris: Explore wildlife and private concessions on foot, an authentic and economical means of exploring wildlife in the Masai
Horseback Masai safari: Like the explorers of old, this is a truly unique way to experience the Mara without the hum of the safari vehicle.
Sundowners and Bush breakfast/dinner: Honeymooners in the Maasai Mara shouldn't miss out on this incredible mobile dining experience in the middle of the savanna with meals, drinks and wines watching the beautiful sunset.
Masai Mara luxury safari tours: Maasai Mara also offers some of the very best luxury lodges in the world with incredible décor, modern decorated suites, excellent views, superb service and food, these intimate safari experiences have it all.
4×4 safari: A stunning self-drive Maasai journey will allow visitors to enjoy the very best wildlife at their own pace.
Hot air balloon tour: A scenic hot air balloon flight over the landscape offers a unique perspective on the incredible wildlife.
Visitors often enjoy combining their safari adventure with some quiet downtime on Kenya's best beaches, a perfect end to their African adventure.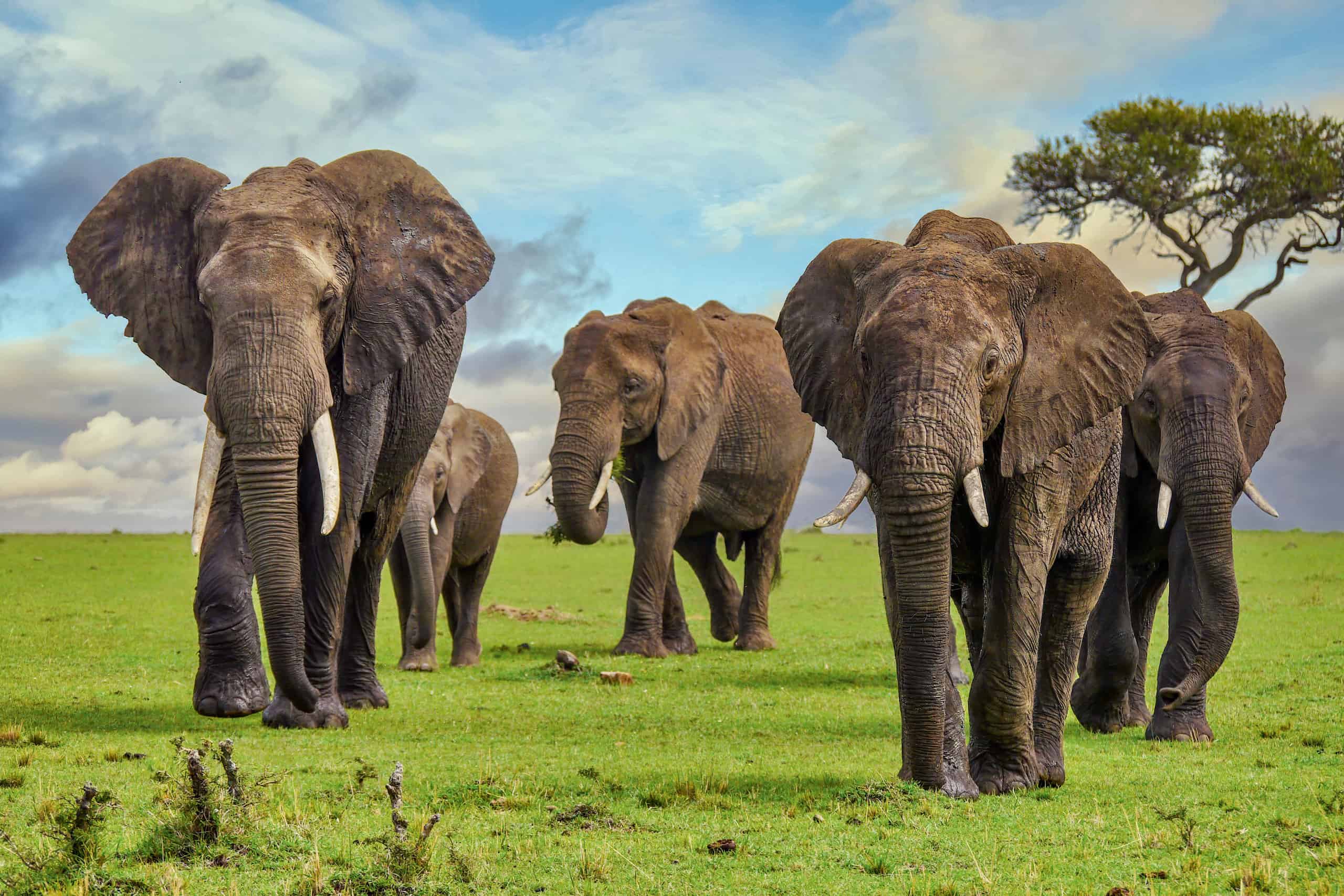 How to get to Masai Mara?
By Plane
Access to Masai Mara is typically made via flying from Nairobi Wilson Airport (WIL). From here it is a short (between 45 and 60 minutes) flight to the Mara. Travellers can also fly from Jomo Kenyatta International Airport (NBO) in Nairobi for visitors wondering how to get to Kenya.
NBO airport is located 15km/9mi southeast of Nairobi and a Kenya visa will most likely be required to enter the country.
There are also many airstrips surrounding the reserve for those on a Masai Mara fly in safari, but where you fly into will depend on where you are staying during your safari. Visitors often combine trips to Masai Mara with the Serengeti.
By Road
If you're planning on driving to Masai Mara from Nairobi, it should take you about five to six hours to get there. You should expect to cover a distance of 260 Km by road.
Tariffs & Regulations
Entrance fee
Many factors impact Kenya safari prices including the cost of the park entrance fee. Prices per person per day:
USD $80 per adult per day (24 hrs).
Visitors staying at a safari camp or lodge within national reserve boundaries pay US$ 70 per person (per 24 hours).
The gates into the Ngorongoro Conservation Area open at 6:00 a.m. and close at 6:00 p.m.
Check out our feature on on Masai Mara safari costs.
Regulations
If you keep to park rules, you can stay with the animals as long as they are not disturbed by your presence.
No more than five vehicles are allowed around one wildlife sighting; when more than five the viewing time is reduced to 10 minutes. Take it in turn to view the sighting, waiting at a distance of 100 metres.
Accommodation at Masai Mara
Staying inside the Masai Mara is possible, but the cost of accommodation can vary in price significantly. Rates mainly depend on the season and type of accommodation with over 100 camps, luxury tents and lodges just in Masai Mara.
Typical accommodation rates range from $200 to $1,000 per person a night. Carrying a small amount of Kenyan currency, the Kenya Shilling (KES) is recommended to pay for groceries and smaller items where credit cards aren't accepted.
Luxury lodges
Lodges are exclusive and luxurious with views amongst the most spectacular in the world along with world-class service, incredible food, all luxury amenities, simply ideal for the perfect honeymoon location.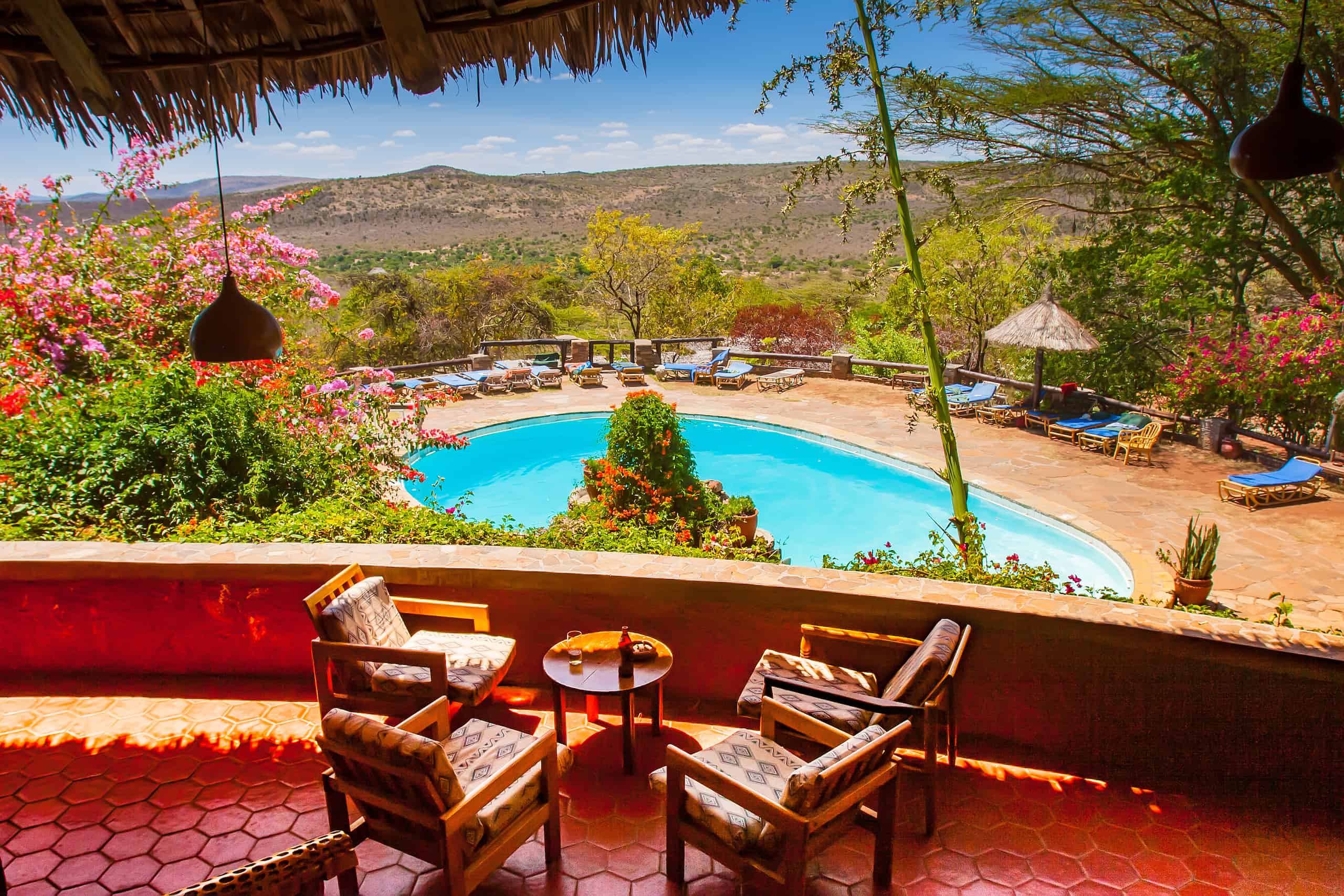 Tented camps
These sophisticated structures are large luxury tents on raised wooden floors with excellent guest services and meals provided, often found overlooking incredible views.
Camps
There are a number of affordable camping sites offering cheaper camping options for travellers on a budget.
Campervan
Guests on a self-drive safari with a campervan can make significant savings by sleeping in their vehicle.
Bars/restaurants/amenities
Lodges will typically have all meals and drinks included in the lodge package.
Useful information
Geography
Located in the southwest of Kenya, a trip to Masai Mara is often combined with a trip to the Serengeti National Park.
Weather
The average daytime temperature is around 77F (25C) from June to August while the nighttime lows are around 50F (10C).
The average daytime temperatures range from 79F (26C) to 82F (28C) in September through May, and the temperatures drop at night to lows of 55F (13C).
Best time to go
Understanding the best time to visit Kenya is important as this will impact accommodation, flight prices, availability and the weather that visitors can expect on their safari vacation. Wildlife game viewing inside the Masai Mara is superb at all times.
The best time to visit the Masai Mara is from late June to early October – you'll catch the wildebeest migration in full flow. Midsummer can get busy though, so come at the beginning or end of that period with its full on wildlife without crazy crowds, with trips often combined with the Serengeti and wider Ngorongoro area.
Health
Due to the high elevation of Masai Mara, Malaria is very rare since mosquitoes do not live at those elevations.
However, although Malaria is sparse in this region, it does exist. It is strongly advised that you speak with your physician about taking Malaria prophylaxis before traveling. Visitors can find further information on Kenya vaccine details here.
FAQs
Where is Masai Mara located?
Access to Masai Mara is typically made via flying from Nairobi Wilson Airport (WIL). From here it is a short (between 45 and 60 minutes) flight to the Mara. Visitors can also fly from Jomo Kenyatta International Airport (NBO) in Nairobi. 
How much is the entrance fee to Masai Mara?
USD $80 per adult for 24 hours & USD $70 per visitor staying at a safari camp or lodge within national reserve boundaries. 
What time does the entrance gate open and close at?
The gates into Masai Mara open at 6:00 a.m. and close at 6:00 p.m. 
What animals will visitors see?
Visitors to Masai Mara will see the Big 5 as well as wildebeest, black spotted hyenas, zebras, elephants, a large population of big cats and much more.