When planning a trip to east Africa, choosing the best time to visit Kenya and its surroundings is important. Guests should be aware of the differences in climate, availability, activities and pricing when choosing between the various months and seasons.
Best time to go to Kenya: Regions and months
Kenya is a beautiful country to visit, regardless of the season and popular with visitors from the U.S, U.K, Canada, Europe and India. Most visitors arrive into Nairobi airport (NBO) for those wondering how to get to Kenya. Tourists will typically have to obtain a Kenya visa including citizens of the U.S, U.K, EU, India and Canada and visitors should also be aware of the latest Kenya vaccine requirements.
Kenya's climate can be divided into three main regions:
Hot and humid along the coast
Temperate in the west and south-west, where there are mountains and plateaus
Hot and dry in the north and east
The dry seasons in Kenya are generally from June to October, and from December to March. Game viewing is easier to spot during the dry time of year and only a limited number of camps and lodges are open in the wettest months of November, April and May.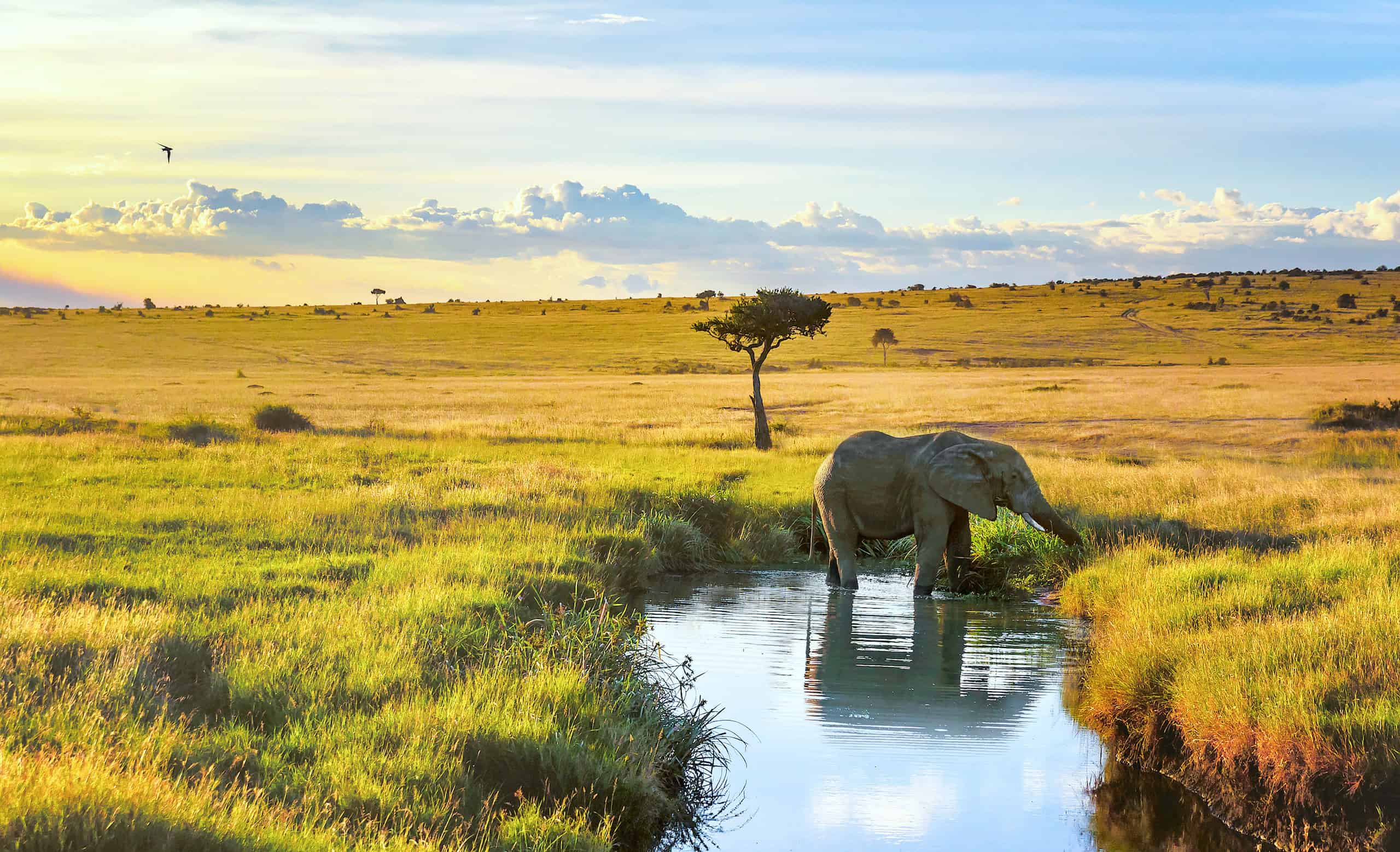 Kenya wildlife viewing
Kenya's wildlife parks can be visited throughout the year, however the best wildlife viewing is observed during the dry seasons from January to March and July to October. The second dry season coincides with the phenomenal spectacle of the Great Wildebeest Migration.
During the migration, millions of wildebeest, zebra and antelope storm their way through Kenya's Masai Mara and Tanzania's Serengeti, resulting in one of the most impressive wildlife spectacles in the world.
Therefore those looking to combine a safari to both Kenya and Tanzania will certainly want to visit during this time and take in the fabulous views from Mount Kenya and the best Kenya beaches on the eastern coastline.
Lake Nakuru is also best visited in the dry seasons as the rains can interfere with game drives during the wettest months. Likewise, visitors to Amboseli are recommended to time their safari with Kenya's drier months.
Views of Mount Kilimanjaro from Amboseli are hit and miss, but the best chance visitors have is early morning or late afternoon in the months of November to May, when the sky is clear of dust.
Weather and climate in Kenya
Seasons in Kenya
There are two dominant influences on the climate in Kenya: the onshore monsoon winds from the Indian Ocean, and altitude.
The winds determine the onset of Kenya's two rainy seasons, with the hot northeast monsoon or kaskazi blowing dry air in from the Persian Gulf from November to March/April and the warm, moist kusi monsoon blowing in from the southeast from April/May to October.
It's the slightly cooler kusi that normally delivers the heaviest rain, a season known as the 'long rains', in late-April, May and early June.
The relatively cool season from late June to October gets much less rain. There's a second rainy season, the 'short rains', for a few weeks in November and December, followed roughly from mid-December to March by a dry season of hot, usually rainless, weather.
Although prolonged rainfall isn't that uncommon, the typical pattern is for rain to fall as a torrential downpour, lasting perhaps half an hour to an hour, with the sun then coming out and drying the wet ground in minutes.
Camps and lodges always provide umbrellas, though your footwear will get muddy however visitors are still likely to get wet.
Temperatures in Kenya
Kenya lies on the equator and has a pleasant, tropical climate, but there are large regional climatic variations influenced by several factors, including altitude. Kenya's daytime temperatures average between 20°C/68°F and 28°C/82°F, but it is warmer on the coast.
Kenya is too close to the equator to experience a real winter and summer. There is, however, both a Dry and Wet season.
Dry season
Dry season daytime temperatures from June to October are usually around 23°C/73°F at higher altitudes, such as the Masai Mara, and 28°C/82°F at lower altitudes, such as the coastal areas. The sky is clear and days are sunny.
Wet season
Wet season daytime temperatures are between 24°C/75°F and 27°C/81°F at higher altitudes. Mornings stay cool at higher altitudes, and it is advisable to pack warm clothes for early morning game drives.
When to go to Kenya: Activities
Many factors will impact your overall Kenya safari price including the type and number of activities selected. Most Kenya safari destinations are at their best between January and the end of March; the climate is mild, mostly dry and game viewing is at its peak.
Water activities
For adventure lovers; scuba diving, deep sea fishing, wind surfing, kite surfing, snorkeling safaris, jet skiing are some great ways to unwind in the sun.
On Kenya's coast, water clarity is at its best between January and February. A busy time for tourism, especially the start of January. The start of the long rainy season is generally a bad time to go on safari. For a complete view on the best things to do in Kenya, check out our dedicated article on this.
Birds
Most people go on safari in Kenya to photograph big game animals. In the wet season from November to May however, there are numerous opportunities to photograph many spectacular birds.
The most obvious are birds of the open savanna such as Common Ostrich, bustards, and Secretary Bird and the astounding concentrations of flamingos on soda lakes, especially Lake Nakuru.
Less obvious are the lucky chances to photograph Bateleur, African Fish-Eagle, and the many other raptors of the open country. The gaudy displays of whydahs and widowbirds during mating season offer spectacular photo opportunities.
Many bird species such as fiscals and weavers of open country are readily photographed. With patience it's also possible to photograph migratory birds and birds of the Kakamega Forest and other forested habitats.
FAQs
What is the best time to visit Kenya?
June to October is the best time to visit Kenya during the dry season for a safari.
What type of climate does Kenya have?
Kenya lies on the equator and has a pleasant, tropical climate, but there are large regional climatic variations influenced by several factors, including altitude. Kenya's daytime temperatures average between 20°C/68°F and 28°C/82°F.