Uganda's outstanding features are the largest freshwater lake on the continent, the source of the longest river, the strongest waterfall, the largest number of primates, and the highest number of mountain gorillas worldwide, a stunning bucket list destination with so much to offer.
Below, we've detailed the best things to do in Uganda including free things to do in this beautiful part of southwest Africa.
Uganda regions to visit
Cities and places of interest in Uganda
Uganda has a population of 46 million people, with the capital and largest city Kampala home to over 1.5 million, often the point of departure and arrival for travel to Uganda thanks to its nearby international airport (EBB). Most visitors will require a Uganda visa to gain entry.
The country is bordered to the East by Kenya, to the North by South Sudan, to the west by the Democratic Republic of the Congo, to the south-west by Rwanda, and to the south by Tanzania.
Uganda boasts remarkable natural attractions such as Murchison Falls National Park, Lake Mburo, Lake Bunyonyi, the Kazinga channel and much more.
There are 41 living languages in Uganda. But only three are ever mentioned in debates about the East African nation's official language: Luganda, Swahili and English.
The regions of Uganda are known as Central, Western, Eastern, and Northern. These four regions are in turn divided into districts.
Uganda has 74 cities and towns with populations of over 20,000. The main cities include:
Kampala – capital city in the south of the country
Nansana – town in the Central Region of Uganda. It is located in the Wakiso District
Kira Town – municipality in the Wakiso District of the Central Region, the country's second-largest city by population
Ssabagabo – also known as Makindye-Ssabagabo or Ssabagabo-Makindye, is a municipality in Uganda
Mbarara – a city in the Western Region of Uganda and the second largest city in Uganda after Kampala.
Kampala
Kampala, the city of hills, is said to have been built on seven hills and was started in 1890 when Captain Frederick Lugard, a British administrator, established his camp (Fort), the first administrative center of the British colonial government in Uganda.
Kampala comes from the word Impala, a type of antelope which used to graze on the slopes of Old Kampala Hill. The name "hill of the Impala" was given specifically to the hill on which Captain Frederick Lugard established his fort.
Kampala is known for its many rolling hills including Kampala Hill, Nakasero Hill, Tank Hill and Mulago Hill. Hilltops in Kampala were status symbols designed exclusively for the palaces of kings and shrines to gods that protected the ancient Buganda kingdom.
Uganda safari: The main event
Uganda: A global safari destination
A blockbuster combination of sublime landscapes that will make you feel like you're on another planet and with some of the best wildlife viewing on the continent, a host of fascinating desert-adapted animals and jaw-dropping natural wonders make Uganda a country you'll never forget.
Uganda continues to be a safe, friendly and diverse country to visit and home to iconic and richly rewarding safari destinations. The best time to visit Uganda is during its two dry seasons: between December and February, and between June and August
Uganda boasts the incredible Bwindi Impenetrable forest National Park, renowned as the best place in Uganda to track mountain gorillas. The park protects around 40% of the world's mountain gorilla population and has several habituated groups.
The forest is also a bird-watcher's paradise with 350 species recorded, including many Albertine Rift endemics.
Our comprehensive Uganda Safari Guide is a helpful resource in helping visitors to plan their trip.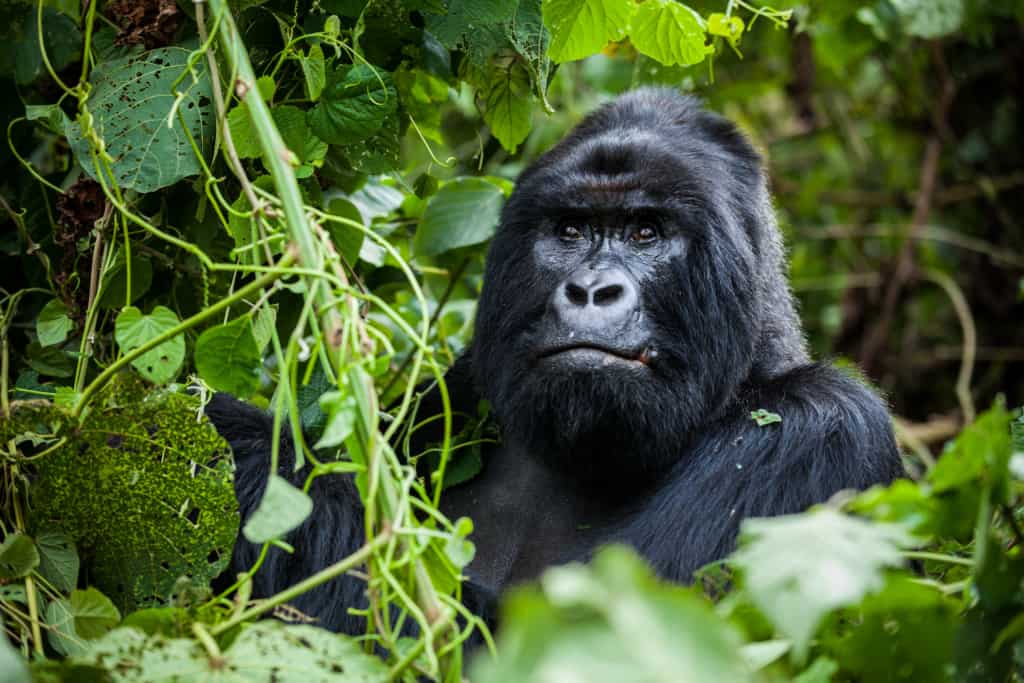 The 3 Best Parks and Reserves to Visit in Uganda
All the parks and reserves in Uganda have their own unique draw and offer something different and unique. However, a safari visitor should take in the following must-see parks on their Uganda safari trip:
Bwindi Impenetrable National Park
It was listed as a UNESCO world heritage site because of its ecological importance and a 10 square kilometer area was incorporated into the park. Bwindi forest became popular to the world because of Gorilla trekking
Murchison Falls National Park
Excellent wildlife viewing with four of the big five seen here. Huge herds of elephant and buffalo are common, as are lions. The Victoria Nile bisects the park and boat trips to Murchison Falls are spectacular.
Kibale National Park
Formerly Kibale Forest NP, this is the best place for chimpanzee trekking in Uganda. Thirteen species of primates have been recorded, the highest number of any Ugandan park.
Queen Elizabeth National Park
Uganda's most popular savannah reserve and has the widest variety of wildlife of any Ugandan park across grassland savannah, forests, wetlands and lakes. Four of the Big Five are present and chimp tracking is available.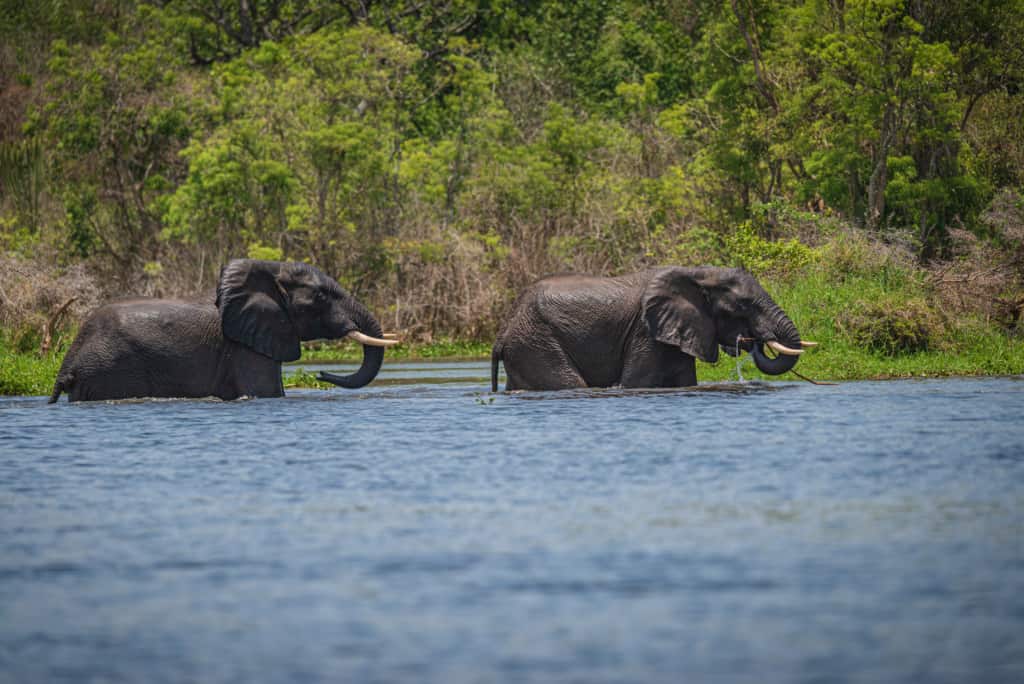 Other places of interest in Uganda
Other places worth a visit on your trip to Uganda include:
Mgahinga Gorilla National Park
The park protects the Ugandan slopes of the majestic Virungas, a range of freestanding volcanoes. Mountain gorilla trekking is popular as well as hiking to the summit of three of the park's volcanic peaks.
Budongo Forest
The forest contains two ecotourism sites: Kaniyo Pabidi and Busingiro offering excellent chimpanzee trekking and the Royal Mile, one of the top bird-watching tracks in Uganda.
Katonga Wildlife Reserve
A low-key wildlife reserve about five hours drive west of the city of Kampala. Several antelope species are easily seen, including the Uganda kob and the marsh-dwelling sitatunga antelope.
Kidepo Valley National Park
In the remote northeast corner of the country, the park has a true wilderness feel and is a great destination for the adventurous traveler.
Lake Mburo National Park
This scenic little park, close to Kampala, is home to several wildlife species including Burchell's zebra, impala, Rothschild's giraffe, buffalo and defassa waterbuck.
Toro-Semliki Wildlife Reserve
Mainly of interest to bird-watchers, the reserve has attractions including hot springs, a Pygmy village and wildlife such as Buffalo, elephants, leopards and chimpanzees.
Ziwa Rhino Sanctuary
A private, non-profit, animal sanctuary established in 2005 to reintroduce Southern White Rhinos in the wild, the only place in Uganda where one can observe these endangered creatures in the wild.
Other activities in Uganda
Uganda also has many other activities that visitors can add on during their safari vacation. For remote destinations, it's useful to check up on any Uganda vaccine requirements.
Luxury safari lodges
With excellent wildlife viewing and lodges with incredible design and décor, Uganda is home to some of the African continent's most supreme luxury lodges with beautiful, modern suites, well trained staff and excellent food, a great way to relax after game drives.
Walking safaris
Explore the wildlife and wilderness via a guided walking tour, an authentic means of exploring wildlife in Uganda. Carrying a small amount of Ugandan currency, the shilling can be useful when tipping local guides.
Volcano hikes
Straddling the Kenyan border, freestanding Mount Elgon is the centerpiece of the eponymous national park on both sides of the border. At 4,321m, it is the second-highest massif in Uganda, and it boasts the largest base of any extinct volcano in the world.
White water rafting on the Nile
The Nile is considered one of the safest and yet wildest grade 5 whitewater rapids globally, perfect for adrenaline junkies and learners to face the mighty rapids. The trips include huge rapids and beautiful scenery, with time to relax and swim on calmer stretches.
Bwindi Impenetrable National Park
A UNESCO World Heritage Site and the best place in Uganda to track mountain gorillas. The park protects around 40% of the world's mountain gorilla population and has several habituated groups.
Murchison Falls National Park
Excellent wildlife viewing with four of the big five seen here. Huge herds of elephant and buffalo are common, as are tree climbing lions. The Victoria Nile bisects the park and boat trips to Murchison Falls are spectacular.
Boat cruise
The River Nile can be explored with a 2-hour riverboat cruise which usually starts from the newly formed Bujagali Lake, between Owens Falls Dam and the Bujagali Dam. The spot is at the Source of the Nile, in Jinja. You will be able to see beautiful scenery, birdlife, and animals.
You can enjoy lunch cruises or even a breathtaking sunset cruise offered by Nile River Explorers, Noah's Ark, and Nile River Camp. At Murchison Falls National Park, the launch trip upstream from Paraa to Murchison Falls' foot presents a fantastic display of wildlife and birdlife.
Bungee jumping
Challenge your fear of heights by touching the source of the Nile from free-falling from a tall structure 44m into the Nile is not for the faint of heart. It is an unforgettable thrilling activity that will get your adrenaline pumping.
3km upstream from Bujagali Falls, the Nile river and forest canopy views are amazing. You can either use the ankle tie or the full-body harness. Adrift specializes in tandem jumps, water touches, and full-moon jumps at most times, including at night.
Horse-back riding
Horseback riding is an exciting activity to explore the tranquility of nature, wildlife, and birds. This experience can be suitable for all ages, including children and aged persons. You can enjoy this experience either in the East at Jinja or in the West at Lake Mburo National Park
Golf safari
Golf safaris have increasingly been a popular tourist attraction with a great climate to enjoy all year. You will enjoy a unique golfing experience while visiting this fascinating country.
Most of the holes are well-designed, with the burn coming into play quite appropriately, several thought-provoking doglegs, and some well-positioned bunkers. Some courses are located right at Lake Victoria or near the National Park, offering spectacular views.
Quad biking
All-Terrain Vehicle Quad Biking is an exhilarating "all ages, all levels, all adventure" muddy adventure to be experienced by the whole family. Even without experience, you will be trained and can enjoy the scenic sights of the River Nile and Lake Mburo National Park.