Shaba National Reserve is a protected area in Isiolo County in northern Kenya to the east of the Samburu and Buffalo Springs national reserves. Together, the three reserves form a large protected area.
In the eastern corner of the Samburu ecosystem is Shaba National Reserve, the secluded wilderness where famed conservationist Joy Adamson released her first hand-raised leopard into the wild.
The dramatic scenery builds from riverine forests and dry grasslands to the presiding Shaba Hill volcano to the south.
Why visit Shaba National Reserve?
Shaba National Reserve safari
There are plenty of great things to do in Kenya and with only one camp doing wildlife viewing within the Shaba National Reserve, the exclusivity of this semi-desert region is unparalleled. The reserve adjoins Samburu National Reserve and Buffalo Springs, creating a large, protected area rich in wildlife.
The Ewaso Ngiro River runs along a 21-mile stretch along the northern border of the reserve, dotted with unique doum palms, which are not found in the other popular parks of Kenya, but more often on the Nile River.
There are also many springs on the property, which provide drinking water for the many animals residing in Shaba and are superb locations for wildlife photo opportunities.
Morning and afternoon drives by open, 4×4 vehicles reveal unique species and Africa's coveted predators. Guided bush walks can be enjoyed in the reserve with virtually no one around.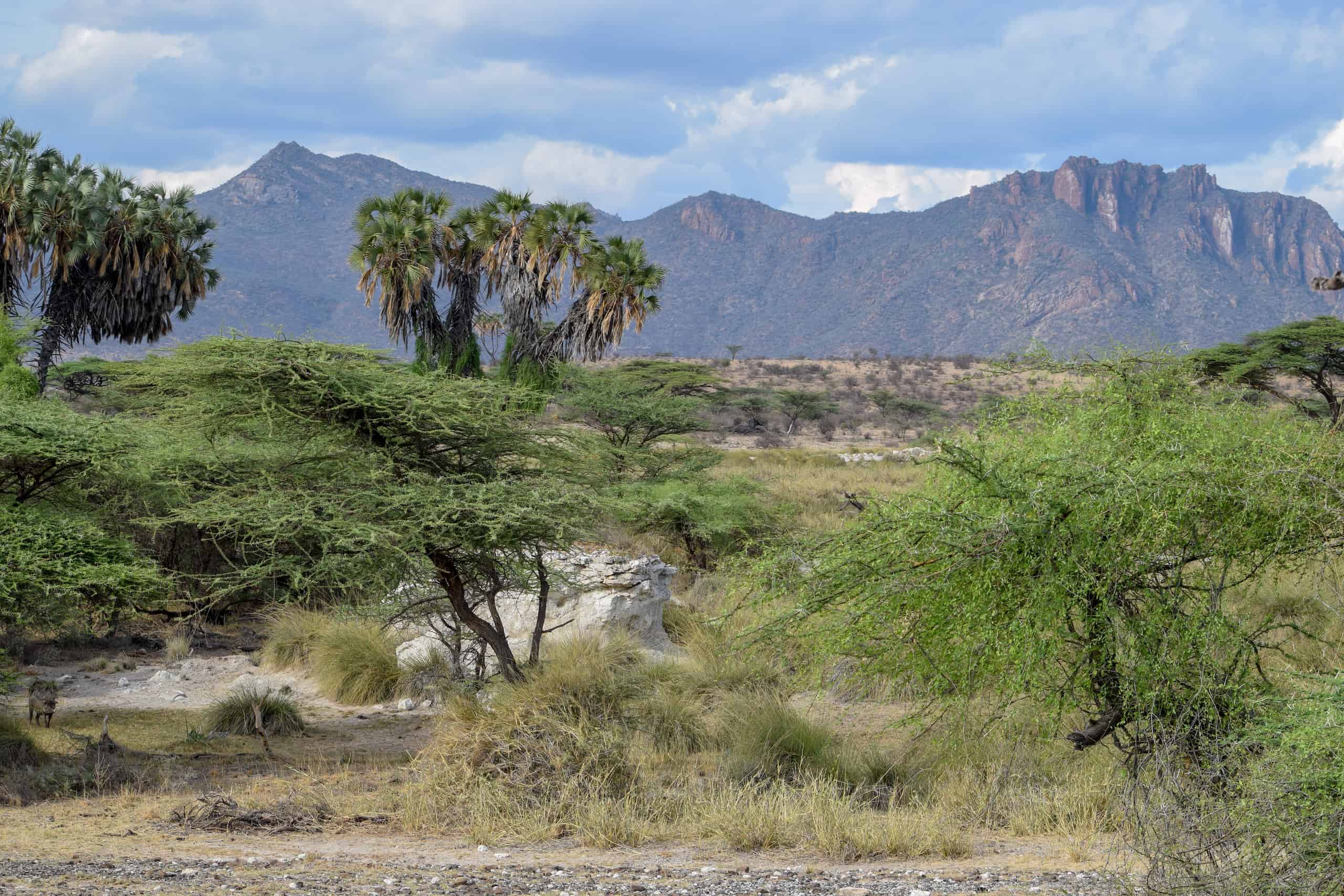 Animals
At home in this rugged, hilly landscape watered by the Ewaso Ng'iro River is a magnificent collection of wildlife, including Grevy's zebra, reticulated giraffe, elephant, buffalo, lesser kudu, oryx, Grant's gazelle, Somali ostrich and abundant lion.
The wildlife of Shaba notably includes the endangered Grevy's zebra, which does not roam the popular areas of southern Kenya. It's easily identified by its thinner stripes, white belly, round ears and light-colored nose.
Other unique species to this region within the Somali-Maasai biome include reticulated giraffe, gerenuk, Somali ostrich and Beisa oryx.
Large prides of lions are resident in Shaba, and there are also leopards and cheetahs. Large antelopes like eland and greater and lesser kudu drink from Shaba's springs, and you may find elephants drinking in the marshes.
Birds
Over 390 bird species have been recorded here including the Black-backed and golden jackals that come out at night to seek small prey.The William's lark is a special bird restricted to only two areas of northern Kenya.
The males stage long, obvious song flights after rains above their territory, making them easy to observe. You might spot globally threatened lesser kestrel migration through the area, or see occasional visitors like the African darter or great egret.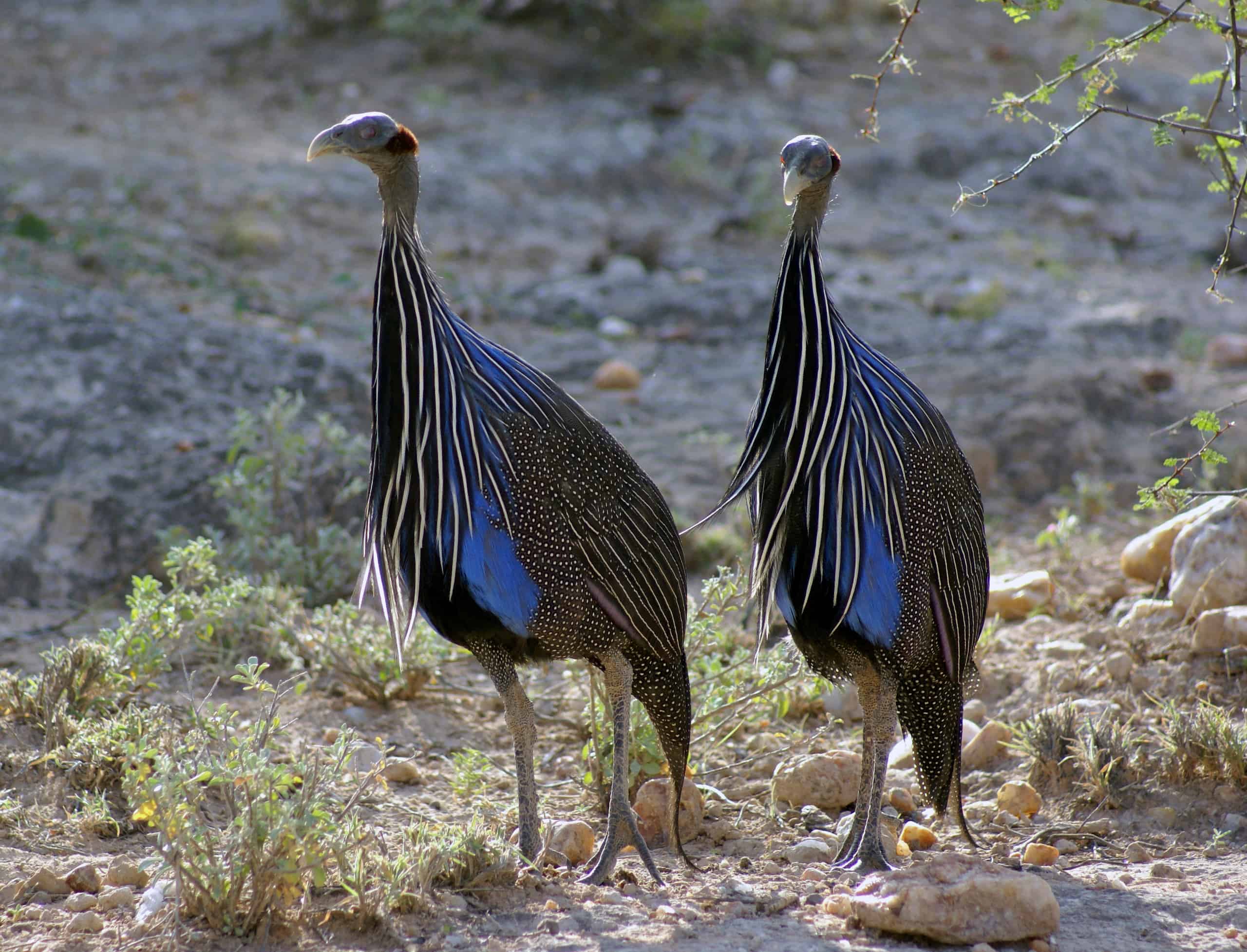 Trees
Although Shaba is greener than Samburu, game species such as Masai giraffes and Grant's zebras are less common. There are many klipspringers and hyrax in the hills and shrubland and lions found in the toothbrush trees.
Other activities at Shaba National Park
Here are some other activities which visitors can consider during their African safari experience in Shaba National Park:
Shaba Safari Walk: Explore the nature wildlife on foot, an authentic and economical means of exploring wildlife in Shaba National Park
Photography safari tours: Visitors on a photo safari can share a photography tour with like-minded individuals and capture their favourite moments.
Sightseeing tours: Delight in a breakfast along the riverine banks of the Ewaso Ngiro River or bird watching kestrels and darters. Guests can also visit a traditional Samburu village or go on camel safaris through the reserve.
Visitors often enjoy combining their safari adventure with some quiet downtime on Kenya's best beaches, a perfect end to their African adventure.
How to get to Shaba National Reserve?
By Plane
There are daily scheduled flights to neighbouring Samburu NR from Nairobi. Jomo Kenyatta International Airport (NBO) is 15km/9mi southeast of Nairobi for visitors wondering how to get to Kenya.
Kenya's second international airport is Moi International Airport (MBA), 9km/6mi west of Mombasa and a Kenya visa will most likely be required to enter the country.
By Road
Shaba is situated 355km/220mi north of Nairobi. If you're in Nairobi or another park, you can drive yourself to the reserve, a long journey of 6.5 hours drivetime.
Tariffs & Regulations
Entrance fee
Many factors impact Kenya safari prices including the cost of the park entrance fee. Prices per person per day:
USD $70 per adult non resident per day
USD $40 per child
Regulations
If you keep to park rules, you can stay with the animals as long as they are not disturbed by your presence.
Accommodation at Shaba National Reserve
Rates mainly depending on the season and type of accommodation. Carrying a small amount of Kenyan currency, the Kenya Shilling (KES) is recommended to pay for groceries and smaller items where credit cards aren't accepted.
Lodges
Lodges are exclusive and luxurious with views amongst the most spectacular in the world along with world-class service, incredible food, all luxury amenities, simply ideal for the perfect luxury location.
The classic Sarova Shaba Game Lodge is situated on a large private property with gardens by the Ewaso Nyiro River. The lodge features eighty guest rooms and five suites to suit the needs of solo travelers, couples, small groups and families.
Campsites
There are a number of affordable camping sites offering cheaper camping options for travellers on a budget including Samburu Special Campsite & Larsens Camp.
Campervan
Guests on a safari game drive by themselves in a campervan can make significant savings by sleeping in their vehicle.
Bars/restaurants/amenities
Lodges will typically have all meals and drinks included in the lodge package.
Useful information
Geography
Located 326km north of Nairobi, a Kenya safari in Shaba National Reserve is often combined with a trip to Amboseli National Park or Masai Mara.
Weather
Shaba has a hot and dry weather pattern. The average temperatures are 32°C/90°F in the daytime, and 16°C/61°F at night. Shaba has a low annual rainfall which usually occurs as short, heavy showers.
Best time to go
Understanding the best time to visit Kenya is important as this will impact accommodation, flight prices, availability and the weather that visitors can expect on their safari vacation.
The dry months from June to October and December to March, however, are recognized as the best time to see wildlife. During the wettest months of the year (November, April and May) animals tend to disperse across the reserve and might be harder to spot.
Health
Shaba NR lies in a malaria area. Therefore, it is advisable to take antimalarials. Visitors can find further information on Kenya vaccine details here.
FAQs
Where is Meru National Park located?
Located 6.5 hours drive north of Nairobi or take daily scheduled flights to neighbouring Samburu NR from Nairobi NRO airport.
How much is the entrance fee to Shaba National Reserve?
USD $70 per adult and USD $40 per child. 
What animals will visitors see at Shaba National Reserve?
Visitors to Shaba NR will see Grevy's zebra, reticulated giraffe, elephant, buffalo, lesser kudu, oryx, Grant's gazelle, Somali ostrich, abundant lion and the endangered Grevy's zebra.