The Ol Pejeta Conservancy is a 360 km² not-for-profit wildlife conservancy in Central Kenya's Laikipia County. It is situated on the equator west of Nanyuki, between the foothills of the Aberdares and Mount Kenya.
The conservancy is home to the largest population of black rhino in East Africa, and conversely, the last two remaining northern white rhinos in the world.
In addition, Ol Pejeta has some of the highest predator densities yet still manages a successful livestock programme, a groundbreaking model now being replicated by other conservancies across Africa.
Why visit Ol Pejeta Conservancy?
Ol Pejeta Conservancy safari
There are plenty of great things to do in Kenya and Ol Pejeta has all members of the "Big five game" (lion, Cape buffalo, African elephant, leopard and rhinoceros) present including both black and white rhino thriving here.
Its highlights include the largest black rhino sanctuary in East Africa; a population of southern white rhino; a refuge for the last two northern white rhino left in the world; and Sweetwaters Chimpanzee Sanctuary, housing orphaned and abandoned chimpanzees.
Ol Pejeta is also part of a bigger ecosystem, 'Laikipia Plateau' and offers stunning views of Mount Kenya. Unusually for a safari area, you might also see the conservancy's Boran cattle herds and learning how cattle ranching and grazing fits into Ol Pejeta's conservation plan is often fascinating for visitors.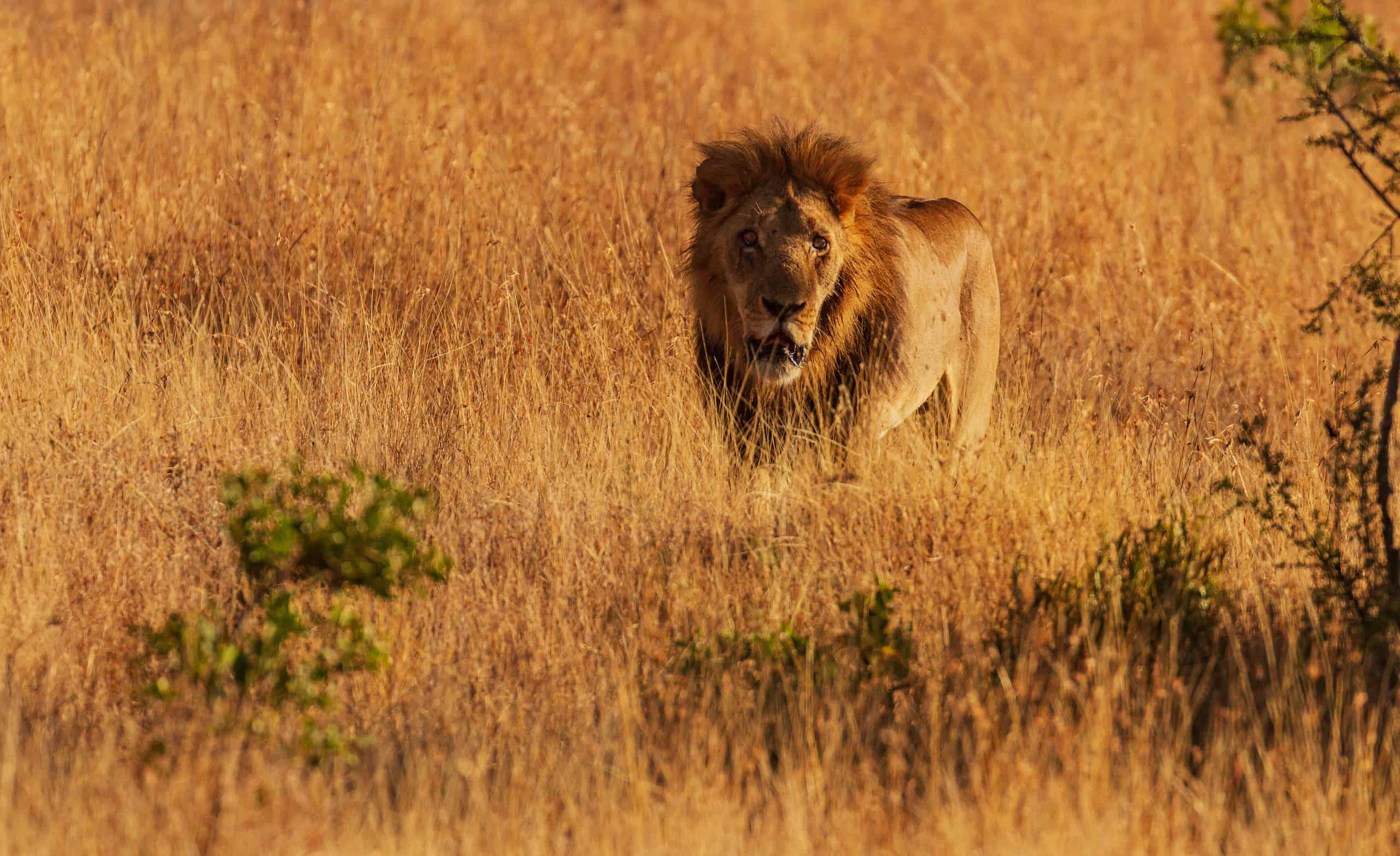 Animals
Apart from rhinos, other rare animals that can be found on Ol Pejeta include the endangered African wild dog, oryx, Jackson's hartebeest, Grevy's zebra, serval, cheetah and bat-eared fox.
The more common African wildlife can be found too, including giraffes, vervet monkeys, baboons, hippos, impala, eland, Grant's gazelle, dik-dik, plains zebra, silver-backed jackal, and hyenas.
All animals are free to move in and out of the Conservancy by way of specially constructed "game corridors" that only restrict the movement of rhinos. Knee-high posts in the ground, situated very close together, present no challenge for elephants, antelope and carnivores, who are easily able to jump or step over.
Rhinos, however, are unable to do this, and as a result are restricted from moving into areas where they are in danger of being slaughtered for their horn.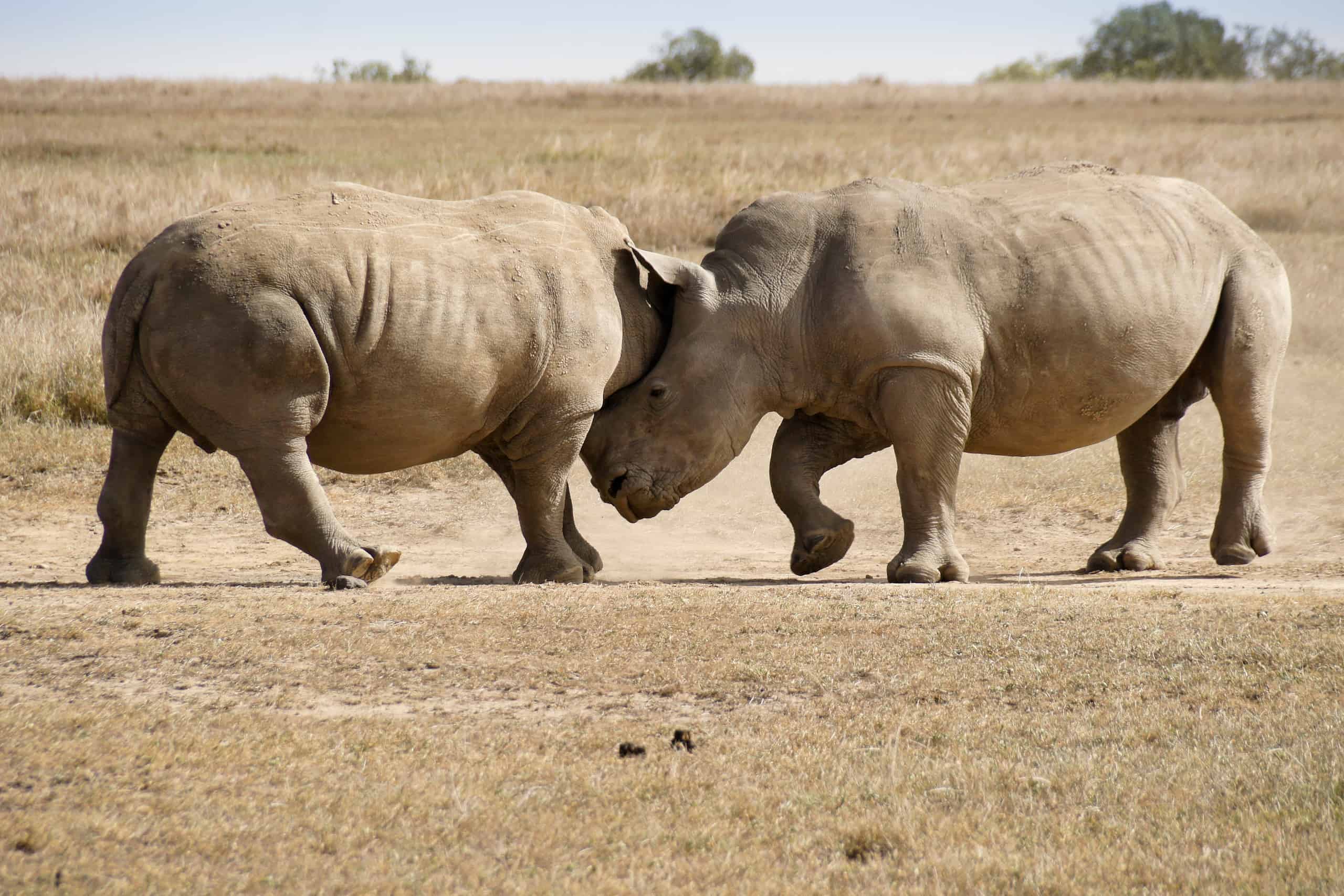 Birds
With more than 500 species recorded, Ol Pejeta Conservancy is a bird-watcher's paradise with Black-winged lapwing, Hildebrandt's starling, Ostriches, Rosy-throated longclaw and Secretary birds.
Trees
Visitors to Ol Pejeta will be enthralled by the numerous Acacia trees that sit close to the isolated Porini Rhino Camp as well as lions prowling the plains and giraffes munching on whistling thorn trees.
Other activities at Ol Pejeta Conservancy
Here are some other activities which visitors can consider during their African safari experience in Ol Pejeta Conservancy:
Ol Pejeta Safari Walk: Explore the nature wildlife on foot, an authentic and economical means of exploring wildlife in Ol Pejeta Conservancy
Photography safari tours: Visitors on a photo safari can share a photography tour with like-minded individuals and capture their favourite moments.
Sightseeing tours: Visitors can discover the nearby Sweetwaters Chimpanzee Sanctuary, go on expertly guided game drives, horse riding with rhinos, canine anti-poaching unit visits or on cycling safaris in this incredible location.
Visitors often enjoy combining their safari adventure with some quiet downtime on Kenya's best beaches, a perfect end to their African adventure.
How to get to Ol Pejeta Conservancy?
By Plane
The easiest way to get to Ol Pejeta is to take one of the daily scheduled flights from Nairobi to Nanyuki airstrip, which is a 45-minute drive away. It is also possible to charter a flight from any other park to Ol Pejeta's airstrip (currently only open to charter flights).
International flights arrive via Jomo Kenyatta International Airport (NBO) for visitors wondering how to get to Kenya. NBO airport is located 15km/9mi southeast of Nairobi and a Kenya visa will most likely be required to enter the country.
By Road
Ol Pejeta is situated 211km north of Nairobi with a drive time of 4.5 hours.
Tariffs & Regulations
Entrance fee
Many factors impact Kenya safari prices including the cost of the park entrance fee. Prices per person per day:
USD $90 per adult non resident per day
Regulations
If you keep to park rules, you can stay with the animals as long as they are not disturbed by your presence.
Accommodation at Ol Pejeta Conservancy
The conservancy is shared with eight other camps and lodges, as well as several self-catering campsites. Rates mainly depend on the season and type of accommodation. Carrying a small amount of Kenyan currency, the Kenya Shilling (KES) is recommended to pay for groceries and smaller items where credit cards aren't accepted.
Cottages
Ol Pejeta Safari Cottages are designed to operate independently of each other with exclusive chef, butler, safari vehicle and guide and no shared amenities thus providing peace of mind and security for guests.
Each cottage has two en suite bedrooms, the central open plan lounge and dining area is large and comfortable with a lovely big fireplace. All rooms open out onto an extensive verandah with views across the river.
Tented Camps
Tented camps and lodges are exclusive and luxurious with views amongst the most spectacular in the world along with world-class service, incredible food, all luxury amenities, simply ideal for the perfect luxury location.
Ol Pejeta Bush Camp is a traditional tented safari camp on the banks of the Ewaso Nyiro river with just seven en-suite guest tents including one tent for family use and dining areas.
Campsites
There are 5 affordable camping sites offering cheaper camping options for travellers on a budget including Ol Lerai Campsite.
Campervan
Guests on a safari game drive by themselves in a campervan can make significant savings by sleeping in their vehicle.
Bars/restaurants/amenities
Lodges will typically have all meals and drinks included in the lodge package.
Useful information
Geography
Ol Pejeta is situated 211km north of Nairobi with a drive time of 4.5 hours, a Kenya safari in Ol Pejeta Conservancy is often combined with a trip to Amboseli National Park or Masai Mara.
Weather
The annual average temperature is 16°C. March is the warmest month with an average temperature of 17°C while December is the coldest month with an average temperature of 15°C. Day temperature is about 24°C and varies just a little since the area is at the equator.
Best time to go
Understanding the best time to visit Kenya is important as this will impact accommodation, flight prices, availability and the weather that visitors can expect on their safari vacation.
The best time to visit is during the dry season from June to September and from December to February when roads are quite dependable.
Health
Several vaccinations need to be taken before coming to Kenya. As malaria is present in Ol Pejeta, antimalarials are recommended. Visitors can find further information on Kenya vaccine details here.
FAQs
Where is Ol Pejeta Conservancy located?
Located 4.5 hours drive north of Nairobi or take daily scheduled flights to Nanyuki airstrip from Nairobi airport. 
How much is the entrance fee to Ol Pejeta Conservancy? 
USD $90 per adult non resident per day
What animals will visitors see at Ol Pejeta Conservancy? 
Visitors to Ol Pejeta Conservancy will see rhinos, African wild dogs, oryxes, Jackson's hartebeest, Grevy's zebra, servals, cheetahs, hippos, baboons, giraffes and bat-eared fox.