Lake Nakuru is one of the Rift Valley lakes at an elevation of 1,754 m above sea level. It lies to the south of Nakuru, in the rift valley of Kenya and is protected by Lake Nakuru National Park, one of the best national parks in Kenya.
The lake's abundance of algae used to attract a vast quantity of flamingos that famously lined the shore. The park's main feature is a large, shallow lake supporting great birdlife, including big flocks of pelicans and variable flocks of flamingos.
The lake was once famous for its flamingos, however, since 2012, conditions have become unfavourable for these birds and most have moved to other Rift Valley lakes.
Lake Nakuru is also a UNESCO World Heritage Site and the most famous lake in Kenya. With large bushy green sections, not commonly seen in other Kenyan parks such as Masai Mara national reserve.
Why visit Lake Nakuru National Park?
Lake Nakuru safari
There are plenty of great things to do in Kenya and one of the Great Rift Valley's most famous soda lakes, Lake Nakuru offers visitors the chance to witness one of the world's most spectacular wildlife sights: brilliant pink flamingos as far as the eye can see.
When conditions are right, between one and two million lesser and greater flamingos feed around the shores of the shallow lake, which together with tens of thousands of other water birds.
Those who have been to Lake Nakuru will attest to the park's beauty with its rich topography of hills, grasslands and forests. There are several easily attained vantage points from which to enjoy wonderful views of the landscape and especially the lake with its undulating pink population of birdlife.
Though the park is not large in size, a visit to Lake Nakuru will be a very full and colorful safari experience.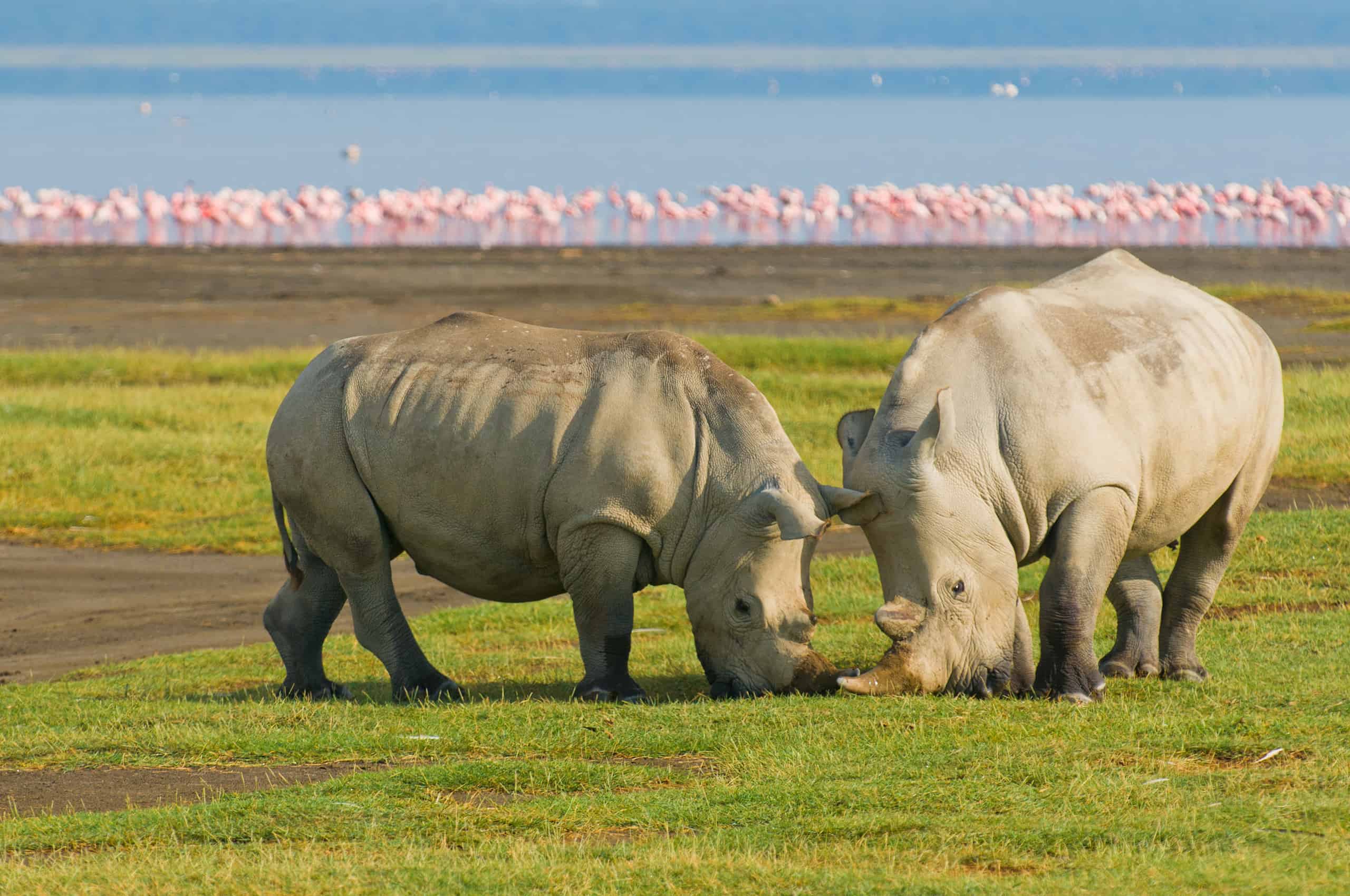 Animals
Lake Nakuru safaris are excellent. Declared a national park in 1961, Lake Nakuru covers an area of some 180 km² and its diverse habitats are home to warthog, baboon, waterbuck and large numbers of impala.
Slightly shyer residents include buffalo, Rothschild's giraffe, eland, the occasional leopard and both black and white rhino. A herd of hippo have their territory in the northern part of the lake.
But that's only the beginning of what this special park has to offer because the wildlife viewing here is easy and accessible. Lake Nakuru is known for hosting some endangered but beautiful species.
You're sure to see rare Rothschild's Giraffe along with white rhino, especially along the lakeshore.Another aspect to the active wildlife viewing here is observing the park's zebra, hippo, olive baboon, vervet and colobus monkeys, waterbuck and hyena.
Other big safari wildlife to be on the lookout for includes lion, cheetah, leopard and buffalo.The park is fenced to protect the rhino and giraffe, so it can't support elephants – the only large mammal you won't find here.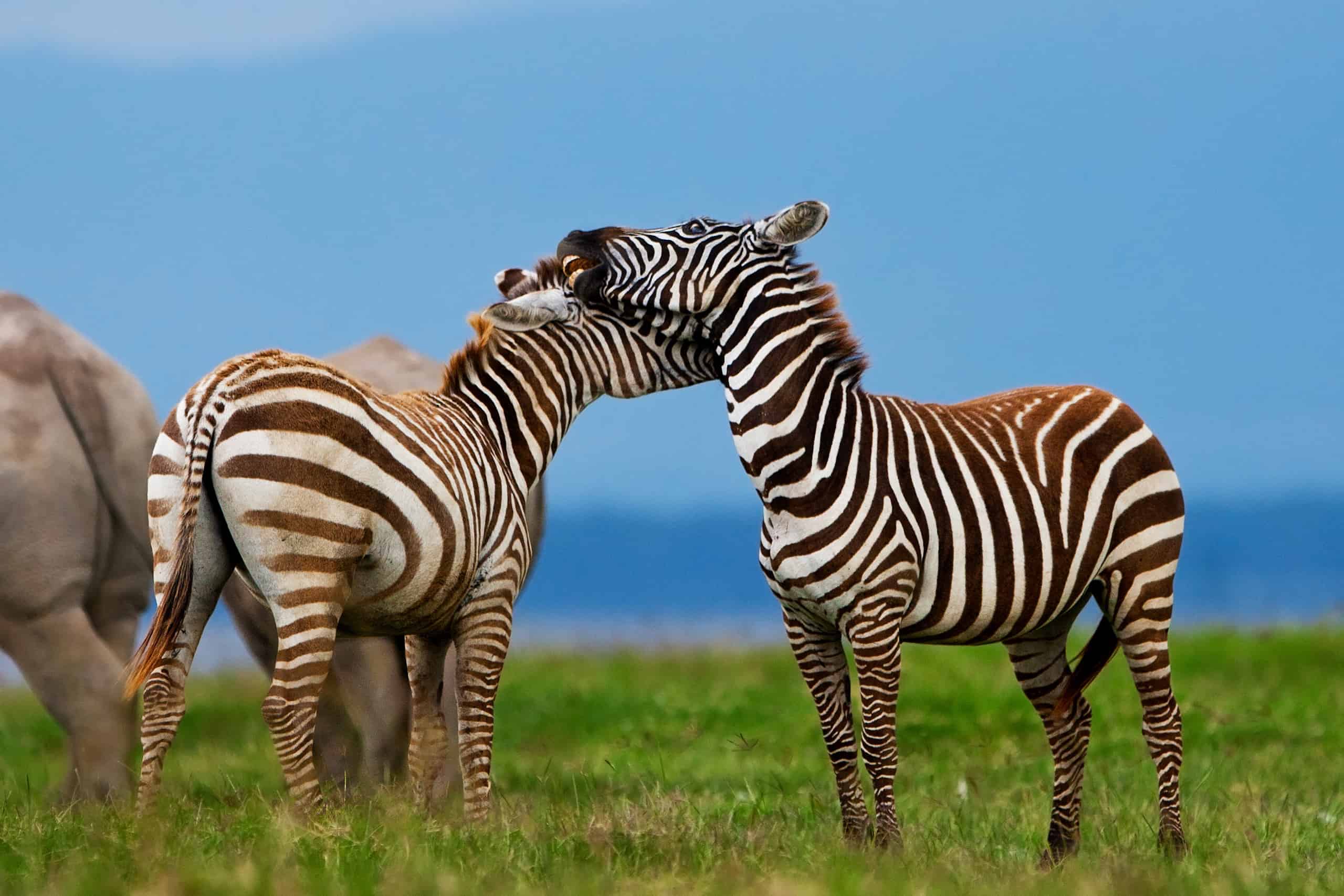 Birds
Within a species list of around 400 bird species, Lake Nakuru is an ornithologist's paradise.
The flamingos are also accompanied by other birdlife – pelicans, cormorants, kingfishers, ostriches, storks as well as herons and eagles. The scene here is bountiful, busy and full of colour.
Trees
Moving through the park's dense acacia forest you'll likely come upon herds of impala and waterbuck. Also, in the woodlands you may see large pythons hanging from the trees. This is the infamous African rock python that's capable of swallowing animals whole.
Other activities at Lake Nakuru National Park
Here are some other activities which visitors can consider during their African safari in Lake Nakuru:
Walking safaris: Explore wildlife and private concessions on foot, an authentic and economical means of exploring wildlife in Lake Nakuru.
Horseback safari: Like the explorers of old, this is a truly unique way to experience Lake Nakuru without the hum of the safari vehicle by the Flamingo Stables
Photography safaris: Visitors on a photo safari will be in dreamland at Lake Nakuru where small groups can share a luxury photography tour with like-minded individuals and capture their favourite moments.
Sightseeing tours: This is best to see the Baboon Cliffs, a lookout in the park as well as the lookout from the movie-set from Out of Africa, Makalia Falls or take a trip to Lake Nakuru Rhino Sanctuary.
Visitors often enjoy combining their safari adventure with some quiet downtime on Kenya's best beaches, a perfect end to their African adventure.
How to get to Lake Nakuru National Park?
By Plane
International flights arrive in Jomo Kenyatta International Airport (NBO), 15km/9mi southeast of Nairobi for visitors wondering how to get to Kenya.
Lake Nakuru is located 155km/96mi northwest of Nairobi and 5km/3mi from Nakuru town and a Kenya visa will most likely be required to enter the country.
By Road
Nakuru is an easy destination by car via a tar road from Nairobi. The most commonly used route into the park is via the main gate. It is also possible to enter the park from the main Nairobi Nakuru road at Lanet Gate. The Nderit Gate is used by people accessing the park from Masai Mara or Elementaita.
Tariffs & Regulations
Entrance fee
Many factors impact Kenya safari prices including the cost of the park entrance fee. Prices per person per day of USD $60 per adult non resident.
The gates into Lake Nakuru National Park open at 6am and close at 7pm.
Regulations
If you keep to park rules, you can stay with the animals as long as they are not disturbed by your presence.
Accommodation at Lake Nakuru
Accommodation in Lake Nakuru ranges from tented safari camps to eco game reserve lodges.Rates mainly depend on the season and type of accommodation.
Typical accommodation rates range from $200 to $1,000 per person a night and carrying a small amount of Kenyan currency, the Kenya Shilling (KES) is recommended to pay for groceries and smaller items where credit cards aren't accepted.
Luxury lodges
Lodges are exclusive and luxurious with views amongst the most spectacular in the world along with world-class service, incredible food, all luxury amenities, simply ideal for the perfect honeymoon location.
A luxury option is the Cliff Tented Camp Nakuru and Lake Nakuru Lodge, situated within the National park and offering spectacular views.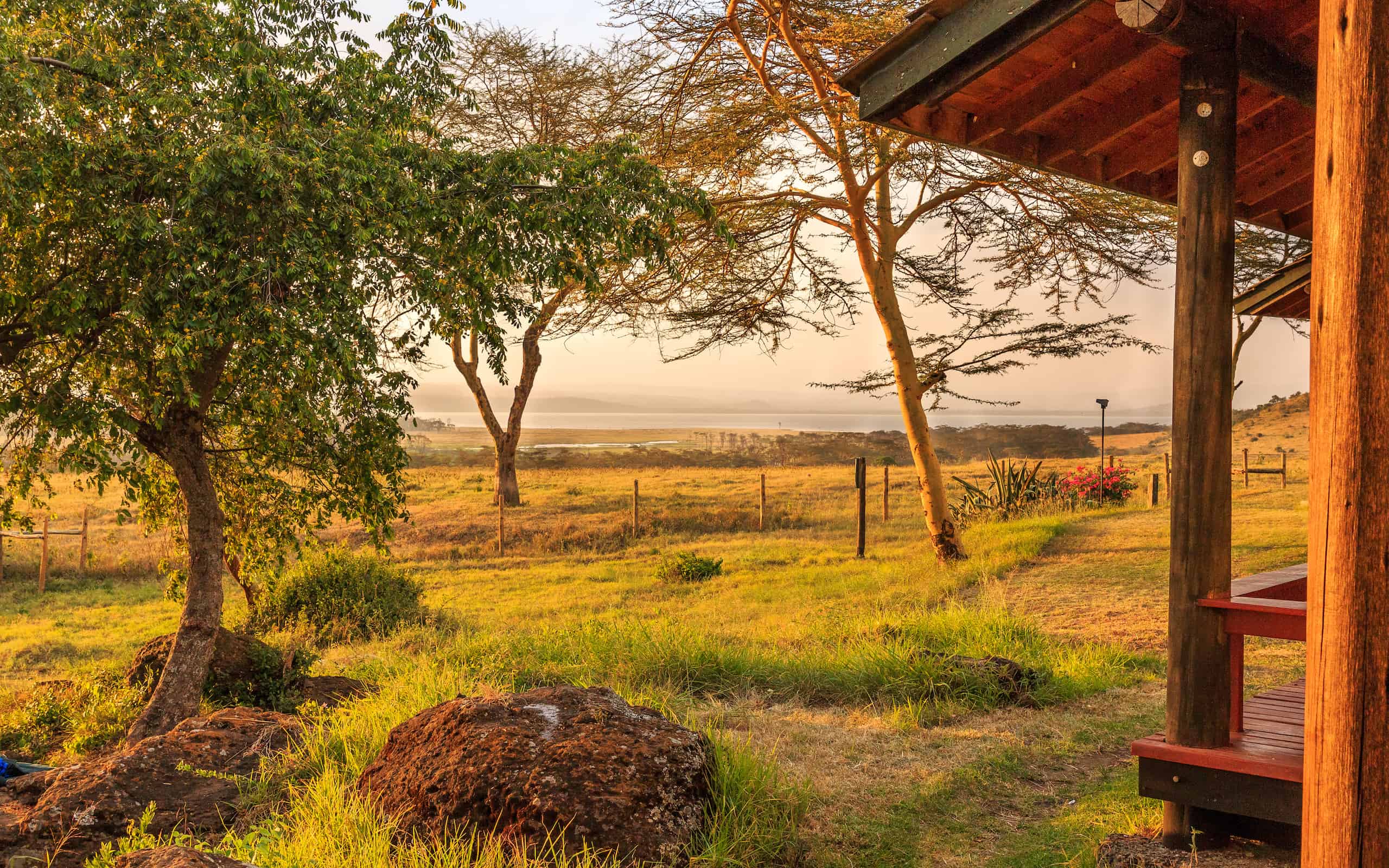 Tented camps
These sophisticated structures are large luxury tents on raised wooden floors with excellent guest services and meals provided, often found overlooking incredible views.
The Sarova Lion Hill Game Lodge is one of the most sought after Rift Valley Lodges in Kenya, best known for offering finest quality services
Campsites
There are a number of affordable camping sites offering cheaper camping options for travellers on a budget including Enjoro campsite in Lake Nakuru National Park.
Campervan
Guests on a self-drive safari with a campervan can make significant savings by sleeping in their vehicle.
Bars/restaurants/amenities
Lodges will typically have all meals and drinks included in the lodge package.
Useful information
Geography
Located in the southwest of Kenya, a Kenya safari in Lake Nakuru National Park is often combined with a trip to other Great Rift Valley lakes – Lake Naivasha for example – and other conservation areas such as the nearby Aberdare National Park.
Weather
Lake Nakuru's climate is mild and temperatures are consistent year-round. Daytime temperatures are pleasant in the mid to upper twenties, although it is much cooler at night. Warm clothing for early morning game viewing is a necessity.
The wettest months are April and May. The rest of the year is relatively dry with some rain throughout.
Best time to go
Understanding the best time to visit Kenya is important as this will impact accommodation, flight prices, availability and the weather that visitors can expect on their safari vacation.
The months most popular for tourist visits to Lake Nakuru National Park are January, February, March, June, July, August, September and October. This is because these are the driest months of the year, so touring the park is more lucrative and enjoyable.
Health
Lake Nakuru is a shallow soda lake in the Rift valley and malaria is present. Apart from bringing antimalarials, the use of DEET-based mosquito repellent and covering up exposed skin in the evening is highly recommended.
Visitors can find further information on Kenya vaccine details here.
FAQs
Where is Lake Nakuru National Park located?
Lake Nakuru is located 155km northwest of Nairobi and 5km/3mi from Nakuru town. Nakuru is an easy destination by car via a tar road taking a little over 3 hours from Nairobi. 
How much is the entrance fee to Lake Nakuru National Park?
USD $60 is the entrance fee per adult 
What animals will visitors see?
Visitors to Amboseli will see the flamingo as well as the warthog, baboon, waterbuck and large numbers of impala, buffalo, Rothschild's giraffe, hippo eland, leopard and both black and white rhino.