Lake Elmenteita is a soda lake, in the Great Rift Valley, about 120 km northwest of Nairobi, Kenya.
The salt lake is known for its rich avifauna, among other huge concentrations of Greater and Lesser flamingos. The flamingos, however, have severely declined after the Tilipia fish has been introduced.
When the seasons become drier, the salt concentration in the alkaline lake becomes higher and the lake will continue changing colour from clear to light-pink and finally to pink-red.
Why visit Lake Elmenteita?
Lake Elmenteita safari
There are plenty of great things to do in Kenya and tucked among golden-barked acacia trees, under the shadow of ancient volcanoes, Lake Elmenteita is a magical holiday setting with immaculately maintained upscale safari tented camps on the shores of Lake Elmenteita, a flamingo-filled lake.
Apart from the incredible views overlooking the lake, visitors enjoy going on guided game drives, both at day and night time where they can visit numerous bird hides (shelters) watching the amazing flamingo and other birds in action, as well as near the watering holes.
Safari-goers can also experience fresh and flavourful Kenyan bush dining experience at Lake Elmenteita in a dining tent or terrace with lake views enjoying a delicious sundowner cocktail in a most tranquil setting.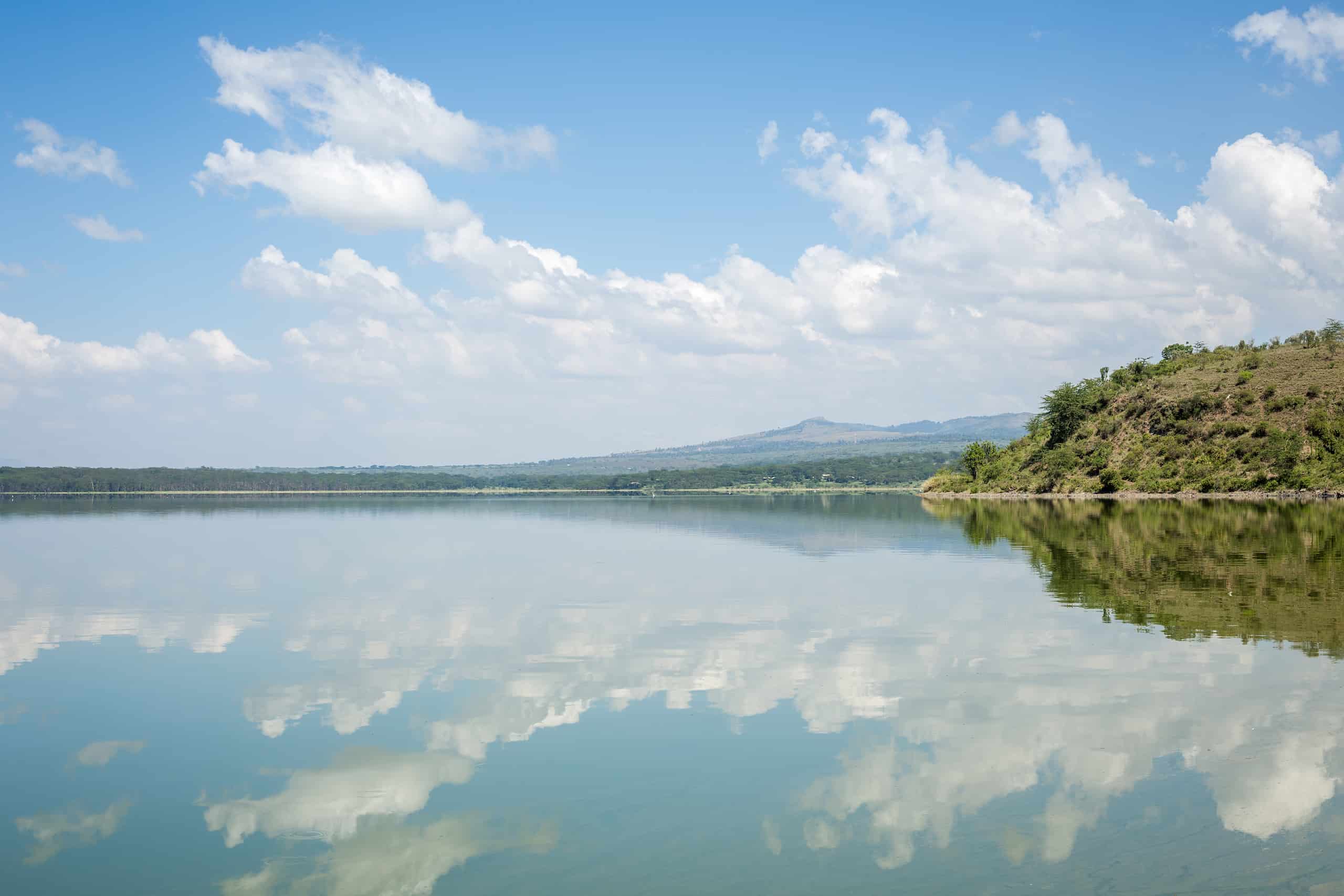 Animals
18 sq km in size and lying in the Soysambu conservancy which covers about 2 thirds of Lake Elementeita shorelines and harbours about 10,000 mammals that include the Rothschild giraffe, herons, leopards, bush pigs, jackals, Elands, gazelles, zebras and others.
Visitors can also find the nocturnal aardvark and families of warthog and enjoy a range of outdoor activities, including bird watching, and a visit to the natural warm spa that flows into the lake.
The animals by the lake are not in large numbers but visitors will still glimpse some mammals as they move through the surrounding vegetation.
Birds
Lake Elementaita is home to over 400 bird species including the famous flamingos and for that reason, it is a protected area to help conserve the birdlife on the lake plus the lake is listed as a UNESCO heritage site so it needs to be protected. Lake Elementaita is also a Ramsar site.
The variety of birds found on Lake Elementaita include but not limited to: Ducks, geese, spikes, cormorant, kingfishers, Montane white-eye, Northern puffback, Pallid harrier, Red-capped lark, pelicans, Rufous-throated wryneck and Long-tailed widowbird.
Visitors will also find the Maccoa duck, Rüppell's vulture, Rüppell's robin-chat, Schalow's wheatear, Shining sunbird, Slender-billed greenbul and many more.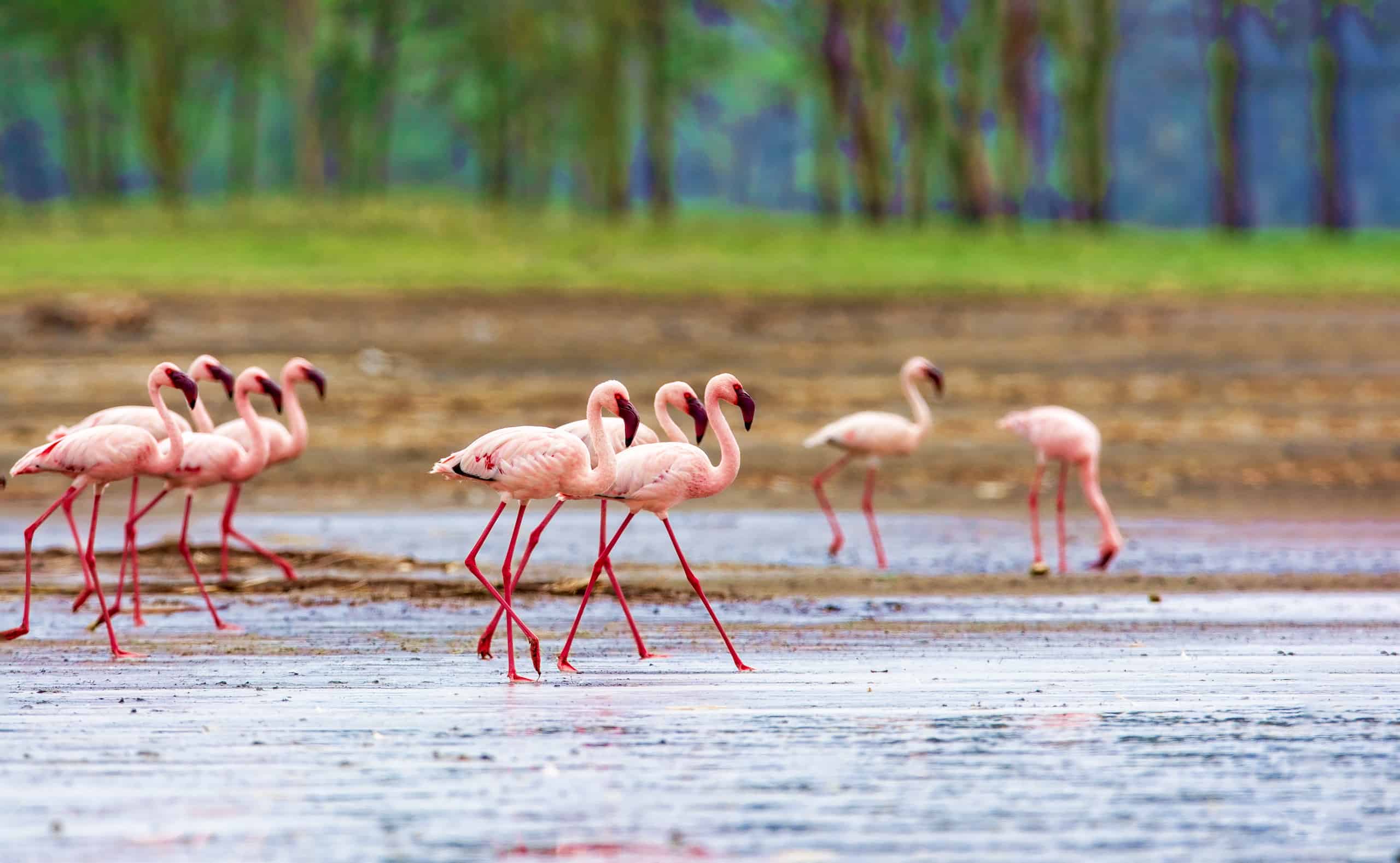 Trees
On top of the birdlife on the lake, the lake comprises the famous Kikopey hot springs that are a spectacular tourism attraction. The surrounding of the lake is full of acacia woodlands, bushy plains and euphorbia trees.
Other activities at Lake Elmenteita
Here are some other activities which visitors can consider during their east African safari experience at Lake Elmenteita:
Lake Elmenteita Safari Walk: Explore the nature wildlife on foot, an authentic and economical means of exploring wildlife in Lake Elmenteita
Photography safari tours: Visitors on a photo safari can share a photography tour with like-minded individuals and capture their favourite moments.
Sightseeing: Birdlife is abundant throughout the lake and visitors can also find the enchanting Kikopey hot springs as well as wander up Hyrax Hill and the Kariandusi site, learn about Lord Delamere or go on a hot air balloon and roam over the beautiful Elementaita waters.
Visitors often enjoy combining their safari adventure with some quiet downtime on Kenya's best beaches, a perfect end to their African adventure.
How to get to Lake Elmenteita?
By Road
Lake Elmenteita is located in the Great Rift Valley, about 120 km northwest of Nairobi taking 2 hours and 40 minutes by road.
By Plane
International flights arrive via Jomo Kenyatta International Airport (NBO) for visitors wondering how to get to Kenya. NBO airport is located 15km/9mi southeast of Nairobi and a Kenya visa will most likely be required to enter the country.
Tariffs & Regulations
Entrance fee
Many factors impact Kenya safari prices including the cost of the park entrance fee. Soysambu Conservancy charges an entry fee of USD $47 per adult non resident per day and $24 per child.
Regulations
If you keep to park rules, you can stay with the animals as long as they are not disturbed by your presence.
Accommodation at Lake Elmenteita
Rates mainly depend on the season and type of accommodation. Carrying a small amount of Kenyan currency, the Kenya Shilling (KES) is recommended to pay for groceries and smaller items where credit cards aren't accepted.
Lodges
Lodges and camps are exclusive and luxurious with views amongst the most spectacular in the world along with world-class service, incredible food, all luxury amenities, simply ideal for the perfect luxury location.
Lodges include Lake Elementaita Mountain Lodge offering great views of Lake Elementaita, excellent food served and top notch staff.
Other good choices in the area include Sentrim Elementaita Lodge and Sirville Lake Elementaita Lodge.
Camps
Lake Elmenteita Serena Camp offers a five-star facility with airy, environmentally friendly safari tents offering British Colonial décor, plush bedding with mosquito nets, bathrooms with double vanities and hot water, a large private veranda and free Wi-Fi.
Campervan
Guests on a safari game drive by themselves in a campervan can make significant savings by sleeping in their vehicle.
Bars/restaurants/amenities
Lodges will typically have all meals and drinks included in the lodge package.
Useful information
Geography
Lake Elmenteita is located in the Great Rift Valley, about 120 km northwest of Nairobi and a safari in Lake Elmenteita is often combined with a trip to Mount Elgon National Park or Masai Mara reserve.
Other parks popular with visitors include the unique Saiwa Swamp NP and mesmerising Mwaluganje Elephant Sanctuary.
Weather
The average temperature in Lake Elementaita in May for a typical day ranges from a high of 71°F (21°C) and a low of 52°F (11°C). It can be described as mildly cool with a gentle breeze.
Best time to go
Understanding the best time to visit Kenya is important as this will impact accommodation, flight prices, availability and the weather that visitors can expect on their safari vacation.
Elementaita is a wondrous location to visit anytime during the year, but we recommend that you visit during the dry seasons that occur from July to October, January and February.
Health
Taking antimalarials and wearing long-sleeved clothing is recommended. Visitors can find further information on Kenya vaccine details here.
FAQs
Where is Lake Elmenteita located?
Lake Elmenteita is located 120 km northwest from the capital, a 2 hour 40 minute journey from Nairobi.
What is the entrance fee for Lake Elmenteita?
Soysambu Conservancy charges an entry fee of USD $47 per adult non resident per day and $24 per child.
What animals will visitors see at Lake Elmenteita?
Visitors to Lake Elmenteita will see flamingos, giraffes, leopards, bush pigs, jackals, Elands, gazelles, zebras, nocturnal aardvark, warthogs and over 400 bird species.