Lake Naivasha is a freshwater lake in Kenya, outside the town of Naivasha in Nakuru County, north west of Nairobi.
It is part of the Great Rift Valley and the name derives from the local Maasai name Nai'posha, meaning "rough water" because of the sudden storms which can arise.
Established in 1995, Lake Naivasha National Park is one of the youngest national parks in Kenya that tourists can visit while on a Kenya safari tour in a park covering only 140 square kilometres, with the biggest part of the park being covered by the freshwater lake.
Lake Naivasha is rather shallow and seasonal, with water levels reducing significantly during the dry season, one of its many unique features.
Why visit Lake Naivasha National Park?
Lake Naivasha National Park safari
There are plenty of great things to do in Kenya and the most popular attraction at Lake Naivasha is undoubtedly the chance to take a guided boat safari out onto the water. Dead trees reach up out of the cool blue water like grasping hands as a huge assortment of bird life moves about.
Everything from pelicans to cranes to smaller, more brightly coloured birds are on display. The waters themselves are home to wallowing hippopotamuses, and along the shores, you'll spot Cape Buffalo and other herbivores.
Easily combined with the boat safari, a visit to the Crescent Island Sanctuary offers a rare chance to literally walk with the animals.
The island sanctuary isn't home to any predators, so you can safely trade the safari car for your own two feet as you wander alongside various wildlife.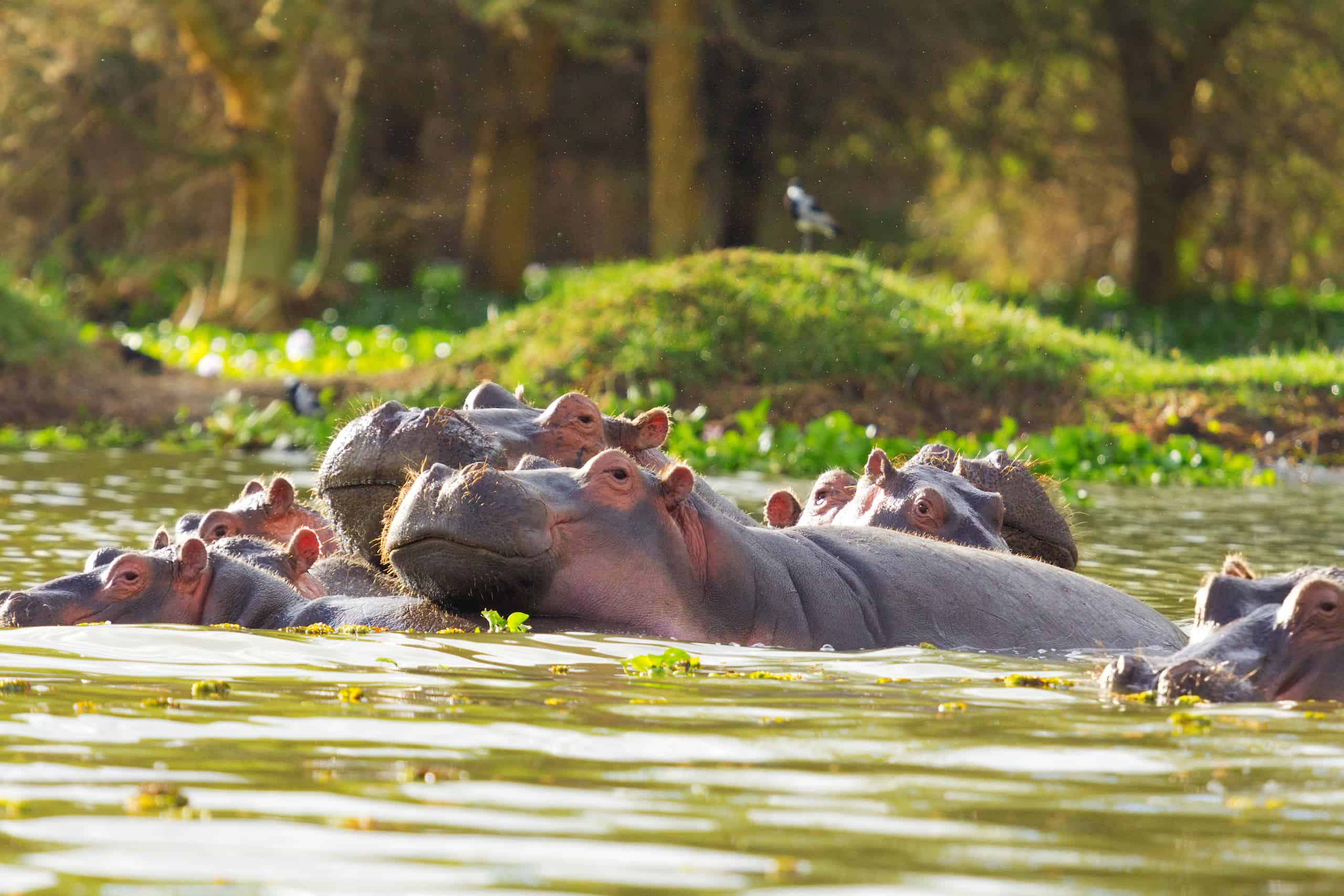 Animals
The wildlife in Lake Naivasha Park in Kenya is very diverse. There are a number of wild animals that travellers can easily spot including giraffes, zebras, buffaloes, hippos and so many more.
These animals can be seen while on a game drive through the park, or walking safari or even biking and on horseback.
Crescent Island is a private island sanctuary that is unfenced and thus allows free movement of the wildlife and nature walks are allowed on the island and not elsewhere in Lake Naivasha.
Accessing Crescent Island is by boat or on a 4WD passing a narrow swampy road that is usually used by animals like buffaloes and lucky visitors might even spot a leopard.
Birds
Over 300 bird species call Lake Naivasha home with a wide mix from pigeons and doves species including speckled pigeon, mourning collared-dove, red-eyed-dove, ring-necked dove, laughing-doves, fulvous Whistling-ducks, Egyptian goose and the Northern Pintail.
Trees
The park is dominated by Umbrella Acacia trees that are mostly found along the banks of the lake.The thick forest is composed of tree species such as yellow fever trees and Candelabra Euphorbia as well as many others.
Other activities at Lake Naivasha National Park
Here are some other activities which visitors can consider during their east Africa safari experience in Lake Naivasha National Park:
Lake Naivasha National Park walking safaris: Explore the nature wildlife on foot, an authentic and economical means of exploring wildlife in Lake Naivasha National Park.
Photography safari tours: Visitors on a photo safari can share a photography tour with like-minded individuals and capture their favourite moments.
Tours: Lake Naivasha offers a huge range of activities including boat trips on the lake, biking through Hell's Gate National Park, horseback riding safaris, Crescent Island game sanctuary or visits to Crater Lake Game Sanctuary or why not ​​climb the extinct volcano at Mount Longonot.
Visitors often enjoy combining their safari adventure with some quiet downtime on Kenya's best beaches, a perfect end to their African adventure.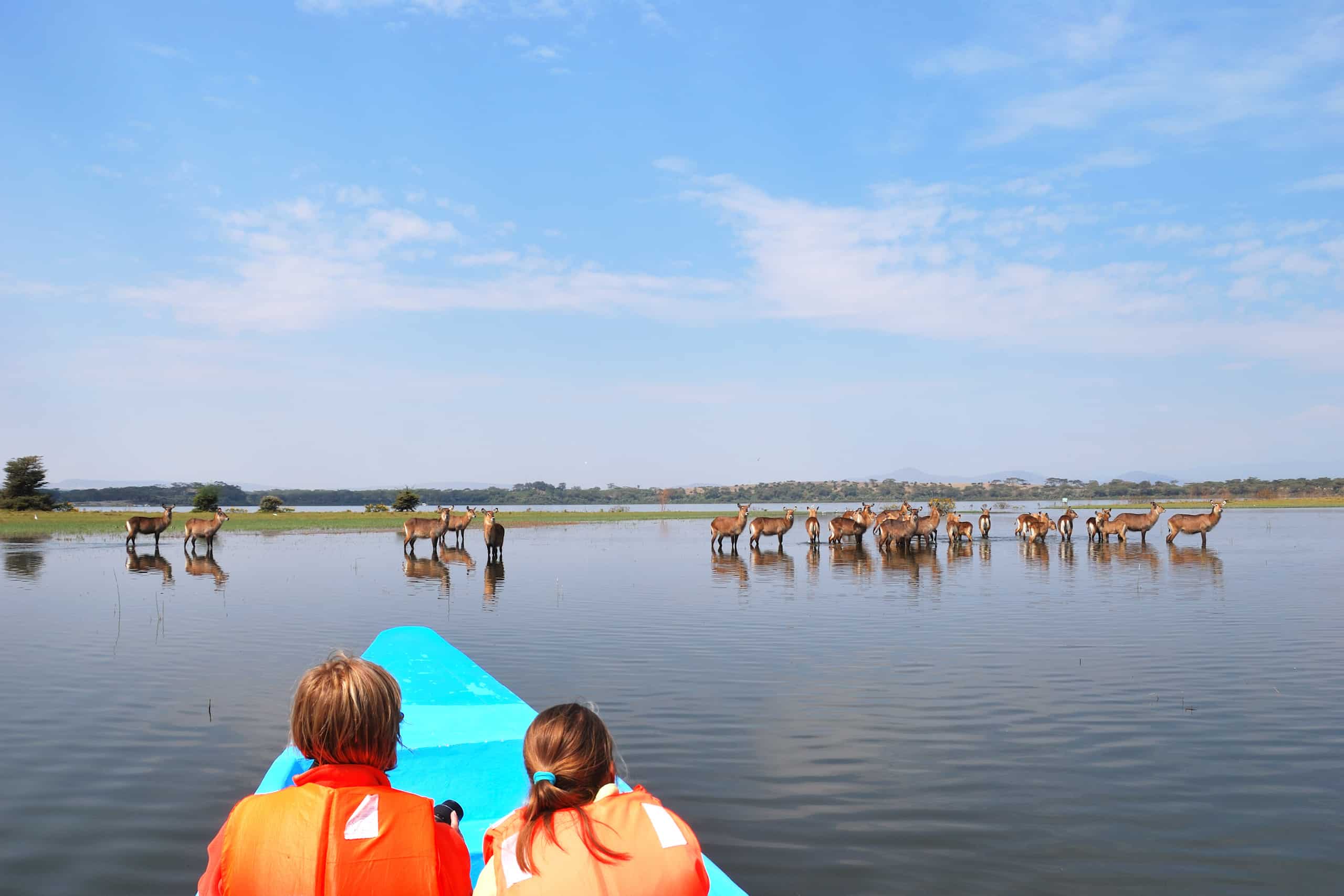 How to get to Lake Naivasha National Park?
By Plane
Daily flights are available via private charter from Nairobi to Loldia airstrip on the western side of Naivasha. International flights arrive via Jomo Kenyatta International Airport (NBO) for visitors wondering how to get to Kenya.
NBO airport is located 15km/9mi southeast of Nairobi and a Kenya visa will most likely be required to enter the country.
By Road
Lake Naivasha national park takes around 90 minutes drive northwest from the capital Nairobi with great scenic views of the stunning Rift Valley escarpments.
Tariffs & Regulations
Entrance fee
Many factors impact Kenya safari prices including the cost of the park entrance fee however Lake Naivasha does not have any entrance fee.
Regulations
If you keep to park rules, you can stay with the animals as long as they are not disturbed by your presence.
Accommodation at Lake Naivasha National Park
Rates mainly depending on the season and type of accommodation. Carrying a small amount of Kenyan currency, the Kenya Shilling (KES) is recommended to pay for groceries and smaller items where credit cards aren't accepted.
Camps and Lodges
Lodges and camps are exclusive and luxurious with views amongst the most spectacular in the world along with world-class service, incredible food, all luxury amenities, simply ideal for the perfect luxury location.
Recommended lodges include Lake Naivasha Sopa Lodge, a relaxed resort in a complex of brick and wood makuti cottages on the shore of Lake Naivasha and Naivasha Kongoni Lodge and Loldia House.
Campsites
Fisherman's Camp and Lake Naivasha Ymca Camp provide basic campsite provisions and more including toilets, running water, campfire facilities, watch hippos in the night and cycle the scenic lake route.
Campervan
Guests on a safari game viewing drive by themselves in a campervan can make significant savings by sleeping in their vehicle.
Bars/restaurants/amenities
Lodges will typically have all meals and drinks included in the lodge package.
Useful information
Geography
Located 90km northwest of Nairobi, a safari in Lake Naivasha National Park is often combined with a trip to Lake Nakuru National Park or Masai Mara.
Weather
Temperatures in Lake Naivasha are pleasant all year round. Average temperatures range from 167°F (June) to 179°F (February). The rainiest months are: November, April and May.
Best time to go
Understanding the best time to visit Kenya is important as this will impact accommodation, flight prices, availability and the weather that visitors can expect on their safari vacation.
The long dry season is the best time to visit Lake Naivasha, and also when combined with a safari to Masai Mara to view the Great Wildebeest Migration from August to October.
Health
Naivasha is located in a malaria area and precautions should be taken. Aside from antimalarials, the use of mosquito repellent containing DEET is highly recommended. Covering up in the evening minimises the risk of being bitten too.
Visitors can find further information on Kenya vaccine details here.
FAQs
Where is the Lake Naivasha National Park located?
Lake Naivasha national park takes around 90 minutes drive northwest from the capital Nairobi with great scenic views of the stunning Rift Valley escarpments. 
How much is the entrance fee to Lake Naivasha National Park?
Lake Naivasha does not have any entrance fee. 
What animals will visitors see at Lake Naivasha NP​​?
Visitors to Lake Naivasha National Park will see giraffes, zebras, buffaloes, hippos, buffaloes and leopards.