The Tsavo East National Park is one of the oldest and largest parks in Kenya at 13,747 square kilometres. Situated in a semi-arid area previously known as the Taru Desert it opened in April 1948, and is located near the town of Voi in the Taita-Taveta County of the former Coast Province.
The Tsavo East National Park forms part of one of the greatest wildlife conservancies on Earth and is one of the largest national parks in Kenya. It is also known for its legend of the Maneaters of Tsavo, a pair of man-eating male lions in the Tsavo region. 
The park also makes up 4% of Kenya's land mass and has some of the largest herds of elephants in Africa residing there with the opportunity to see dust-red elephants bathing in the Galana River.
Why visit Tsavo East National Park?
Safari in Tsavo
There are plenty of great things to do in Kenya and Tsavo is considered one of the world's biodiversity strongholds with its popularity mostly due to the vast amounts of diverse wildlife that can be seen, including the famous 'Big Five' consisting of lion, black rhino, cape buffalo, elephant and leopard.
Tsavo National Park is also a popular stop-off point on Kenya 'safari and beach' itineraries. The western section of this vast park is located to the east of Mount Kilimanjaro and is a wonderland of lava flows, rocky outcrops and red-soil grass and woodlands.
Slightly larger and less accessed, Tsavo East is a slightly better choice than the western side, but both offer great scenery and, as the dense bush dries back in the winter months, very good game viewing and birding that is second only to Lake Naivasha National Park.
The park has abundant wildlife, but due to its size and thicker vegetation game viewing is more challenging. For this reason it is less popular than the Maasai Mara and Amboseli.
However, the park has one of the most diverse landscapes in East Africa, with several volcanic craters and interesting hills.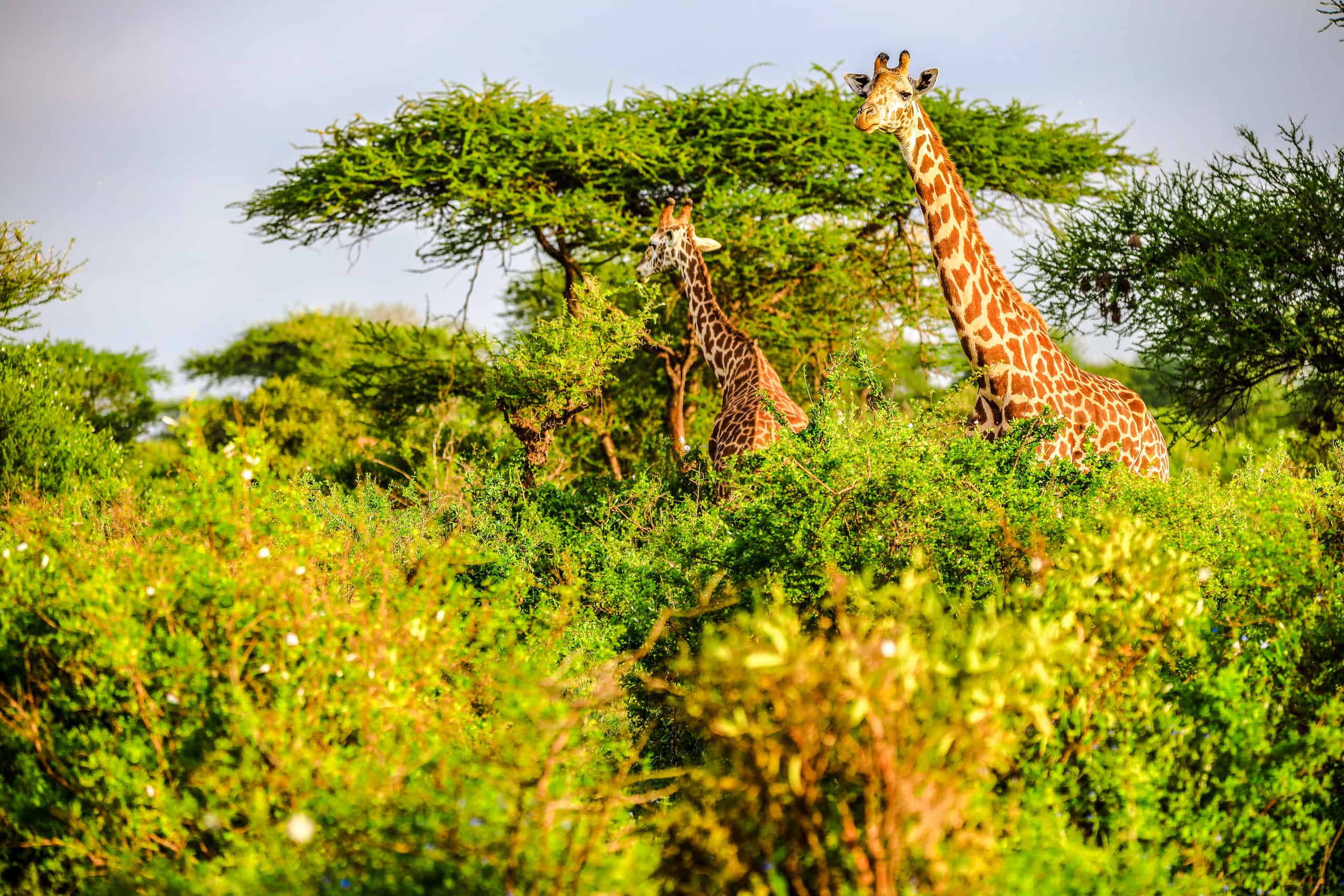 Animals
The park forms the largest protected area in Kenya and is home to most of the larger mammals which visitors will see on game drives including the Big Five with vast herds of red elephant, Rhino, buffalo, lion, leopard, pods of hippo, crocodile, waterbucks, lesser Kudu and gerenuk.
Their red dust coating makes them stand out against the arid environment. Of the big cats, lions are most easily spotted. Buffalo, zebra and plenty of Masai giraffes are some of the other animals you can expect to see.
Tsavo East has a good range of unusual antelopes. This is one of the few places to see the fringe-eared oryx. The lesser kudu is very shy, but can sometimes be seen darting off into the bushes.
The long-necked gerenuk can be found standing on its hind-legs to reach the sparse foliage of trees and bushes. With some luck, you might spot the critically endangered hirola or Hunter's hartebeest.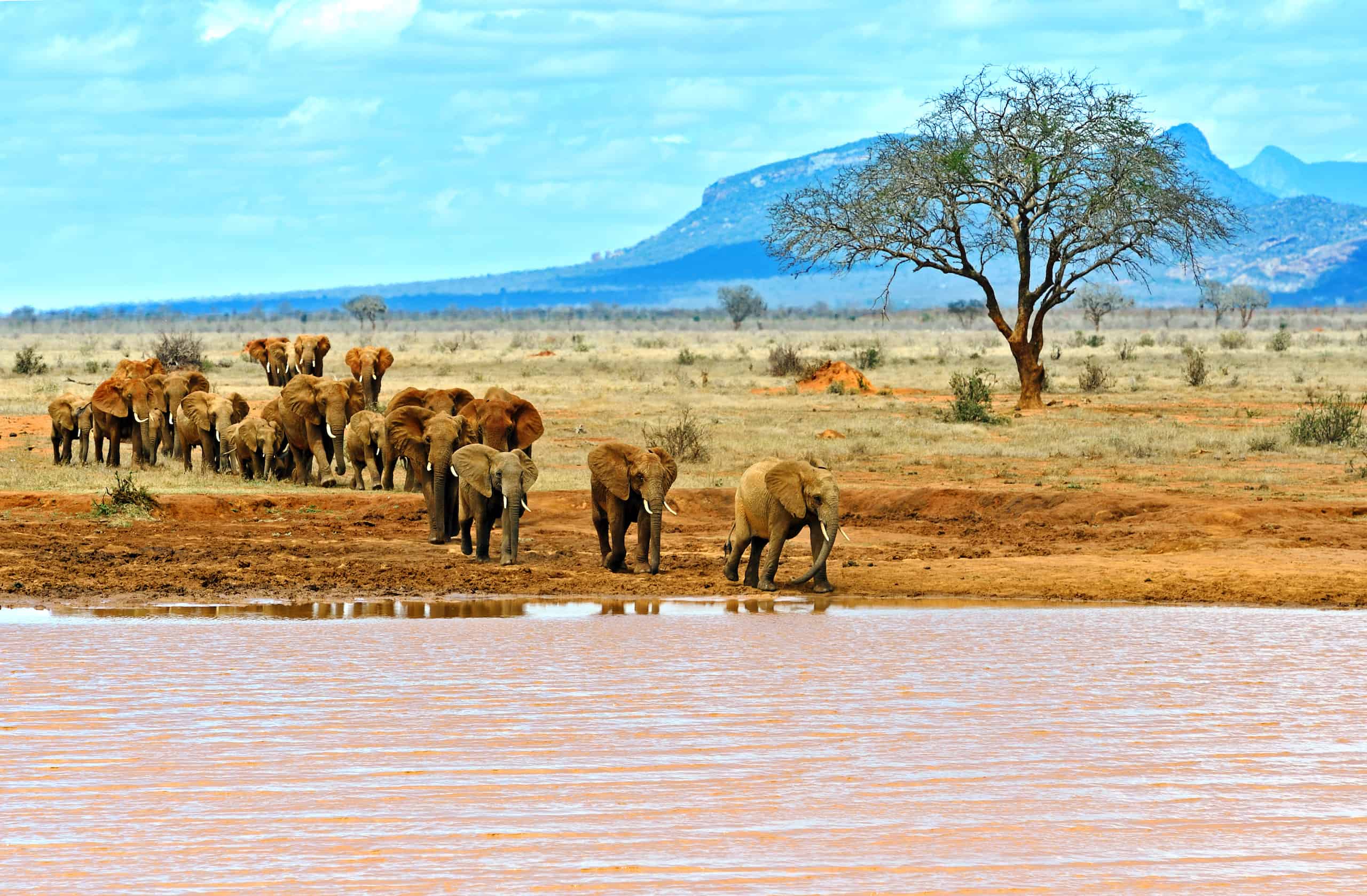 Birds
Tsvao has a prolific birdlife featuring over 500 recorded species. It has many dry-country specials which are easy to spot, including the magnificent golden-breasted starling, golden pipit and vulturine guineafowl. The park is also the southernmost stronghold for the Somali ostrich.
Trees
Drained by the Tsavo and Galana rivers, and the Tiva River in the north, the park comprises semiarid plains covered by dormant vegetation (which bursts into luxuriant bloom after a light rain) and acacia and baobab trees.
There are also three types of grasses found in Tsavo including grouped-trees grassland, Scattered-trees grassland and Shrub or Dwarf-trees grassland to be seen in Tsavo East, but the most widely distributed are the Scattered-trees and the Shrub or Dwarf-trees Grasslands.
Other activities on Tsavo National Park safaris
Here are some other activities which visitors can consider during their African safari in Tsavo:
Walking safaris: Explore wildlife and private concessions on foot, an authentic and economical means of exploring wildlife in Tsavo.
Horseback safari: Like the explorers of old, this is a truly unique way to experience Tsavo without the hum of the safari vehicle.
Tsavo luxury safari tours: Tsavo also offers some of the very best luxury lodges in the world with incredible décor, modern decorated suites, excellent views, superb service and food, these intimate safari experiences have it all.
4×4 safari: A stunning self-drive Tsavo journey will allow visitors to enjoy the very best wildlife at their own pace.
Photography safaris: Visitors on a photo safari will be in dreamland at Tsavo where small groups can share a luxury photography tour with like-minded individuals and capture their favourite moments.
Sightseeing tours: This is best along the unique fifty million gallons of crystal water produced underneath the rough rocky surfaces. You visit the Mzima springs, Mudanda Rock, Yatta Plateau and other special points at the park.
Visitors often enjoy combining their safari adventure with some quiet downtime on Kenya's best beaches, a perfect end to their African adventure.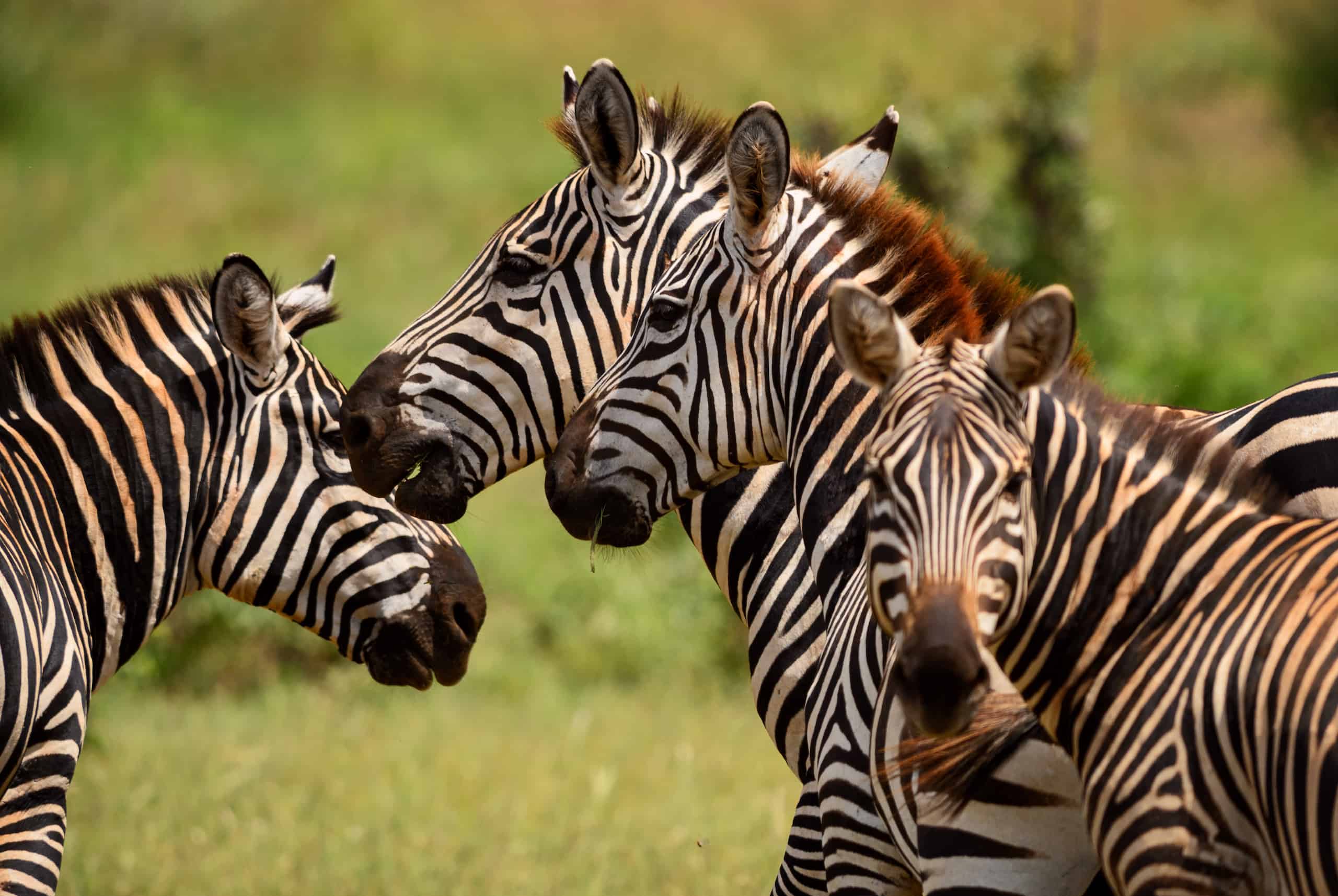 How to get to Tsavo?
By Plane
There are no scheduled flights to Tsavo East, but there are several airstrips available for chartered flights.
The two most useful international airports in Kenya are: Jomo Kenyatta International Airport (NBO), 15km/9mi southeast of Nairobi; and the smaller Moi International Airport (MBA), 9km/6mi west of Mombasa for visitors wondering how to get to Kenya.
A Kenya visa will most likely be required to enter the country.
By Road
Tsavo East is in southeast Kenya, 325km/201mi from Nairobi and 250km/ 155mi from Mombasa. You can drive to the reserve from Nairobi, Mombasa or another park depending on your itinerary.
The distance from Lake Nakuru NP is 450km/280mi and the driving time is about 7½ hours.
Tariffs & Regulations
Entrance fee
Many factors impact Kenya safari prices including the cost of the park entrance fee. Prices per person per day:
USD $75 per adult non resident per day (24 hrs)
USD $40 per child non resident per day (24 hrs)
The gates into the Tsavo East National Park open at 6:00 a.m. and close at 6:00 p.m.
Regulations
If you keep to park rules, you can stay with the animals as long as they are not disturbed by your presence.
Accommodation at Tsavo
Staying inside the Tsavo East and Tsavo West is possible, but the cost of accommodation can vary in price significantly. Rates mainly depend on the season and type of accommodation with camps, luxury tents and lodges just in Tsavo.
Typical accommodation rates range from $200 to $1,000 per person a night. Carrying a small amount of Kenyan currency, the Kenya Shilling (KES) is recommended to pay for groceries and smaller items where credit cards aren't accepted.
Luxury lodges
Lodges are exclusive and luxurious with views amongst the most spectacular in the world along with world-class service, incredible food, all luxury amenities, simply ideal for the perfect honeymoon location.
Some of the luxury Tsavo East accommodation include: Kiboko Camp, Finch Hattons, Kilalinda Safari Camp, Satao Camp and others.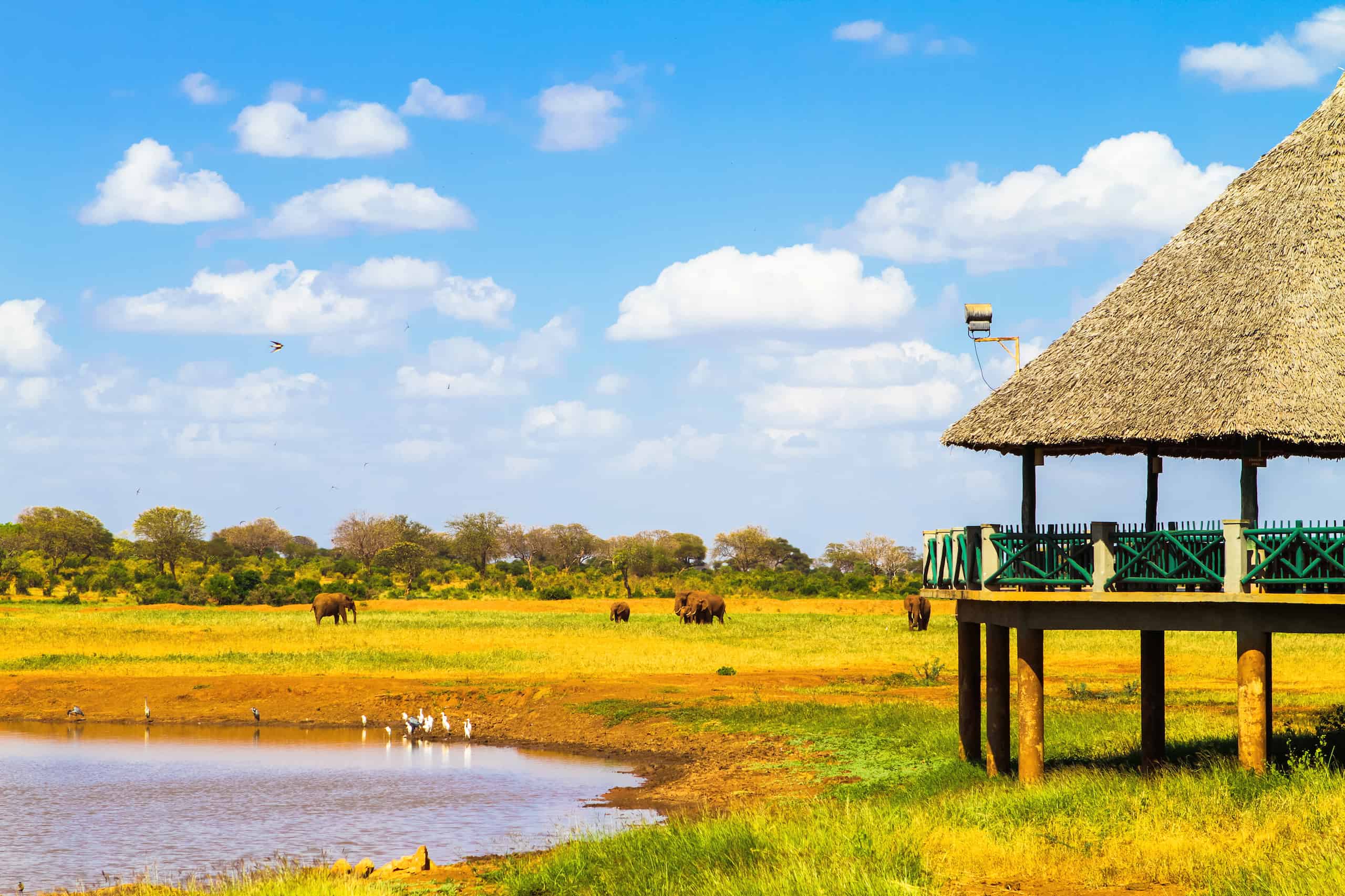 Tented camps
These sophisticated structures are large luxury tents on raised wooden floors with excellent guest services and meals provided, often found overlooking incredible views. Examples include Galdessa Camp, Red Elephant safari Lodge, Nguthuni lodge, Manyatta camp and Leopard Lodge.
Campsites
There are a number of affordable camping sites offering cheaper camping options for travellers on a budget.
Campervan
Guests on a self-drive safari with a campervan can make significant savings by sleeping in their vehicle.
Bars/restaurants/amenities
Lodges will typically have all meals and drinks included in the lodge package.
Useful information
Geography
Located in the south of Kenya, a trip to Tsavo East is often combined with a trip to Tsavo West and beach trips to Mombasa. Other parks popular with visitors include the unique Saiwa Swamp NP and mesmerising Mwaluganje Elephant Sanctuary.
Weather
Visitors to Tsavo East can expect a hot, dry climate. The average temperature fluctuates between 31°C/88°F during the day and 20°C/68°F at nighttime.
Best time to go
Understanding the best time to visit Kenya is important as this will impact accommodation, flight prices, availability and the weather that visitors can expect on their safari vacation. Wildlife game viewing inside the Tsavo is superb at all times.
Tsavo is best visited in the dry season months from June to October and January to February. Although the park can be visited any time of year, wildlife viewing during the height of the Wet season (November, April and May) is not recommended.
Health
Most of Kenya, including Tsavo East, lies in a malaria area. While taking antimalarials is advisable, a few sensible precautions – such as covering up at dusk, and using mosquito repellent with DEET – also provide a good defence against contracting malaria. Visitors can find further information on Kenya vaccine details here.
FAQs
Where is Tsavo National Park located?
There are no scheduled flights to Tsavo East, but there are several airstrips available for chartered flights. The most useful international airports are: Jomo Kenyatta (NBO), 15km/9mi from Nairobi; and the smaller Moi International Airport (MBA) near Mombasa.
How much is the entrance fee to Tsavo?
USD $75 per adult for 24 hours & USD $40 per visitor staying at a safari camp or lodge within national reserve boundaries. 
What time does the entrance gate open and close at?
The gates into Tsavo open at 6:00 a.m. and close at 6:00 p.m. 
What animals will visitors see?
Visitors to Tsavo will see the Big 5 as well as  vast herds of red elephant, Rhino, buffalo, lion, leopard, pods of hippo, crocodile, waterbucks, lesser Kudu and gerenuk.