The Samburu National Reserve is a game reserve on the banks of the Ewaso Ng'iro river in Kenya. On the other side of the river is the Buffalo Springs National Reserve.
The park is 165 km² in size and is situated 350 kilometres from Nairobi. It ranges in altitude from 800 to 1230 m above sea level.
This vast expanse of remote pristine wilderness borders the Ewaso Ng'iro River to the south, which separates it from the Buffalo Springs National Reserve.
Samburu Reserve is considered among the best wildlife reserves not just in Kenya but also in Africa due to its great location as the surface waters dry off during the dry season and guaranteed game viewing.
Why visit Samburu National Reserve?
Samburu National Reserve safari
There are plenty of great things to do in Kenya and Samburu National Reserve is a destination that will appeal as much to the safari first-timer as it will to the veteran. The most rewarding of the three national reserves that cluster around the life-giving Ewaso Ngiro River (the other two are Shaba and Buffalo Springs),
Samburu's game viewing is famously first-class and there are adventure activities and fascinating cultural interactions too.
Samburu's savannas and forests make for diverse big game country. Home to all the big cats, it's especially good for leopards as well as providing a haven for super-rare wild dogs and large numbers of elephants.
A Samburu safari also offers the opportunity to explore on foot and by mountain bike as well as the chance to visit Samburu villages and gain an insight into local life. Most often a fly-in destination, there are several superb lodges in the area.
Some are family-friendly while others are perfect for an off-the-beaten-path honeymoon, but all offer a wide range of activities such as big cat tracking at Saruni Samburu; camelback safaris at SaSaab Camp; and bush breakfasts at Elephant Bedroom Camp – where elephants through the camp.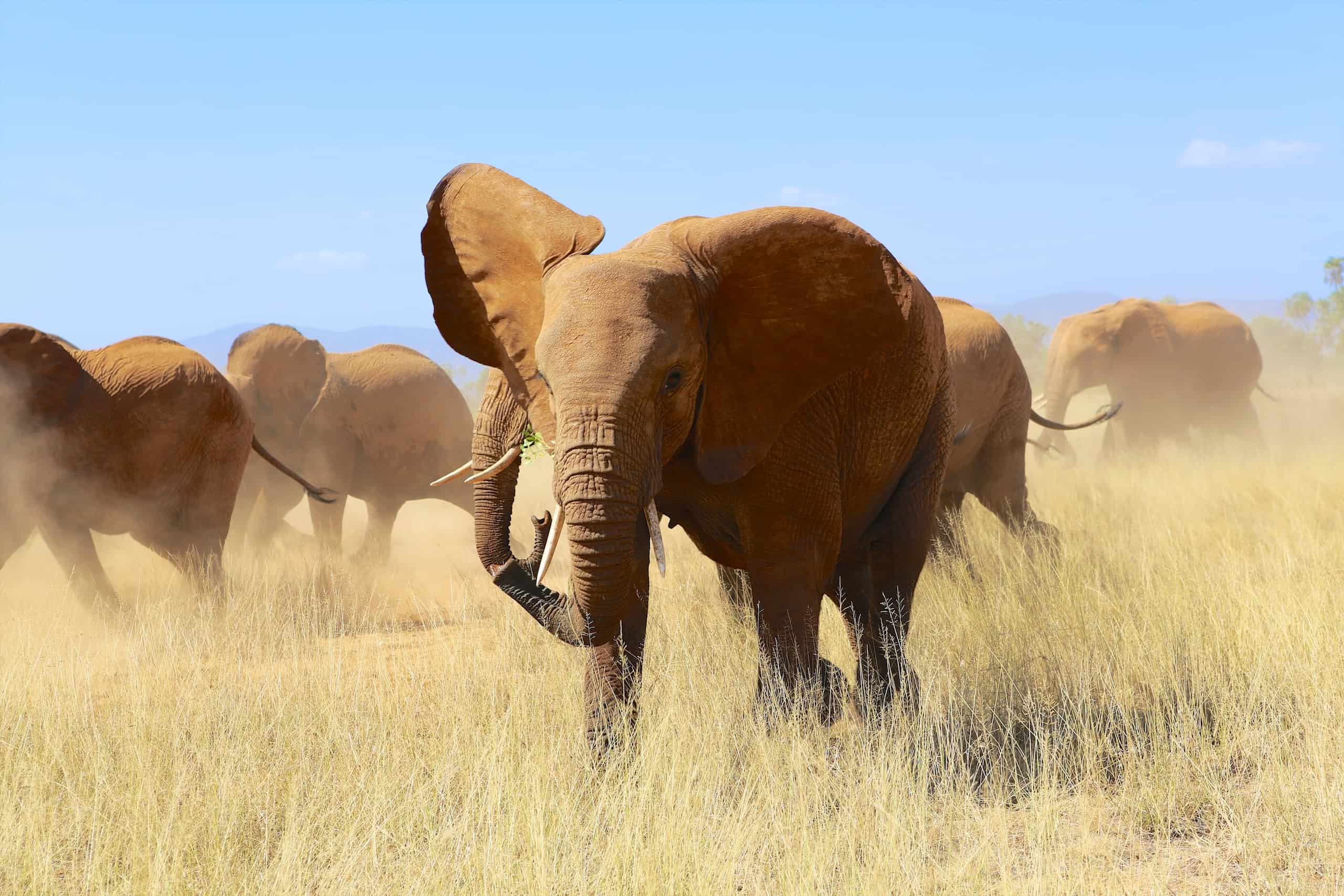 Animals
The Reserve is a wildlife conservation haven famous for an abundance of rare species of animals such as the Grevy Zebra, Somali Ostrich, Reticulated Giraffe, long necked Gerenuk and the Beisa Oryx.
The reserve is also home to a population of close to 900 Elephants. Large predators such as the Lion, Leopard and Cheetah are an important attraction (Kamunyak the famous Lioness that adopted a baby Oryx is a resident in the reserve).
Samburu is infact one of the better locations in Kenya to spot Leopards. Wild dog sightings are also a common attraction to this unique protected area and Birdlife is abundant with over 450 recorded species including the White-headed mousebird, D'Arnaud's barbet and the Somali bee-eater.
The Ewaso Ngiro river is the heart of the park, as it not only makes it a beautiful and very photogenic park (contrasting against the bright and dry red soil), but also attracts a diversity of wildlife all year round.
A range of animals come down to the river to drink and cool off in, and with crocodiles and hippos hiding in the shallow sand banks, surprises always await! Samburu National Reserve also has a particularly high elephant population, and big families of them too.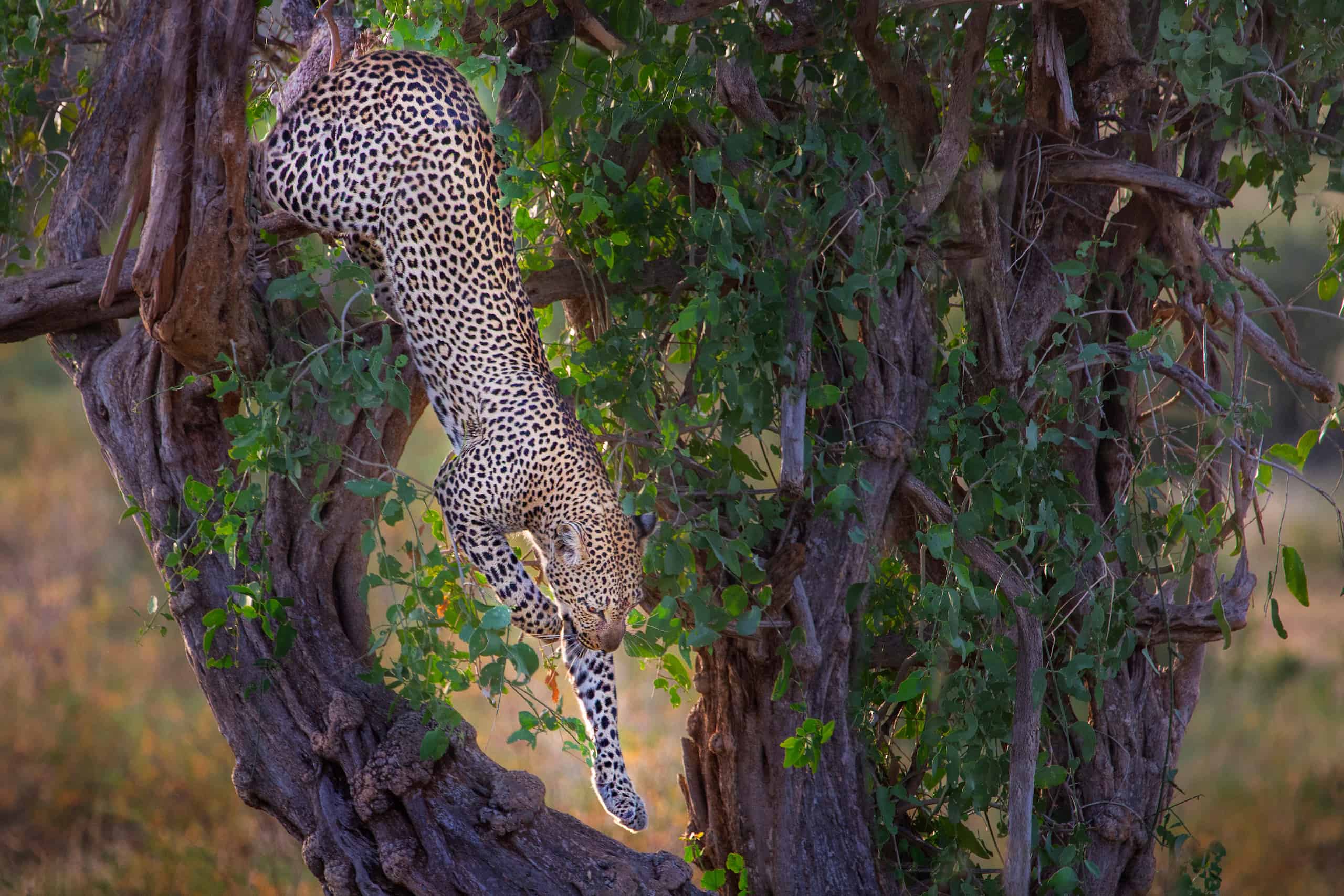 Trees
Samburu National Reserve is made up of scrubby, open bush land and savanna, with the fringing riverine forest of acacias and large doum palms extending along the edge of the Ewaso Ngiro.
Other activities at Samburu National Reserve
Here are some other activities which visitors can consider during their African safari in Samburu National Reserve:
Samburu Camel Trekking: For a very different take on Kenya's best safari experiences, try a camel ride through the country's northern wilderness.
Bush breakfast: Set off at first light to experience the rugged terrain of northern Kenya coming to life. This is often the best time for spotting predators with some shaded downtime for omelettes and pancakes.
Walking safaris: Explore wildlife and private concessions on foot, an authentic and economical means of exploring wildlife in Samburu.
Photography safaris: Visitors on a photo safari will be in dreamland at Samburu National Reserve where small groups can share a luxury photography tour with like-minded individuals and capture their favourite moments.
Sightseeing tours: This is best to see Samburu caves which are full of historical rock art as well as cultural village visits to the local tribespeople.
Visitors often enjoy combining their safari adventure with some quiet downtime on Kenya's best beaches, a perfect end to their African adventure.
How to get to Samburu National Reserve?
By Plane
Safari-goers flying from Europe or North America to Kenya usually arrive at Nairobi – it's the largest hub for most transport (including flights) for visitors wondering how to get to Kenya.
The main airport is Jomo Kenyatta International Airport (NBO), which is located 15km/9mi southeast of Nairobi. Kenya's second international airport is Moi International Airport (MBA), which is 9km/6mi west of Mombasa and a Kenya visa will most likely be required to enter the country.
By Road
Samburu is located 355km/220mi north of Nairobi. Self-drive to the reserve is an easy option and the driving time is about six hours. There are also daily scheduled flights from Nairobi to Samburu's airstrip.
Tariffs & Regulations
Entrance fee
Many factors impact Kenya safari prices including the cost of the park entrance fee. Prices per person per day:
USD $70 per adult non resident per day
USD $40 per child under the age of 12 years old
The gates into Samburu National Reserve open at 6am and close at 6pm.
Regulations
If you keep to park rules, you can stay with the animals as long as they are not disturbed by your presence.
Accommodation at Samburu National Reserve
Accommodation in Samburu ranges from tented safari camps to eco camps to luxury lodges. Rates mainly depend on the season and type of accommodation.
Typical accommodation rates range from $200 to $1,000 per person a night. Carrying a small amount of Kenyan currency, the Kenya Shilling (KES) is recommended to pay for groceries and smaller items where credit cards aren't accepted.
Luxury lodges
Lodges are exclusive and luxurious with views amongst the most spectacular in the world along with world-class service, incredible food, all luxury amenities, simply ideal for the perfect honeymoon location.
A luxury option worth considering is the Samburu Sopa Lodge with all luxury amenities and a pool.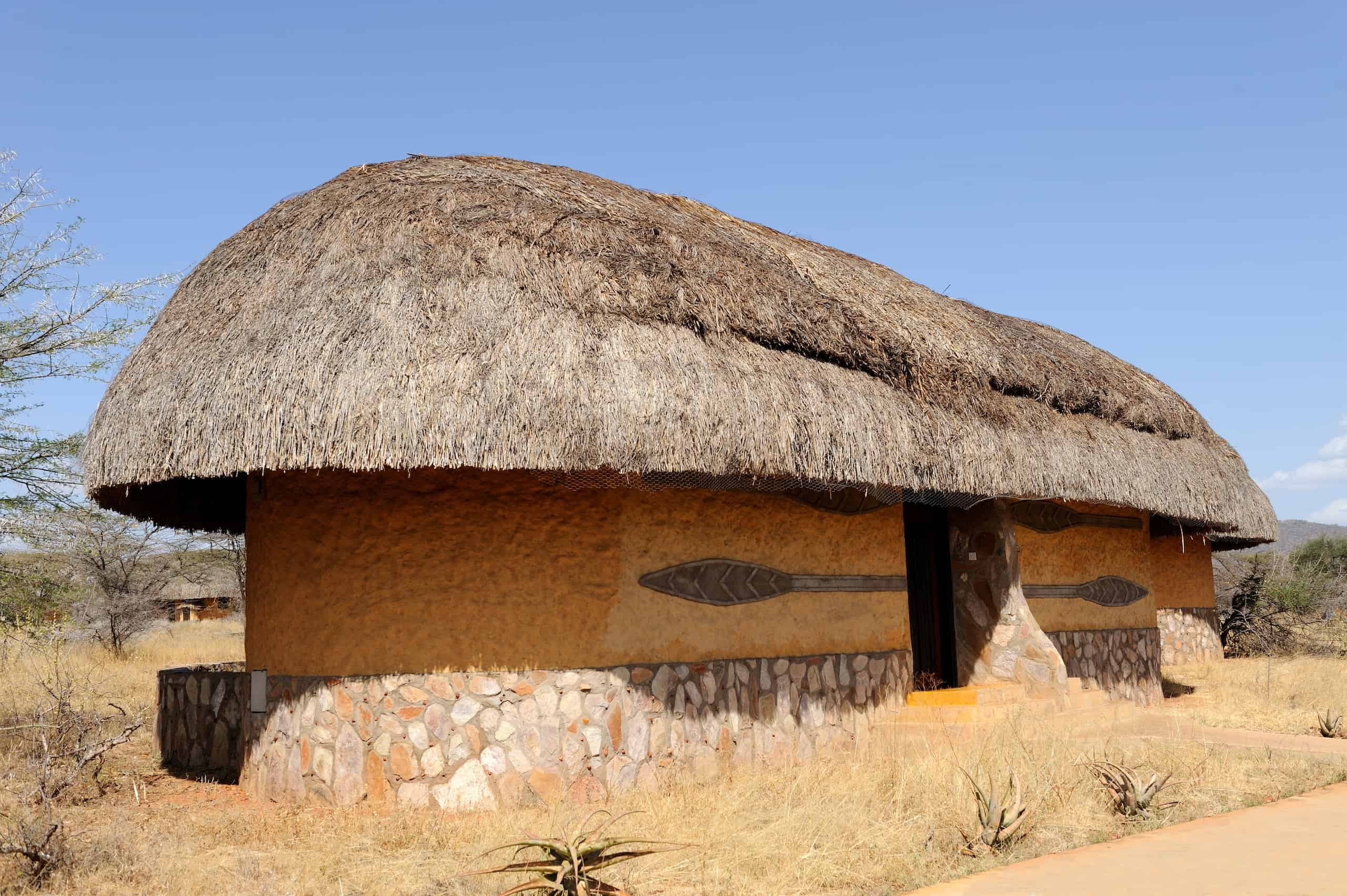 Tented camps
These sophisticated structures are large luxury tents on raised wooden floors with excellent guest services and meals provided, often found overlooking incredible views.
The Elephant Bedroom Camp is one of the most sought-after lodges, best known for offering the finest quality services.
Campsites
There are a number of affordable camping sites offering cheaper camping options for travellers on a budget including Samburu public campsite and Samburu special campsite.
Campervan
Guests on a self-drive safari with a campervan can make significant savings by sleeping in their vehicle.
Bars/restaurants/amenities
Lodges will typically have all meals and drinks included in the lodge package.
Useful information
Geography
Located in the north of Kenya and north of the capital Nairobi, a Kenya safari in Samburu National Reserve is often combined with a trip to Maasai Mara National Reserve.
Weather
During the day, Samburu's climate is hot and dry, although it cools down at night. The daytime temperature is usually in the region of 32°C/90°F.
Best time to go
Understanding the best time to visit Kenya is important as this will impact accommodation, flight prices, availability and the weather that visitors can expect on their safari vacation.
The best time to go on a Samburu safari is during its two dry seasons: from December to March and again from June to October. The rains begin in late March and run through until May with a second rainy season in November.
Health
Malaria is present in Samburu, but the risk is minimal when taking antimalarials. Other safeguards, such as covering up at dusk and using mosquito repellent are recommended. Visitors can find further information on Kenya vaccine details here.
FAQs
Where is Samburu National Reserve located?
Safari-goers flying from Europe or North America to Kenya usually arrive at Nairobi and take an internal flight transfer to a local Samburu airstrip.  
How much is the entrance fee to Samburu National Reserve?
USD $70 per adult and USD $40 per child under the age of 12 years old. 
What animals will visitors see?
Visitors to Samburu National Reserve will see Grevy Zebra, Somali Ostrich, Reticulated Giraffe, Gerenuk and the Beisa Oryx as well as over 900 Elephants.