Nairobi National Park is a national park in Kenya that was established in 1946 about 7 km south of Nairobi. It is fenced on three sides, whereas the open southern boundary allows migrating wildlife to move between the park and the adjacent Kitengela plains.
The park is sometimes called Kifaru Ark, which means "Rhinoceros Sanctuary". It is one of Kenya's most successful rhinoceros sanctuaries, and it is one of only a few parks where visitors can be certain of seeing a black rhinoceros in its natural habitat.
Herbivores are also known to gather in the park during the dry season and the park itself brings a unique charm that sets it apart from other parks in Kenya with the proximity alone outside the capital city making it an easy addition to most visitors travel plans.
Why visit Nairobi National Park?
Nairobi National Park safari
There are plenty of great things to do in Kenya and as Kenya's first national park, Nairobi National Park has been a wild haven for the capital city since 1946. At 45 square miles, the park is small compared to most national parks.
Size aside however, Nairobi National Park's landscape hosts thousands of wild animals at home in various ecosystems. Primarily the park consists of open grasslands dotted with scrub and upland forests, making it an ideal habitat for many of Kenya's native species.
But given the relatively restrictive size of the park, its carrying capacity for predators is limited. Most are shocked to learn that Nairobi National Park is home to a nearly complete set of Kenyan species.
Only leaving the most formidable creature, elephants, out of the landscape. Simply put the park is too small for their massive appetites, plus elephants would destroy the three-sided fence perimeter.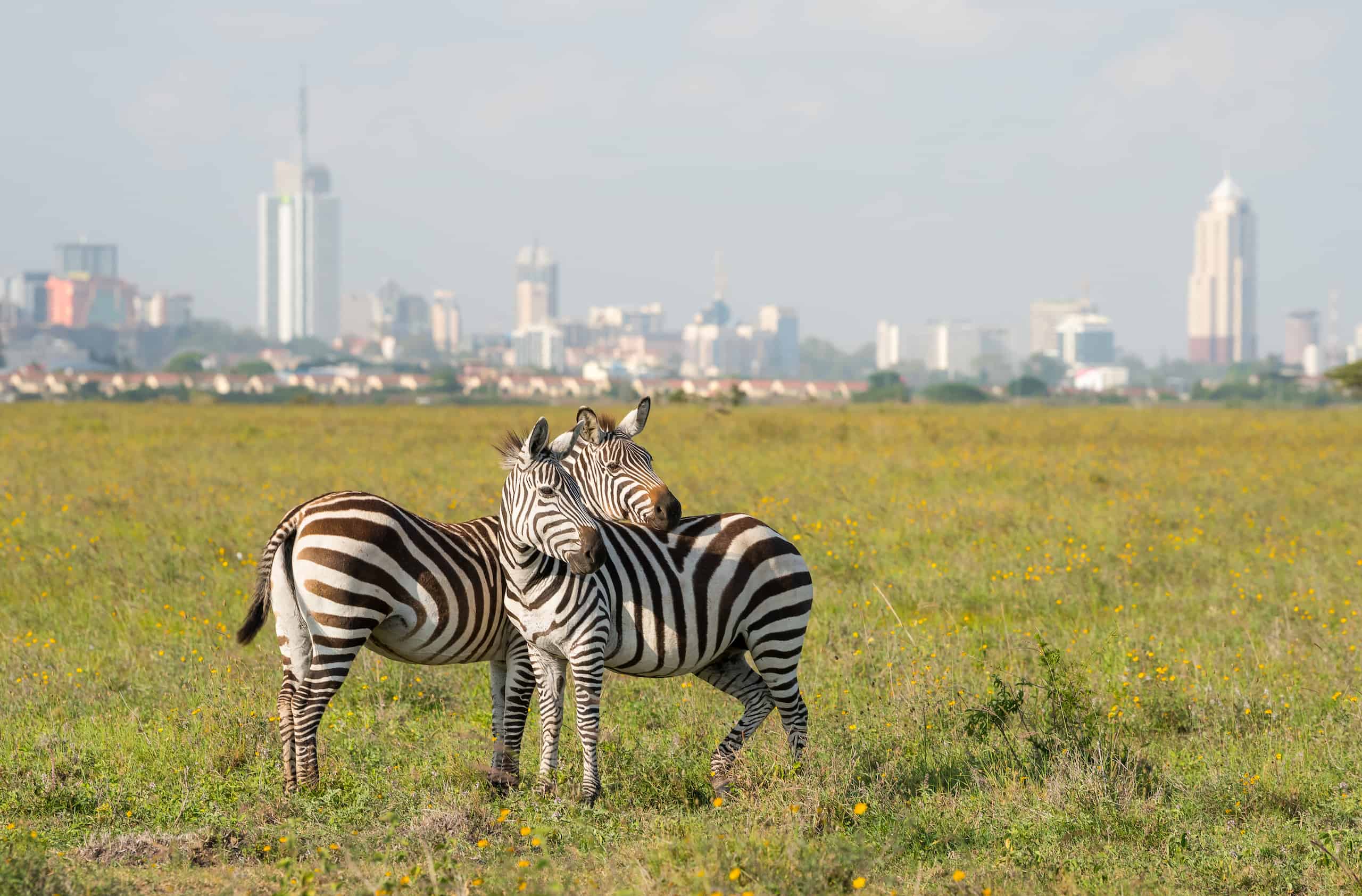 Animals
Nairobi NP is known for healthy populations of cape buffalo, Masai giraffe, plains zebra, impala, ostrich, and hippo. And where there is prey, there are often predators! Within Nairobi National Park's boundaries live prides of lion, spotted hyena, jackal, and even elusive leopard and cheetah.
Visitors will also find numerous lions, hippos, giraffes, zebras, over 400 bird species, and many large herbivores. But the main highlight of Nairobi National Park is its resident rhinos.
In fact, the park hosts one of the highest densities of black rhino in Kenya. Many view the park as the best location to observe this critically endangered species in the entire country, if not the world.
Nairobi National Park is home to approximately 111 black rhinos and 24 white rhinos. These population numbers are a true success considering the park was void of rhinos until their introduction back in 1996.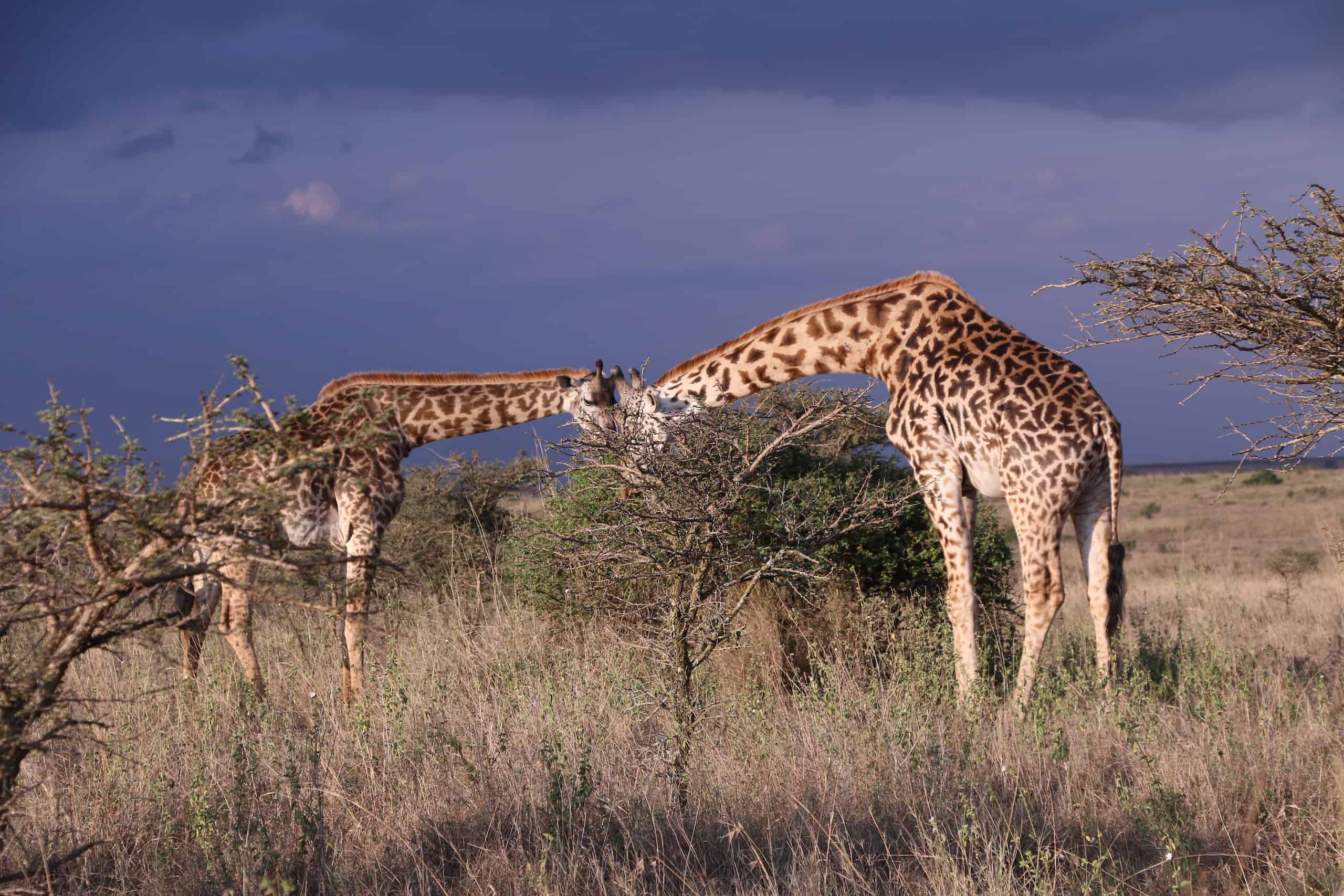 Birds
With over 500 bird species recorded, Nairobi NP probably gives Kenya's capital the longest bird list of all cities in the world. The park's substantial area of undisturbed grassland is of great importance for species such as the restricted-range Jackson's widowbird, which breeds here regularly after good rains.
Other grassland birds include ostriches, secretary birds and bustards. Nairobi NP is a popular birding destination and it's easy to book a full or half day guided birding trip at short notice.
Trees
The park's predominant environment is open grass plain with scattered Acacia bushes. The western uplands of the park have highland dry forest with stands of Olea africana, Croton dichogamus, Brachylaena hutchinsii, and Calodendrum.
The lower slopes of these areas are grassland. Themeda, cypress, Digitaria, and Cynodon species are found in these grassland areas.
Other activities at Nairobi National Park
Here are some other activities which visitors can consider during their African safari experience in Nairobi National Park:
Nairobi Safari Walk: Explore wildlife on foot, an authentic and economical means of exploring wildlife in Nairobi National Park and the bomas of Kenya. Nairobi safari walk charges range from KSH 125 (USD $1.1) for a child to KSH 215 (USD $1.86) for an adult.
Photography safari tours: Visitors on a photo safari CAN share a luxury photography tour with like-minded individuals and capture their favourite moments.
Sightseeing tours: This is best to see the hippo pools, giraffe center, day tours or early morning game drives in private vehicles. Guests can tour Nairobi National Park and visit the animal orphanage as well. The park also contains a historic ivory burning site.
Visitors often enjoy combining their safari adventure with some quiet downtime on Kenya's best beaches, a perfect end to their African adventure.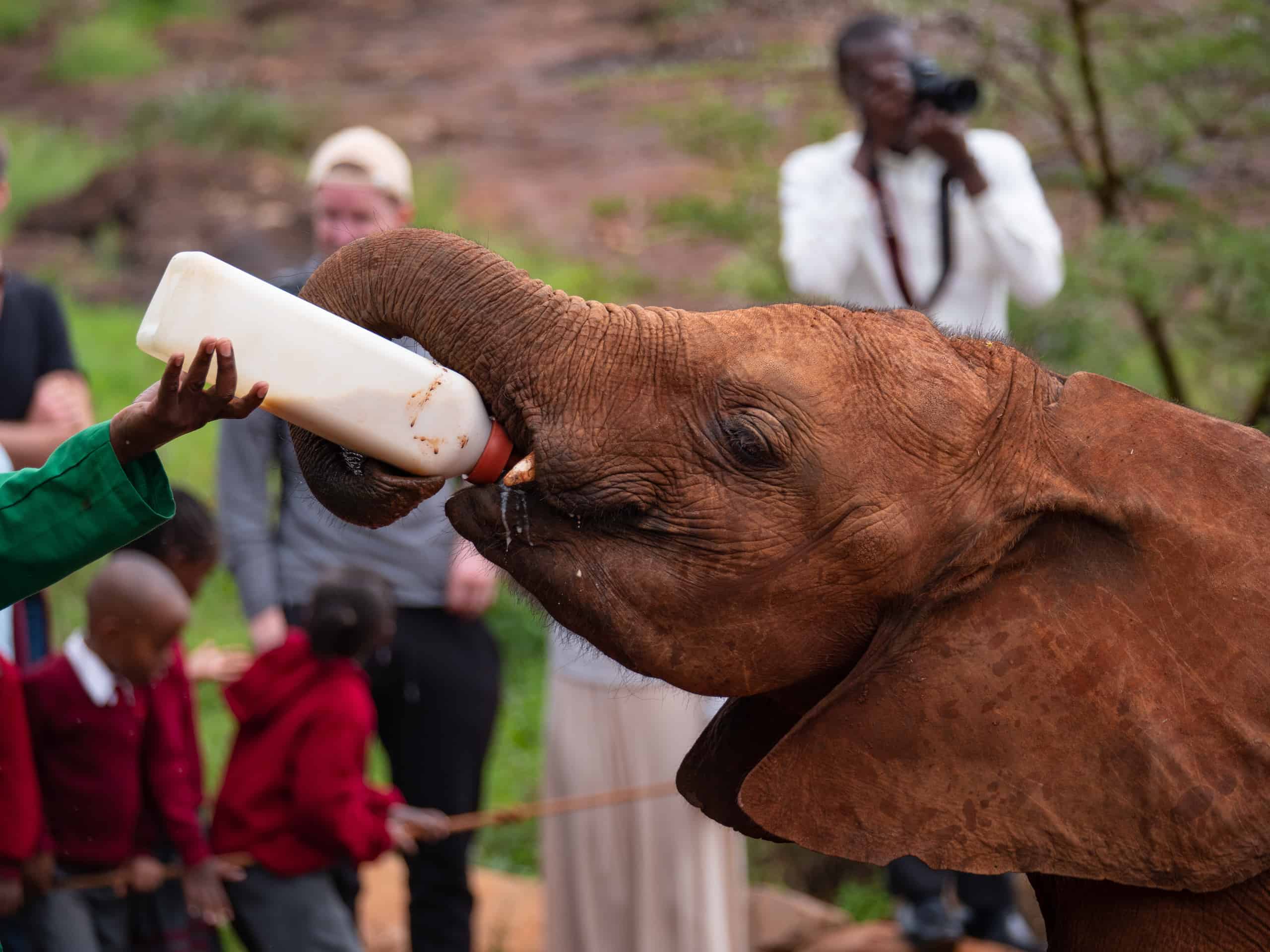 How to get to Nairobi National Park ?
By Plane
Safari-goers flying from Europe or North America to Kenya usually arrive at Nairobi – it's the largest hub for most transport (including flights) in the region.
The main airport is Jomo Kenyatta International Airport (NBO), which is located 15km/9mi southeast of Nairobi for visitors wondering how to get to Kenya.
Kenya's second international airport is Moi International Airport (MBA), which is 9km/6mi west of Mombasa and a Kenya visa will most likely be required to enter the country.
By Road
Nairobi National Park is located 9km/ 5mi south of Nairobi. The park is usually visited as a half-day or full-day trip from a hotel in the city.
Getting to the city of Nairobi is easy – it's one of the biggest and busiest transport hubs on the continent. International flights arrive in Jomo Kenyatta International Airport (NBO), 15km/9mi southeast of Nairobi.
Tariffs & Regulations
Entrance fee
Many factors impact Kenya safari prices including the cost of the park entrance fee. Prices per person per day:
USD $43 per adult non resident per day
USD $25 per child under the age of 12 years old
The gates into Samburu National Reserve open at 6am and close at 6pm.
Regulations
If you keep to park rules, you can stay with the animals as long as they are not disturbed by your presence.
Accommodation at Nairobi National Park
Accommodation in Nairobi NP includes Nairobi Tented Camp, is the only lodging that is situated inside the park, and this Tier 2 tented camp is reminiscent of those used by early explorers in Kenya.
With only eight guest tents, the camp gives you a sense of being in the remote African bush with all of the necessary conveniences, such as full bathroom with bucket shower, private veranda, comfortable bed and much more, all set amidst its wildlife ecology.
Rates mainly depending on the season and type of accommodation. Carrying a small amount of Kenyan currency, the Kenya Shilling (KES) is recommended to pay for groceries and smaller items where credit cards aren't accepted.
Lodges
Lodges are exclusive and luxurious with views amongst the most spectacular in the world along with world-class service, incredible food, all luxury amenities, simply ideal for the perfect honeymoon location.
A luxury option worth considering is the Emakoko, a family-owned and operated 10-room lodging that is situated on 15 acres of land bordered by the Mbagathi and Emakoko Rivers. The other Tier 2 accommodations on the outside of the northern fence zone of the park are Ole Sereni Hotel and African Heritage House.
Hotels
Ole Sereni Hotel features 134 guest rooms and suites with modern amenities, such as LCD television, air conditioning, complimentary internet, and the suites are specially designed to meet the needs of the business traveller in East Africa.
African Heritage House is a six-room gallery-house that takes you through a journey of African cultures with an eclectic collection of art, textiles and varied handcrafted furnishings.
Campsites
There are a number of affordable camping sites offering cheaper camping options for travellers on a budget including Nairobi Tented Camp.
Campervan
Guests on a self-drive safari with a campervan can make significant savings by sleeping in their vehicle.
Bars/restaurants/amenities
Lodges will typically have all meals and drinks included in the lodge package.
Useful information
Geography
Located in the south of Kenya 15km from Nairobi airport, a Kenya safari in Nairobi National Park is often combined with a trip to Masai Mara National Reserve.
Weather
Nairobi has a subtropical highland climate. At 1,795 metres (5,889 ft) above sea level, evenings may be cool, especially in the June/July season, when the temperature can drop to 9 °C (48 °F).
Best time to go
Understanding the best time to visit Kenya is important as this will impact accommodation, flight prices, availability and the weather that visitors can expect on their safari vacation.
The best time to visit Nairobi National Park is during the dry months, from July to October, and also January and February. July has the lowest rainfall among all months of the year. Along with July, August is the driest month in Nairobi.
Health
Nairobi lies at a high altitude and malaria is not a concern here, but if you are visiting other places in Kenya, you should take all necessary precautions. Visitors can find further information on Kenya vaccine details here.
FAQs
Where is Nairobi National Park located?
Nairobi National Park is located 9km/ 5mi south of Nairobi. The park is usually visited as a half-day or full-day trip from a hotel in the city. 
How much is the entrance fee to Samburu National Reserve?
USD $43 per adult and USD $25 per child under the age of 12 years old. 
What animals will visitors see?
Visitors to Nairobi National Park will see cape buffalo, Masai giraffe centre, plains zebra, impala, ostrich, and hippo as well as the lion, spotted hyena, jackal, and even elusive leopard and cheetah.