Climbing to 5,199 metres, Mount Kenya National Park is home to the second tallest mountain in Africa with breath-taking scenery surrounding this masterpiece designated a UNESCO World Heritage Site in 1997.
Set in pristine wilderness with lakes, tarns, glaciers, dense forest, mineral springs and a selection of rare and endangered species of animals, high altitude adapted plains game and unique montane and alpine vegetation, the UNESCO biosphere reserve is a haven of nature.
In an ancient extinct volcano, there are 12 remnant glaciers on the mountain, all receding rapidly, and four secondary peaks that sit at the head of the U-shaped glacial valleys.
Visitors can enjoy mountain climbing, camping and caving with the mountain's rugged glacier-clad peaks providing the perfect backdrop.
Why visit Mount Kenya National Park?
Mount Kenya National Park safari
There are plenty of great things to do in Kenya and this park is no exception. The dormant volcano boasts dramatic, ever-changing scenery and a rich supporting cast of animals and birdlife, all without the crowds that flock to Kilimanjaro.
For the thrill seekers out there, you'll find the perfect blend of wildlife and mountain to explore. Cape buffaloes, and leopards, and smaller mammals such as several species of antelope can be found as well as black-and-white colobus monkeys also inhabit the forest reserves.
Several animals have evolved to thrive at high altitudes on Mount Kenya, including the Mount Kenya hyrax, a small, herbivorous mammal, and the common duiker, a small antelope.
Safari-goers typically enjoy the trek and views that come with this most unusual vertical park.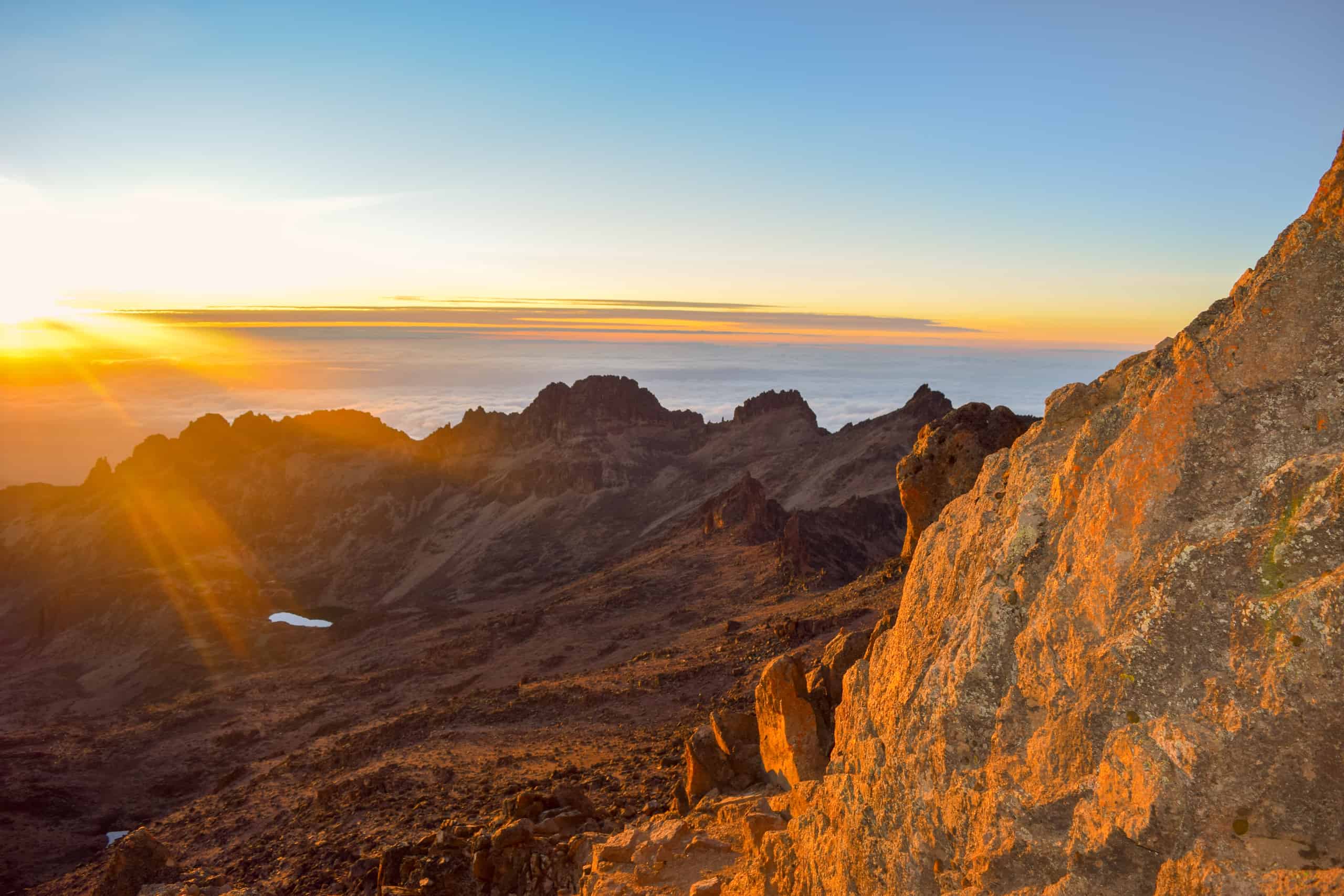 Animals
Mount Kenya National Park is also home to the Big Five (elephant, lion, cheetah, leopard, and rhino) and troops of baboons and monkeys whose fascinating behaviour is a joy to observe.
Here, in this UNESCO World Heritage Site you can begin your trek in the tropical forest. There are few resident large animals in this zone however herds of eland and some lions can be sometimes found.
You will also be able to see such animals as waterbucks and the white-tailed mongoose. Visitors can also find suni, black fronted duiker, mole rat, forest hog, bushbucks and waterbuck.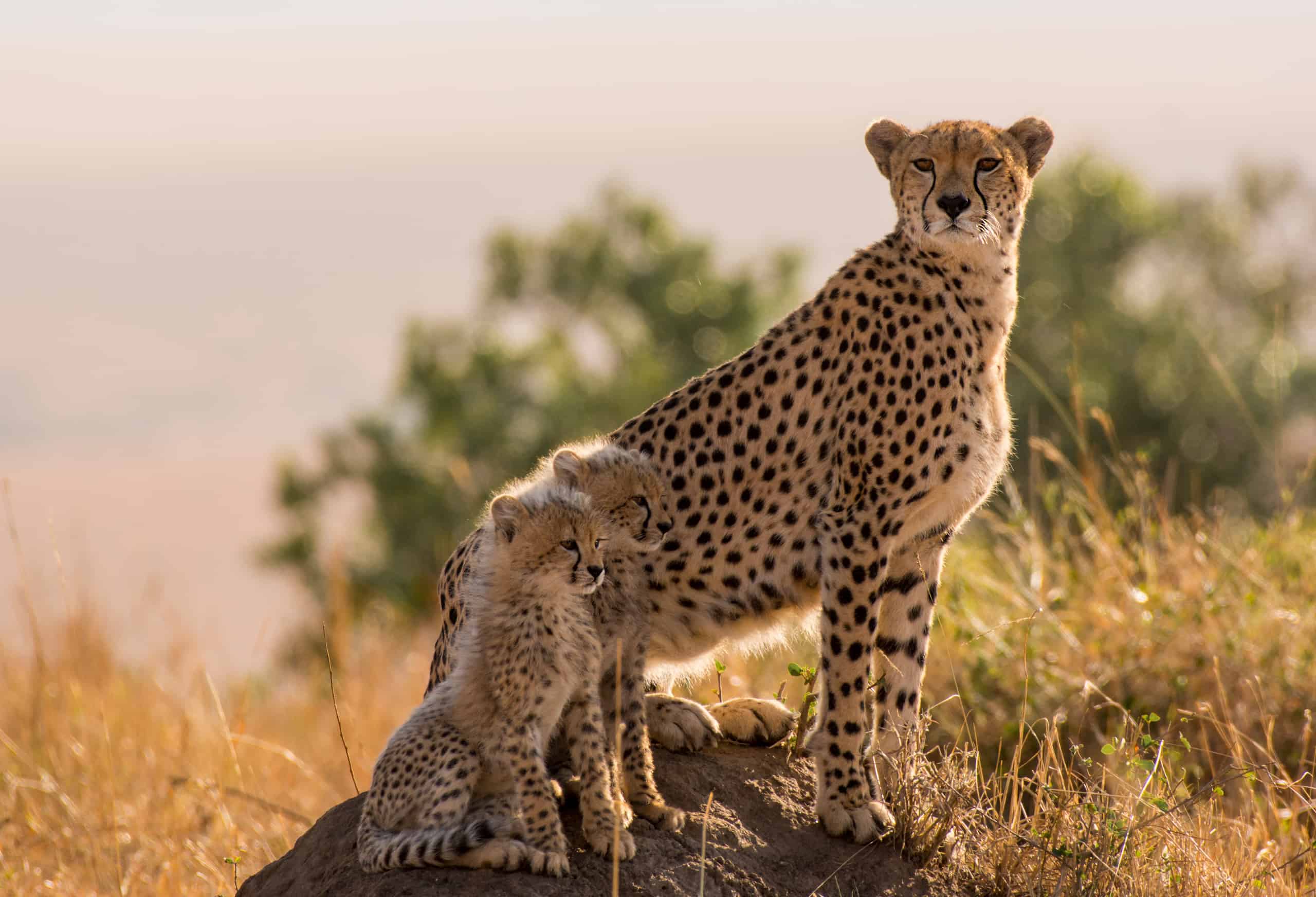 Birds
The park is home to over 130 bird species, including sunbirds, starlings, and bearded vultures as well as owls, eagles, nightjars, ibises and hawks taking centre stage.
Mount Kenya National Park is home to some of Kenya's most cherished birds including the Violet-backed Starling, Green Pigeon & Meyer's Parrot.
Trees
Smaller trees dominate in the timberline forest, and the characteristic trees are African rosewood and giant giant St. John's wort (Hypericum) with common flowers including the red-hot poker, violets and giant forest lobelias.
Other activities at Mount Kenya National Park
Here are some other activities which visitors can consider during their east African safari experience in Mt Kenya National Park:
Mount Kenya National Park Safari Walk: Explore the nature wildlife on foot, an authentic and economical means of exploring wildlife in Mount Kenya National Park
Photography safari tours: Visitors on a photo safari can share a photography tour with like-minded individuals and capture their favourite moments.
Tours: Trekking is a must in this park with Mount Kenya having 3 peaks of varying levels of difficulty, but most adventurers scale the smallest peak, Point Lenana (4,985m), since it can be ascended without climbing.
Visitors often enjoy combining their safari adventure with some quiet downtime on Kenya's best beaches, a perfect end to their African adventure.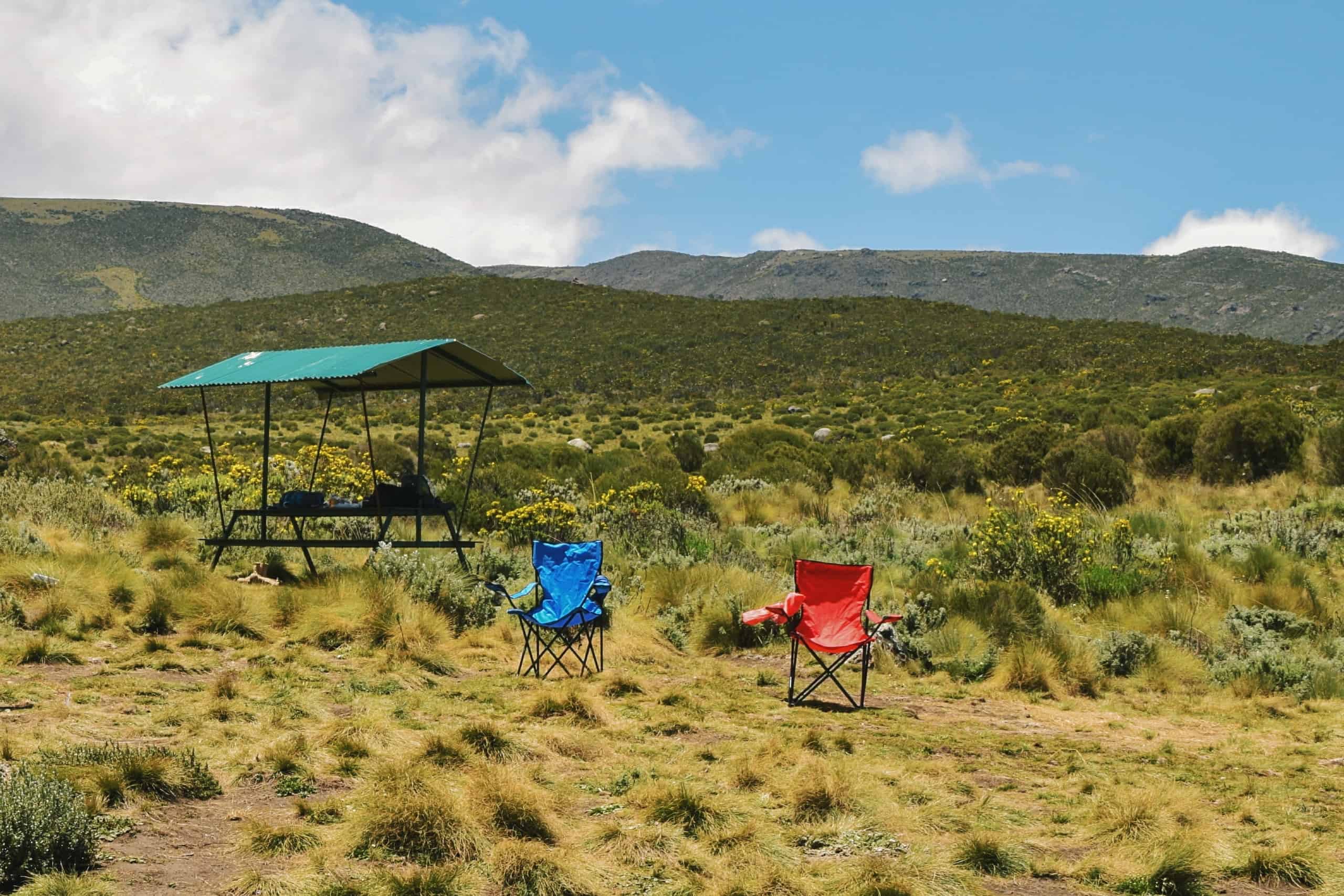 How to get to Mount Kenya National Park?
By Plane
Visitors can take an Air Kenya Express flight from Wilson Airport in Nairobi to Nanyuki Airfield which is just outside of Mount Kenya National Park. The flight takes 35-minutes, and it drastically reduces the journey time, but most travellers choose to hire a driver.
International flights arrive via Jomo Kenyatta International Airport (NBO) for visitors wondering how to get to Kenya. NBO airport is located 15km/9mi southeast of Nairobi and a Kenya visa will most likely be required to enter the country.
By Road
By road, Mount Kenya National Park is 175km from Nairobi along one of the 3 major routes to the mountain.
Tariffs & Regulations
Entrance fee
Many factors impact Kenya safari prices including the cost of the park entrance fee. Prices per person per day: USD $70 per adult non resident per day and $40 per child.
Regulations
If you keep to park rules, you can stay with the animals as long as they are not disturbed by your presence.
Accommodation at Mount Kenya National Park
Rates mainly depending on the season and type of accommodation. Carrying a small amount of Kenyan currency, the Kenya Shilling (KES) is recommended to pay for groceries and smaller items where credit cards aren't accepted.
Camps and Lodges
Lodges and camps are exclusive and luxurious with views amongst the most spectacular in the world along with world-class service, incredible food, all luxury amenities, simply ideal for the perfect luxury location.
Castle Forest Lodge is one of the top choices for your stay and offers a restaurant and outdoor pool. Other good choices in the area include Serena Mountain Lodge and Fairmont Mount Kenya Safari.
Campsites
Shiptons campsite Mount Kenya and Judimere Campsite 3300m provides basic campsite provisions and more including toilets and running water.
Campervan
Guests on a safari game drive by themselves in a campervan can make significant savings by sleeping in their vehicle.
Bars/restaurants/amenities
Lodges will typically have all meals and drinks included in the lodge package.
Useful information
Geography
Located 175km north of Nairobi, a safari in Mount Kenya National Park is often combined with a trip to Masai Mara reserve.
Weather
The current climate on Mount Kenya is wet, but drier than it has been in the past. The temperatures span a wide range, which diminishes with altitude. In the lower afro alpine zone they usually don't go below 12 °C (54 °F).
Snow and rain are common from March to December, but especially in the two wet seasons.
Best time to go
Understanding the best time to visit Kenya is important as this will impact accommodation, flight prices, availability and the weather that visitors can expect on their safari vacation.
The best time to visit Mount Kenya is during the dry seasons, from June to October and January to March.
Health
Visiting Mount Kenya National Park may involve crossing through malaria zones, hence antimalarials and long-sleeved clothing are recommended. Visitors can find further information on Kenya vaccine details here.
FAQs
Where is Mount Kenya National Park located?
Mount Kenya National Park is located 175km north of Nairobi, typically reached by road or Air Kenya Express flight from Wilson Airport in Nairobi to Nanyuki Airfield 
How much is the entrance fee to Mount Kenya National Park?
The entrance fee to Mount Kenya National Park is USD $70 per adult non resident per day and $40 per child.
What animals will visitors see at Mount Kenya National Park?
Visitors to Mount Kenya National Park will see the Big Five (elephant, lion, cheetah, leopard, and rhino) and troops of baboons and monkeys, herds of eland, some lions and waterbucks.