Waterberg Plateau Park is a national park in central Namibia on the Waterberg Plateau, 68 kilometres (42 mi) south-east of Otjiwarongo.
Waterberg meaning 'water mountain' in Afrikaans is a massive table mountain of about 50 km long, up to 16 km wide which rises from the plains of the Omaheke, as this part of the Kalahari is known.
This natural barrier often intercepts clouds, causing them to release their moisture and the plateau can be found in a particularly prominent location, elevating high above the plains of the Kalahari of Eastern Namibia.
Why visit Waterberg Plateau Park?
Waterberg Plateau Park safari
The Waterberg Plateau is a scenic wildlife viewing destination. The park consists of a sandstone massif which stands out impressively from the surrounding savannah grasslands.
It was established as a breeding ground for threatened species, including white rhino, roan, sable and tsessebe. Self-drive is prohibited, but game drives can be booked through the Namibia Wildlife Resorts office and there are nine short, self-guided walks available.
What makes a safari unique in this area are the wide flat surfaces, sheer sides and extensive water supplies, a truly spectacular landscape for wildlife watching with the plateau about 200 metres off the ground and wonderful views to the horizon.
The guided hiking trail option at the Waterberg Plateau involves rhino tracking and following hyena and leopard movements; indeed the Waterberg has the highest concentration of leopards in Namibia.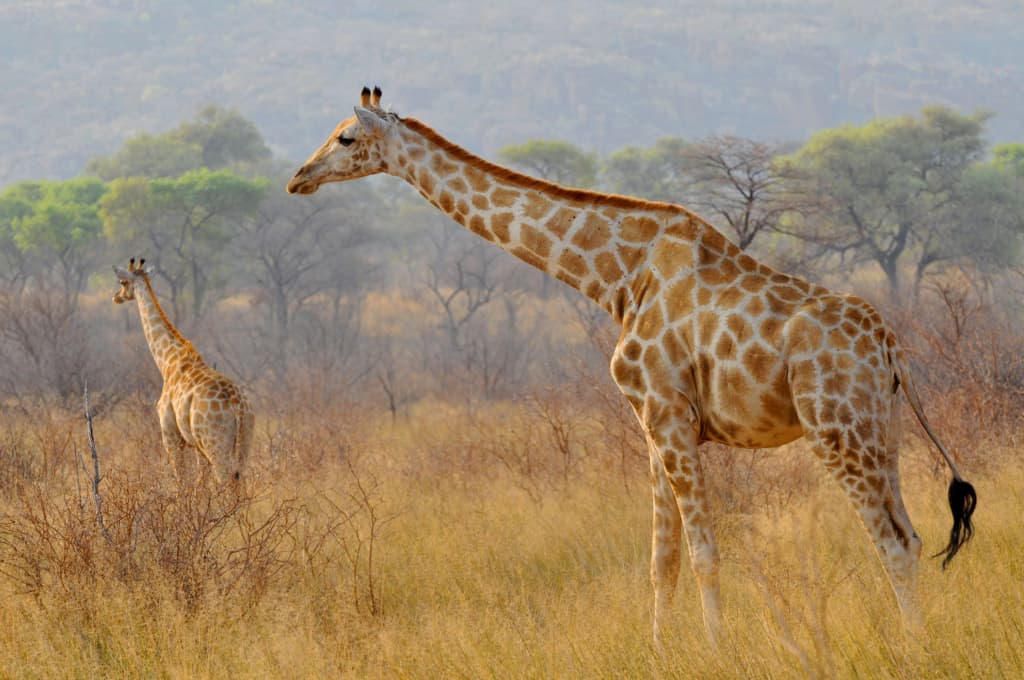 Animals
Animal life is highly diverse. Baboons live on the rocks around the plateau, the dense bush on the slopes is inhabited by Damara Dik-Dik (the smallest antelope species), klipspringer and leopard.
The tree and shrub savannah of the plain below is home to eland, oryx antelope and hartebeest, impala, blue wildebeest, zebra and springbok.
The white rhino moves about between the open plain and the sheltered valley. Other than leopard, one will find predators such as cheetahs, some small cat species, hyenas and jackals.
Some of the most popular species include the black rhinoceros, giraffe, kudu, roan antelope, sable antelope, and a series of other smaller antelope.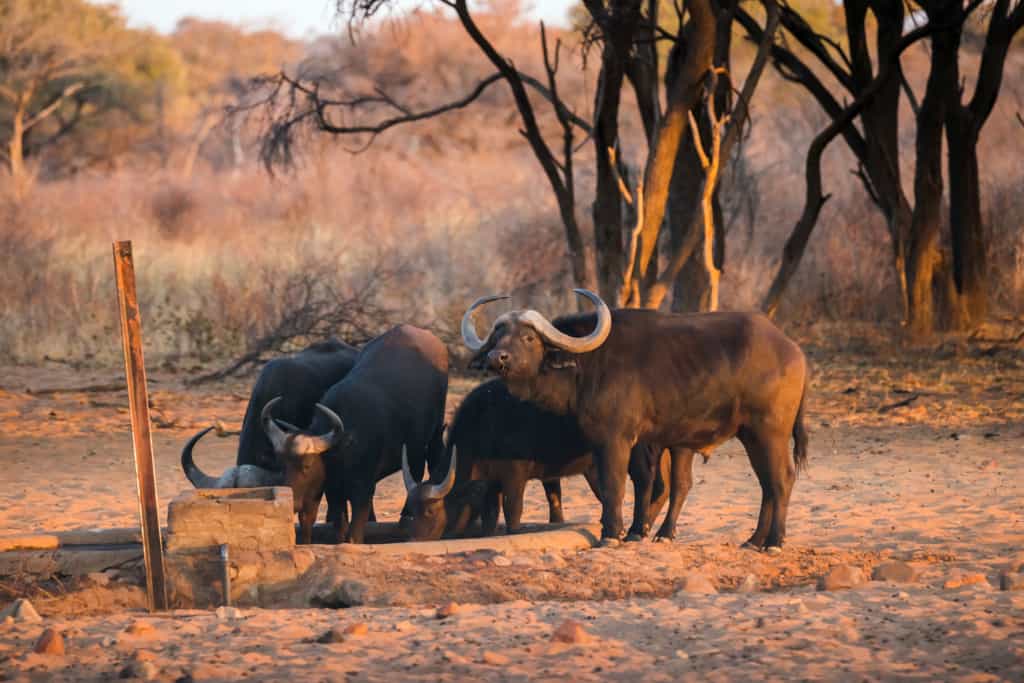 Birds
The Waterberg plateau is an excellent birding destination. The park has more than 250 species of bird recorded in a relatively small area.
This is due to the different habitats; broad-leafed woodland on top of the plateau, thornbush savanna below the plateau and cliffs.
Nine self-guided walking trails are very productive for bird watching. The park is home to Namibia's only breeding colony of Cape vultures and visitors will also see African green pigeons, Augur buzzards, Cape vultures and Lanner falcon.
Flora and fauna
Approximately 60 tree species are known from the Waterberg Plateau Park and 139 species have been recorded from the whole landscape.
With about 480 plant species the Waterberg is regarded as a floral 'hotspot', even more so because some species are endemic – they only occur in Namibia or in the immediate vicinity of the Waterberg.
Huge fig trees and rare plants such as ferns or the African flame tree grow at the upper end of the valley and when the rock depressions on the plateau fill up with water during the rainy season, aquatic plants and even turtles make their appearance.
Other activities at Waterberg Plateau Park
Here are some other Namibian safari activities that visitors to Waterberg Plateau Park can look forward to on their trip:
Guided game drive: Exploring Waterberg Plateau Park's wildlife with spectacular views of wildlife and surrounding scenery.
Cultural tours: Discover a traditional Herero village and the nomadic way of life and traditions the Herero people have used to survive for generations.
Bush walks: Walk with professional guides at a peaceful, relaxed pace through the extraordinary Waterberg Plateau Park where you can see birds, wildlife, rock art and beautiful tree species.
How to get to Waterberg Plateau Park?
By Plane
Many visitors start their self-drive or organised safaris by way of 4×4 vehicles in the capital city of Windhoek, flying in from Cape Town, South Africa.
Hosea Kutako International Airport (WDH) is located 40km/25mi east of Windhoek, and is the primary entry point into Namibia.
By Road
Waterberg Plateau National Park is located 300km/187mi northeast of Windhoek and 320km/200mi southeast from Etosha National Park. The driving time from Windhoek is about 3½ hours and about 4 hours from Etosha.
The road to the park is usually accessible for normal 2WD cars. Carrying a small amount of local Namibian currency, the Namibian Dollar (NAD) is advised for smaller purchases.
Regulations
If you keep to park rules, you can stay with the animals as long as they are not disturbed by your presence.
Accommodation at Waterberg Plateau Park
Tourists at Waterberg Plateau Park can choose from a number of different options when deciding where to sleep.
Lodges
Waterberg Plateau Lodge is nestled on a rock terrace high up on the slope of the Waterberg offering chalets that afford grand vistas of the endless Kalahari bush savannah below.
Each of the double room chalets sits between red sandstone rocks in the midst of green bush, with total privacy guaranteed offering private terraces with plunge pools. Acacias shade the terrace; a plunge pool filled with spring water provides cooling and attracts birds and small game.
After sunset the fireplace in the rustic dining room is the meeting place for enjoying a drink. Fresh dishes from the typically Namibian farmhouse kitchen are served for dinner.
A great alternative is the Waterberg Wilderness Lodge, nestled under enormous old trees in a peaceful setting with 12 rooms and a well-kept garden and two pavilions.
Camping
Waterberg Plateau Campsite is located on a high-lying valley where guests will find twenty secluded camping sites which are generously proportioned and shaded by trees.
Campsites come with private grills and tap, clean bathrooms and toilets with hot and cold water, a swimming pool and a great lookout point for sundowners.
Campervan
Guests on a self-drive safari with a campervan can make significant savings by sleeping in their vehicle.
Bars/restaurants/amenities
Lodges will typically have all meals and drinks included in the lodge package.
Useful information
Geography
Waterberg Plateau Park is located in central Namibia on the Waterberg Plateau, 68 kilometres (42 mi) south-east of Otjiwarongo.
Weather
Waterberg Plateau Park has a warm, semi-arid climate. Like most such climates, there is a significant contrast in temperature between night and day.
Annual rainfall is mainly low and, when present, comes in the form of heavy thundershowers. November to April constitutes the Wet season. Rain is absent during the Dry season, which occurs in the winter months of May through October.
Best time to go
Understanding the best time to visit Namibia is important as this will impact accommodation, flight prices, availability and the weather that visitors can expect on their safari vacation.
For wildlife viewing, the Dry season (in particular July to September) is the ideal time to visit the Waterberg Plateau.
Animals seek out water during this time and tend to stay around those sources. Foliage also routinely shrinks back in the hotter months making wildlife watching easier.
Health
Waterberg Plateau Park is a low risk malaria area, but care needs to be taken during the Wet season from November to April. Anti-malaria medication is advised, as is mosquito repellent (those containing DEET are most effective) and covering up in the evening.
Anti-malarials are advised, as well as covering up in the evening and using mosquito repellent (those containing DEET are most effective).
It is recommended to visit a travel clinic and be aware of Namibia visa requirements before entering the country. Several Namibia vaccinations are recommended and usually administered before your departure.
FAQs
Where is Waterberg Plateau Park located?
Waterberg Plateau Park is located in central Namibia on the Waterberg Plateau, 68 kilometres (42 mi) south-east of Otjiwarongo.
What animals will visitors see at Waterberg Plateau Park?
Visitors to Waterberg Plateau Park will see black and white rhino, giraffes, buffalos, cheetah, leopards, brown hyenas, blue wildebeest, hartebeest, oryx, springbuck, zebras, kudus, klipspringer and Damara-dik-dik to warthog, porcupine, pangolin, baboon, bush baby and rock dassie.