Khaudum National Park is located in the far northeastern region of Namibia along the Caprivi Strip. The park sits atop Botswana and below Angola and is on the western side just outside the strip. The park covers an extensive area of 1,483.4 square miles (3,842 sq km).
Located in the Kalahari Desert, the three largest dry rivers (known as omiramba) — Nhoma, Cwiba and Khaudum — run through this wildlife park and play an important ecological role when they run during the rainy season.
Khaudum is one of the least visited places in Namibia. If you think "off the beaten track", then this park is one of the ultimate destinations in the country.
Why visit Khaudum National Park?
Khaudum National Park safari
Khaudum is a special place serving as a corridor for wildlife species including elephants, giraffes, and other larger mammals who migrate through the area in search of water and food.
The animals travel through this area as they navigate between Zambia, Namibia, and Botswana. Visiting during the right season provides visitors with an excellent chance to see an array of wildlife.
This is the epitome of the African wilderness. The area is remote and unspoiled. Some have affectionately described it as Namibia's Forgotten Wilderness and safari visitors enjoy having a better chance of seeing more elephants than people.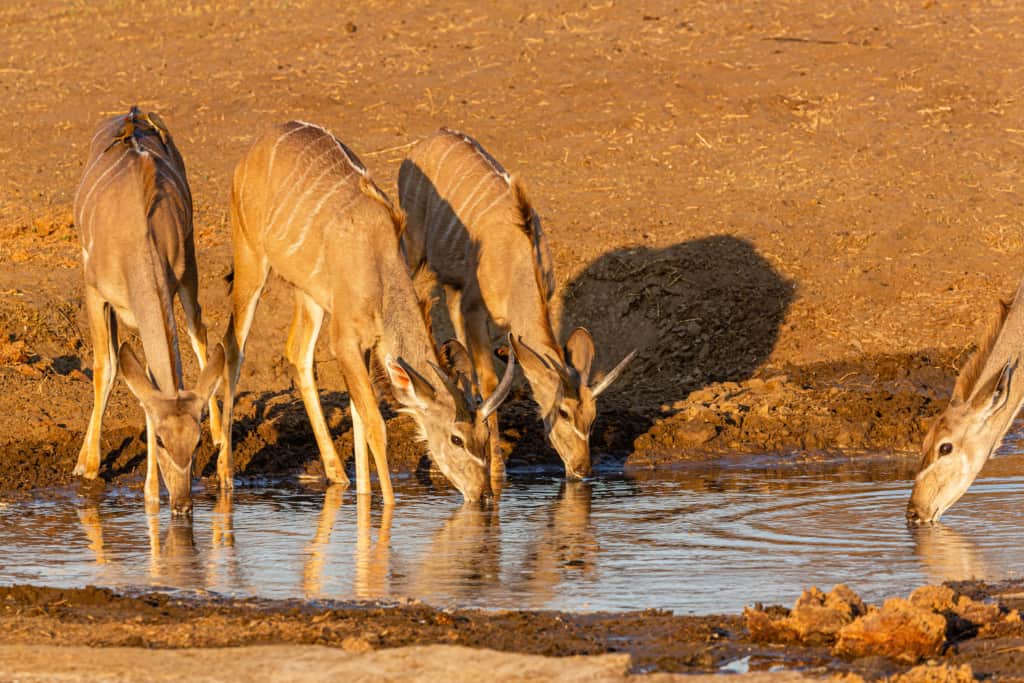 Animals
There are about 3,000 elephants that live in the park. While in Etosha it is sometimes difficult to spot them; they cannot, and do not, hide in Khaudum.
The 'poster animal' of Khaudum, however, is the Roan antelope. It is quite common in Khaudum, although you will normally only spot it from a distance; It is a very shy animal.
Khaudum, along with Mangetti National Park not far away, is also home to some of the last packs of African wild dogs. The wildlife is often seasonal with a greater prevalence associated with the rainy season.
Other animal sightings include the giraffe, kudu, eland, reedbuck, leopard, cheetah, hyena, jackal, and Cape wild dogs.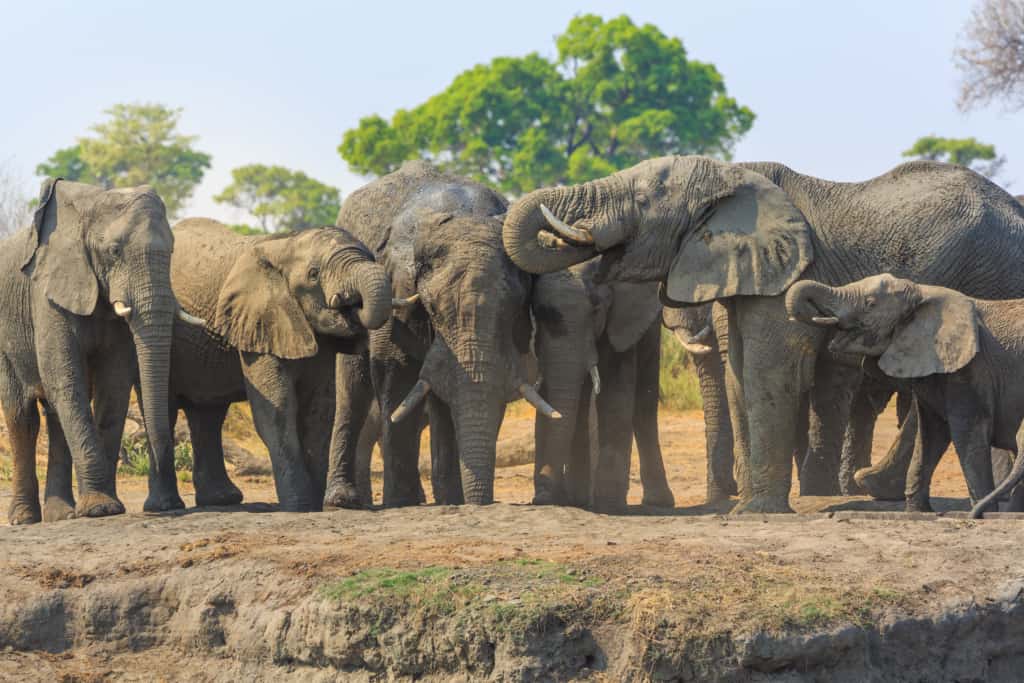 Birds
Khaudum offers great bird watching opportunities. It has over 320 species of birds recorded and is a magnet for summer migrants, such as Abdim's stork, African golden oriole, yellow-billed kite, steppe and lesser spotted eagle.
The migratory birds are present from November to April. Although Khaudum offers great birdlife it is a challenging area to both get to and explore. You need to be well kitted out for a trip here and have some wilderness experience in the African bush.
Other birds include the African openbill, Bearded scrub robin and the southern ground hornbill.
Trees
The park is comprised of short dry forest and dry acacia trees which are thicker along the riverine areas. The forest around the three dry rivers is characteristic of Kalahari forests.
These areas are also thicker with thorn bushes. The riverbeds are often characterized by peaty-bog thick with reeds and in some cases water lilies.
The park also overlooks a vast open plain of golden bushman grass, dotted with wildebeest and oryx. Zambian teak trees dominate the horizon whilst crimson breasted boubous hunt for insects in the camel thorn trees.
Other activities at Khaudum National Park
Here are some other Namibian safari activities that visitors to Khaudum National Park can look forward to on their trip:
Game drive: Exploring Khaudum National Park's wildlife with spectacular views of large concentrations of elephants and stunning scenery.
Bushmanland: Just south of Khaudum National Park is Bushmanland. The Historic Living Museum at Grashoek village offers visitors the opportunity to meet traditionally dressed Ju/'Hoansi-San people and learn about their culture through demonstrations of what it takes to survive in the wild.
Walking safari: See the wilderness from a different perspective and a more intimate encounter with the terrain and life that calls it home.
How to get to Khaudum National Park?
By Plane
The park is rarely visited on an organized tour but can be explored independently on a self-drive safari.
Tours primarily begin by 4×4 in Windhoek. The airport is Hosea Kutako International Airport (WDH) and can be found 40km/25mi east of the city.
By Road
Khaudum is located 796km/494mi northeast of Windhoek. Visitors must come with fully equipped 4×4 vehicles and ideally travel in pairs.
The deep sandy roads are challenging, and self-drive safaris should only be undertaken by travelers who have a lot of experience with these sorts of expeditions.
Carrying a small amount of local Namibian currency, the Namibian Dollar (NAD) is advised for smaller purchases.
Tariffs & Regulations
Entrance fee
There is a daily entrance fee for adults, and another one for vehicles. Children enter for free. For Namibians this fee is N$10 each, for SADC (Southern African) residents N$30, and for all others N$100 (USD $6.72 for park entrance and conservation fees).
The car will be the same fee as the visitors, even if it has a Namibian number plate.
Regulations
If you keep to park rules, you can stay with the animals as long as they are not disturbed by your presence.
Accommodation at Khaudum National Park
Tourists at Khaudum National Park can choose from a number of different options when deciding where to sleep.
Camps
Nhoma Safari Camp is a small, activity orientated, tented camp, situated in the north eastern corner of Namibia on communal land of the Ju|'hoan San or Bushmen (as they are commonly known in Namibia).
What makes Nhoma Safari Camp unique is it location just next to the local village of Nhoma, home of the Ju|'hoansi San Bushmen.
The tented camp is situated in the Nyae Nyae Conservancy, at the basin of the Kalahari desert giving a view over the Nhoma omuramba, a dry river bed.
Fully inclusive stay options include safari tents on decks, whereby all meals, drinks and activities are included. The safari tents are placed on wooden decks well spaced and shaded by Zambezi Teak trees as well as being equipped with double beds and ensuite bathrooms.
Also found in the area is the wonderful Shametu River Lodge which enjoys luxurious solitude on the edge of the Okavango river with a magnificent view of the unique Popa Falls.
There are 18 Luxury Thatched Chalets and 4 Luxury Tented Chalets with electricity, hot water showers, aircon and mosquito nets and basic amenities.
Camping
The park has six campsites and hiking around the campsites is the primary on foot activity.
Xaudom campsite (12 kilometres south-east of the northern gate; the camp is signposted). With a panoramic view over the Kaudom Omuramba, site #2 has a concrete shaded viewing platform and is particularly spectacular.
The site has 6 large camping spots for up to 30 people each and good ablution facilities with water.
Campervan
Guests on a self-drive safari with a campervan can make significant savings by sleeping in their vehicle.
Bars/restaurants/amenities
Lodges will typically have all meals and drinks included in the lodge package.
Useful information
Geography
Khaudum National Park is located in the far northeastern region of Namibia and is one of the most remote regions in the country.
Weather
The Kavango Region has a long dry season from April to November and a subsequent wet period from December to March.
In the dry season in winter, the humidity is at 30% and the daily maximum daytime temperatures are above 25 °C. The temperature on cold nights can fall to less than 5 °C, but is usually around 12 °C.
The rainy season in summer is marked by a humidity of 60% and daily highs typically between 30° and 40 °C. Even at night the temperature does not fall below 15 °C. The annual precipitation average is 550 millimetres, with 80% during the months December to March.
Best time to go
Understanding the best time to visit Namibia is important as this will impact accommodation, flight prices, availability and the weather that visitors can expect on their safari vacation.
The months of June to September make up the dry winter season, and this is the best time for wildlife viewing in Khaudum. Animals congregate at receding water sources and foliage thins out in these dry conditions, which makes sightings easier.
In the Dry season big herds of elephants migrate into the park from neighbouring Botswana. During the Wet season animals scatter and roads can become impassable.
Health
Malaria is a concern in Khaudum NP, especially during the Wet season, from October to April. Anti-malarials are recommended, as well as wearing clothes that cover the skin in the evening and utilizing mosquito repellent (those containing DEET are most effective).
Anti-malarials are advised, as well as covering up in the evening and using mosquito repellent (those containing DEET are most effective).
It is recommended to visit a travel clinic before coming to Namibia. Several Namibia vaccinations are recommended and usually administered before your departure.
FAQs
Where is Khaudum National Park located?
Khaudum National Park is an isolated Nature Reserve situated in the Kalahari Desert at the west of the Caprivi Strip in the northeast of Namibia, located 796km/494mi northeast of Windhoek.
What animals will visitors see at Khaudum National Park?
Visitors to Khaudum National Park will see numerous elephants, Roan antelope, giraffe, kudu, eland, reedbuck, leopard, cheetah, hyena, jackal and Cape wild dogs.
How much is the entrance fee for Khaudum National Park?
The entrance fee for adult non-residents to Khaudum National Park is N$100 (USD $6.72 for park entrance and conservation fees).